A Fabulous Ft. Wayne Wedding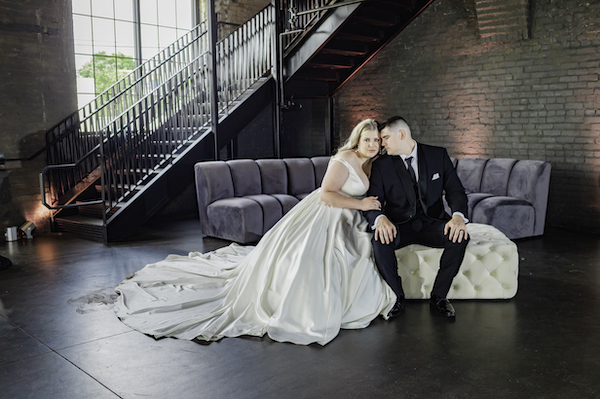 Alex, a well-known Catering Director in Indiana, who we ADORE, came to our Mon Amie Events team to help with her Ft. Wayne wedding. We jumped at the opportunity.
Before the rise of Delta variants, early last summer, wedding planning may have stressed her out a bit. With several wedding date changes for her and Jon, paired with the ever-changing client weddings, she reached out for some help. Knowing her as well as we do, it was a pleasure to step in and help.
You'll LOVE Alex and Jon!
Alex and Jon are so sweet and so much fun. Their wedding was as unique and fun as they are. From the start of their wedding day, everything reflected their personalities.
They spent the day with their wedding parties. It included a little lunch, getting ready, some family time, and lots of photos. Don't let this photo of the guys fool you. It might just be the one serious photo they took! These were extraordinary people in their lives, and it showed.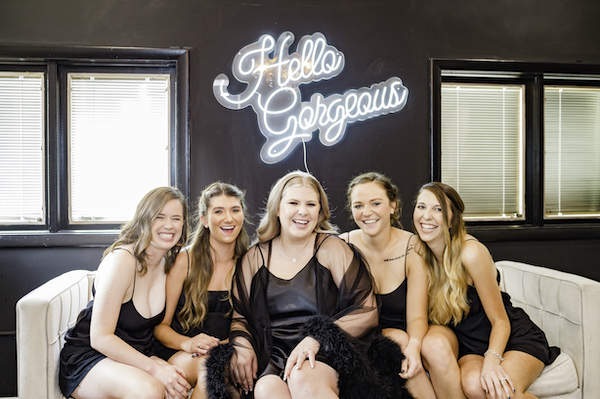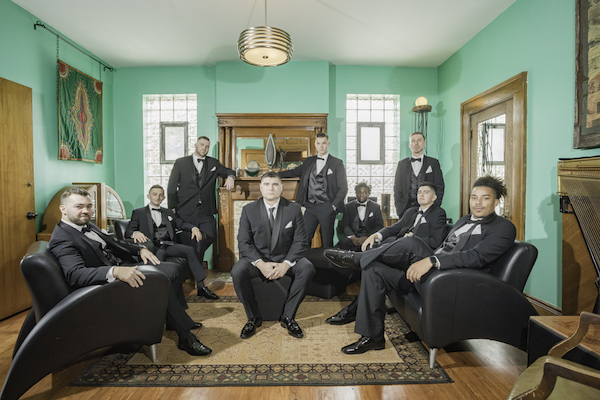 The Loft and Alex and Jon's First Look
The event venue's Loft is a unique industrial space with tons of textures. This space, used for their wedding ceremony, has roughhewn wooden floors, exposed beams, and block walls. The Loft was softened by adding elegant fabric swagged chairs, floral chandeliers, modern candelabras an incredible floral arch at the start of the aisle.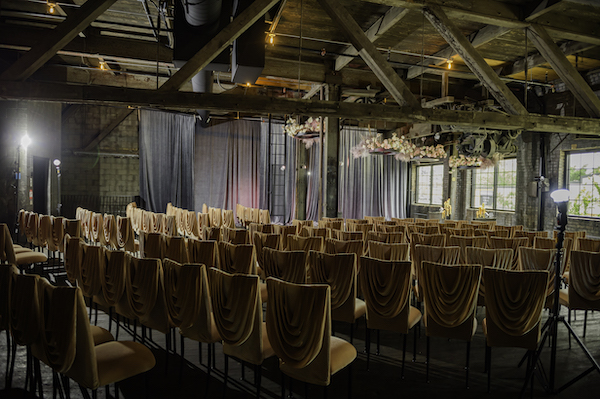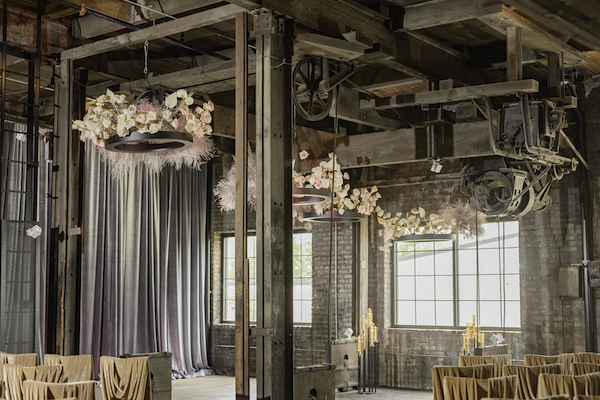 It was also the ideal location for Alex and Jon's first look and some wedding portraits. Jon was at a loss for words the first time he saw his bride-to-be.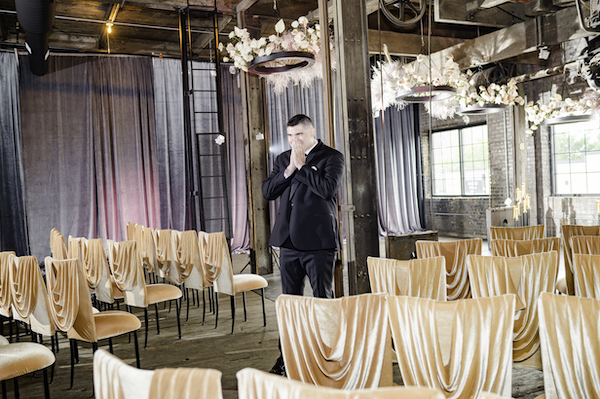 Alex looked stunning in her long, flowing off-the-shoulder wedding gown. Her incredible white textural bridal bouquet paired perfectly with the elegant simplicity of the dress.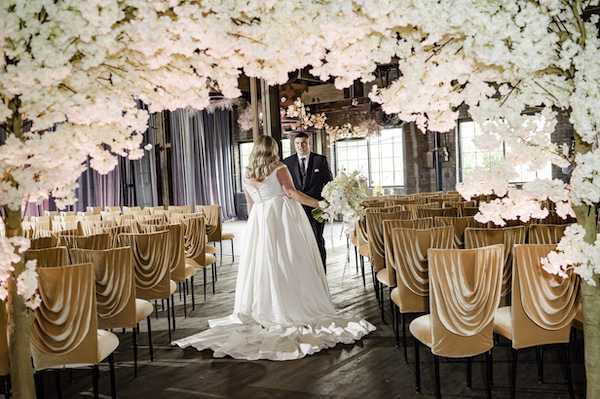 Their wedding portraits capture their personalities, as well as how much they love each other and their dogs.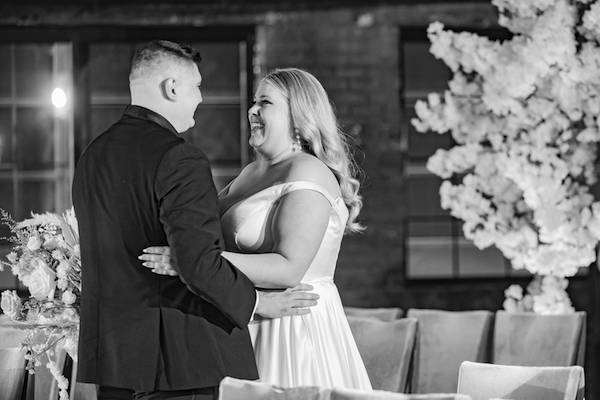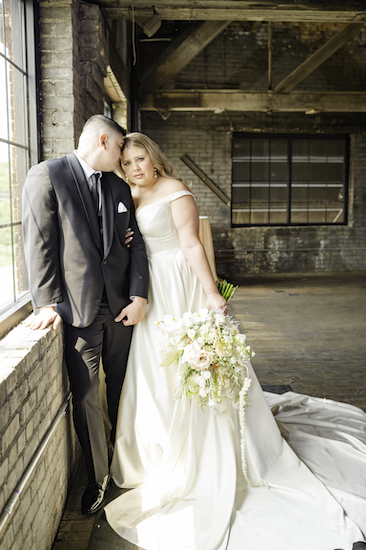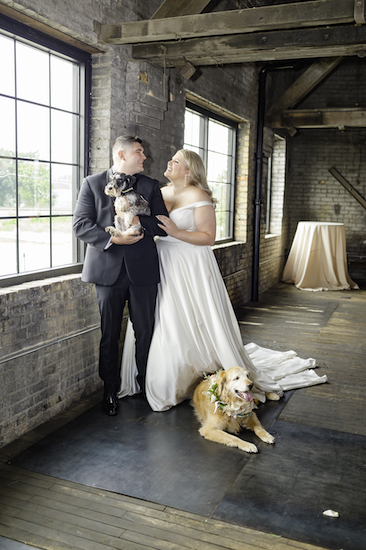 Conversations In The Dark
Soft lighting in the Loft's entryway gave the lush floral arch a warm glow. This opened into the unique ceremony spaces filled with natural lighting from the huge industrial windows.
Following the wedding party entrance to Conversations in the Dark by John Legend, Alex, escorted by her father, made her entrance to Vibin" Out by FKJ.
Alex and Jon exchanged their wedding vows in a personal and touching ceremony surrounded by family and friends.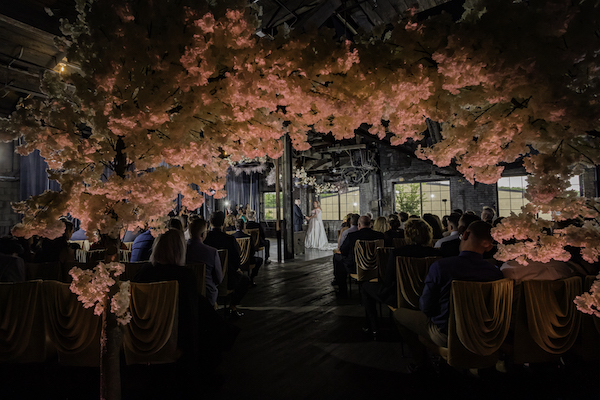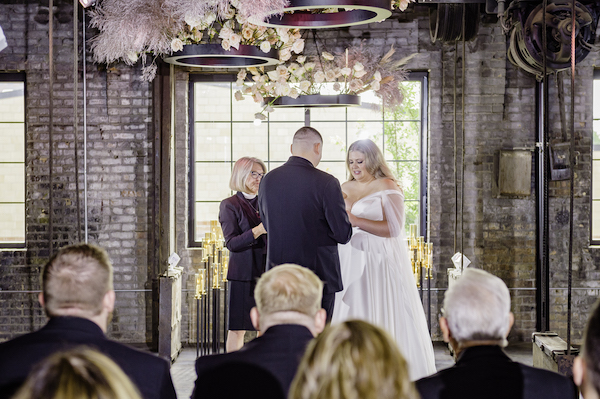 Colorful and One-of-a-Kind
While the phrase colorful and one-of-a-kind describes the newlyweds, it also absolutely describes the evening to come.
While wedding guests enjoyed hors d'oeuvres, an open bar, and a passed specialty cocktail, the final touches were in place in the dining room. Ready for Alex and Jon's sneak peek.
An oversized white dancefloor with a custom gold monogram led to the couple's sleek four-tiered wedding cake resting on a tall gold and acrylic column. Beyond that, a lush floral installation and floral chandeliers floated overhead.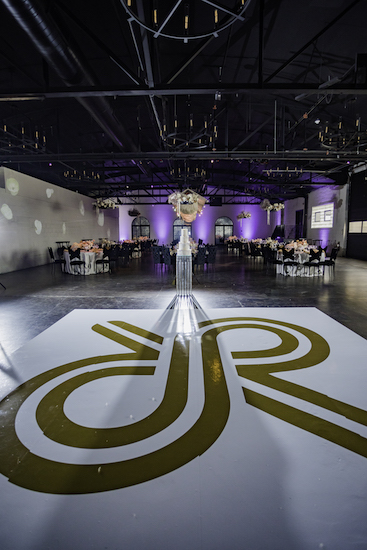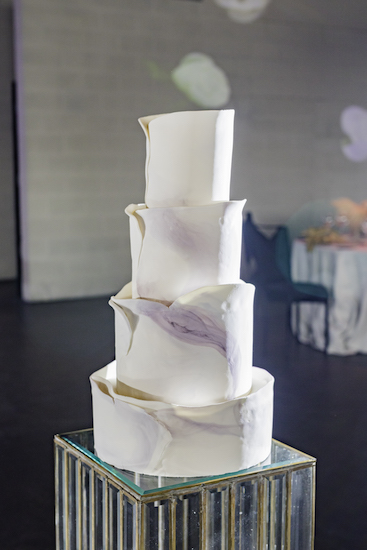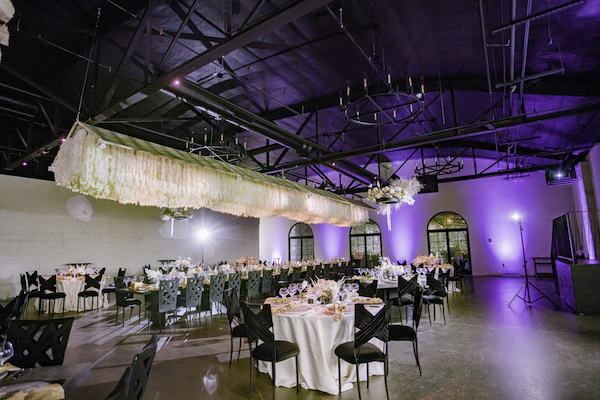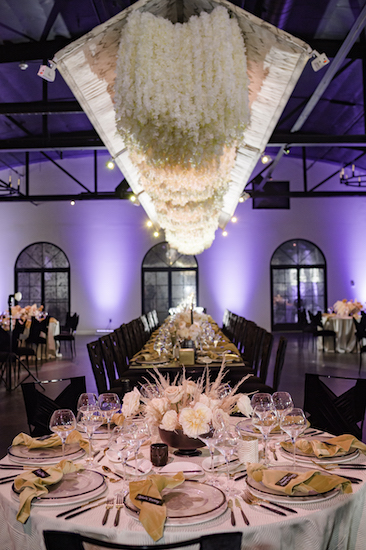 Under the floral sculpture, a long feasting table centered the dining room. A blending of eclectic vessels, long low floral creations, and candles filled the table. Place settings were layered with modern flatware, unique charger plates, custom menus, and crystal stemware.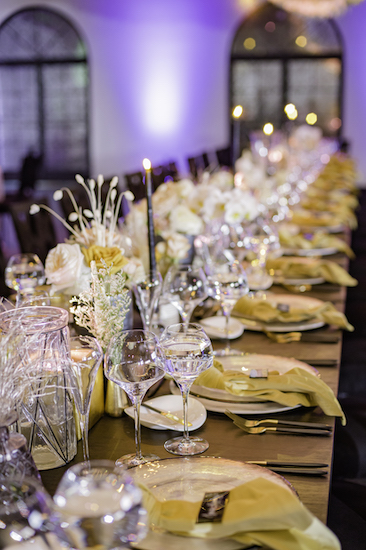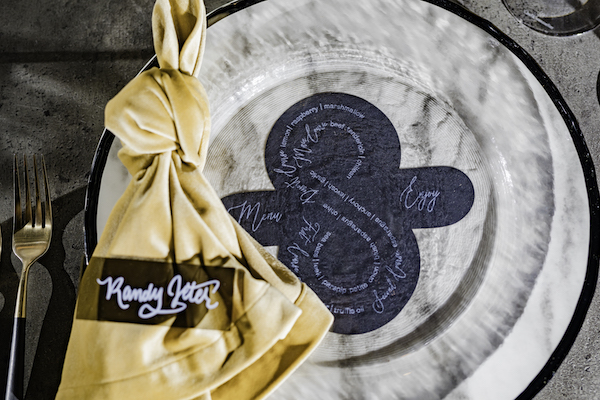 The tables flanking the long center table were a mixture of shapes and textures. Some tables were naked with a modern vibe and more contemporary floral creations. While others we draped in luxe linens and softer arrangements.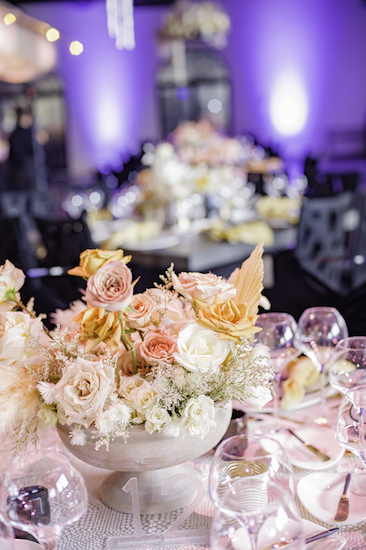 Watermelon Sugar High
Following the introduction of their wedding party, the newlyweds made their grand entrance to "Watermelon Sugar High." They stopped briefly to cut their gorgeous wedding cake before taking their seats.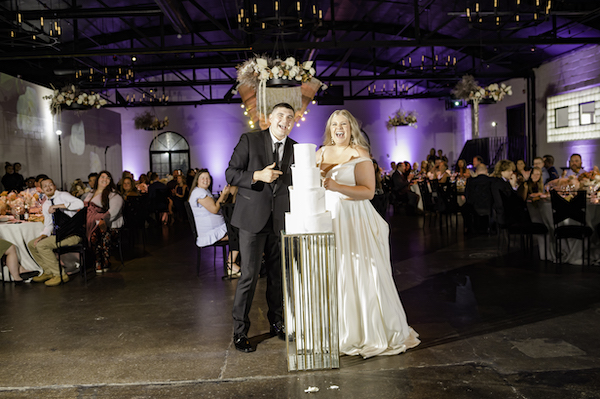 The reception began with a welcome and blessing by the Father of the Bride, Walter, an AMAZING host! We would be remiss if we didn't mention this. He smiled ear-to-ear all night, danced to every single song, and made sure every single guest had a great time—a perfect host for his daughter's celebration.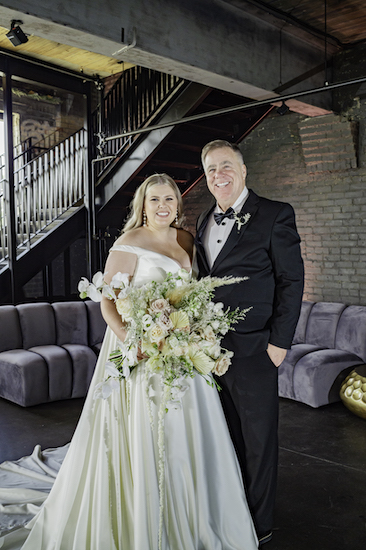 The evening continued with a delicious multi-course dinner, several touching toasts, the couple's first dance, and parent dances. Alex then snuck off for a quick change before the dance floor opened.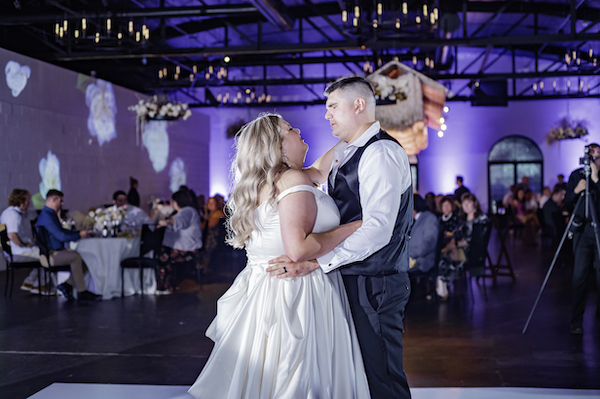 O-Town!
A huge fan of the band O-Town, she often joked about how much fun it would be to have them at the wedding while listening to them at work. They are the fantastic boy band formed from the first season of the reality tv series Making the Band.
They had never played a wedding before. But they had so much fun, fueled by the crowd's energy, they stayed and danced with the guests long after their set.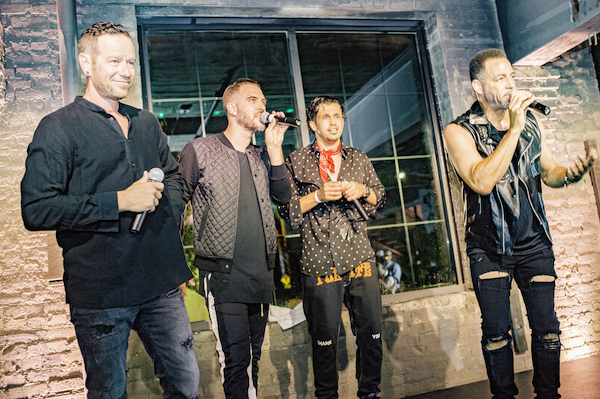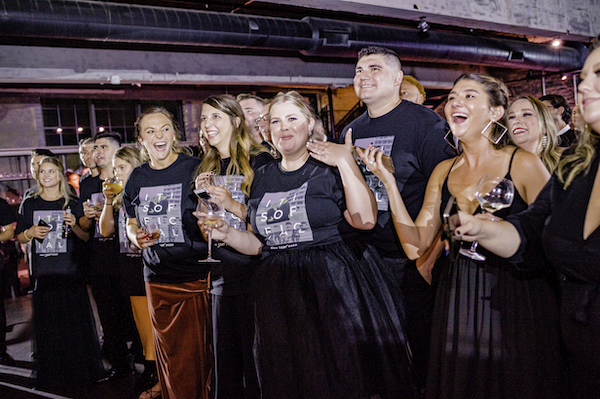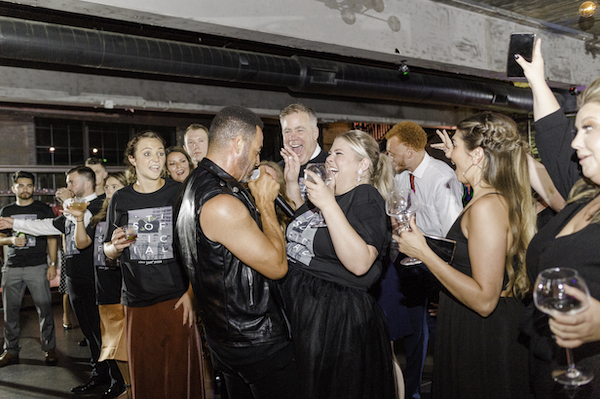 Alex, Jon, and all of their guests had an incredible time and really enjoyed their custom concert t-shirts. Toward the end of the set, everyone was treated to late-night snacks from a local food truck.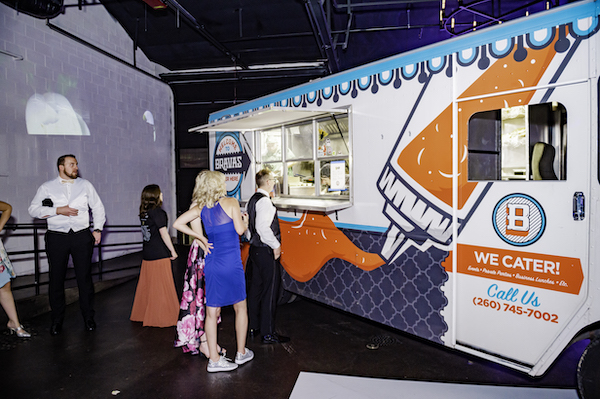 The Big Finish
The spectacular wedding reception ended with the last dance to Bohemian Rhapsody before Alex and Jon's Grand Exit under a shower of sparklers.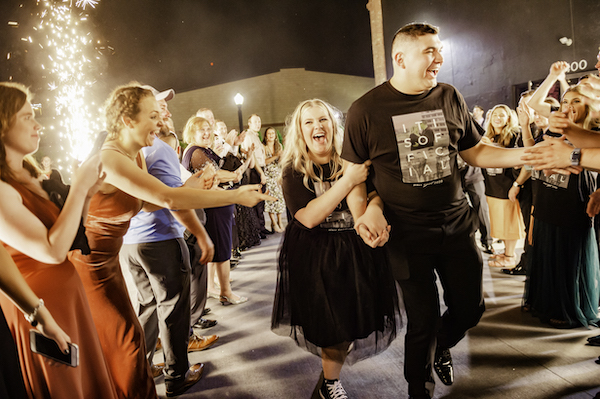 The Wedding Team
Wedding Planner: Mon Amie Events, Inc
Venue / Caterer: Elysean
Makeup Artist: Erin Nay Makeup Artistry
Hair: JW Salon
Photography: Catie's Captures Photography
Videography: IndyVisual
Wedding Officiant: Wendy Piano
Floral: Emperyean Events
DJ: AMS Indiana
Band: O-Town
Wedding Cake: Sassy Cakes
Paperie: The Hedge
Food Truck: Bravas
Transportation: Club Car Limo
AV/Sound: Sterler Productions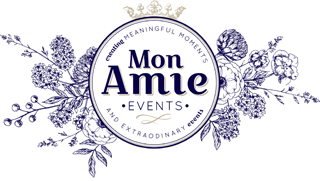 Copyright 2023 | Mon Amie Events Inc.