Pleased to Meet You
Monica Richard, Master Wedding Planner, Event Planner
Indianapolis Area and Destination Events

Mon Amie Events, Inc was founded over 10 years ago by Monica Richard, MWP ™. Her strength lies in making her clients' experience less stressful and more magical. This stems from her background at Walt Disney World. By focusing on logistics, Monica's goal is to make each of her clients feel as though they are guests at their own events, while allowing them to step into a fantasy beyond their wildest expectations.
Planning weddings and social events are often big experiences and life changing events. Monica wants her clients and their guests to long remember these moments, so she ensures the planning process and the event itself are a time of great joy. Working directly with each of her clients is important, so Mon Amie Events, Inc only takes a limited number of celebrations annually to give this personalized and couture service. That way, when the event comes, Monica's clients can immerse themselves in the environment and enjoy the memories with their guests.
While awards and accolades have come from a number of industry magazines, blogs and organizations, including being named to the Indianapolis Business Journal 2015 Class of 40 Under 40, Monica is also proud to be part of the faculty for Indiana University. She is seen as the preeminent leader in social special event planning, so has served as an adjunct instructor at her alma mater Indiana University. (both in Bloomington, IN and at their Indianapolis campus.) Monica also has joined the exclusive ranks, being one of the first fifty people in the world who has earned the distinction Master Wedding Planner™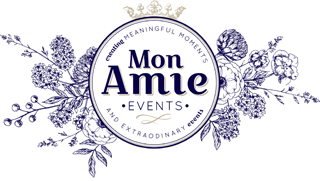 Copyright 2023 | Mon Amie Events Inc.