[vc_row][vc_column][vc_column_text] ANDREA + PATRICK'S WEDDING STORY:

The Alexander ~ Indianapolis, Indiana

Love, Amour, Amor.  Love knows no boundaries with these two!  Originally from Colombia, Andrea is funny, stylish and full of just the right amount of spice and flair one would expect from any South American woman.  Patrick, the debonair Frenchman, is sophisticated, welcoming, warm and charming.  It is no wonder they fell in love at work and decided to be married.  It was the timing of their nuptials that made this amazing fairy-tale even more magical.  Due to constant traveling for their job, the wedding needed to be planned in a mere eight weeks.
[/vc_column_text][placidslider id="19″][vc_column_text]Although planning a wedding in eight weeks normally sounds like an overwhelming feat, Andrea and Patrick knew their idea for a warm, celebratory party could be accomplished within their time frame.   In order to start their planning, a restaurant inside The Alexander was rented out and this began their vision of creating an epicurean delight for the guests.  The ceremony took place outside in a garden with a custom created backdrop, where guests were welcomed for the summer vows with red parasols, balmy breezes and  offered specialty cocktails, created using Indiana's own "Sage's Simple Syrups" served before the ceremony.
Following the ceremony the service staff of the Alexander treated guests with dozens of menu options from around the world.  The tapas style menu tempted the taste buds for several hours as hors d'oeuvres, entrees, desserts and late night snacks were all presented in "small plate" style servings.  Options ranged in cuisine from around the globe allowing guests to travel from country to country tasting the heritage and culture of this amazing couple.  Even the  wedding cakes (both American and the traditional French pièce montée) reflected their cultural influence.  Naturally, no French wedding would be complete without a champagne toast, but this wedding included a Champagne Bar allowing guests to sample champagne vintages and infuse their beverage with juices, syrups and floral. Throughout the night guests could be seen perusing the menu options while reading their program.  This program book lovingly translated in French and Spanish the ceremony's vows and menus so guests who had traveled from France or Columbia never felt left out of the evening's celebration.
Music played a major role in the celebration. The ceremony included a live trio, but during the reception, the salsa and Latin flair kicked in when Cathy Morris put together an ensemble for the dinner portion of the evening.  The DJ kept the crowd happy by infusing a European club sound while playing just enough Latin style to make sure both continents were on the dance floor all evening long!  When Andrea surprised her guests with her reception dress, the Shakira song was the perfect choice! Just as the invitation was printed in 3 languages, and all other paperie pieces had been throughout the day, as guests departed they once again were surprised with a multinational gift.  The favors were a collection of sweets from around the globe.
The entire evening had the perfect blend of food, family and fun,  Félicitations! ¡Felicitaciones! Congratulations Andrea and Patrick.
Enjoy their video : Andrea+Patrick Video
This wedding was featured on BorrowedandBlue.com
This wedding won the 2014  ISES Indiana PACE Award for Best Creative Solution.
Merci Beaucoup:
Alexander | Blue House Bridal | Cathy Morris and Kristi Lee (TLW Entertainment) | Classic Cakes | Evan's Audio Visual | IndyVisual | McNamara Florist | pomp&polish llc | Sage's Simple Syrups | Splendor | Tyler Mason | Vrai Photography
[/vc_column_text][/vc_column][/vc_row]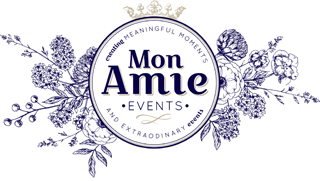 Copyright 2020 | Mon Amie Events Inc.