BRITTNEY + CONOR'S WEDDING STORY:
Alexander Hotel ~  Indianapolis, Indiana
Throughout their lives their families had joked Brittney and Conor were actually opposites, like Fire and Ice, so Brittney requested her wedding include this "inspiration" in her weekend and the inclusion of the bold (and sexy) color palette of red and turquoise. Designing a wedding with a slightly fun color palette is always a treat, and this couple made things just a complete joy for their professional team.  They allowed everyone to push the envelope with ideas, creativity and design – and in doing so – their Fire and Ice vision came to reality.
Their venue has several blown glass chandeliers and Brittney allowed me to liked the idea of include the glass throughout the event. The ceremony was the Fire portion of the event. Red dominated the wedding ceremony. For entertainment a glass blower was present who showed guests how he had created the custom glass pieces for the bridal party to carry as their bouquets.
The reception was the "Ice" portion of the evening. The decor was fittingly created in tones of turquoise using muli-tonal lighting effects, clear chairs, silver and blue linens and again the use of glass. Turquoise glass chargers and custom glass sculptures enhanced the tablescapes. The table numbers mimicked the invitation which were both clear acrylic. The final touch was the liquid dance floor which looked like cracked ice and looked exactly like the invitation suite. White flowers dotted with crystals and centerpieces of crystal chandeliers completed the decor.
Even the menu selections reflected both fire and ice whether it be the chilled iceberg salad, the fire roasted entree courses (both a fish course and beef course were served) or the cryogenic ice cream sundae station during dancing to cool guests down helped continue the theme.  As guests departed they were given one last piece of "Fire" – a gift of "Ice" – a blue glass sculpture made by the glass artist.
Merci beaucoup: Jessica Strickland Photography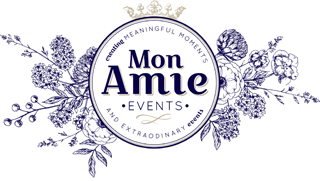 Copyright 2023 | Mon Amie Events Inc.