CASEY + NICK'S WEDDING STORY:
Crowne Plaza Historic Union Station ~ Indianapolis, Indiana
Couples often overlook the beauty that can be found in a crisp winter wedding. There is something magical about freshly fallen snow and the chill in the air as guests wrap themselves up in cozy blankets. Casey and Nick's guests were in for a magical evening when they arrived for a woodland, winter wonderland.
Guests were welcomed into the winter scene of white woodland trees for the ceremony and this continued for the celebration as the details were everywhere… Glass sparkled, beaded linens glistened and a glitter dancefloor beckoned all creating a wonderland enveloping Casey and Nick's guests as they entered the ballroom. The finishing touch was a magical snowfall on the newlywed's first dance to start the evening.
Merci Beaucoup: Jessica Strickland Photography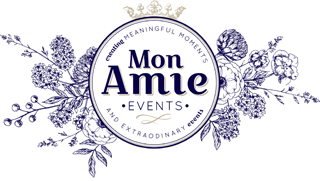 Copyright 2023 | Mon Amie Events Inc.