CHELSEA + TOM'S WEDDING STORY:
Lucas Estate ~ Indianapolis, Indiana
The charming garden wedding of Chelsea and Tom was a delight. The two of them wanted a warm and welcoming celebration, and a paaarty. It was, in every single way.
They are from Chicago, so big music, big food, big band, and big celebration surrounded this amazing couple and their family. (Anything with a bridal party over twenty people is absolutely going to be full of boundless energy and great fun!) Chelsea and Tom's wedding was a beautiful evening. Chelsea wanted a soft, neutral pallet for the garden wedding and al fresco dining. Soft cremes and blush paired with mint and eucalyptus to create a calming and warm space. The details were endless. From her flatware and linens selection to her personalized menu wraps, Chelsea wanted her guests to forget about their busy city lives and escape while dining under the stars.
Merci Beaucoup: Jessica Strickland Photography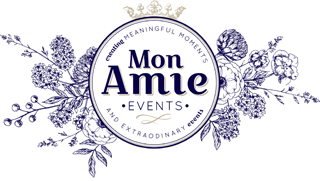 Copyright 2023 | Mon Amie Events Inc.