Colorful Weddings Are Back!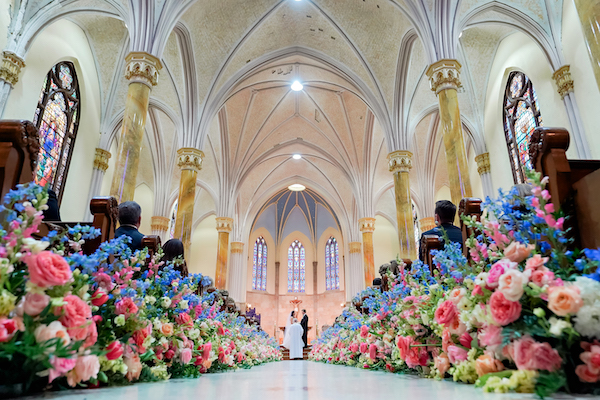 Our Mon Amie Events team recently worked with incredible Indianapolis wedding professionals to create a spectacular wedding.
At first glance, the bride's simple, elegant bouquet of white tulips seemed like a nod to an understated color palette. But the tone quickly changed into a magnificent explosion of color.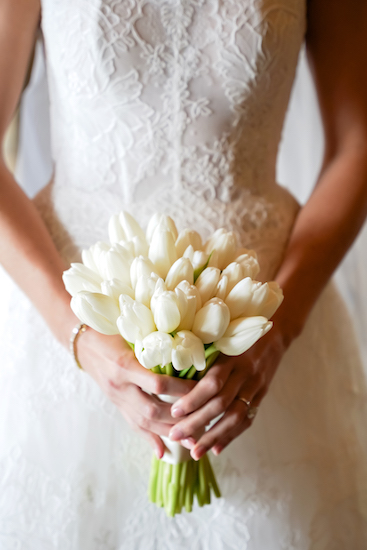 Color Me Surprised
From a wedding party in black tie with elegant white personal flowers, the wedding quickly transformed into a magical explosion of vibrant colors.
The aisle of the ceremony venue was framed in a lush border of pink, blue, and white wildflowers with pops of greenery.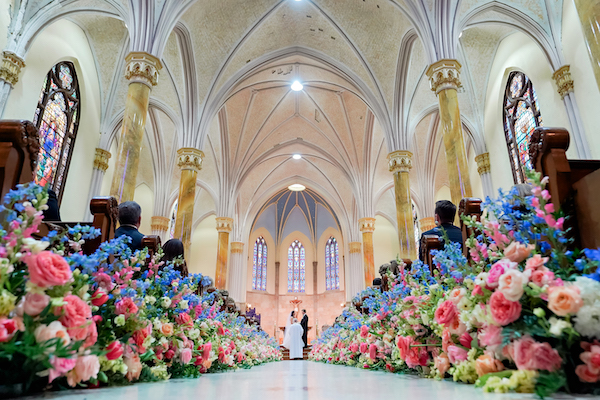 Against the soft, understated colors of the sanctuary, the aisle popped with color as the bride made her grand entrance.
The Lounge
Indianapolis' Scottish Rite Cathedral was the perfect stage for this wedding's explosive color palette.
As wedding guests entered the lounge, they were welcomed by a baby grand piano draped with a blanket of colorful blooms that cascaded to the floor.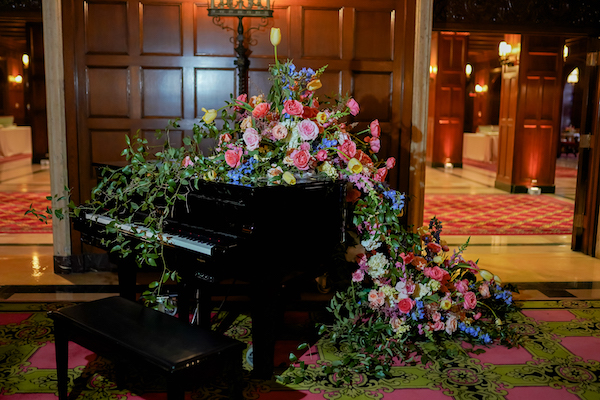 Inside the venue's lounge, the warm oaks of the room, paired with the vintage glass windows installed in 1929, created a one-of-a-kind backdrop. Neutral-colored linens and gold Chiavari chairs created a soft bed for the vibrant floral pieces.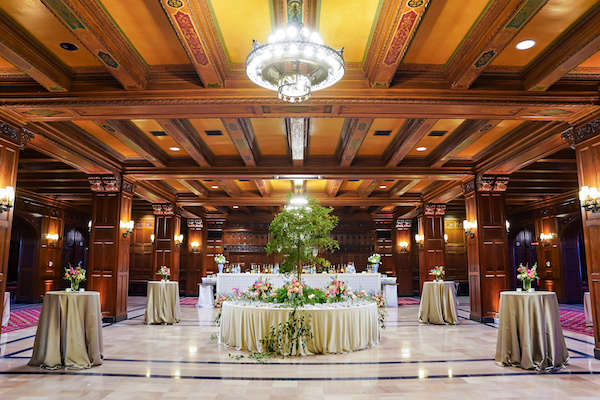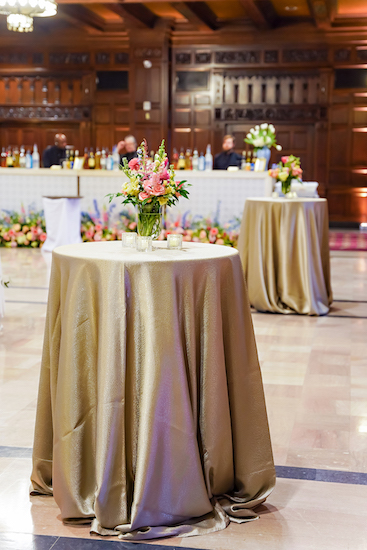 From the luxurious circular escort cards table growing from a tree with sprawling blooms to the show-stopping bar with a patterned Spanish tile front, the cocktail reception continued the color story.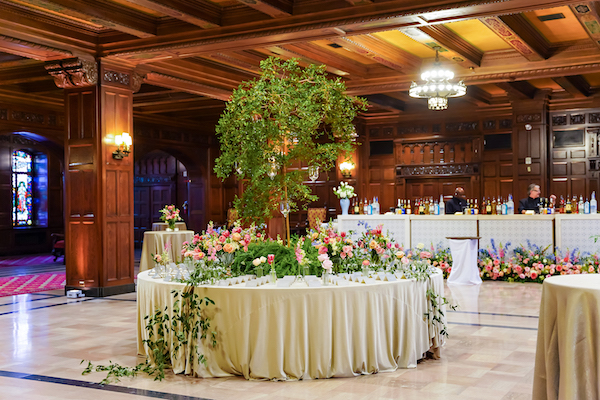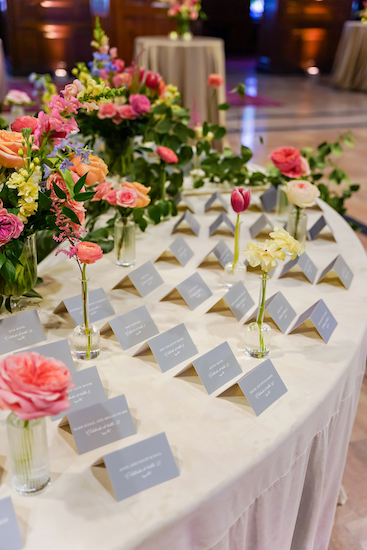 Dancing In A Garden
The Scottish Rite Cathedral's ballroom, with high vaulted ceilings and Carpathian white oak, created a space that felt like an incredible indoor garden with towering trees.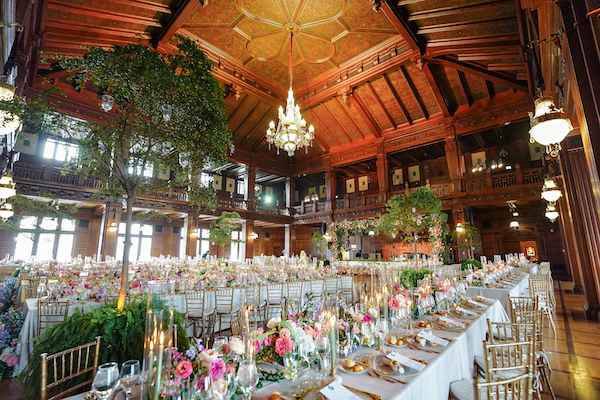 Oversized rectangular tables were draped in soft bone-colored linen and adorned with gold flatware and gold-rimmed charger plates, allowing the brilliant blooms to shine.
Accenting tables with taper candles in glass cylinders and floating candles brought soft lighting while focusing on the floral creations.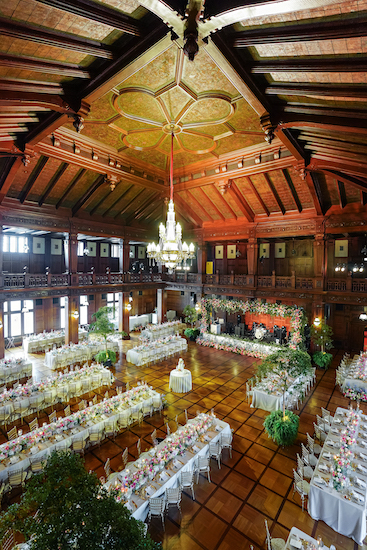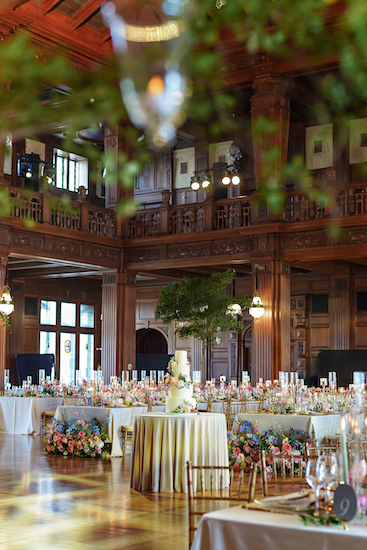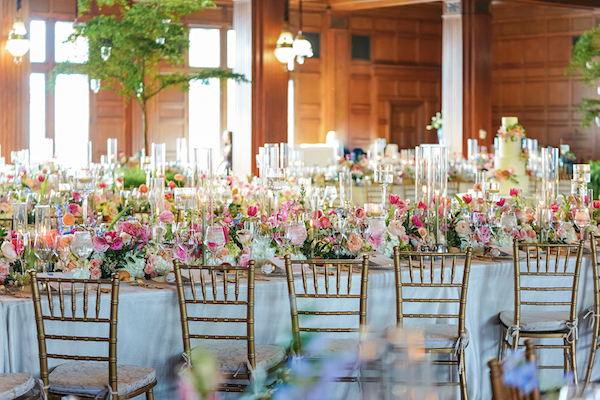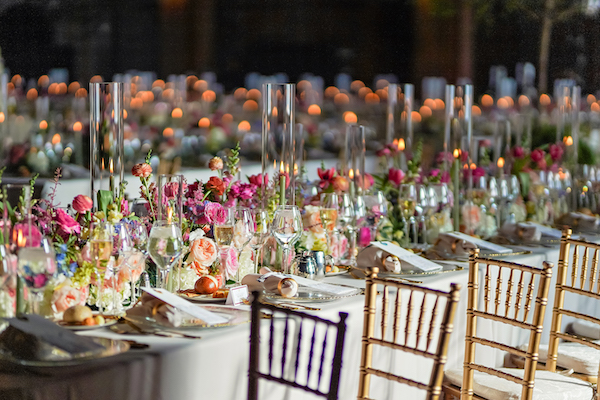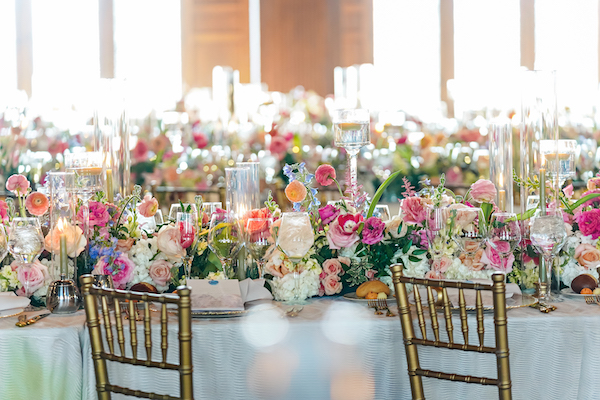 Delicate flowers on a towering four-tiered white wedding cake connected the sleek cake to the colorful wedding with subtle touches.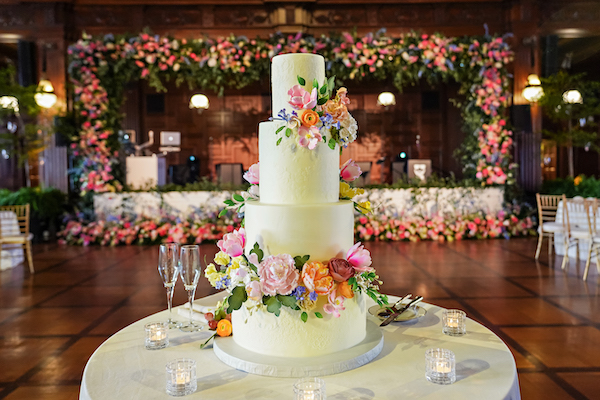 Another spectacular pop of color was the lush, flowing, floral frame surrounding the bandstand. This focal point was front and center for a wedding where the dance floor was filled most of the night.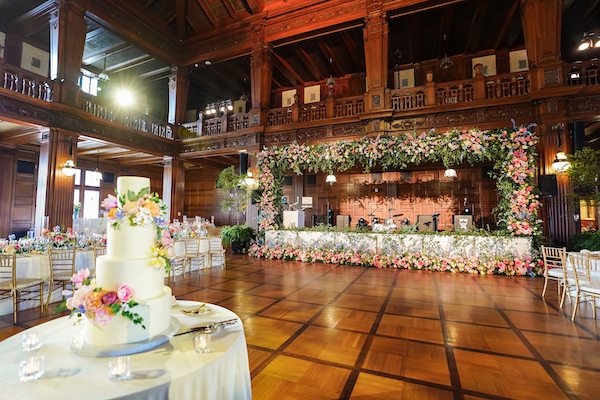 Additionally, as if the floral creations didn't pack enough punch, our team washed the room with colorful lighting as the dancing continued, taking it to an entirely new level.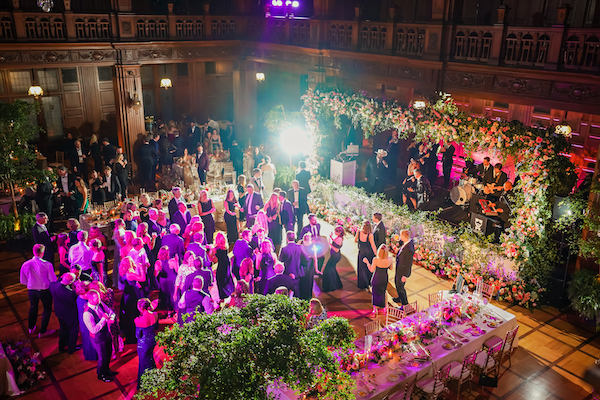 This wedding was a feast for the eyes and a sure sign that color is returning to weddings!
Merci Beaucoup
Thank you to all of the outstanding Indianapolis wedding professionals who brought this spectacular wedding to life.
Indianapolis Wedding Planner and Designer: Mon Amie Events
Wedding Ceremony: St. Mary's Catholic Church Indianapolis
Wedding Reception: Scottish Rite Cathedral
Indianapolis Wedding Photographer: Jessica Strickland Photography
Ceremony Music: ISO Musicians
Catering: Kahn's Catering
Floral Design: Pomp and Bloom
Wedding Cake: Top Tier Cakes
Decor: BBJ – La Tavola Linens / NBE Event Group / A Classic Party Rental / Impact Group Inc
Entertainment: Jim Cerone / Jordan Kahn Orchestra / Stratosphere 
Hair and Makeup: Salon One Four
Papery and Branding: Creative In Bloom
Transportation: Antique Limousiné of Indianapolis
Guest Accommodations and Rehearsal Dinner: JW Marriott Indianapolis / Conrad Indianapolis
monamieevents
September 1, 2023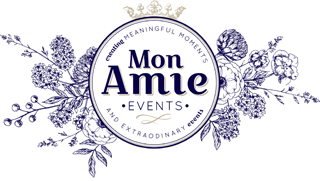 Copyright 2023 | Mon Amie Events Inc.