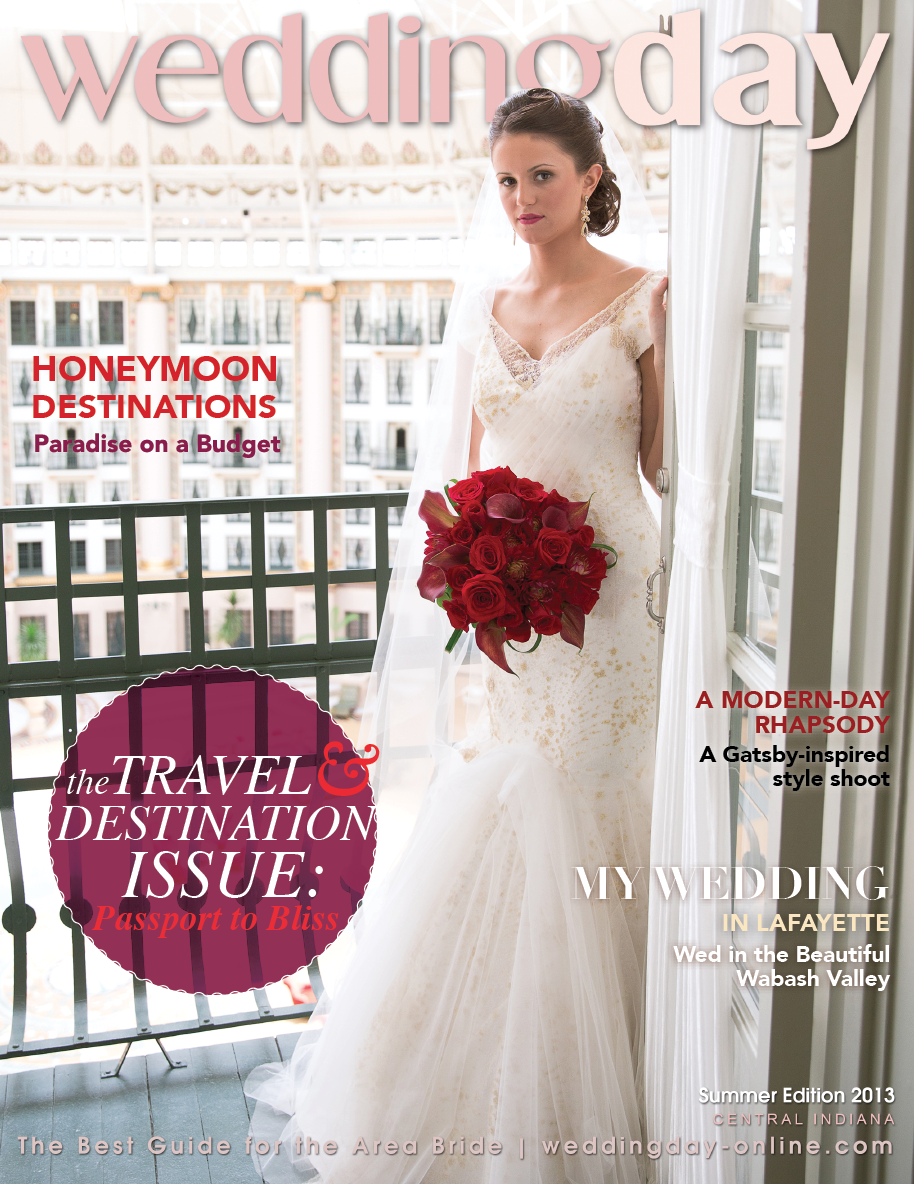 I was thrilled to be asked by the editors of WeddingDay Magazine to design the cover shoot of their upcoming covers.  When I was told they were considering my beloved French Lick Resort for their summer issue, I requested that issue for my cover shoot, finally, the cat is out of the bag, the summer 2013 magazine is now released and I can publicly thank the editors, sales them and the amazing professionals who came together to create such a bright, bold and beautiful magazine! It is very rare for me to consider a staged photo shoot – but for the cover a magazine – and in one of my favorite locations – no one had to ask twice. 😉
The process began in February with the selection of the cover model.   10 lovely readers of the magazine were judged during a live photo  shoot by a series of panelists including the editors, a modeling agency, the photographer for the cover (the talented – and good friend, Melody Carpenter from Carpenter Photography and Design) and me.  We selected our cover model and 2 runners up to be "bridesmaids."
Katie, our winner and bride ultimately wore two gowns (with accessories) for the shoot both provided by the chic salon, Marie Gabriel Couture.  The two bridesmaids (Jessica and Paulisha) wore cream dresses and jewelry provided by Bella Bridesmaids.  The 3 lovely winners of the contest were so fun to work with on the day of the shoot.  They were chatty and it was interesting hearing about their own upcoming weddings.  (Paulisha's was only a mere 5 days away from the shoot!)
(All of the ladies looked fantastic thanks to hair and makeup by Champs Elysees Day Spa and Salon)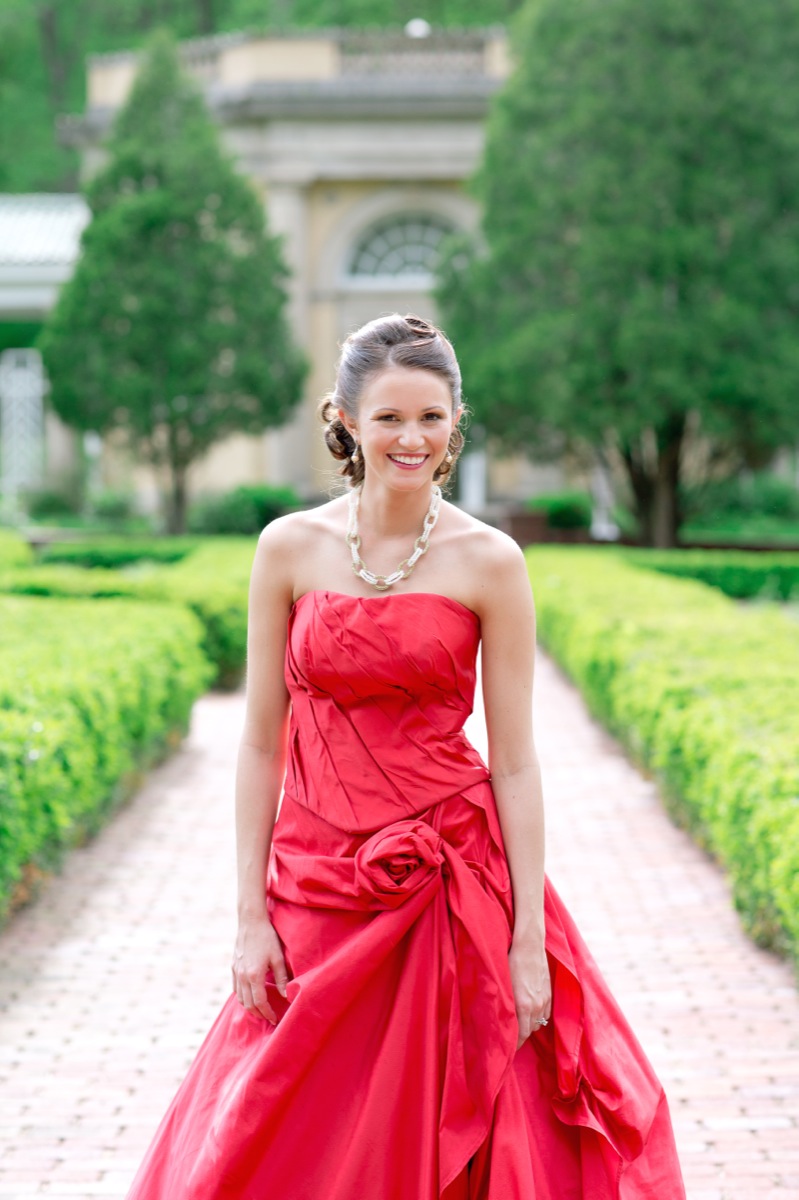 Selecting Katie's red dress was actually inspired by two things.  The venue and a song.  Her song.  When Katie came to the photo shoot contest she, along with each contestant played a song while they were being photographed.  Katie's song was "Alicia Keys, Girl On Fire" – and she was. Katie lit up the screen with her beautiful smile and wonderful ability in front of the camera.  There simply wasn't a bad photo of her.  I knew red would photograph well with her and at West Baden – so I sought out to find a wonderful deep crimson.  Luckily we found this stunning "girl on fire" gown, much like Katniss Everdeen's from The Hunger Games wears.  It looked spectacular on Katie as a possible "reception gown."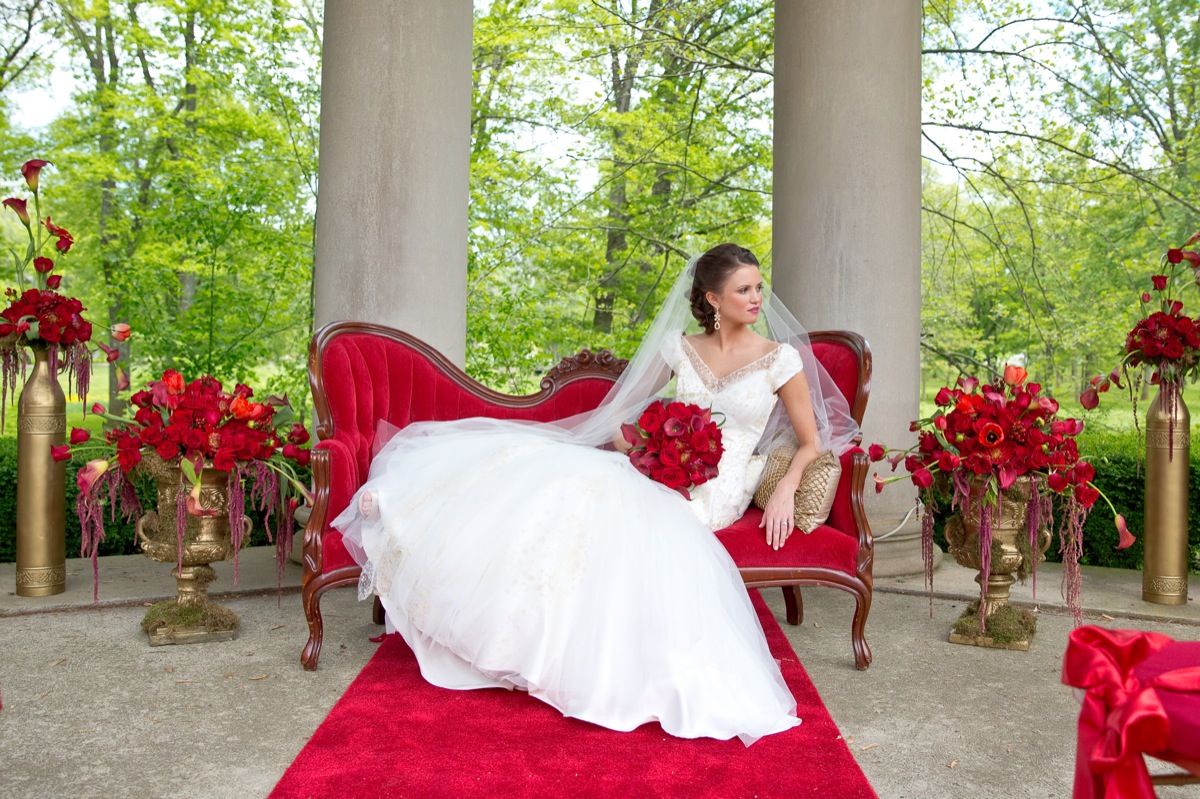 I selected a deep palette of red for the entire shoot. With the help of Violet Vintage and Cathy Teeter's Beautiful Weddings, the monochromatic red palette look made Katie in ceremony dress stand out beautifully.  The  deep red carpet for the traditional aisle runner allowed the bride in her white gown to command attention for her processional and photographs. Vases in brass and gold compliment the architecture of West Baden's beautiful gardens and the stunning Apollo dome used for the ceremony.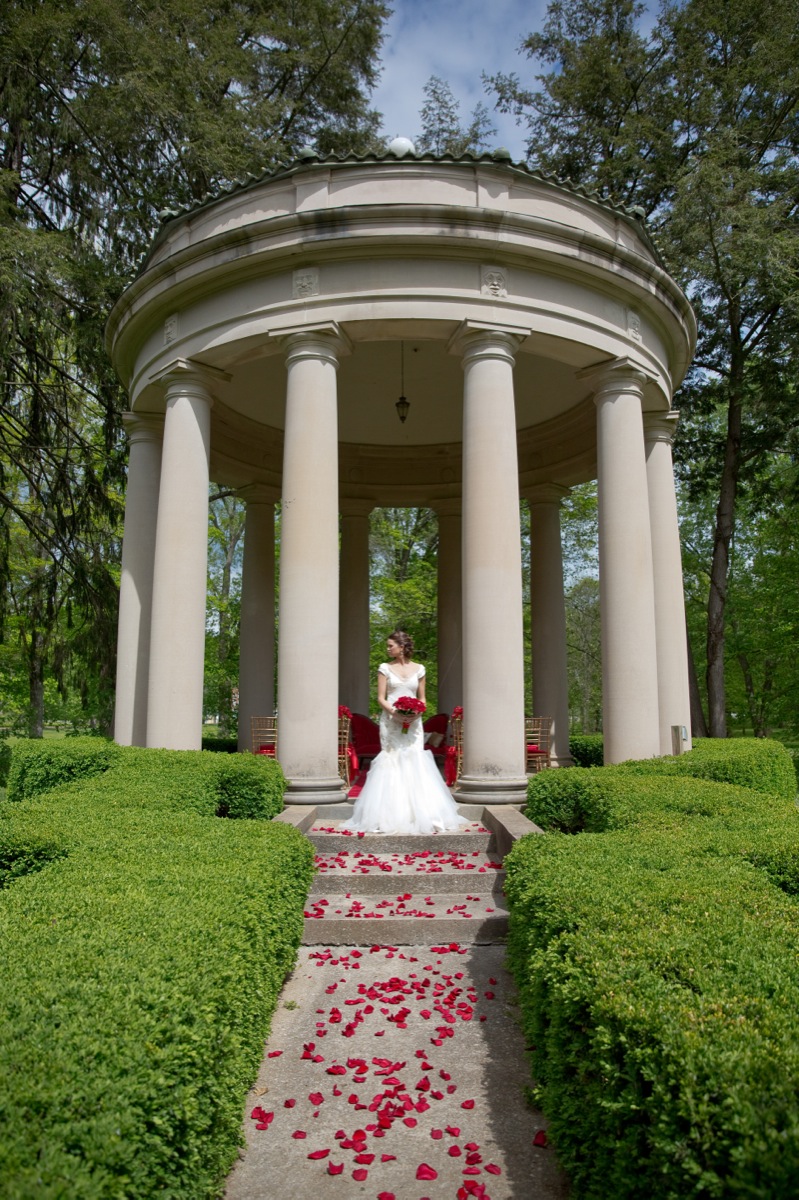 The reception area also used the red tones.  The stained glass windows in this room, along with Katie's song, helped served as the inspiration for the color palette.    I tell clients all the time to find inspiration for their weddings from architecture, history,the season, fashion and home interior.  I ask them to look beyond the wedding world, but to look within themselves.  For this cover, I looked at the venue, and most specifically, at a window.  West Baden's architecture is second to none, and within its hallowed halls and storied history include a time period with the Jesuit Priests lived in the hotel and made it their home.  During that time the priests replaced all of the windows in the lobby with stunning stained glass pieces.  Two of the main colors in these are red and gold.  Because of the rich opulence in these, I thought they would make a wonderful color palette for a summer wedding.  Many wonderful flowers including dahlia, roses, peony and poppy are available in red during the summer, pairing these with soft ivory bridal dresses for the ladies and gold jewelery allowed for a fresh approach to a summer celebration.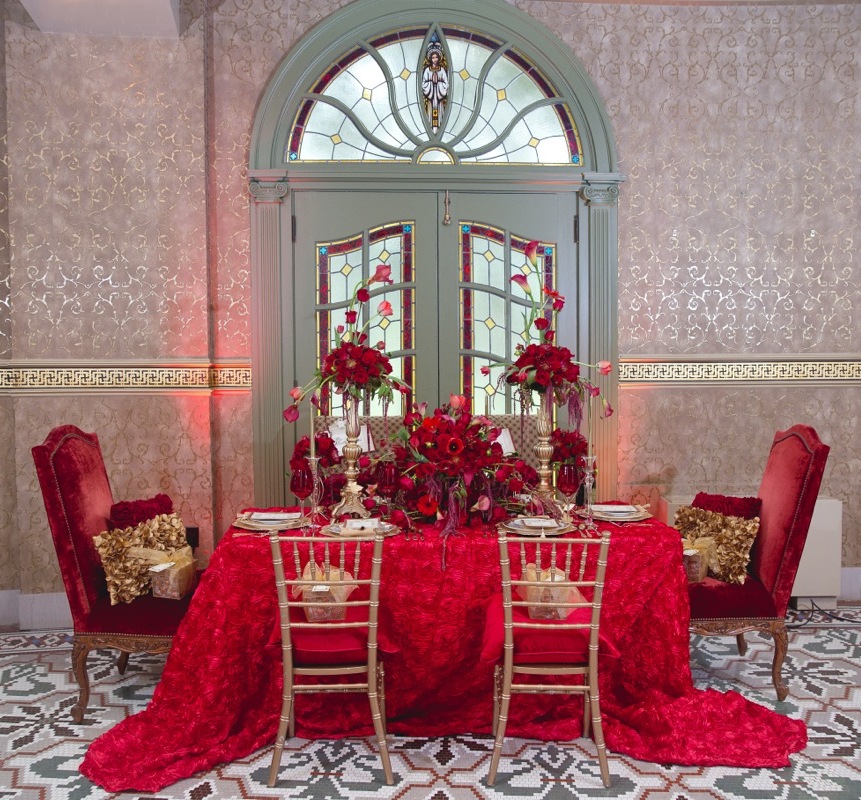 Florals were again created by Cathy Teeters Beautiful Weddings, Linens by LGi Linens, Paperie by Pillar Box Studio and tableware provided by A Classic Party Rental with my heartfelt gratitude to the hospitality to the staff of the West Baden Springs Hotel of the French Lick Resort.  As always, you treat every single person as if it is their first time so they will return — and because of this, it is my ohhh, my ah hem, let's say 20th or so stay 🙂  thank you!
The below images are the magazine pages as they appear in the 2013 Summer Issue:  Enjoy!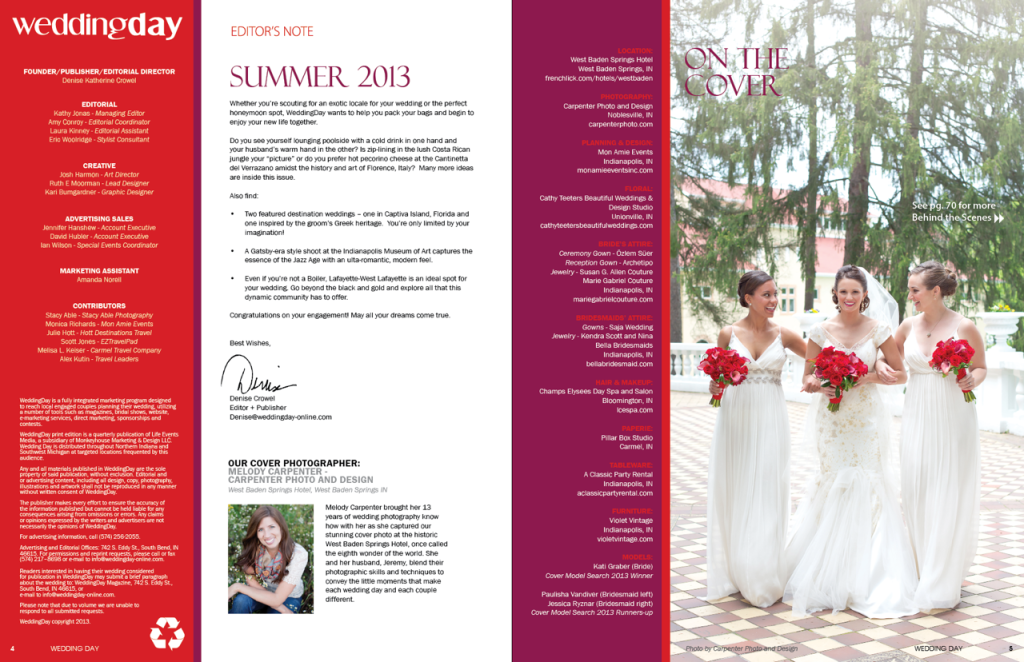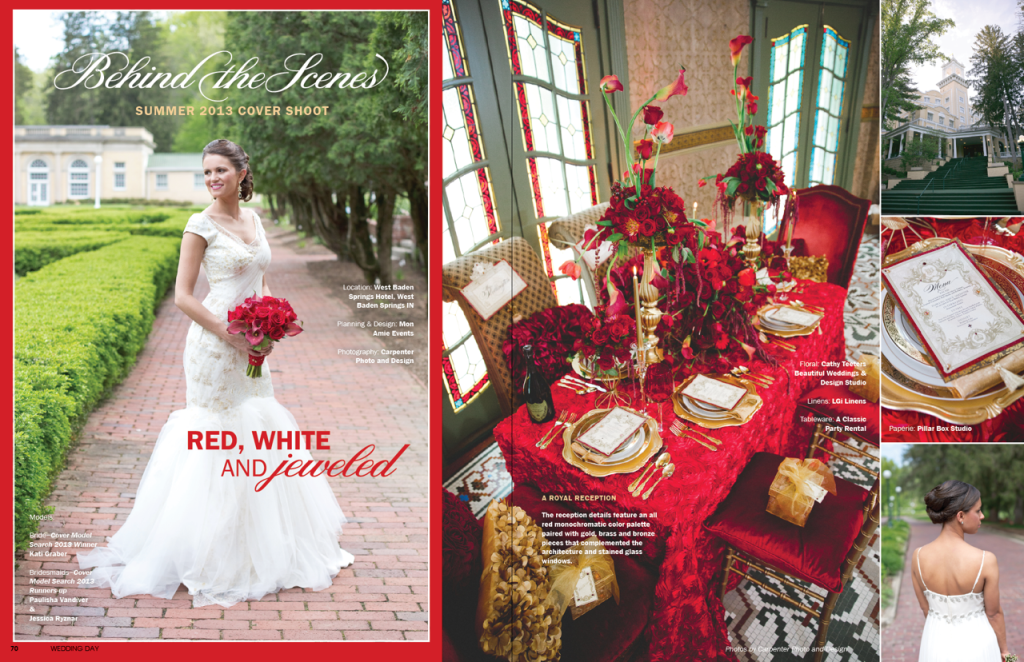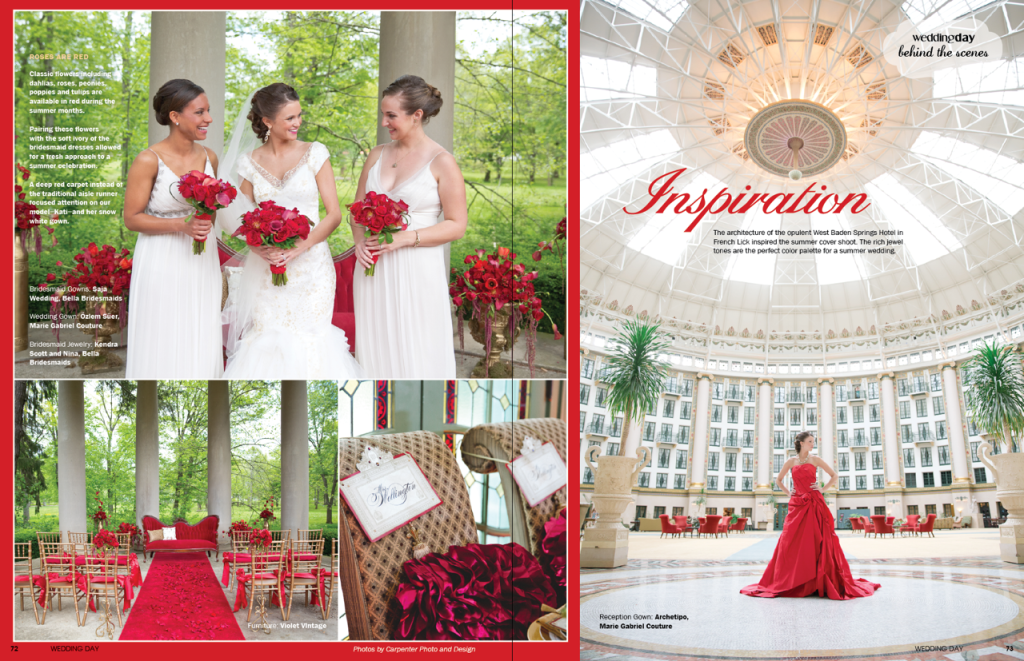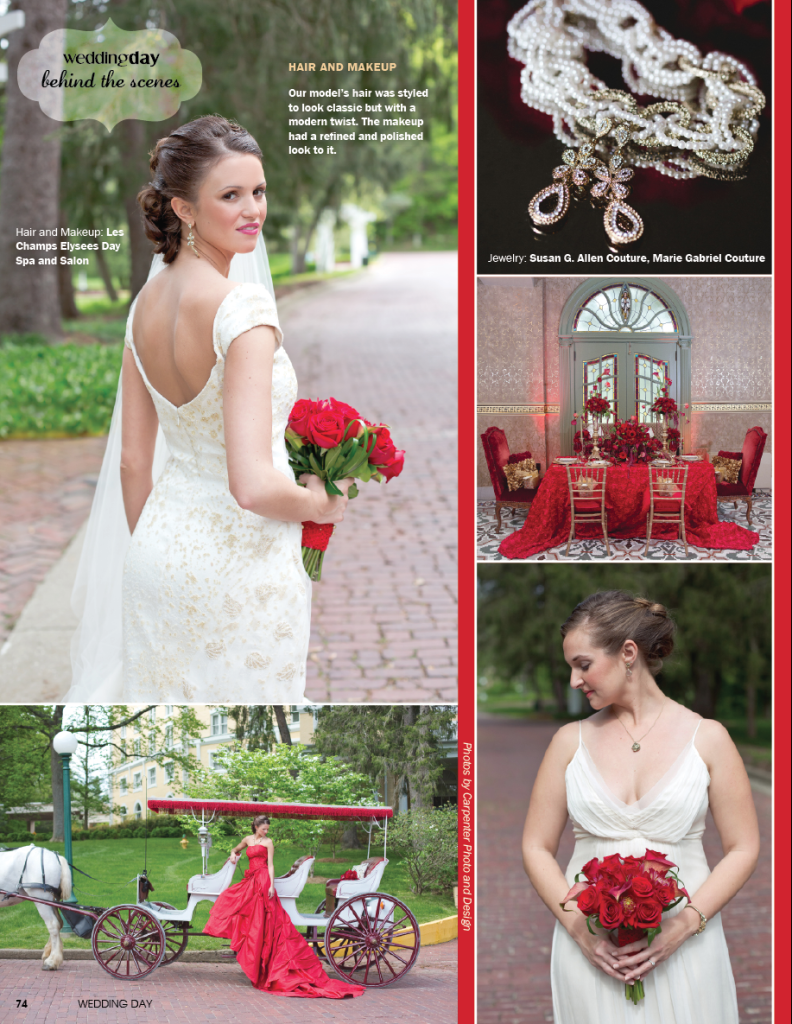 Happy marriage Paulisha, and to Jessica and Katie — I can't wait to see you both as brides, you  looked so stunning! It was lovely getting to work you all.
Katie, you lived up to your theme song!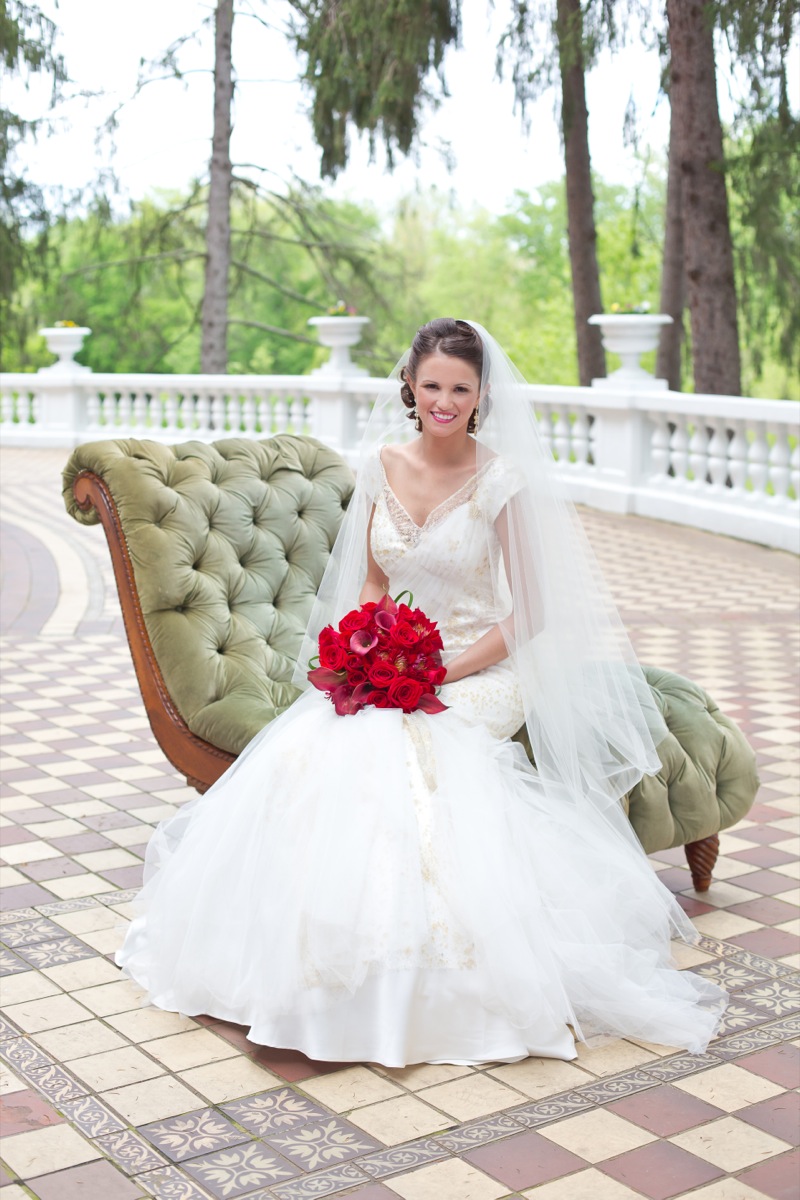 Mon Amie Events, Inc is a high end  Indianapolis  based event planner, luxury wedding planner, bridal consultant bar mitzvah planner, bat mitvah planner, event designer and wedding designer. Monica Richard, MBC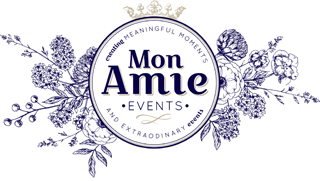 Copyright 2023 | Mon Amie Events Inc.