GRACE + GRAHAM'S WEDDING STORY:
Indiana Landmarks Center + JW Marriott ~  Indianapolis, Indiana
Grace and Graham, recent graduates from Indiana University, initially wanted a "red and white with poppy" wedding, and while  "candy cane stripes" might be appealing for their beloved basketball team's uniform, a wedding's color palette admittedly needs more sophistication. Grace's family also wanted to host a celebration befitting the formality of an upscale wedding, while allowing the newlyweds a joyous time to revel in a true party.  Creating the atmosphere complete with a college favorite band, fun late night snack and unique surprises with Hoosier infusion were all part of creating a very special weekend for Grace, Graham and their families.  Afterall, this wedding was not only a wedding celebration, but a true "homecoming." Isn't that what a wedding, and fall, are all about?
The palette for Grace and Graham's fall wedding was extraordinarily sophisticated: red, poppy, cinnamon, brick, fuchsia, merlot, terra cotta, and of course, "cream and crimson" were used to create a cornucopia of autumn colors. This allowed the venues, The Indiana Landmarks Center and the JW Marriott to shine in their true beauty.  The bridal party's Grecian inspired gowns flowed effortlessly as they walked down the aisle and the rustic and warm bouquets gave a hint of the stunning flowers that awaited the guests at the reception.   The detailed flowers were unique in their choices including dahlia, anemone, coxcomb, berries and even kale as the blooms selected to give an earthy and fall feeling to the flowers.
The ballroom of the JW was a site to behold!  Specialty lighting created beautiful shadows drawing guests into the room.  Long royal tables flanked the  dance floor, while intimate square and round tables mixed together in the space to create smaller eating groupings.  The large tables had massive centerpieces dripping with candles, creating height and impact in the large ballroom.  The smaller tables had lush, low centerpieces, perfect for conversation. The room was very warm, rich and welcoming – it was a true homecoming. The ballroom was filled with family, friends and alumni and the Indiana traditions didn't end with the color palette. Grace and Graham surprised their guests with a late night snack of Mother Bear's Pizza, a groom's cake (red velvet of course!) and as the late night snack premiered, the bar tenders changed to IU T-shirts and began to serve from custom red plastic cups (an IU pizza place staple).  Finally, as guests departed, they could be seen wrapping up in the favor, a Hoosier Red pashmina to keep warm on the chilly October evening.  It was a wedding that was the perfect mix of formality and frivolity, just as the two generations requested.
Merci Beaucoup: Conforti Photography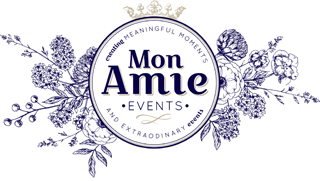 Copyright 2023 | Mon Amie Events Inc.