KATHLEEN + BEN WEDDING STORY:
Saint's Peter and Paul Cathedral and Newfield's  ~  Indianapolis, Indiana
Kathleen and Ben's wedding was planned and designed around two main focal inspirations – art and her love of flowers.  Once I went to her parent's home and saw the fantastic modern art in their home, I too was inspired and knew I could work with the clean, contemporary spaces of Newfields and their lush gardens for the reception space.  Working art into the design proved to be fun for the entire team. 
Initially, Kathleen gave a mood board for her wedding of soft airy pastels for wedding colors, but with a mid-June wedding, it fell (almost exactly) on a Midsummer night's Dream, so we encouraged her to infuse just a touch more punch into the color to play up the summer's intensity.  Perfectly Kathleen trusted her team's intuition and let the slightly more bold colors shine.  These were chosen based on a painting I found by a local artist – the modern work was perfect for this couple and mimicked a summer sky and lush flowers like those at the Newfield's Gardens and the colors were right in line with many of those Kathleen initially selected.
The painting was infused in subtle ways on the invitation suite which also included floral sketches. However guests got their first full look of the painting following the nuptial mass.  The original painting was at the cocktail hour, while miniature paintings were created as escort cards for each guest. The escort cards led guests into the ballroom which was bursting with Kathleen and Ben's color palette in lush summer blooms.  The Midsummer Night's Dream had truly come to life in rich opulent decadence!  Floral lanterns dangled from gazebos, brough the outdoors in, and created beautiful vignettes in the large ballroom space.  The dancefloor was custom designed with the couple's specialty floral artwork creating a layered look of sketched florals, real flowers and the modern art all immersed in the glass ballroom surrounded by gardens.   Because sunset doesn't take place until so late at this time of year, the all glass room worked spectacularly with the décor and played perfectly off Kathleen and Ben's vision.  It truly was a Midsummer night's dream.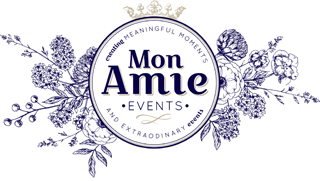 Copyright 2023 | Mon Amie Events Inc.