KRISTEN+TIM'S WEDDING STORY:

St. Barnabas Catholic Church and Union Station ~  Indianapolis, Indiana
Long before this wedding took place I was inspired by the architecture of the Circle City's most iconic venue, Union Station.  Finally, I had a couple that allowed me to "run with it."… and "run in circles" the team did!  It was a planner and designers dream!  The famous Art Deco window of Union Station became a key feature of the stunning wedding of Kristen and Tim.  Cheer Cheer for this Fighting Irish couple!
First introduced at Notre Dame, Kristen and Tim wanted to infuse their love of the Irish into the ceremony and reception.  An Irish blessing was used during the meal, the cocktail hour included a chic football lounge to watch the Irish fight the Sun Devils, Kristen and her teammates performed the fight song at halftime and Navy and Gold was used throughout the wedding's decor. Stunning and crisp navy blue contrasted against gold which worked beautifully with fall toned colors for the October nuptials.  Crimson, poppy, orange and tangerine blooms were radiant against the navy bridesmaids gowns and were such a stricking color combination with the textured gold linens.  Along with the color palette, the iconic architecture was used to show the inspiration of the space as the main focal point of the decor. Having a wedding in the Circle City under a round stained glass window could not be ignored.  First hinted at during the save the dates and invitations,  the main attraction of the space was the larger-than-life dance floor.  Union Station is flanked by a 21′ stained glass window which has graced the space since 1853.  On this night, the dance floor (placed at 24′) brought the window to a new dimension.  Guests marveled at the detail.  Cracks in the glass could be seen, the true beauty of how many colors are in the window could be enjoyed and admittedly, guests were actually apprehensive about walking  on the floor as they first stepped onto it because of its stunning detail.  The round icon was also used as magnets for state-of-the-art beer cups and to help inspire an Art Deco monogram.
Enjoy their Video:  Kristen and Tim Wedding Trailer
This wedding was featured on BorrowedandBlue.com
Merci Beaucoup: Jessica Strickland Photography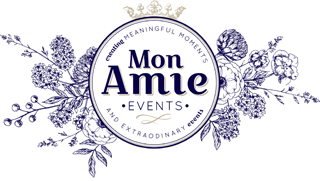 Copyright 2023 | Mon Amie Events Inc.