LAUREN + MICHAEL'S WEDDING STORY:
West Baden Springs Hotel ~  West Baden Springs, Indiana
Lauren and Michael may have hosted their wedding in a grand and opulent hotel, but don't let the size of their wedding allow you to think it was anything less than an intimate occasion. It was definitely a family affair  filled with love, laughter and plenty of family stories to tell.  Lauren and Michael wanted their guests to enjoy a wedding weekend to retreat, relax and indulge in celebration in one of Lauren' favorite childhood destinations, the West Baden Springs Hotel.
The wedding's color palette was warm gold and garnet to coincide with the architecture of the West Baden Springs Hotel.  The hotel, nestled in the rolling hills of Southern Indiana, was closed for the weekend to allow Lauren and Michael's guests a truly magical time to relish in the celebrations.  Starting with a rehearsal dinner overlooking the Pete Dye Golf Course the weekend's weather was "wedding perfect" for golf, spa and of course all of the wedding activities.  The wedding ceremony took place in the lobby of the hotel with the altar facing the stained glass windows placed by Jesuit Priests who lived at the hotel decades ago.  Cocktails stretched along the porte cochere where carriages and cars have brought guests for over 100 years. Finally the main 200′ diameter atrium was revealed to the guests for dinner under a dome of skylights and ring of ring of monogrammed banners .  This awe inspiring space welcomed family and friends for an evening of amazing food, song and great story telling.  Lauren and Michael could hardly wait to dance their first dance on their custom dance floor surrounded by family and friends as guests shared warm and loving speeches.  However, the biggest surprise of the evening was for Lauren herself.  To honor her late father several influential men in her life danced with her during the father-daughter dance while guests all encircled her holding candles. Lauren and Michael had not 1, but 2 first dances on their beloved dance floor.  The second "1st dance" happened at midnight as they were serenaded by their (very talented) family and friends.  After this dance a whimsical late night snack filled with childhood favorite foods from fairs, theme parks and amusement parks were brought out to surprise the guests who danced until the wee hours of the morning.
Meci Beaucoup to Nathaniel Edmunds Photography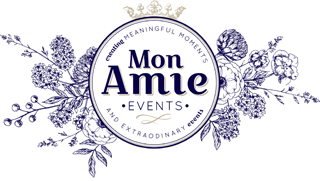 Copyright 2023 | Mon Amie Events Inc.