LAUREN + TOM'S WEDDING STORY:
Private Residence ~  Indiana
Lauren and Tom wanted their summer wedding to have a French provincial warmth to their farm wedding, and undoubtedly they achieved this. They have impeccable taste and when Lauren selected her grandparents 60 acre farm in Franklin, Indiana to host their summer wedding, her New York guests were in for a celebration like none other.
Lauren's grandparents, Mimi and Papa greeted the guests to their home with lemonade (Grandma's secret recipe) and guests sipped the beverage while enjoying acoustic guitar tunes which varied from pop hits to show-tunes before the ceremony.  Lauren envisioned her ceremony in the tree grove surrounded by walnut trees allowing shade from the summer sun. Having a meandering aisle gave the slender bride an angelic walk as she and her 9 bridesmaids in variegated shades of blue cascaded toward the altar. The altar space was created with white organza and lace fabric flowing from a branch to the ground creating a steeple-like setting. This ethereal space was perfect for the magical ceremony. Following the ceremony guests moved to the dining tent for a grand dinner.  The tent blurred the lines of outdoors by having tall birch trees and ferns throughout to create an amazing garden setting.  Cream, pink and blush flowers filled the long farm-house style tables creating an opulent French provincial dinner.  Lauren and Tom wanted to emulate one of their favorite dates to Versailles though the setting and meal, so included French ticking and a sweet French picnic during the meal.  As a final surprise, as the sunset over the countryside, and the full moon rose, the guests were delighted by a fireworks show over the 150 year old farm!
Merci Beaucoup to Jennifer Driscoll Photography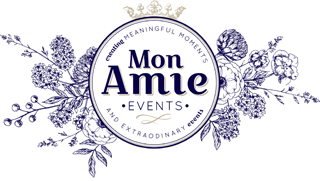 Copyright 2023 | Mon Amie Events Inc.