Love Is A Carousel Ride In West Baden For Leah and Matt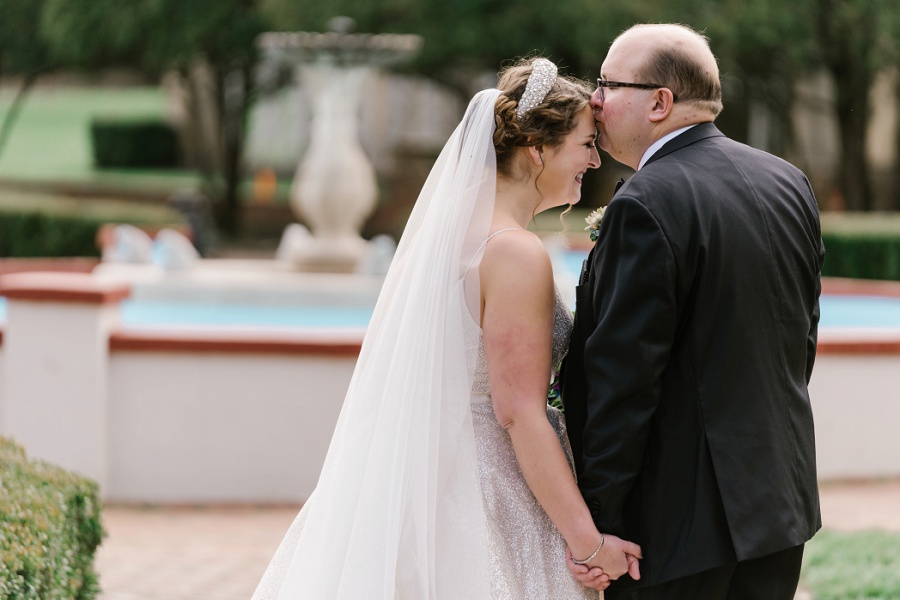 For Leah and Matthew, love is truly a magical ride. And our Mon Amie Events family is thrilled to have gone on this ride with them. We began this journey back in 2014, working with Leah's family on her sister's wedding. And now life has come full circle, like a carousel.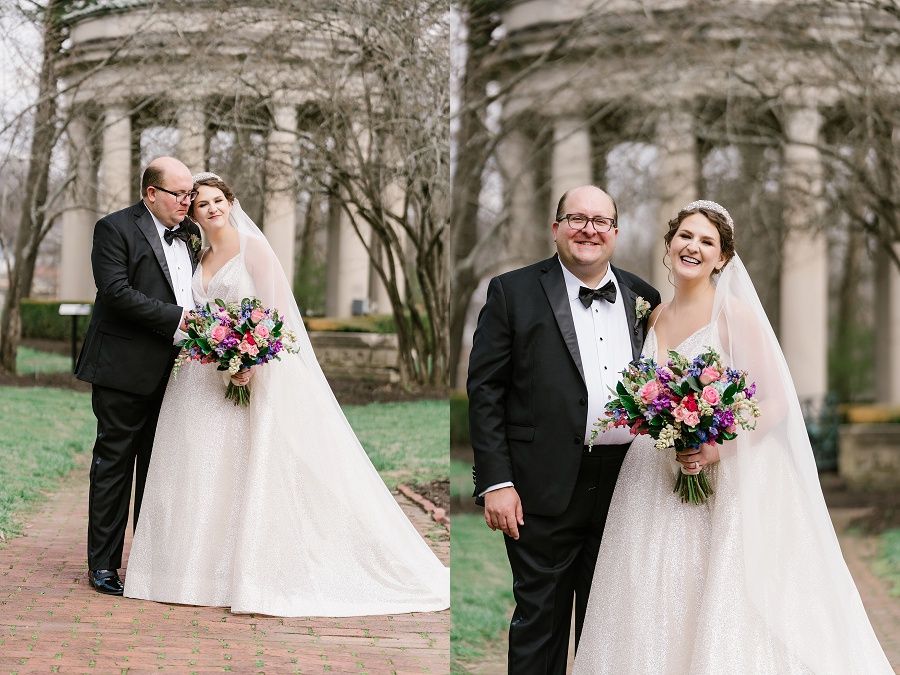 The couple chose to incorporate carousel horses as part of their wedding to symbolize their appreciation for the industry that brings them joy, fuels their passion, and, of course, the industry that brought them together!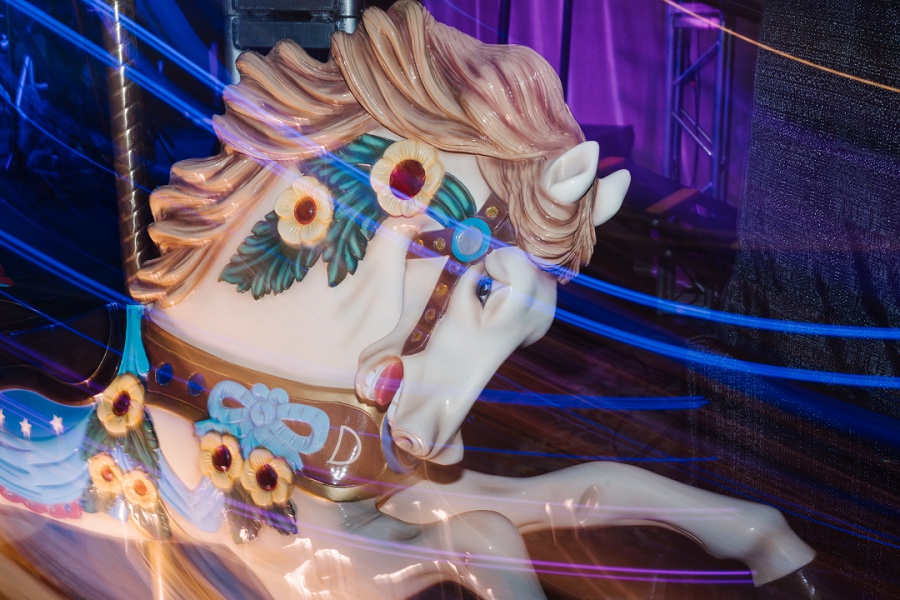 For us, there is no better way to begin telling this couple's story than by sharing their wedding film as it sets the stage for sharing all the beautiful details of their wedding weekend.
The Wedding Weekend
Leah and Matt's wedding weekend began several days before the wedding ceremony with spa treatments at the resort, a Welcome Party wine tasting event, rehearsal, and rehearsal dinner.
The events were the ideal way to relax, enjoy family, their wedding party, and some delicious wines – one of the couple's other great loves.
Getting Ready on the Wedding Day
Saturday began with breakfast and, for the ladies, hair, and makeup. The morning was spent getting ready and capturing photos of some of the couple's wedding accessories.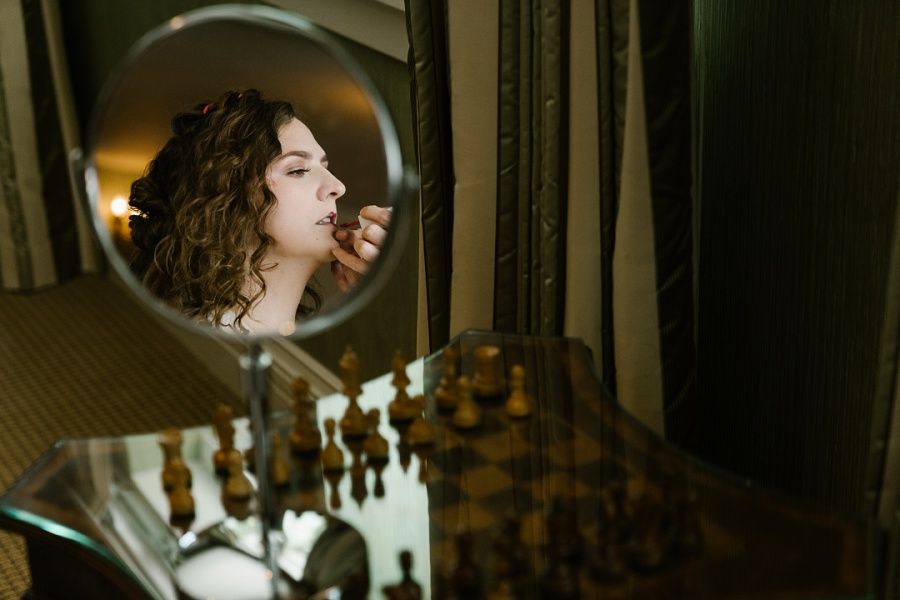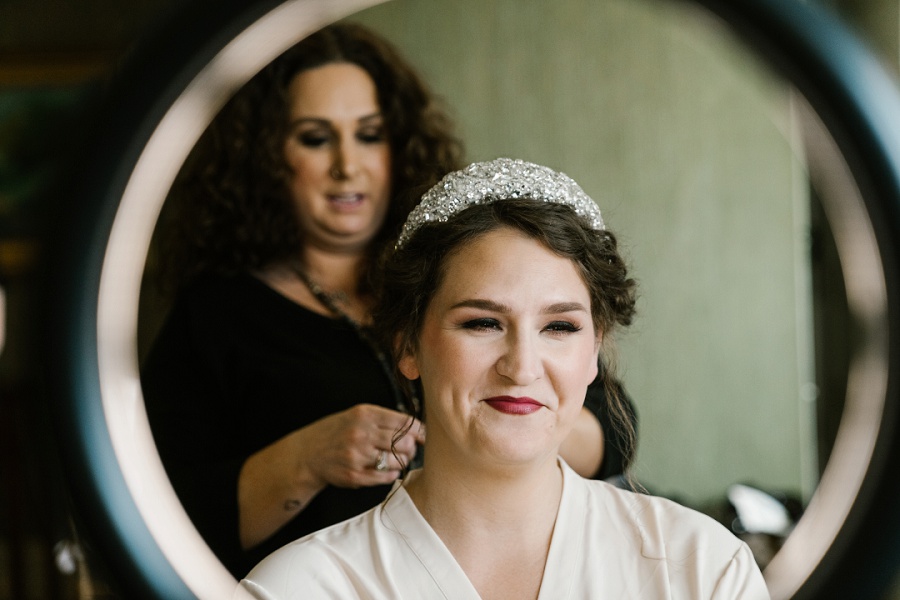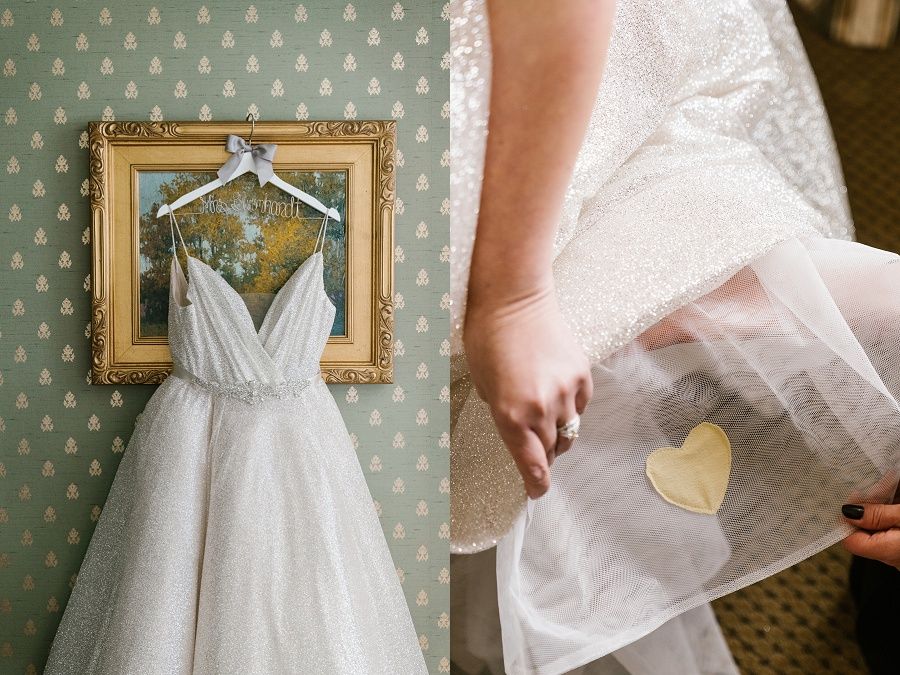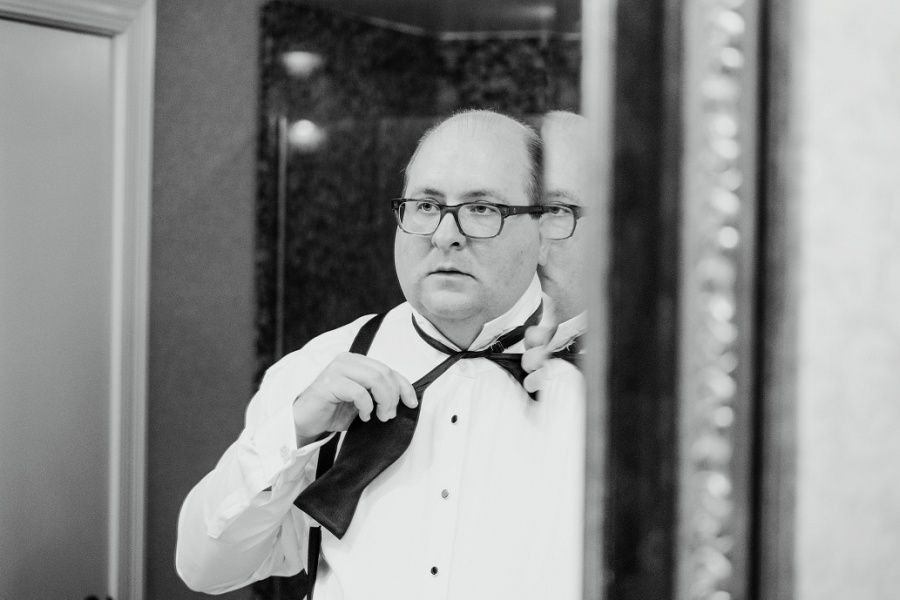 The couple's monogram for the wedding was designed with the iconic carousel horse. It was incorporated into many of the weekend's details, including some fun, unexpected places, like the wedding party's socks.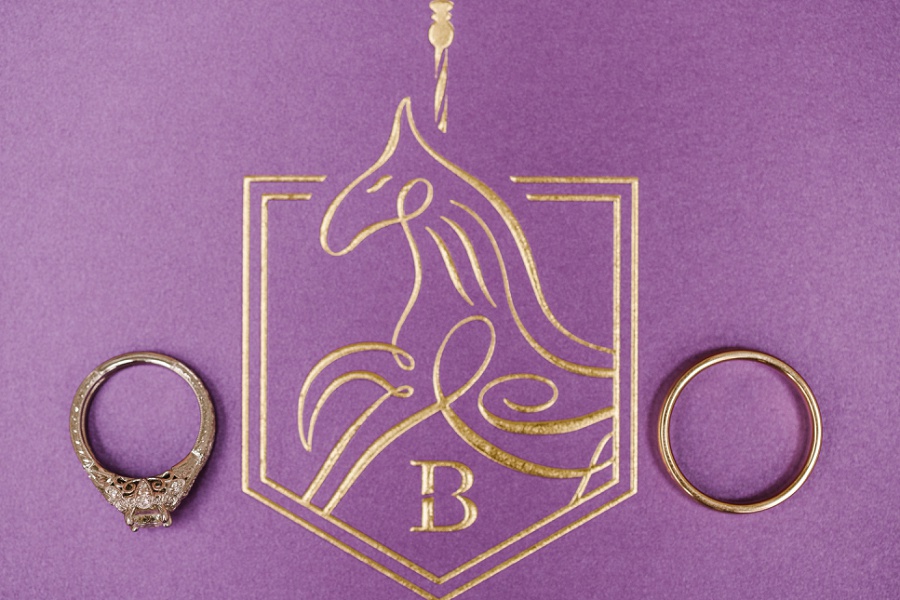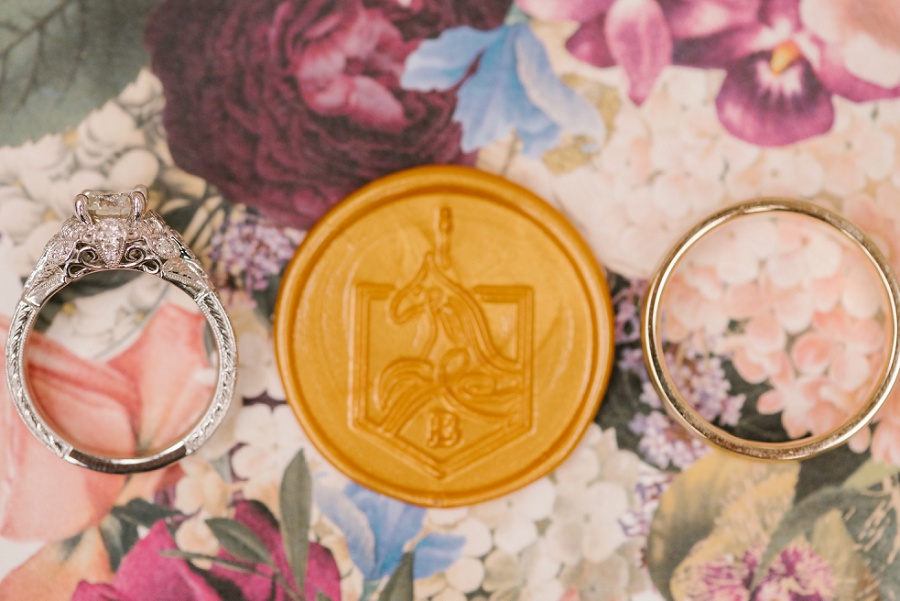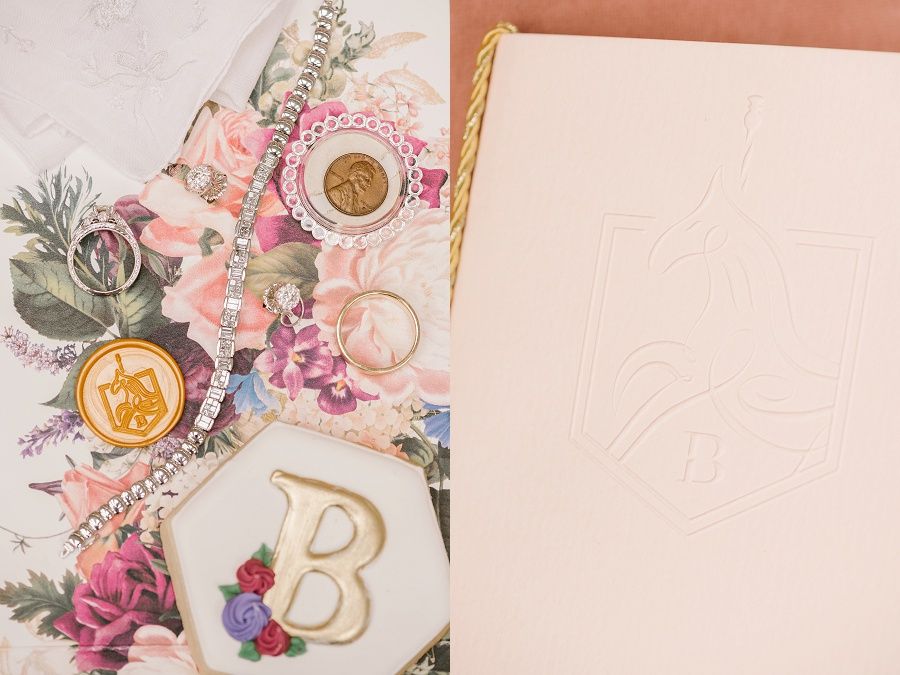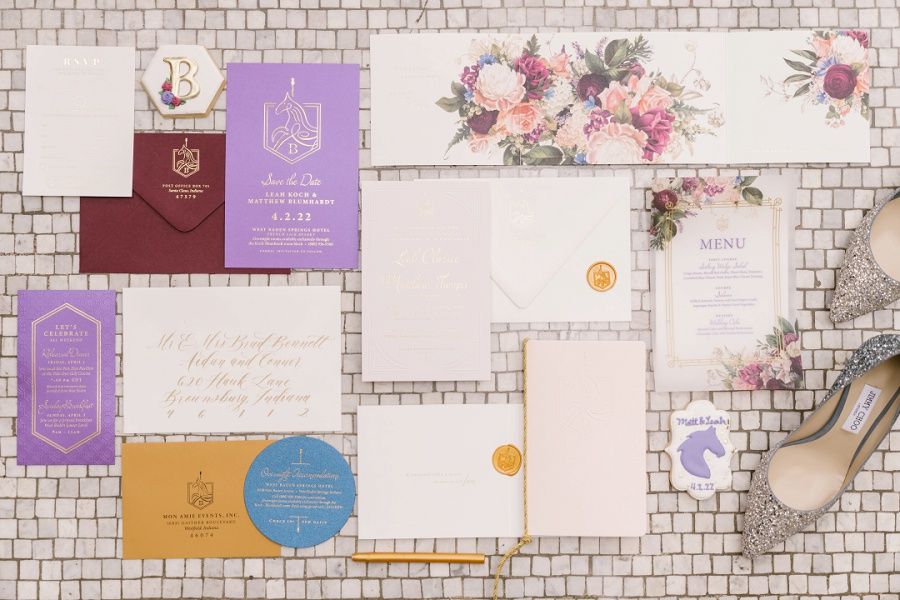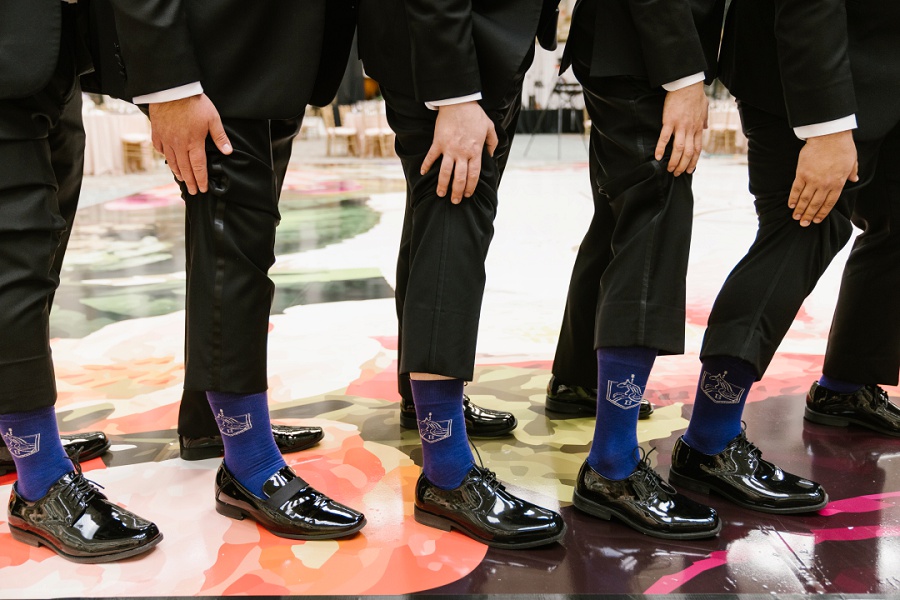 A Series of Firsts
Leah looked stunning in her shimmering Monique Lhuillier gown and sparkling Jimmy Choo's. And her colorful bouquet is incredible. After some portraits, the bride was ready for the first look with her wedding party and then her brother, William.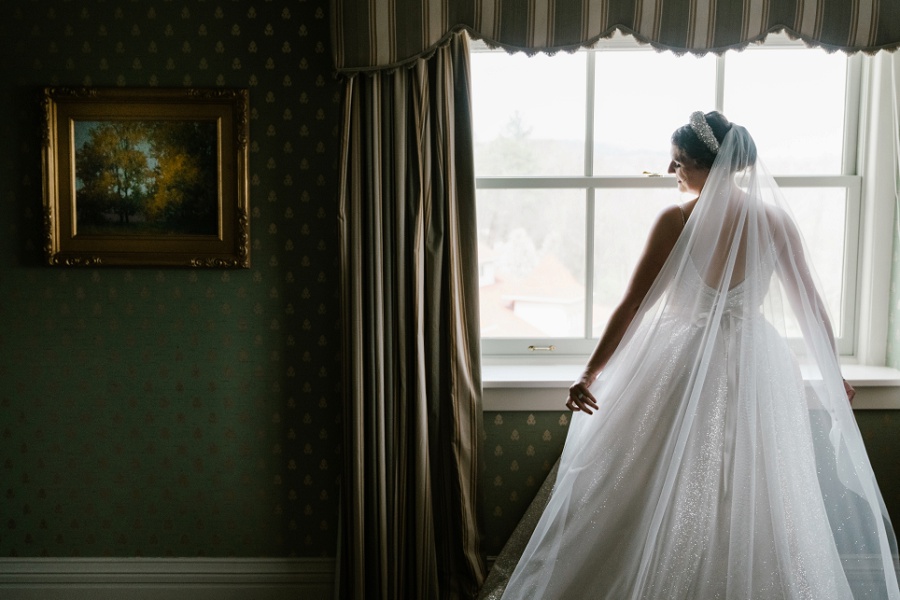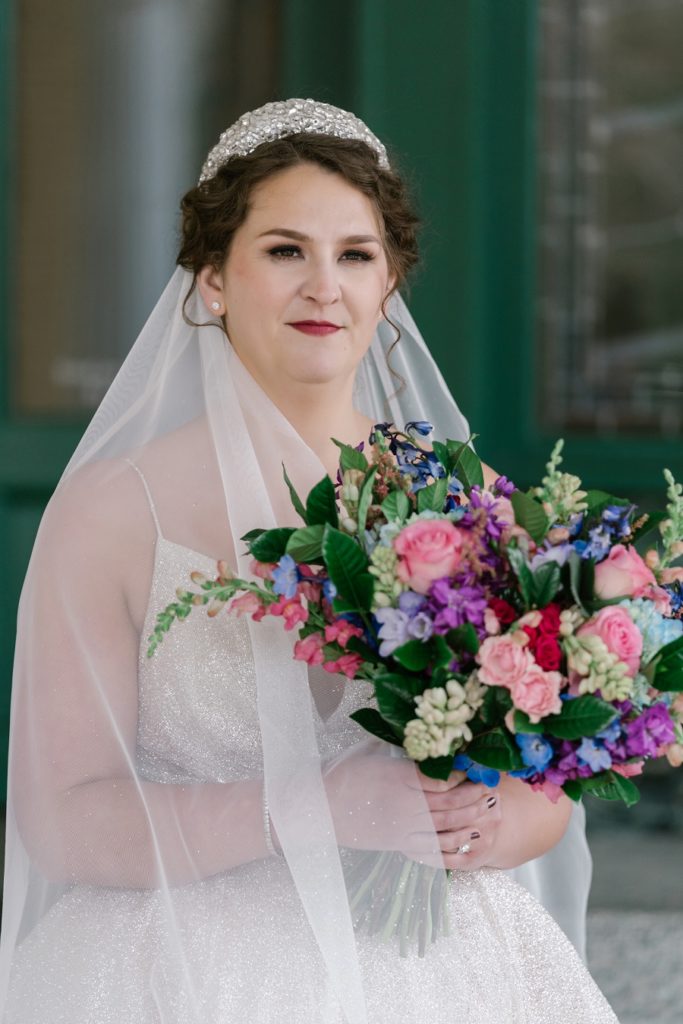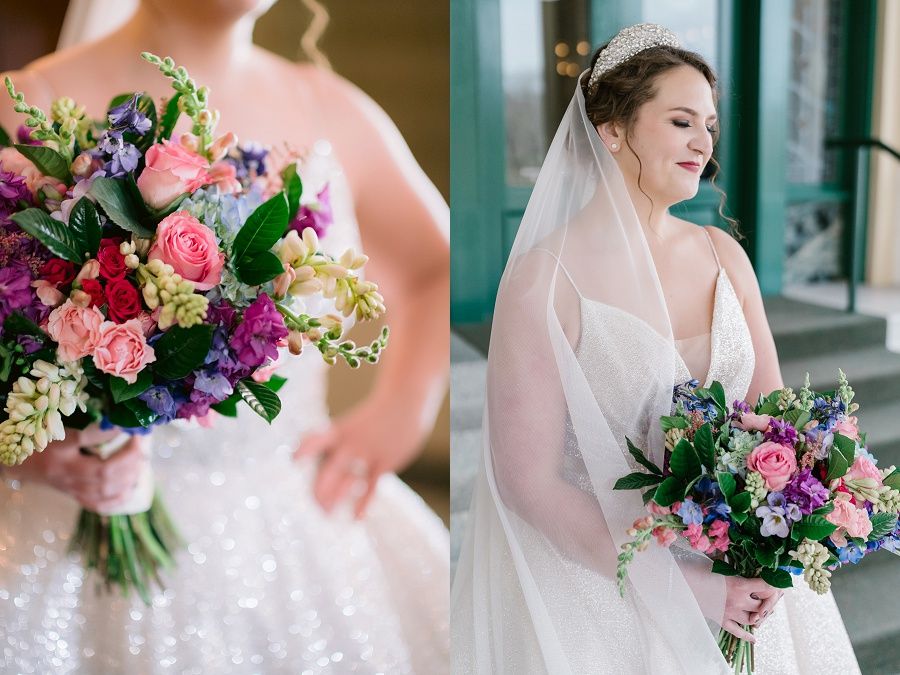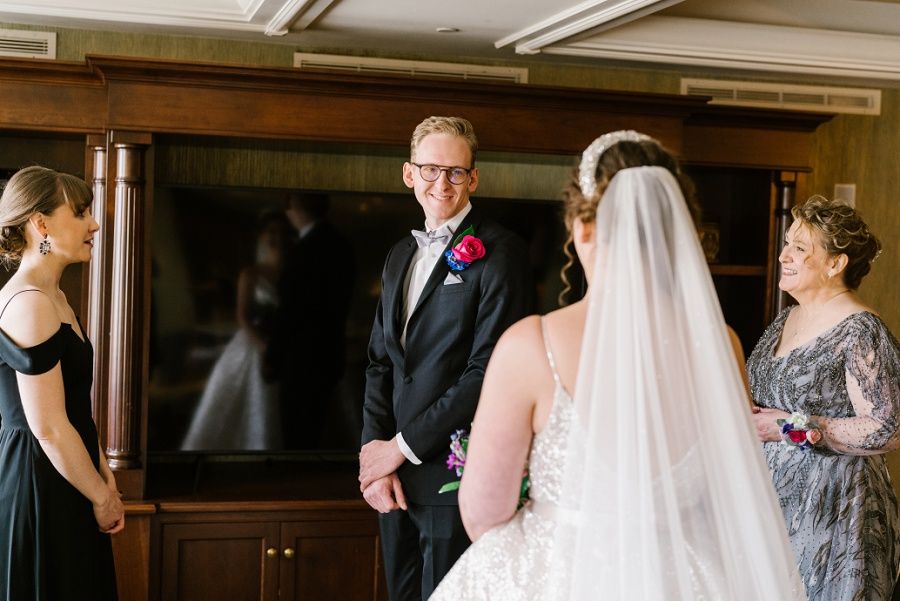 Meanwhile, Matt looking sharp in his classic black tuxedo with shawl collar, headed off for the first look with his mother.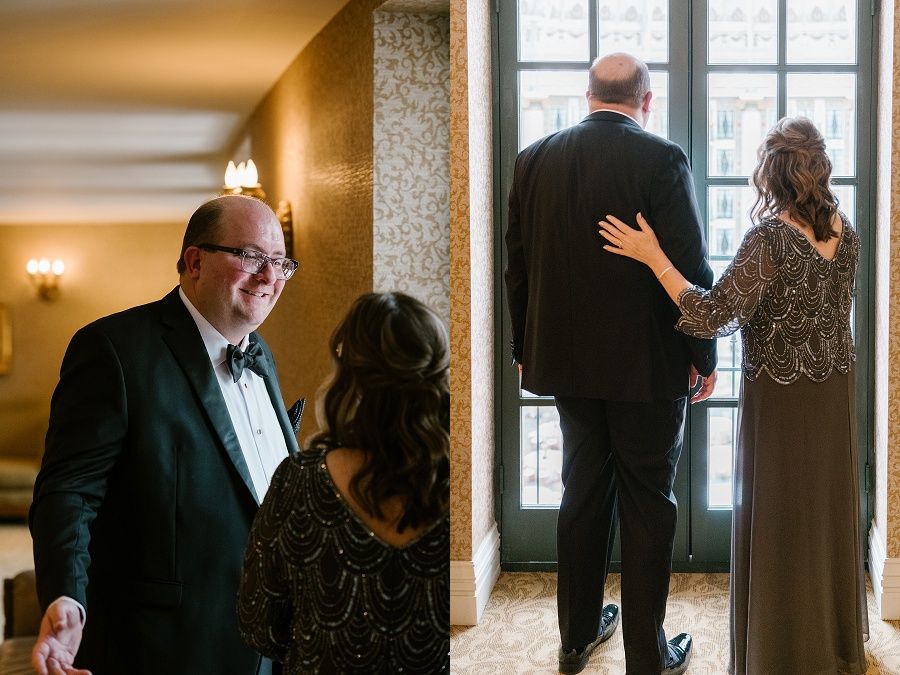 Last but certainly not least, Matt and Leah had their special moment with their first look.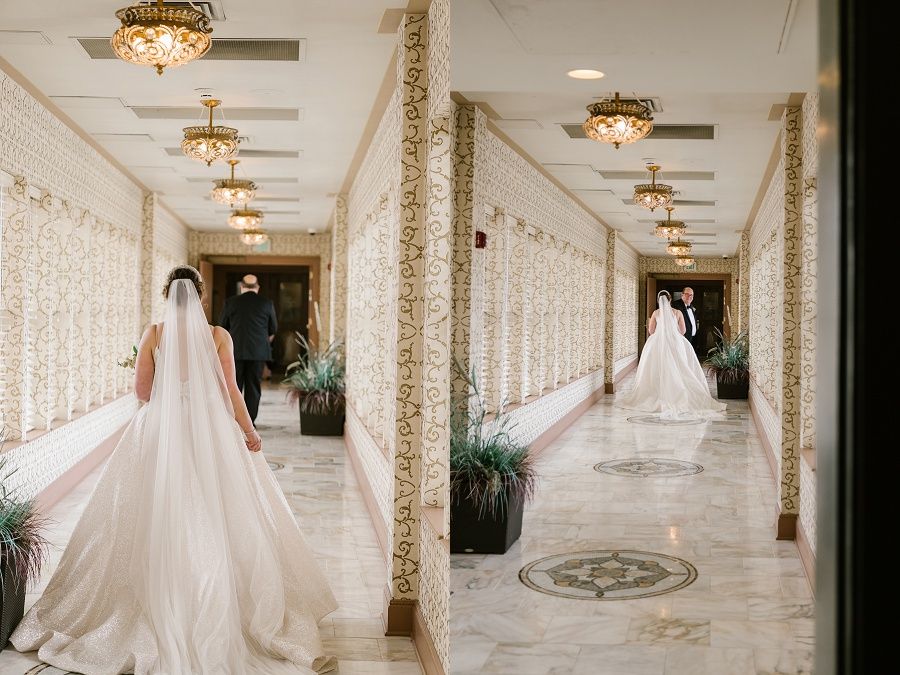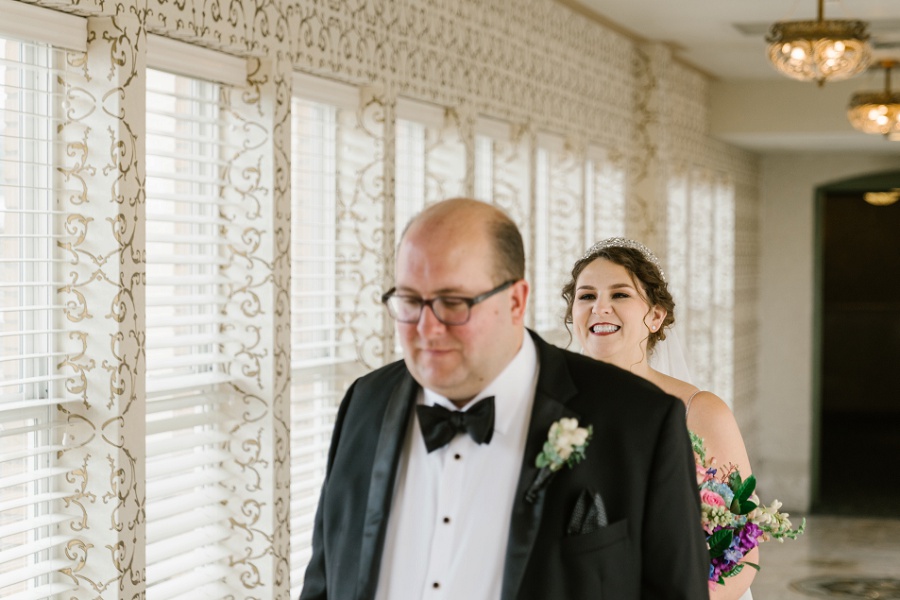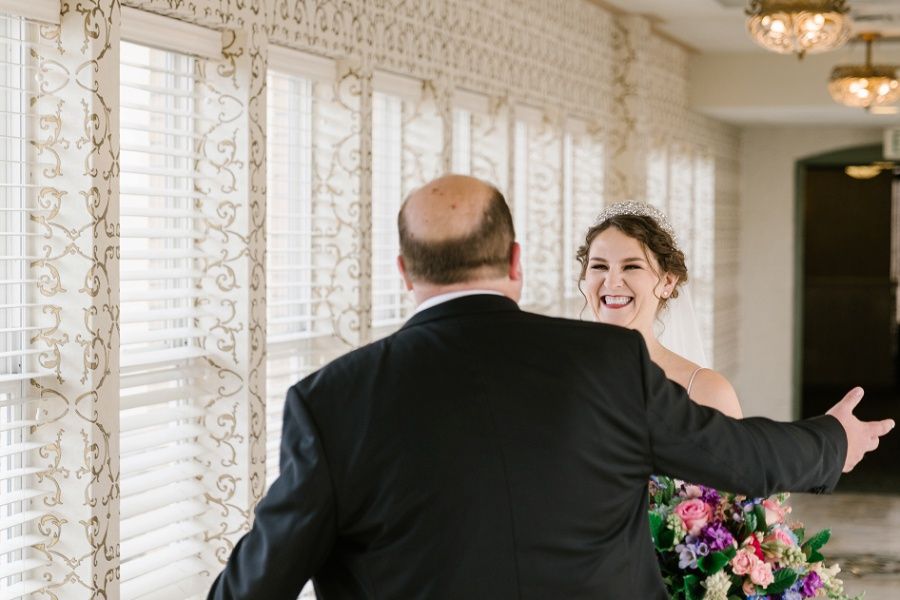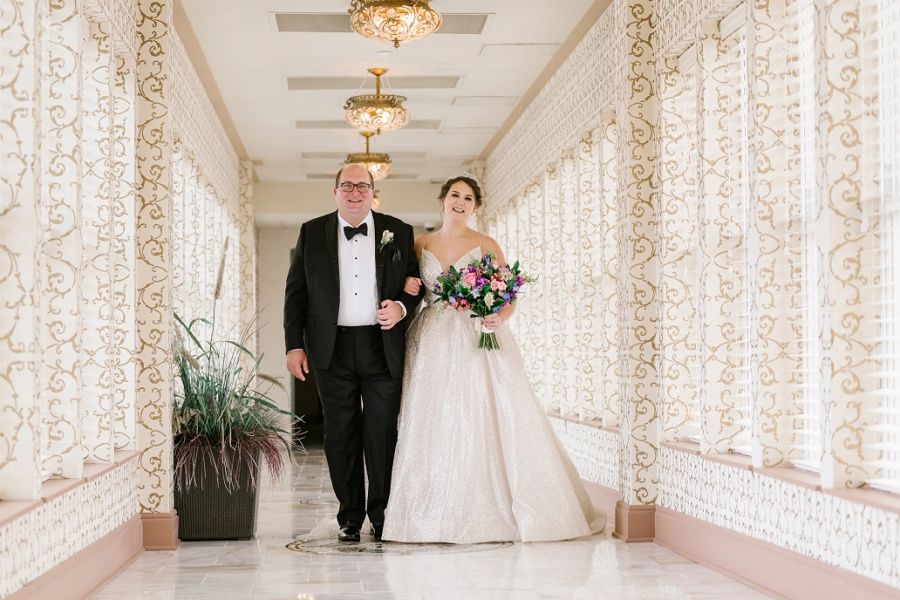 Wedding Party Photos
The soon-to-be bride and groom spent some time before the wedding ceremony with their families and wedding party, capturing images and enjoying time together.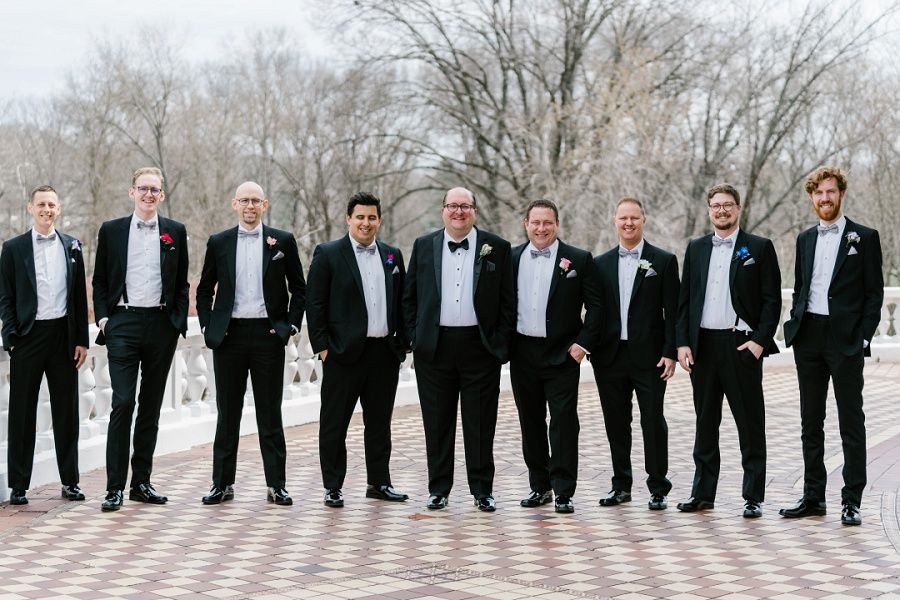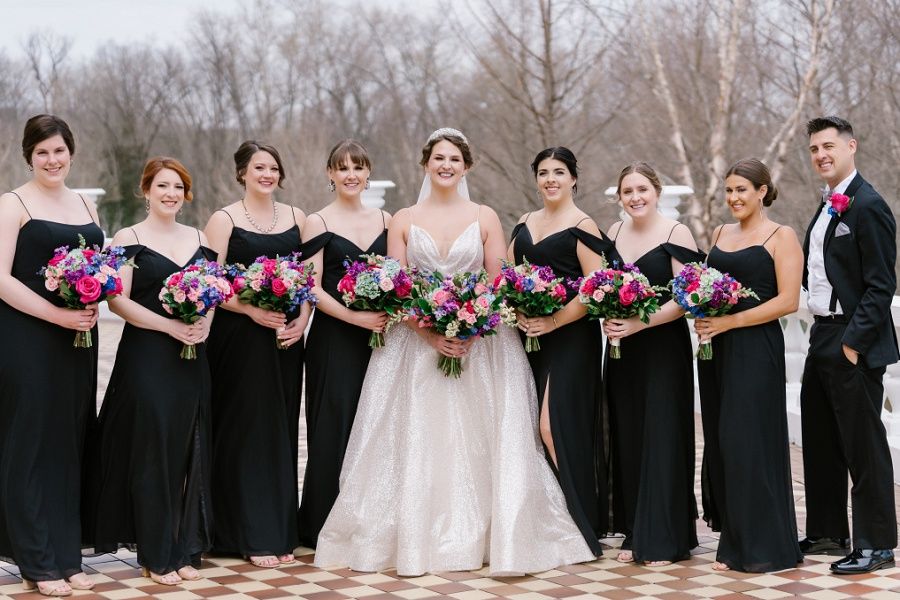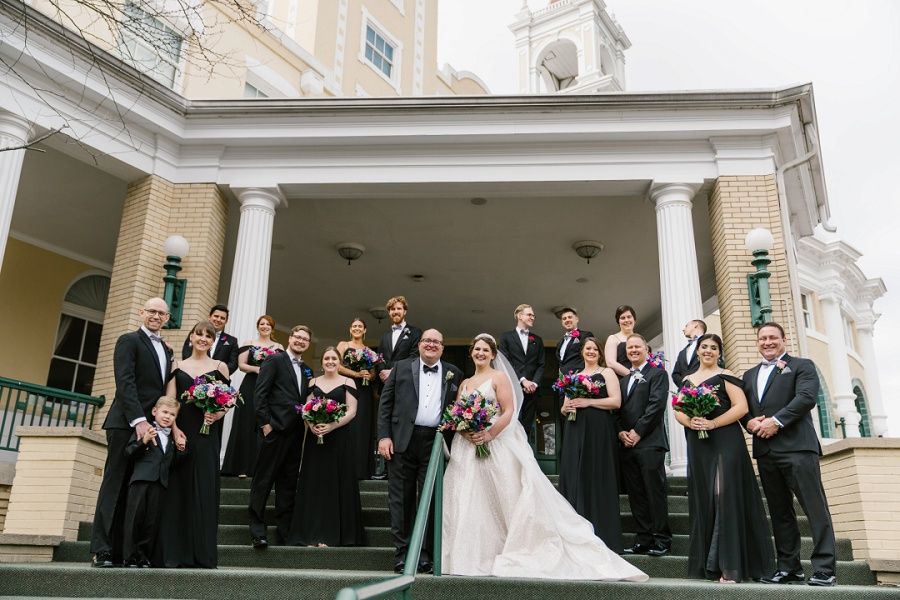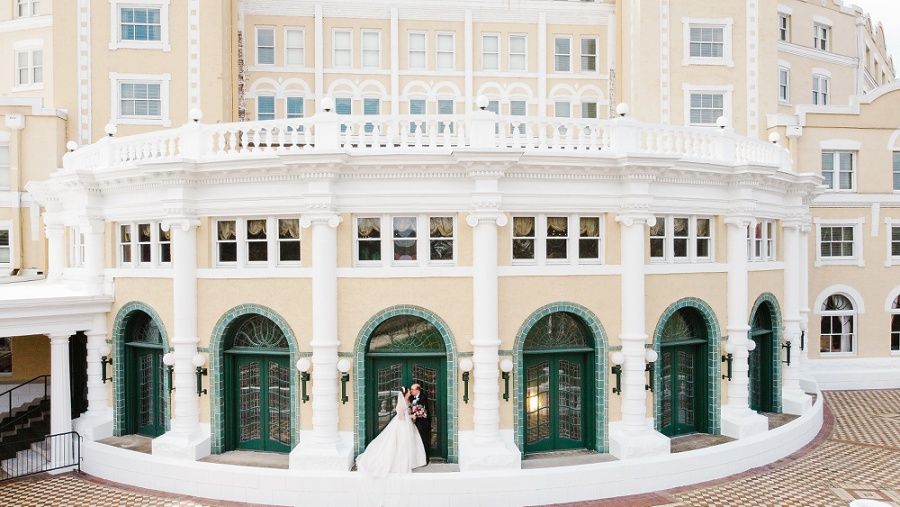 Time Stops
With everything in place for the wedding ceremony, Leah, escorted by her brother, made her way down the aisle lined with lush greenery and colorful flowers. Matt, waiting anxiously, was filled with emotion as Leah made her entrance to "A Million Things."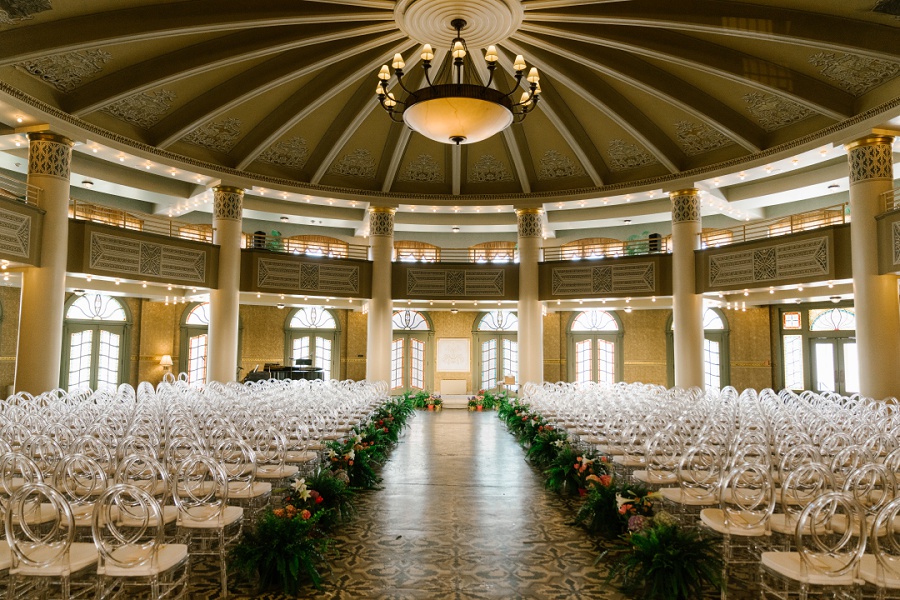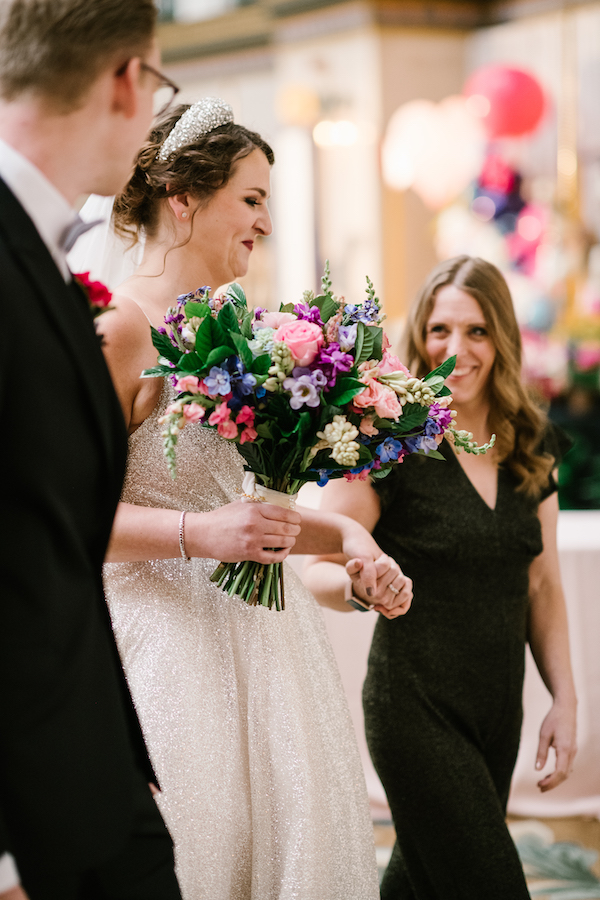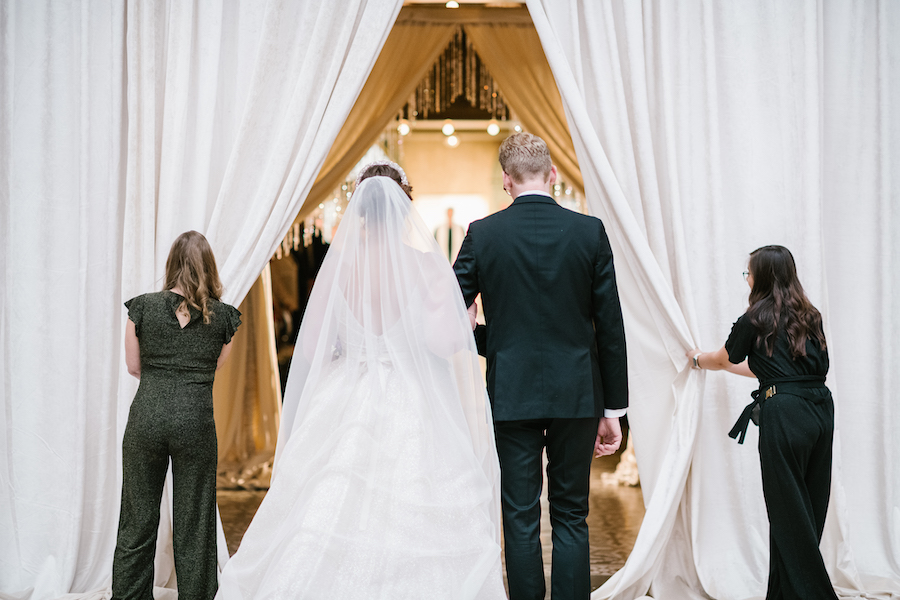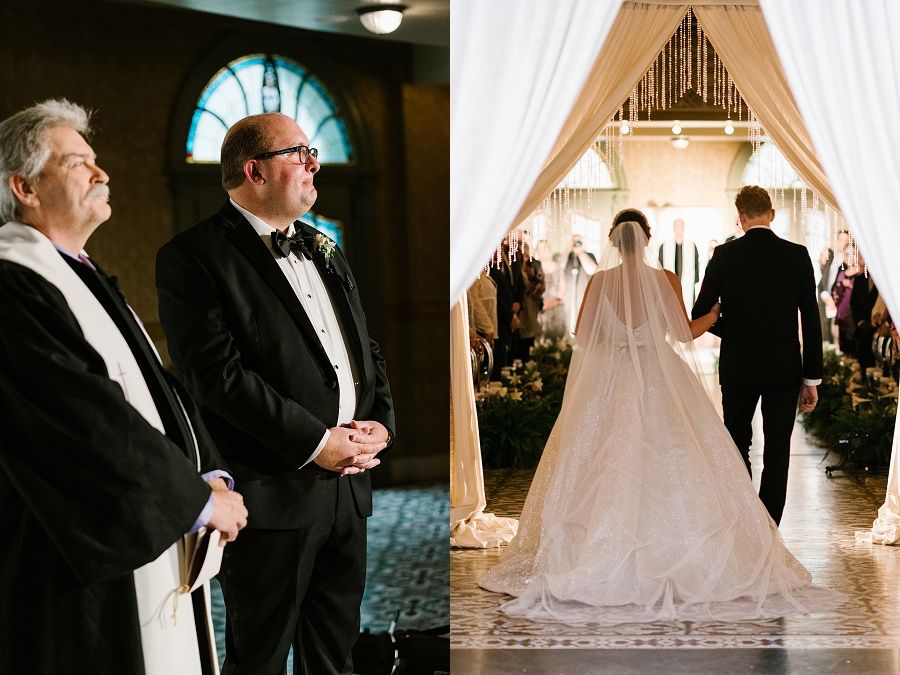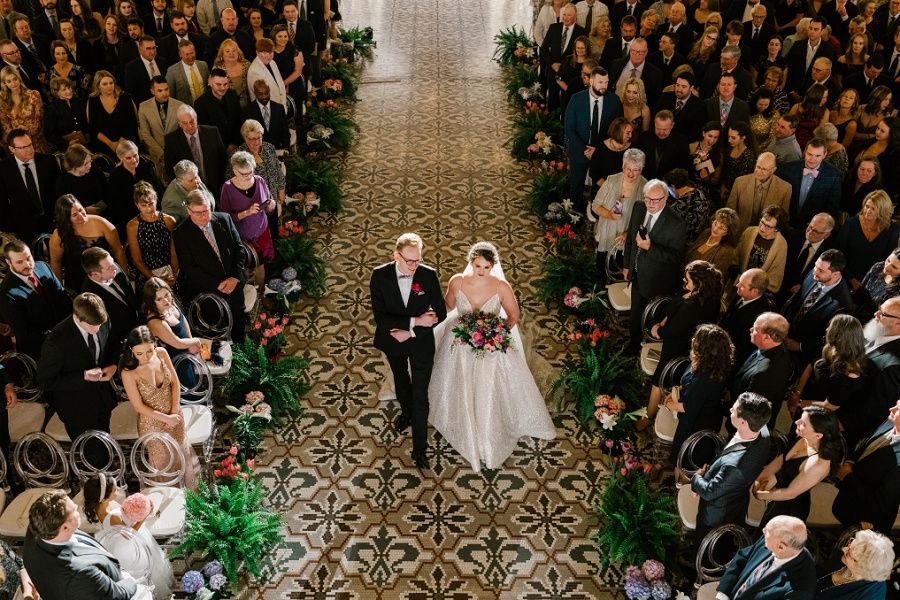 The couple exchanged rings and wedding vows surrounded by family and friends before making their exit to "Happily Ever After."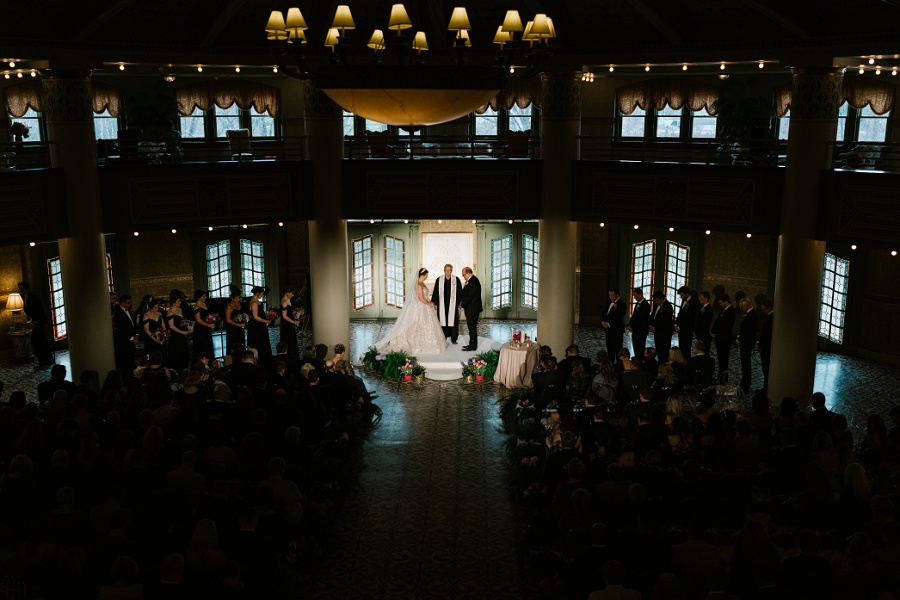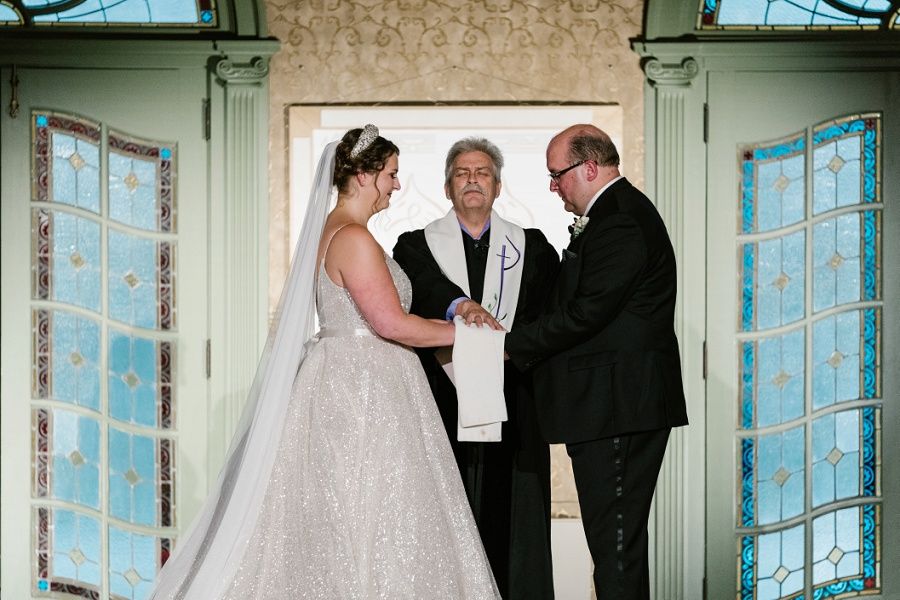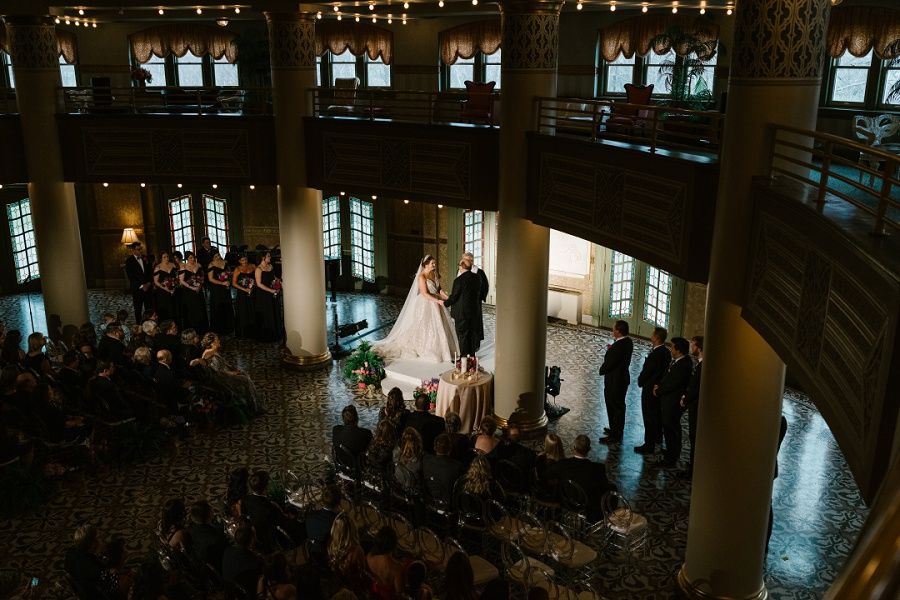 Food, Wine, and Photos
Following their sneak peek at the reception décor, the newlyweds tucked away for a little private time during the cocktail reception.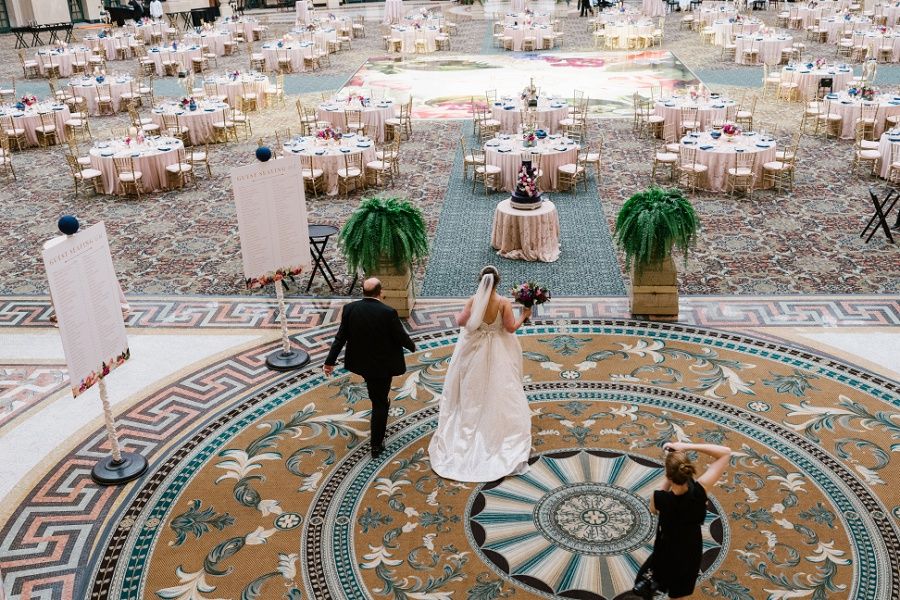 Their guests enjoyed some delicious food, some of the couple's favorite wines from the tasting dinner, and an old-fashioned photo booth that was a massive hit with everyone.
Grabbing the Brass Ring
Under the resort's iconic dome, the wedding reception was a feast for the senses.
The center of the room was anchored with a large custom dancefloor covered with the couple's monogram and colorful flowers. Above, dozens of the hotel's balconies were filled with bunches of brightly colored balloons.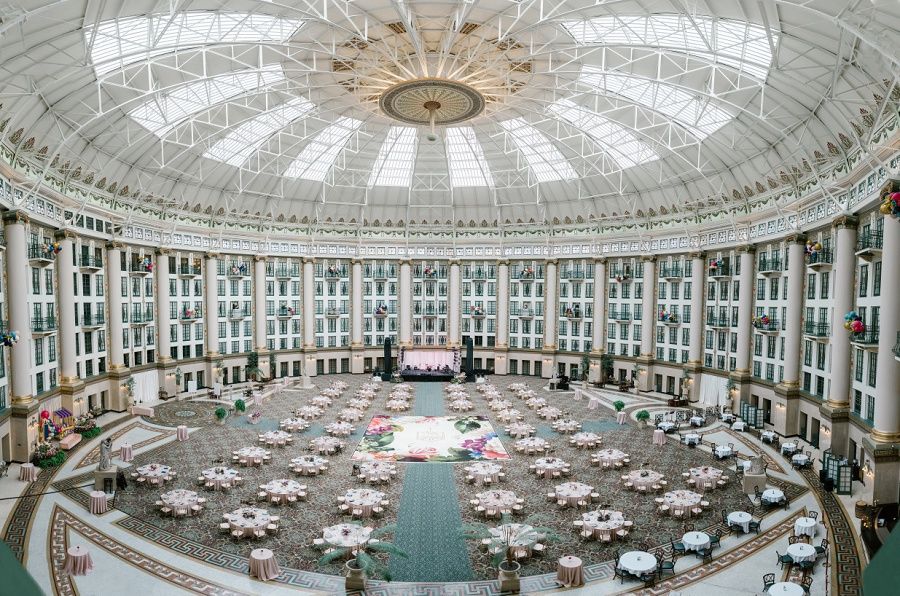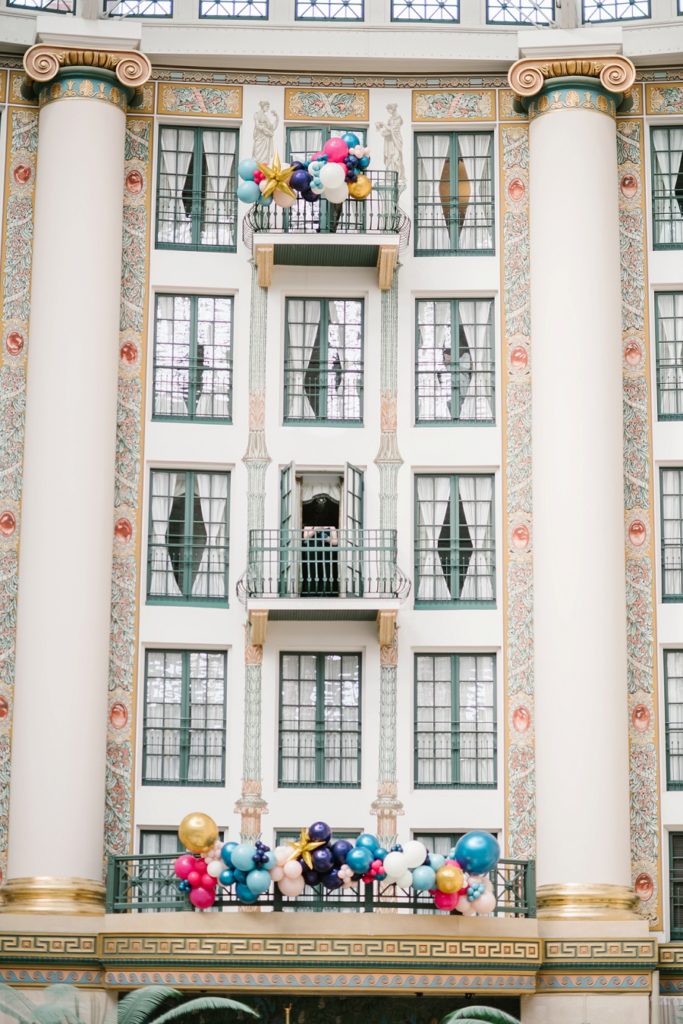 The guest tables were draped in luxurious linens and set with colorful floral centerpieces, flickering candles, and nearly a dozen full-sized carousel horses.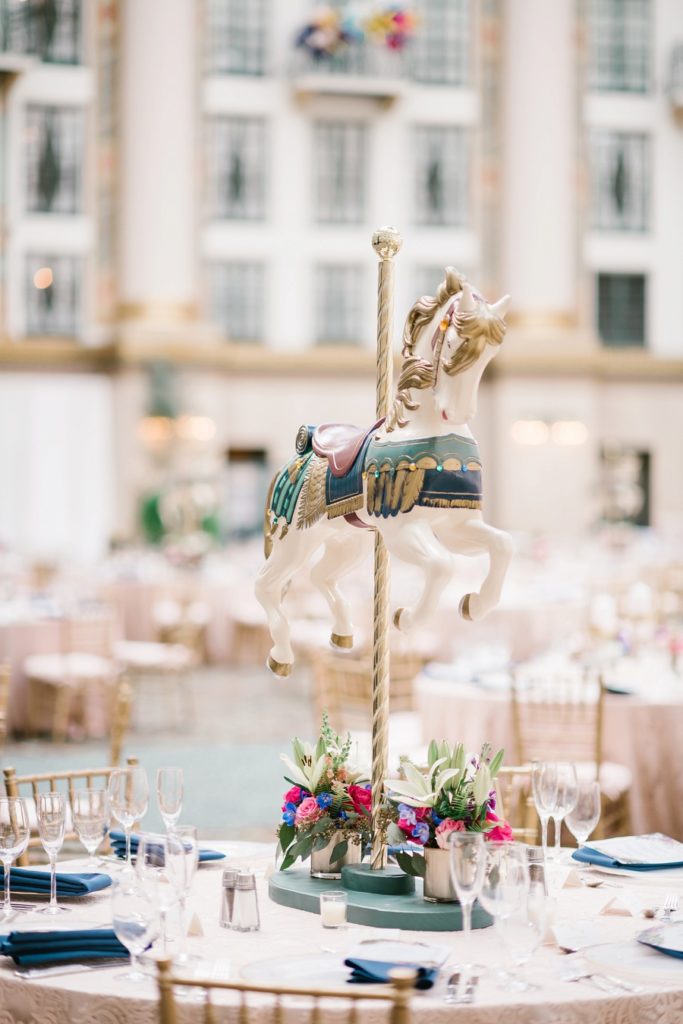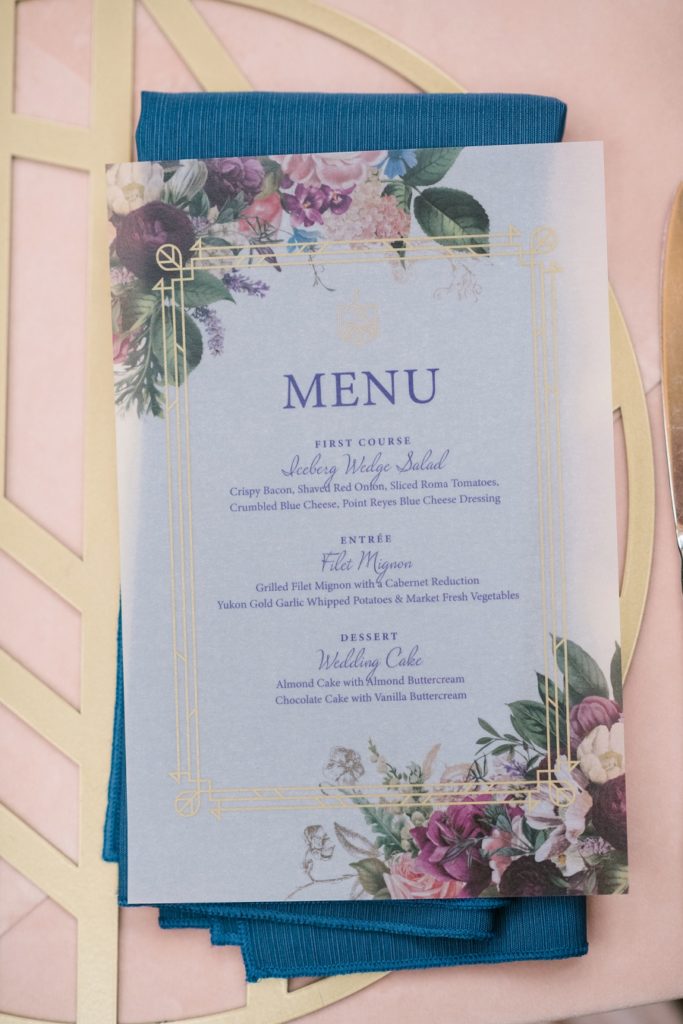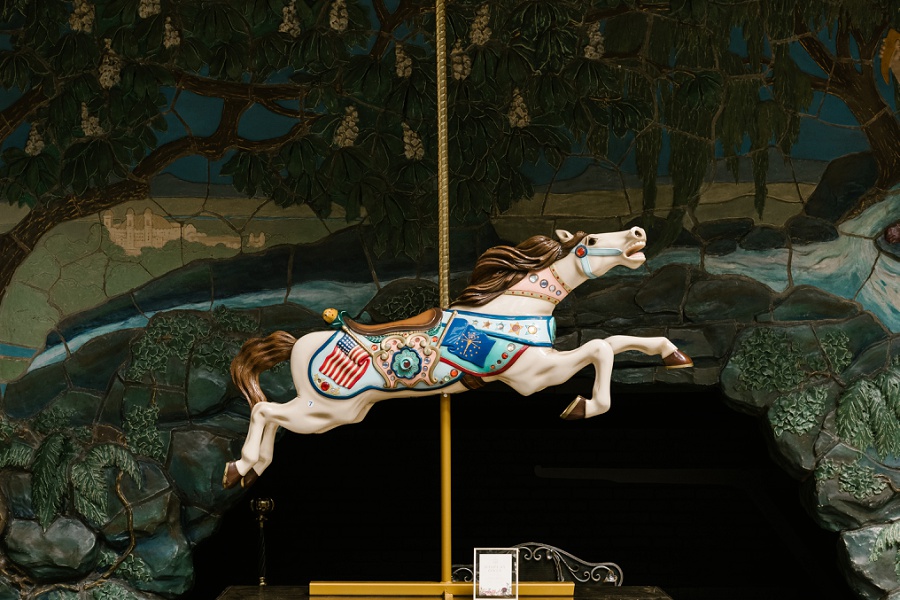 An Unforgettable Reception
After the couple's grand entrance and several touching toasts, the newlyweds took to the dancefloor for their first dance to "Unforgettable."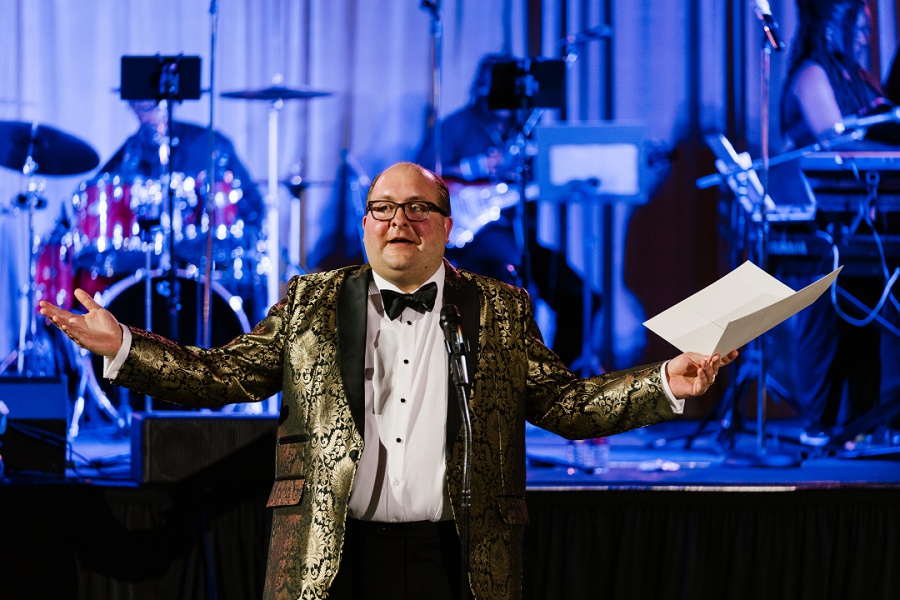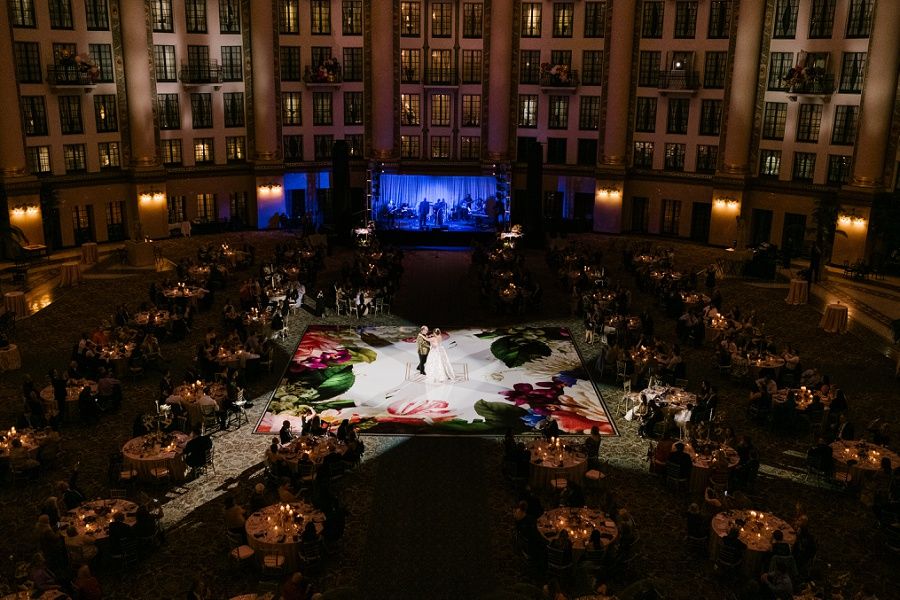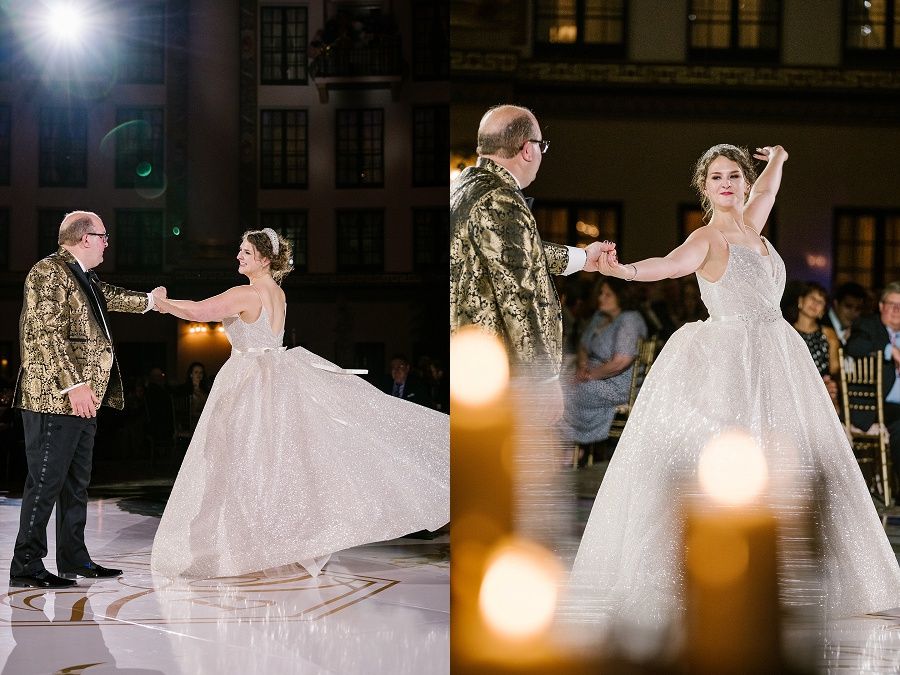 The evening continued with dinner and wine service before Leah and Matt cut their gorgeous seven-tiered wedding cake.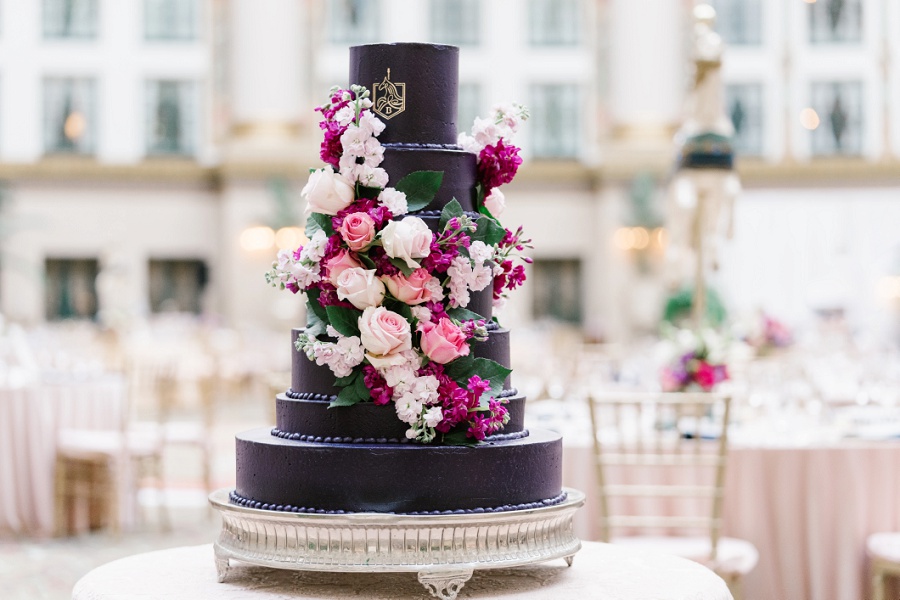 In one of the evening's most touching moments, Matt took to the dance floor with his mother, followed by Leah dancing with several men who have impacted her life.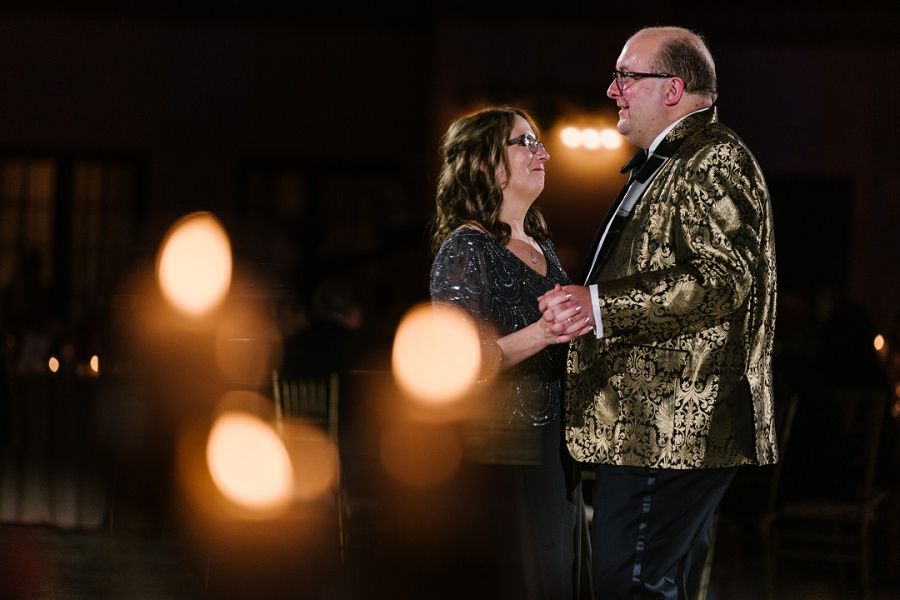 After a night of dancing, the evening came to a close with late-night snacks of traditional fair foods, including Cotton Candy, Pretzel Nuggets, and Carmel Corn.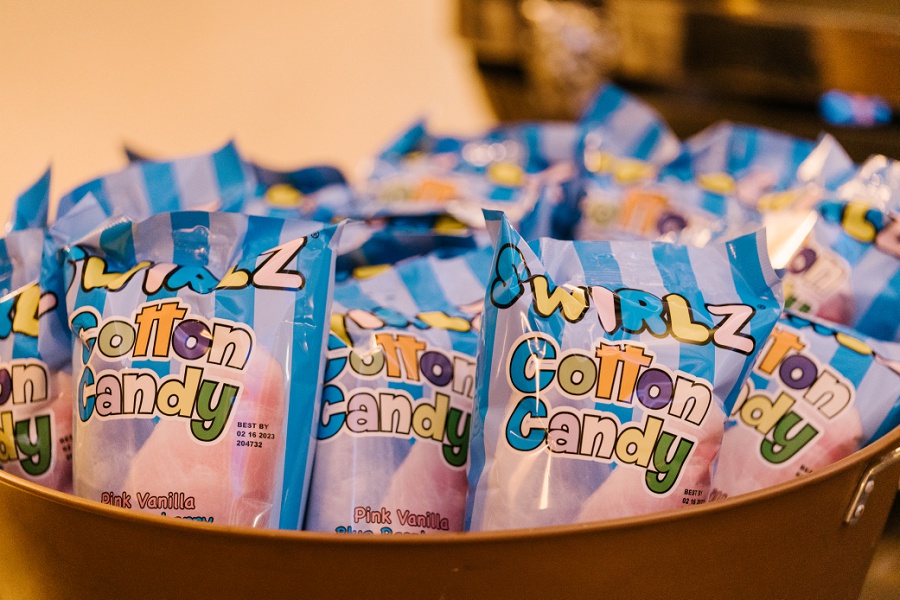 Our incredible bride and groom took to the dance floor one last time, dancing to "For Once In My Life" before inviting their family and friends to join them.
Congratulations, Leah and Matt! Thanks for taking our Mon Amie Events family along on the ride.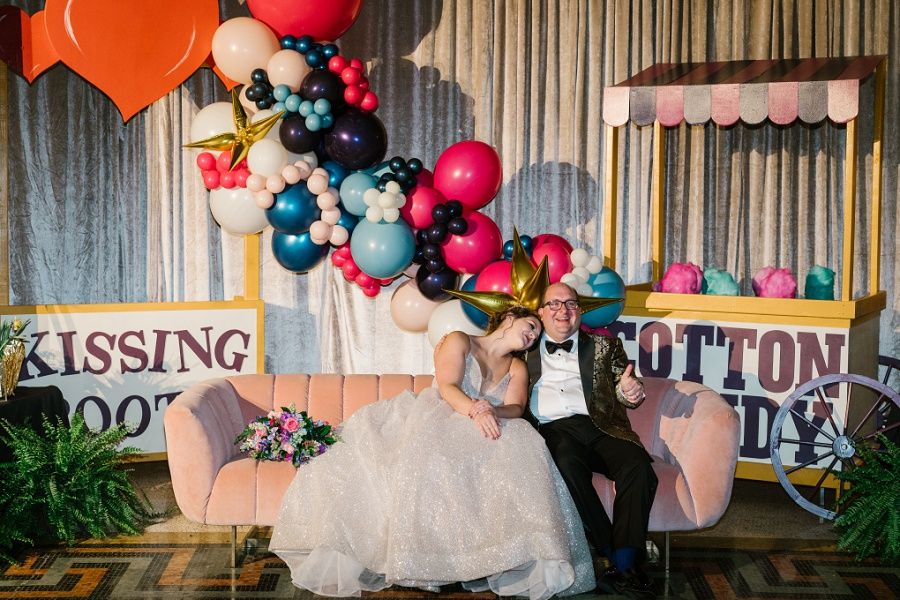 Merci Beaucoup
Thank you to the incredible team of wedding professionals who made Leah and Matt's wedding day so incredible.
Wedding Planner and Designer: Mon Amie Events
Photography: Stacy Able Photography
Filmmaker: Eyenamics
Wedding Venue, Catering, Floral: French Lick Resort / West Baden Springs Hotel
Hair and Makeup: JW Salon / J. Marie Makeup
Wedding Gown: Monique Lhuillier
Shoes: Jimmy Choo
Rentals: BBJ Linens & Evans Audio Visual
Balloons: Party Pop Balloons
Entertainment: Chicago Catz / TLW Entertainment
Paperie / Branding: Pomp & Polish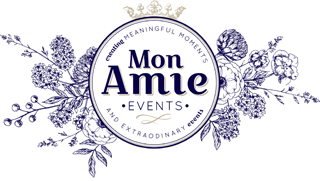 Copyright 2023 | Mon Amie Events Inc.