Mackenzie and Tim's Canal 337 Wedding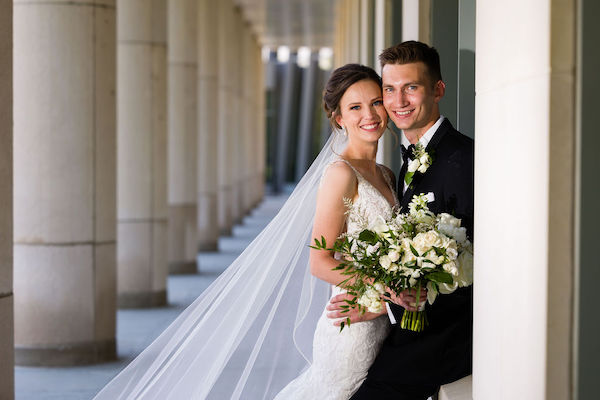 Our Mon Amie Events team loved working with Mackenzie and Tim on this beautiful Indianapolis wedding. The industrial chic wedding venue along the canal offered a blank canvass to design the wedding of their dreams.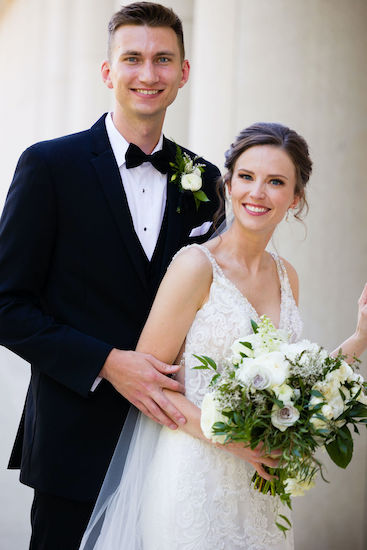 The couple and their wedding party spent the day getting relaxing and getting ready with their wedding parties.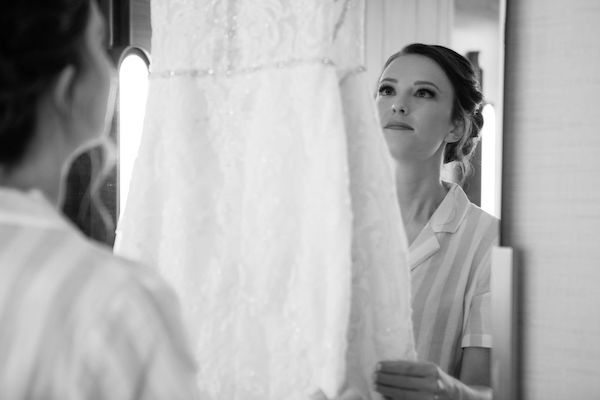 After a few moments with their parents and siblings, it was time for Mackenzie and Tim's first look. A few photos with family and they were ready to head off to Canal 337 for their wedding ceremony.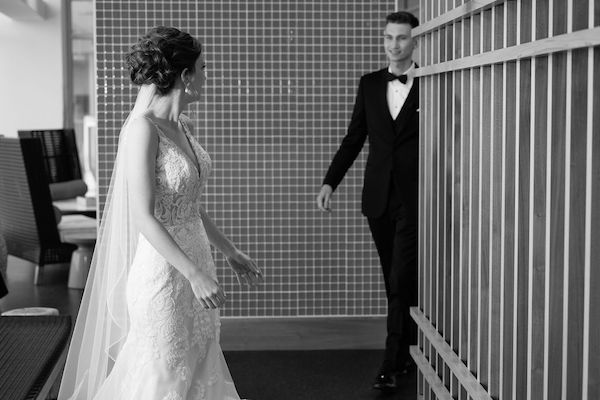 Earl Grey Is More Than Tea
The ceremony space was set with modern metal framed chairs lining an aisle filled with magnificent roses, hydrangea, and greenery. The backdrop for their ceremony was an enormous wall of beautiful Earl Grey roses. The wall of roses was infused with lavender and deeper purple to make the Earl Grey roses pop.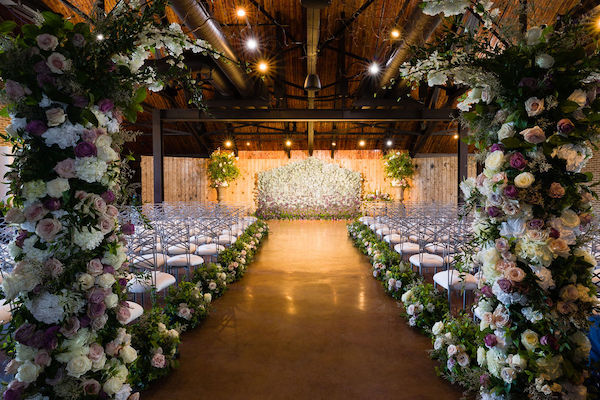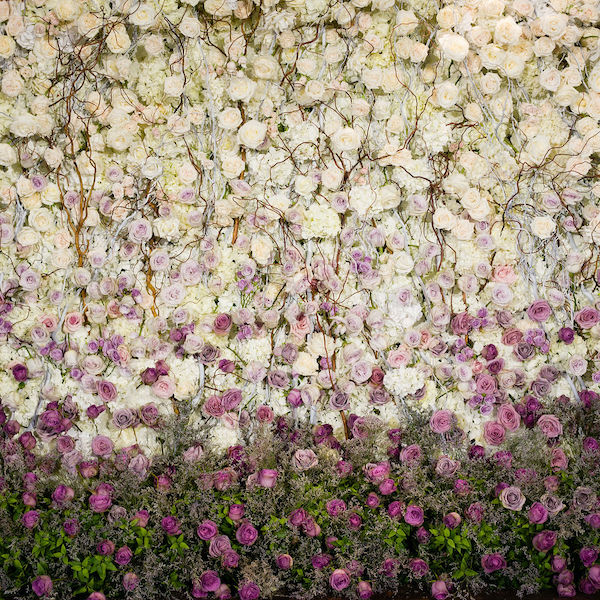 Here Comes The Sun!
With guests and the wedding party in place, Tim looked on as Mackenzie, escorted by her father, made her entrance to "Can't Help Falling In Love."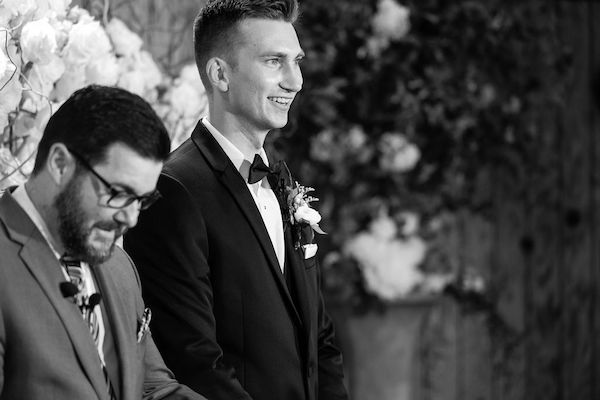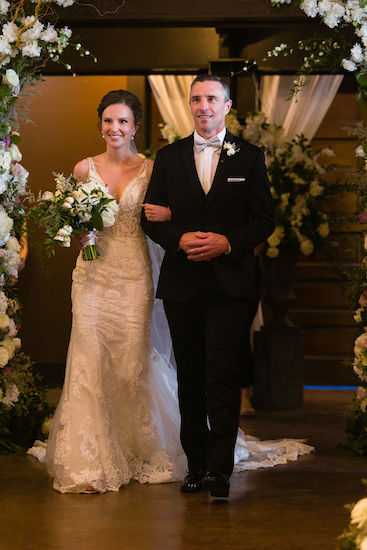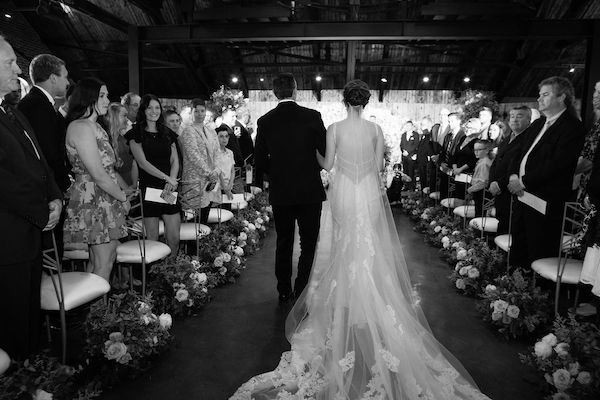 The couple exchanged wedding vows and rings in a ceremony surrounded by family and close friends. The ceremony ended with the couple joining together in lighting a unity candle and exiting to "Here Comes The Sun!"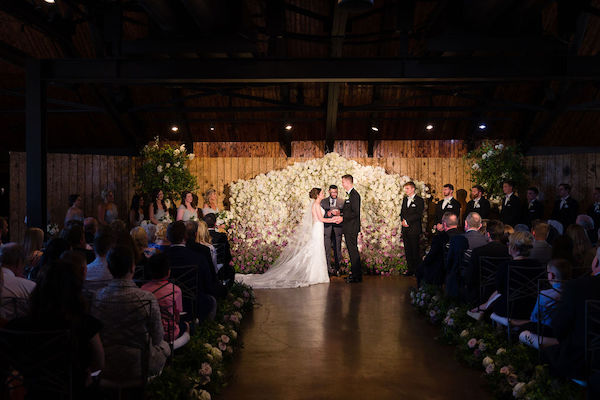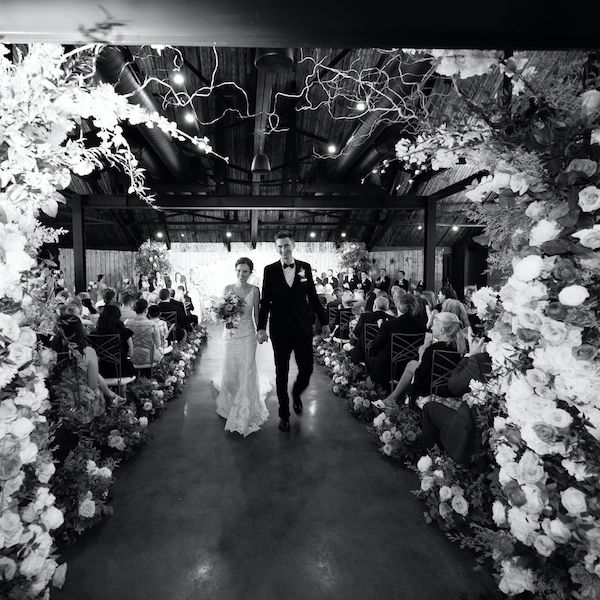 A Little Quiet Time
Following the ceremony, the newlyweds took time for family photos while guests enjoyed cocktails and hors d 'oeuvres.
The couple and their parents headed into the dining space for a sneak peek at the incredible reception décor. Needless to say, they were head over heels for the amazing décor.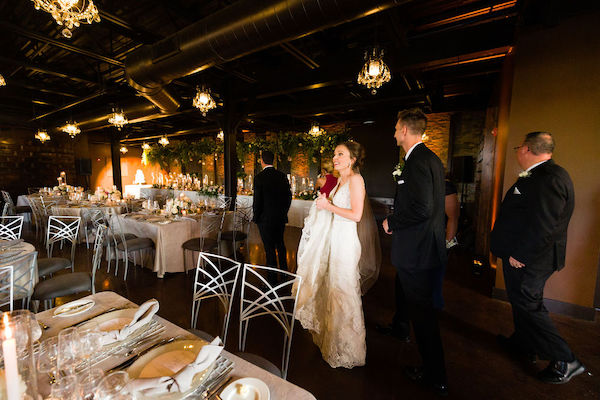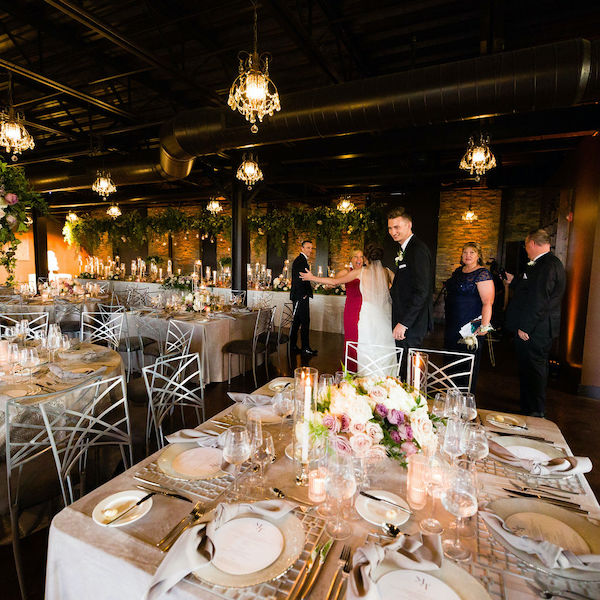 Luxurious Modern Décor
The room was designed with a series of square and round tables draped in luxurious linens—the eclectic tablescapes combined modern stemware and flatware with lavish floral arrangements and hundreds of candles. Place settings were layered with elegant china charger plates, custom menu cards, and hand-knotted napkins. Square tables had an additional touch of whimsy with the addition of modern metallic placemats.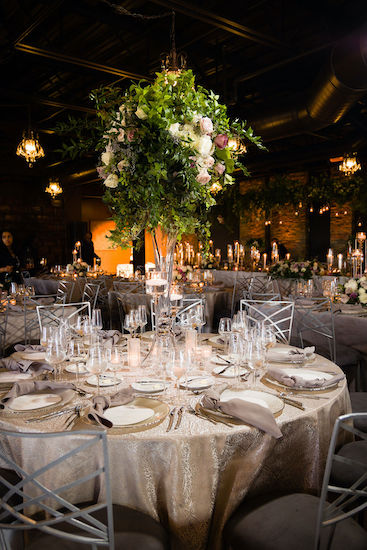 A long head table lined one side of the room. The table design included a lush canopy of greenery and hanging candles, and overflowed with fresh flowers and dozens of modern glass vessels filled with candles.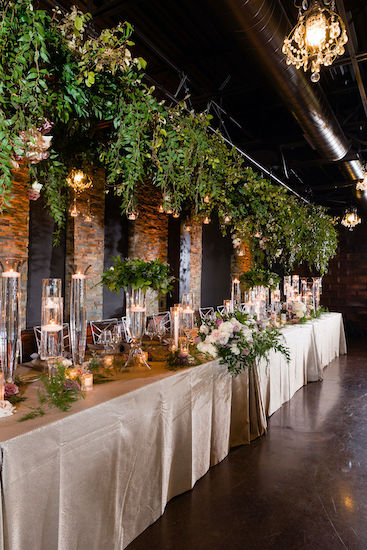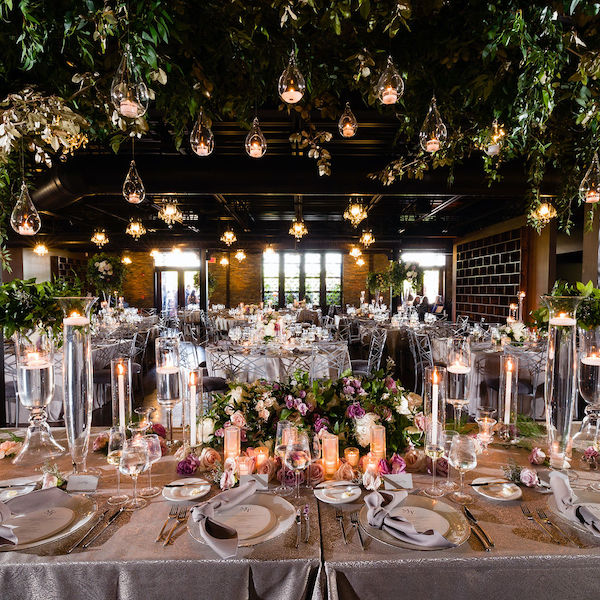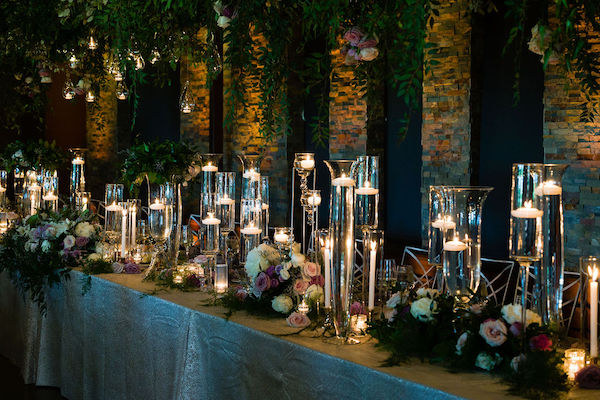 Missing wrought iron scrollwork on the windows was reproduced and filled with lush greenery to dim the space allowing the flickering candlelight to fill the room.
Before inviting guests into the ballroom, the couple took additional time with their parents to cut their luxurious three-tiered square wedding cake.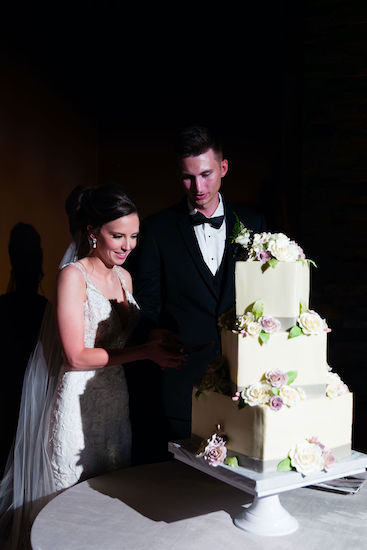 Cheers!
Dinner began with the introduction of the newlyweds and toasts by the couple's fathers. Everyone enjoyed a luscious multi-course dinner with tableside wine service.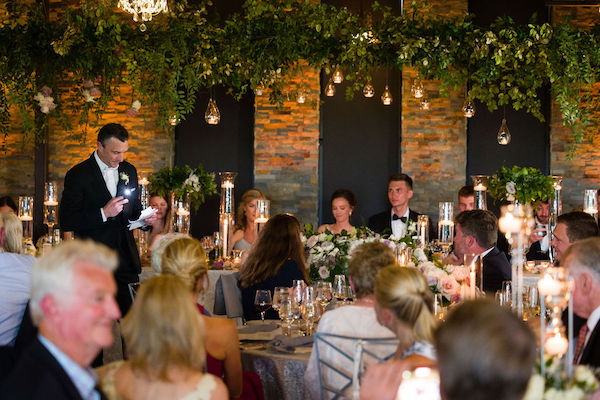 Following dinner, guests returned to the ceremony space, which had been transformed for a night of dancing. The exquisite floral wall became the backdrop for a lounge area, cocktail tables were added, and magical lighting gave the space a completely different vibe than earlier in the evening.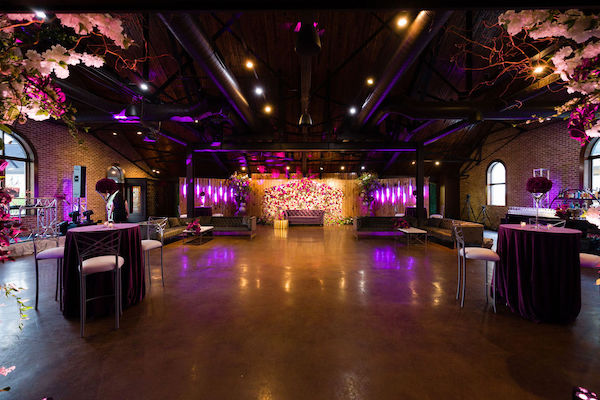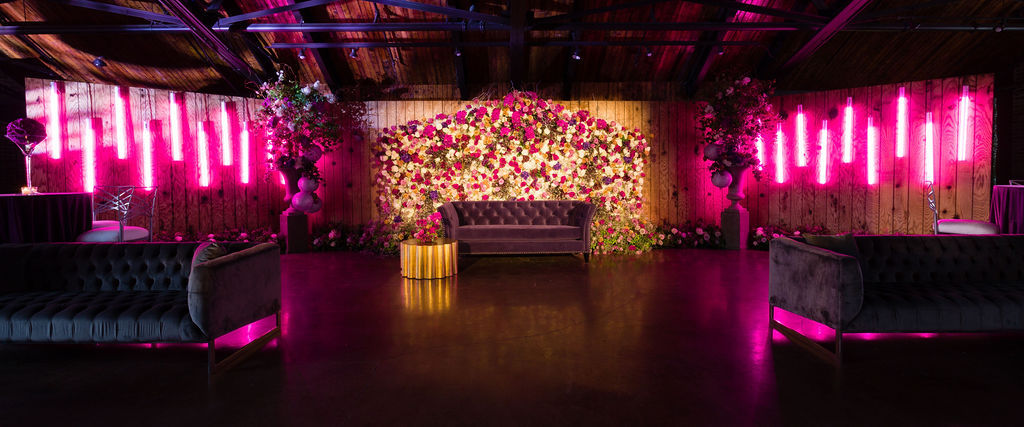 Mackenzie and Tim took to the dance floor for their first dance to "Stand By Me" before dancing the night way with family and friends.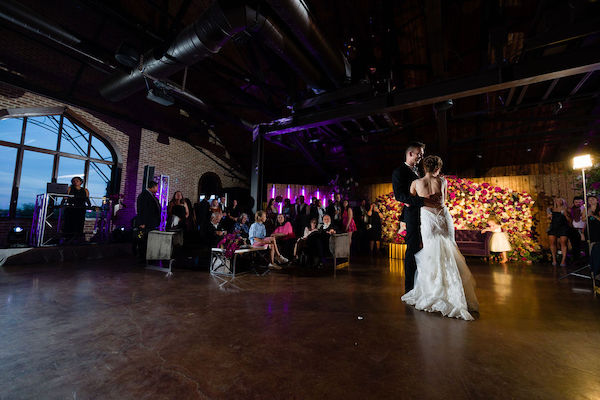 Congratulations, Mackenzie and Tim. Our Mon Amie Events team wishes you a lifetime filled with joy!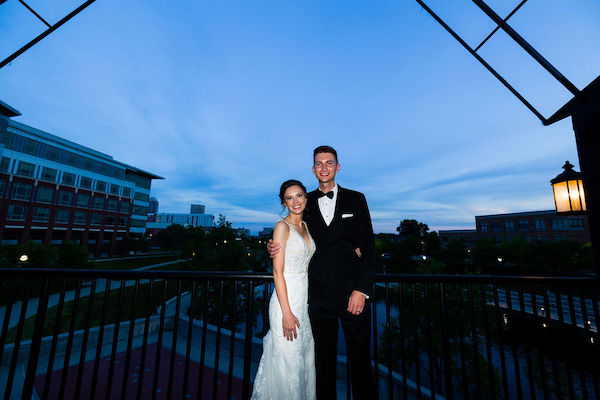 Merci Beaucoup
Thank you to the incredible team of Indianaplis wedding professionals who brought Mackenzie and Tim's luxurious wedding to life.
Planner / Designer: Mon Amie Events, Inc
Hair and Makeup: Salon 1|4
Officiant: Matt Skiles
Ceremony / Dinner Entertainment: TLW Entertainment – Cathy Morris Ensemble
Wedding Venue: Canal 337
Floral: Gina Howald
AV & Rentals: Evans Audio Visual, A Classic Party Rental, BBJ Linen
Photography: Nathaniel Edmunds Photography
Film: Blue Opal Entertainment
Catering: Thomas Caterers of Distinction
Cocktail Entertainment – TLW Entertainment – Andy Schomburg
Entertainment: DJ Gabby Love
Wedding Cake: Classic Cakes of Carmel
Paperie: Paper Cuts Paperie
Transportation: Antique Limo
Guest Accommodations: JW Marriott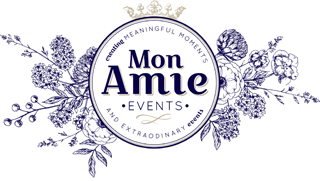 Copyright 2023 | Mon Amie Events Inc.