MARISSA + EVAN's WEDDING STORY:
Central Library  ~  Indianapolis, Indiana
There is no night more celebratory and more glamorous than New Year's Eve! When Marissa and Evan called to let me know they were engaged and we began to talk about possible dates, I was all in for a glittering, sparkling and over-the-top celebration for their nuptials.  Marissa and Evan were very familiar with our way of planning a wedding, after all, her sister got married just a couple of years earlier and we planned and designed her stunning day.  I was thrilled to once again work with this dynamic family. 
Marissa and Evan wanted a winter white wedding and together we created a glittering fairy tale for their celebration.  Central to the holiday itself, sparkle and candlelight ruled the design.  The stunning wedding party, all in white, (led by the officiant in a tailored white suit) looked angelic carrying creamy blossoms on the marble staircase for the vows. Following the ceremony, which was filled with laughter, the blending of two religions and one of the bridesmaids singing Marissa's processional, guests began sipping champagne to welcome the new year just a few hours away.
As the guests walked into the reception space, they were welcomed by custom made marble tables which sparkled with hundreds of candles as their centerpiece.  The room also was warmly lit by specialty chandler centerpieces which added a dimension and depth to the atrium space.  As Marissa and Evan were introduced for their first dance, guests were delighted to discover the dance floor lit up and sparkled the rest of the evening and "danced" to the music with specialty lights.  The surprises didn't end there: at midnight confetti and fireworks helped bring in the new year and celebrate the new couple.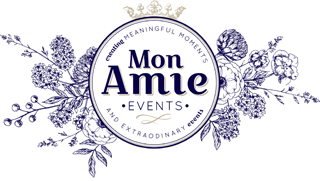 Copyright 2023 | Mon Amie Events Inc.