Michelle and Al's White Wedding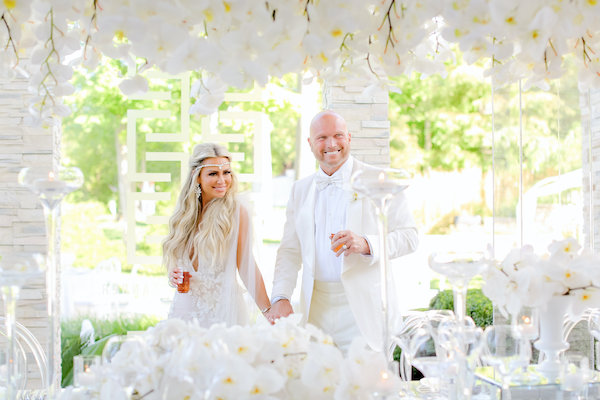 Our Mon Amie Event Planning team loves monochromatic weddings! Designing in one color increases the focus on texture, details, and guest experience. Without a doubt, Michelle and Al's unique white wedding was spectacular.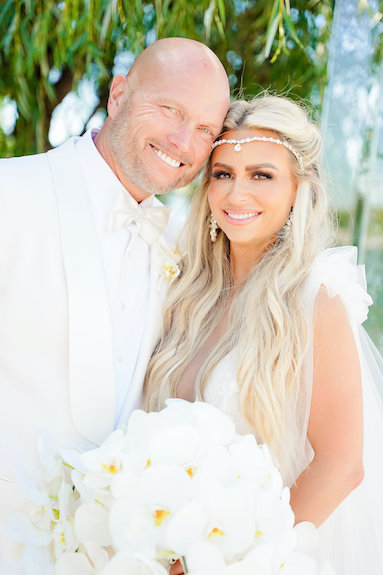 Creating an incredible wedding at the couple's home last year allowed our team a lot of latitude. We were able to utilize the entire property. The load-in and construction were flexible, and we took incredible safety precautions. With a very short planning window, it made all the difference.
Initially, the couple's vision was to host everything in the backyard with fantastic waterfront views. But, we worked with them to utilize the entire property. We showcased the unique features of the front of the house for dinner, transitioning to the backyard for a spectacular evening.
I See The Light
The day began early for the couple and their wedding parties to be ready for an intimate late morning wedding ceremony.
The intimate wedding ceremony was hosted on the property's waterfront. A clear acrylic ceremony structure overflowed with a cascade of beautiful white Phalaenopsis orchids – a design element that carried through the entire day.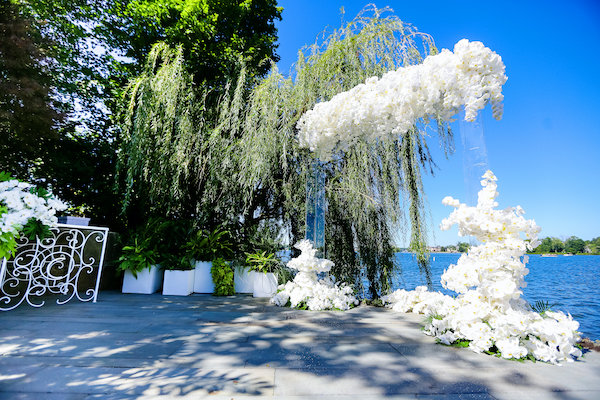 The family gathered to the sounds of Disney love songs, followed by the wedding party processional to "Once Upon A Dream" from Sleeping Beauty.
With Al and their wedding party in place, Michelle made her entrance to "I See The Light" from Disney's Tangled. Wearing a one-of-a-kind wedding gown, the bride carried a magnificent cascading bouquet.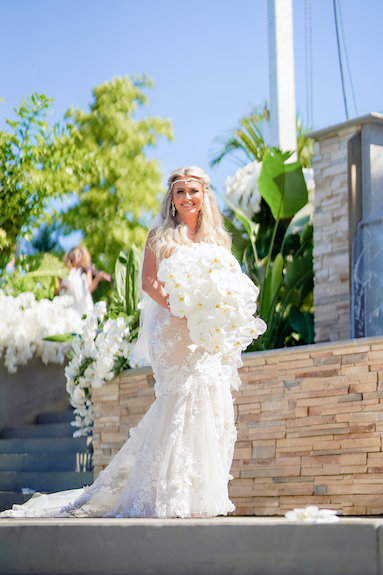 Following a reading from Les Miserables, the couple exchanged their wedding vows, rings and signing their Marriage License to "So This Is Love" from Cinderella.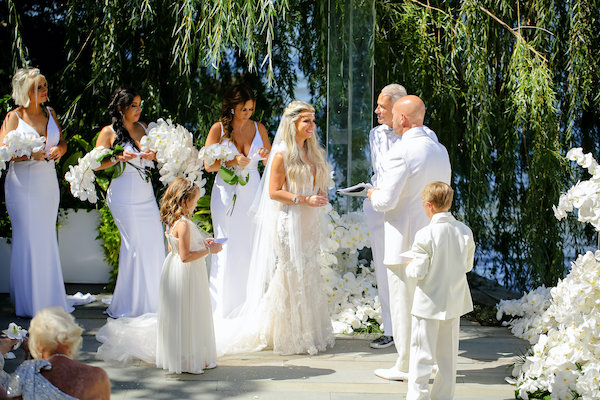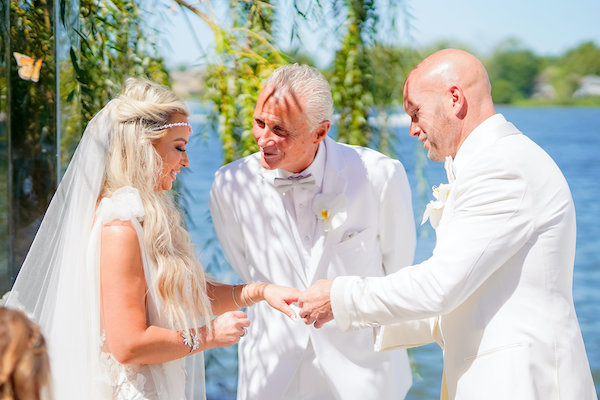 Appropriately enough, the couple made their exit to "When You Wish Upon A Star" from Pinocchio, having a beverage, a few photos, and heading off for a private family lunch at the Hotel Carmichael.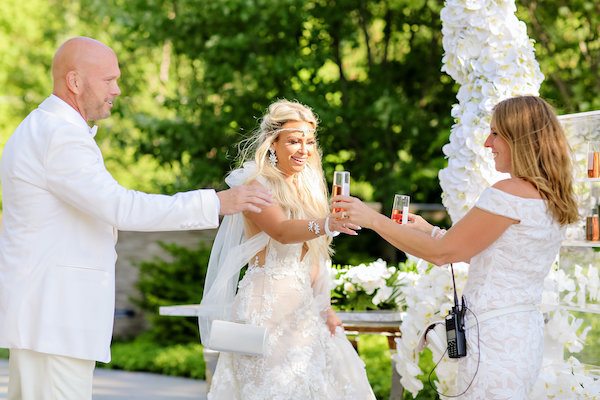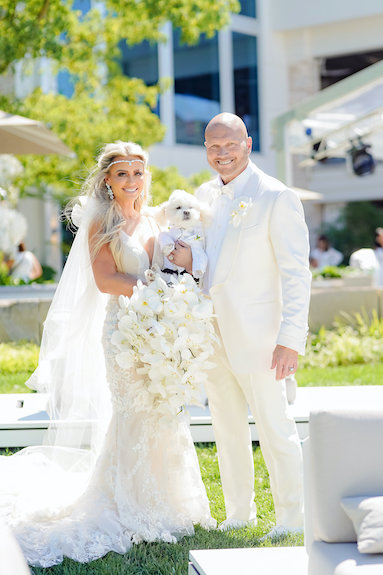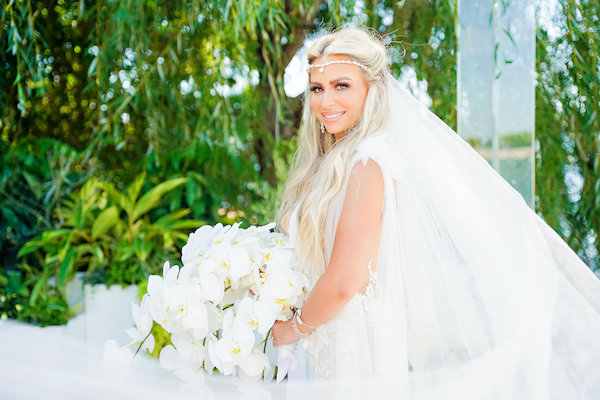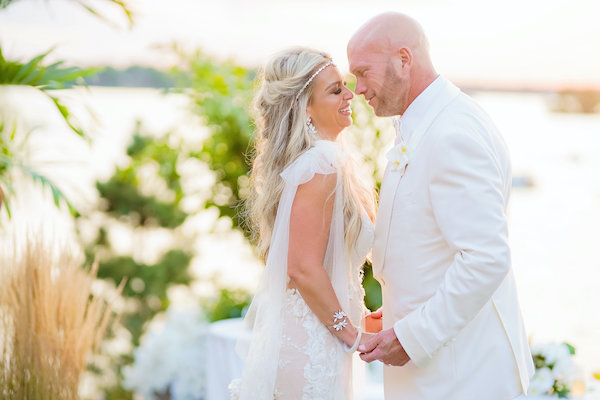 Dining en Plein Air
That evening, the newlyweds, family, and friends gathered in front of the couple's home for a stupendous dinner reception.
The drive was filled with an eclectic mix of tables draped in crisp white linens, some under flowing white fabric with crystal chandeliers. Modern glass charger plates, candles, and white floral centerpieces filled the tables. Clear acrylic reception chairs and décor were branded with a modern geometric pattern that continued throughout the décor.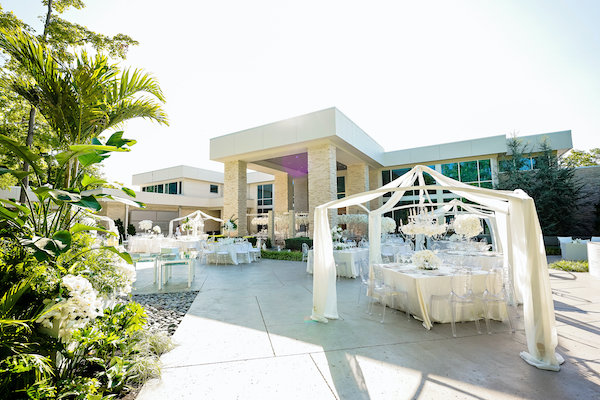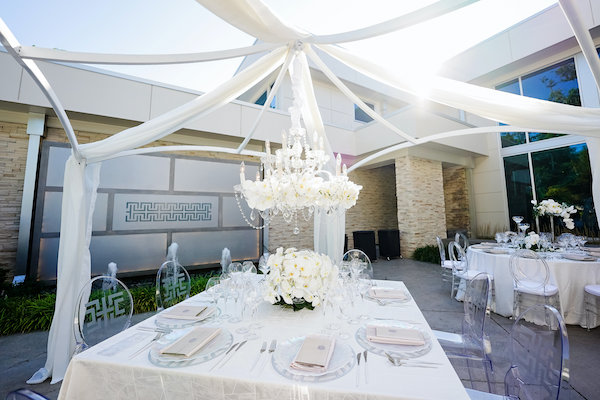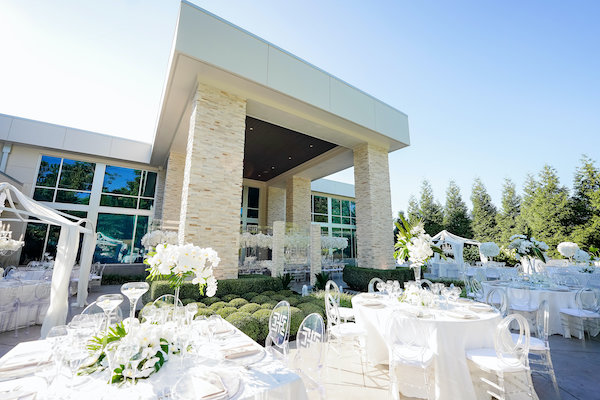 The focal point of the reception was a feasting table positioned under the home's porte cochère. The long mirrored table reflected the lush canopy of orchids floating above the table.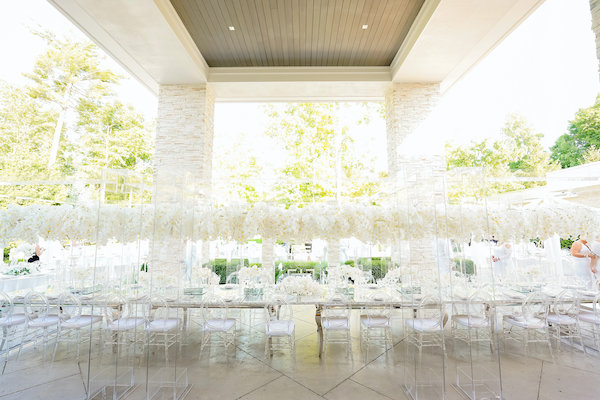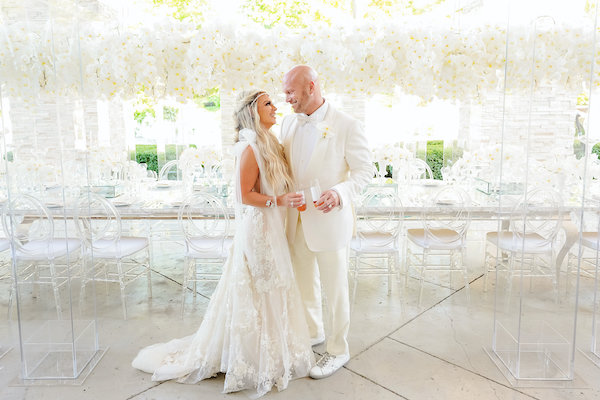 Before being treated to an incredible multi-station dining experience, wedding guests arrived at a towering modern glass seating chart. From individual, monogrammed Raw Bar Boxes to Carving Stations, there were tasty treats for every palate.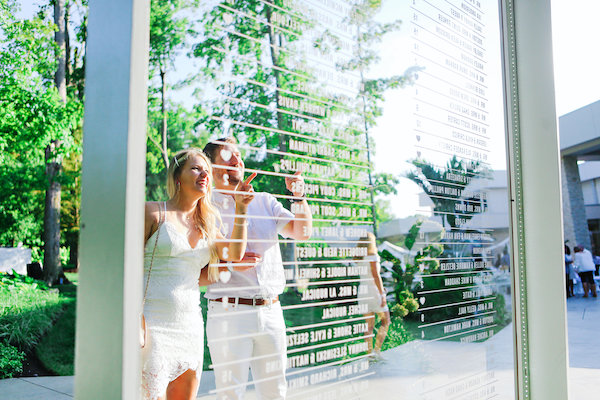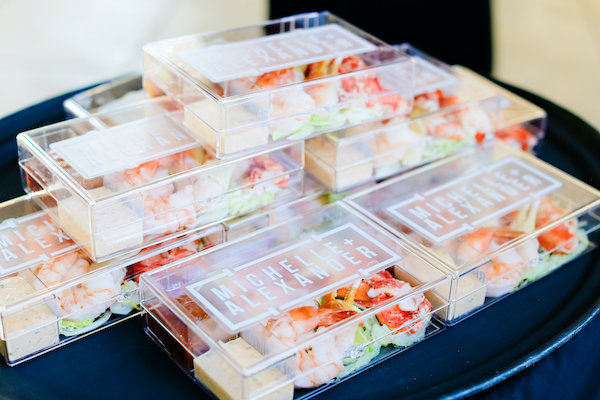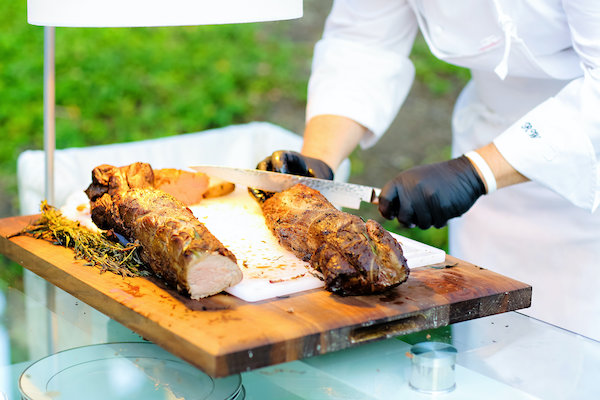 And every fairytale wedding needs a Signature Cocktail. In this case, "The Prince Roman," named for the couple's adorable fur baby, included Vodka, White Chocolate, Godiva Liqueur, Dar Crème de Cacao, Frangelico and Chocolate Syrup.
Dancing Under The Stars
Following the lavish dinner, the couple and their guests moved to the backyard for sunset, dessert, dancing, and entertainment.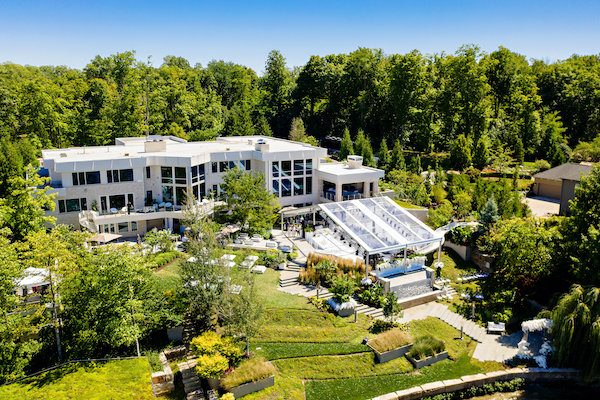 As the sun began to set, guests arrived in the backyard, Champagne in hand, to a magnificent outdoor cocktail party. The pool area and sloping hills were filled with incredible lounge furniture, multiple bars, and a spectacular clear tent with a crystal chandelier and oversized white dance floor.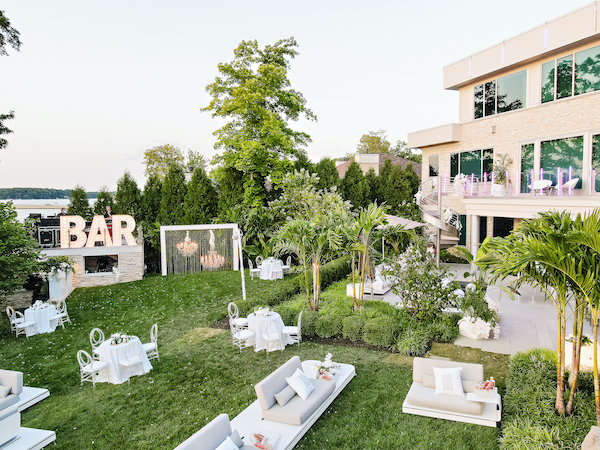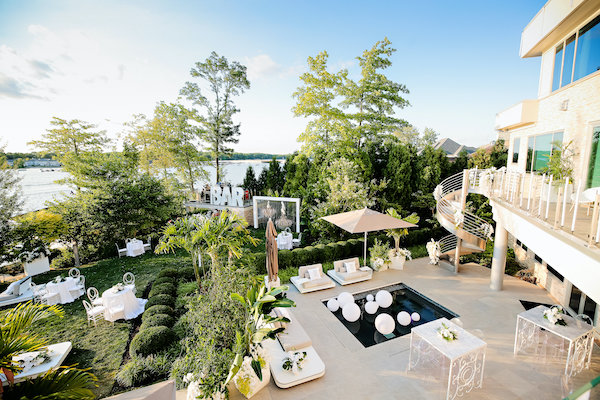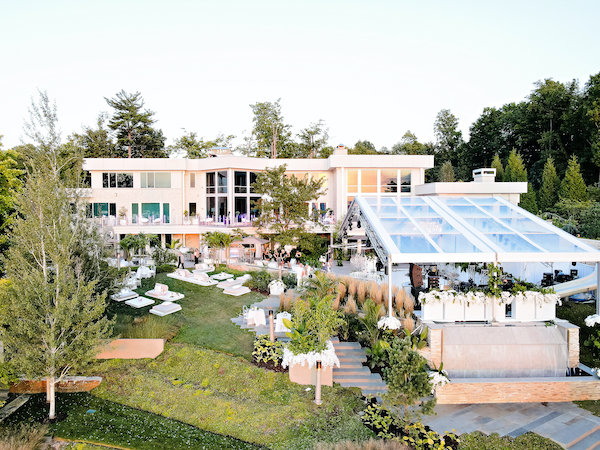 And the spectacular sunset was just the beginning!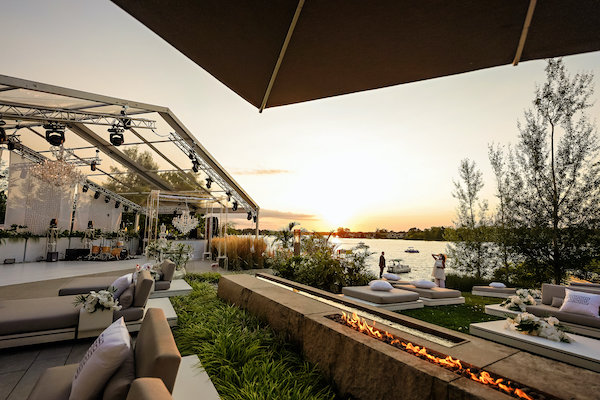 Dessert, Dancing, and A Few Surprises!
After sunset, Michelle and Al gathered with their wedding guests for their cake cutting and kick off the evening's entertainment.
To the side of the incredible tent, the couple cut their fabulous four-tiered wedding cake that floated above a marble table, surrounded by miniature cakes.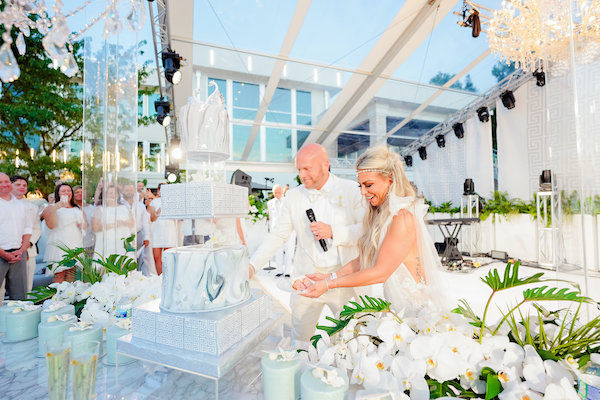 With everyone gathered, it was time for the evening's entertainment and a surprise guest. The incomparable Lindsey Stirling!
Lindsey is an incredible performer known for her choreographed violin performances and appearance on the 2010 season of America's Got Talent.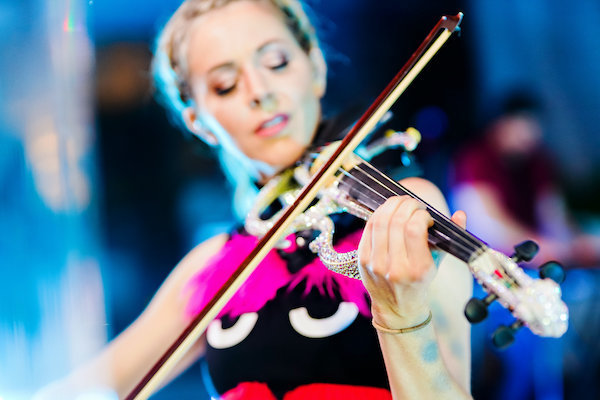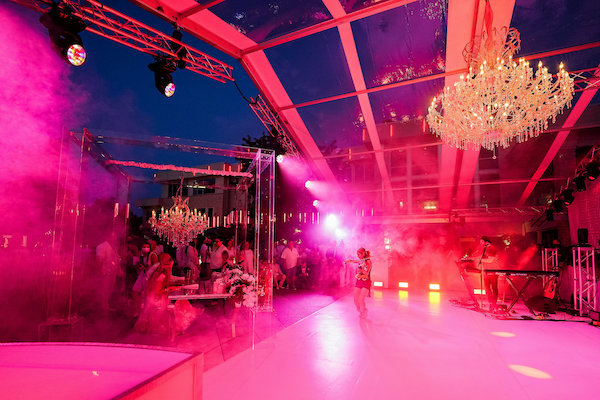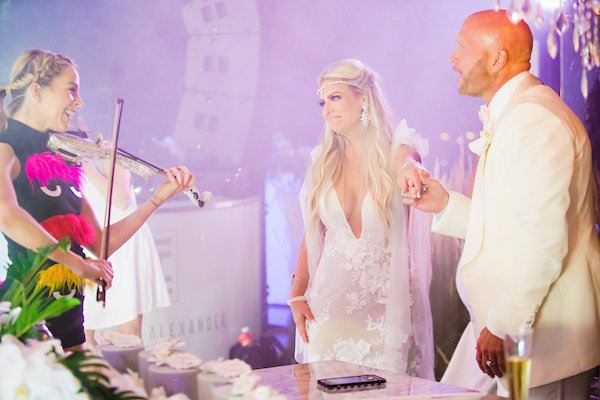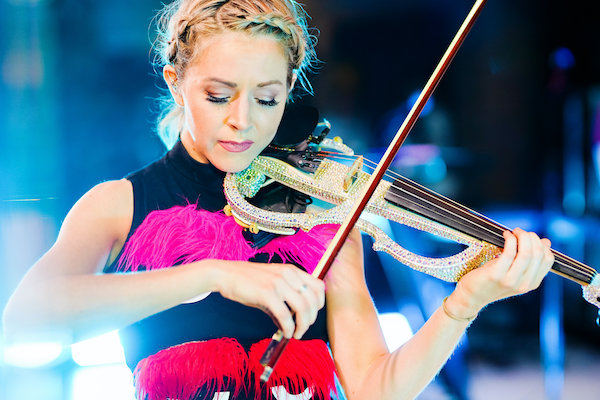 Following Lindsey's performance, Michelle and Al took to the dance floor for their first dance to "Adore You" by Miley Cyrus.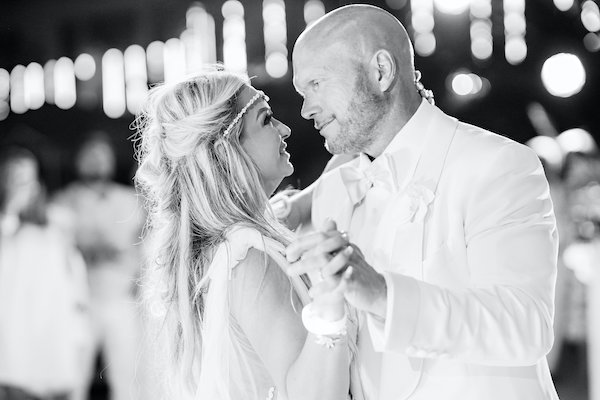 DJ Gabby Love opened the dancefloor as wedding guests enjoyed butler passed late night Savory Snacks, an incredible Dessert Station, and a night of dancing under the stars.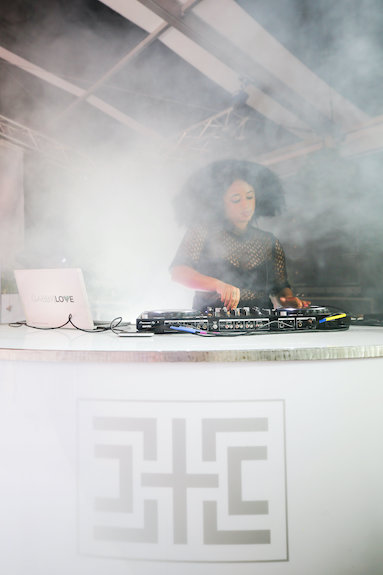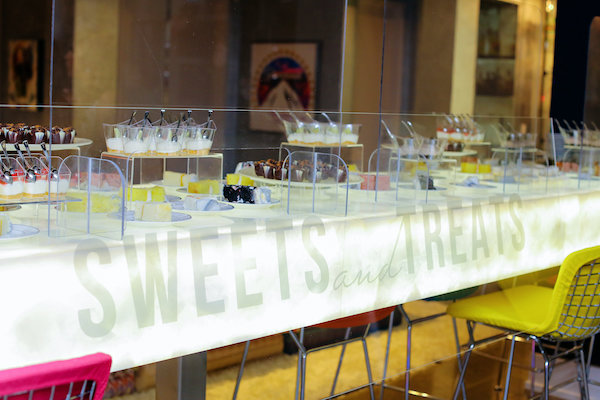 The incredible evening concluded with a spectacular fireworks display over the water.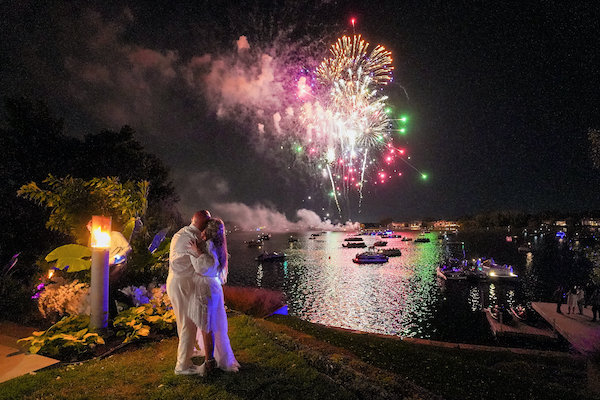 With a Kiss Good Night, the wedding guest departed with a breakfast bag filled with Cold Pressed Juices and Pastry before the newlyweds called it a night.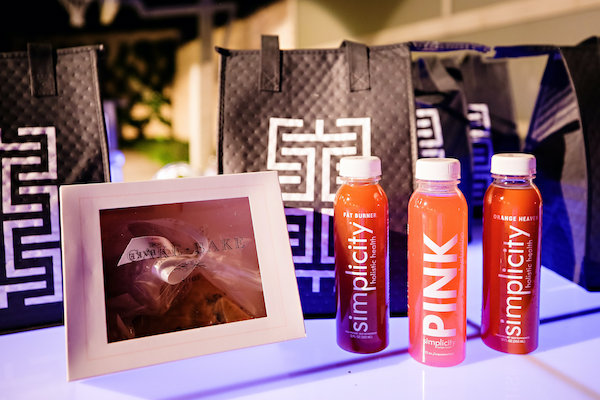 Happy Anniversary, Michelle and Al. We hope all of your dreams came true!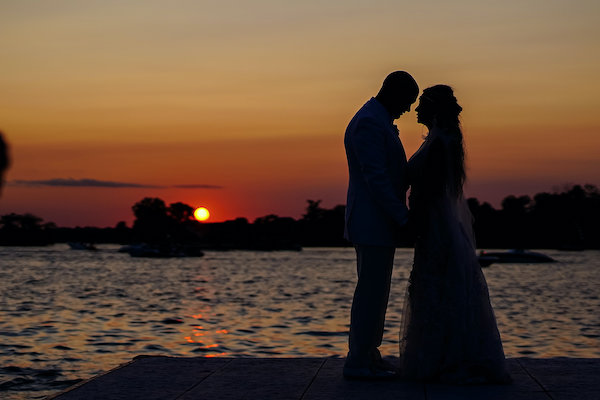 Merci Beaucoup
Thank you to the outstanding team of Indianapolis wedding professionals who helped bring Michelle and Al's dreams to life.
Indianapolis Wedding Planner / Designer: Mon Amie Events, Inc.
Indianapolis Wedding Venue: Private Home
Makeup: Michelle Adams
Hair: Habit Studios
Wedding Officiant: Drew Bosso
Ceremony Entertainment: Cathy Morris
Photography: Jessica Strickland Photography
Film: Eyenamics
Floral: ImaGINAnation
Décor: Evans Audio Visual
Tent: Outdoor Environment Group
Rentals: A Classic Party Rentals
Rentals: BBJ Linen
Rentals: EventSource
Entertainment: TLW Entertainment
Entertainment: DJ Gabby Love
Entertainment: Lindsey Stirling
Pyrotechnics: Zambelli Fireworks
Catering: Chef Roger Watson
Catering: Empyrean Events
Bar Services: Simplicity Juices
Desserts: Classic Cakes of Carmel
Desserts: Cake Bake Shop
Paperie and Branding: Pomp and Polish
Transportation: LSG Limo
Sanitation: Gordon Plumbing
Accommodations, Rehearsal Dinner, Wedding Luncheon: Hotel Carmichael
monamieevents
September 3, 2021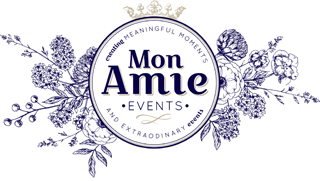 Copyright 2023 | Mon Amie Events Inc.