Sarah & Ryan's Magnifique Wedding at The Hotel Carmichael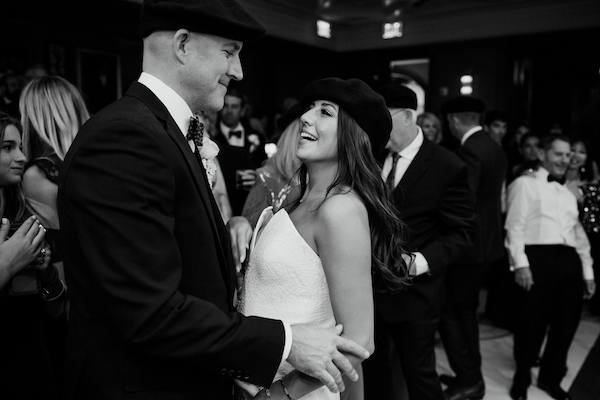 Our Mon Amie Events team knew that Sarah and Ryan's Hotel Carmichael wedding would be Très Magnifique!
The luxurious boutique hotel allowed us to transition to multiple event spaces, adding interest to the wedding design.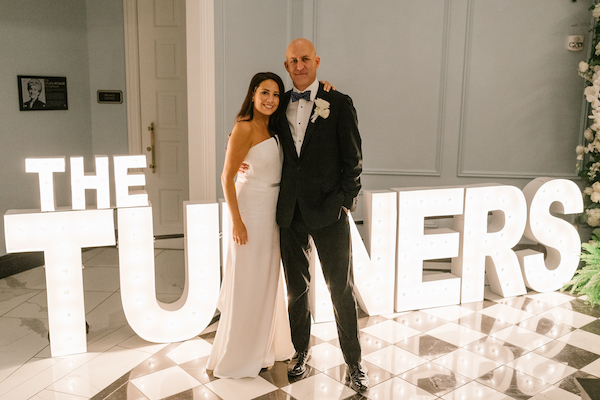 The Suite Life
The day began in their hotel suites for Sarah, Ryan, and their wedding parties. Breakfast for each wedding party, for the ladies, onsite hair and makeup services, and time to relax and get dressed.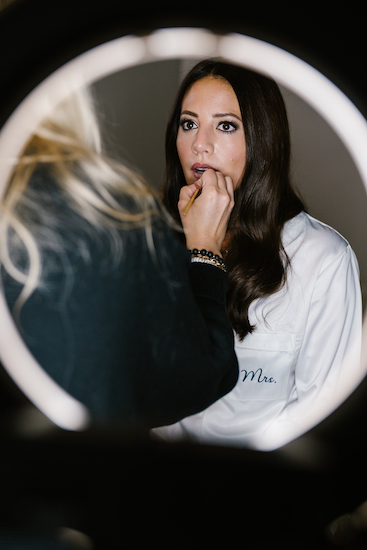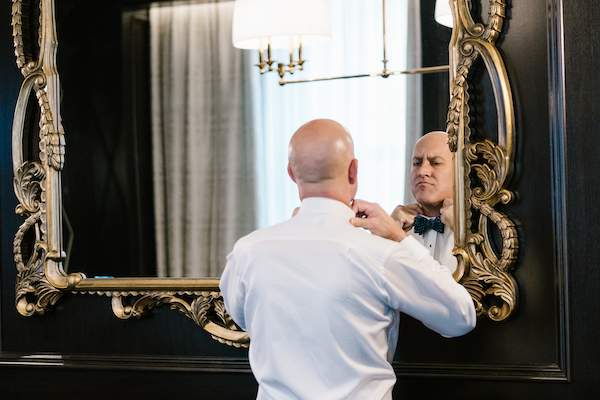 It was also the perfect time to photograph wedding details. The team captured images of Sarah's beautiful gown, the couple's wedding rings, their custom wedding invitation suite, and welcome bags filled with local treats and the weekend's schedule.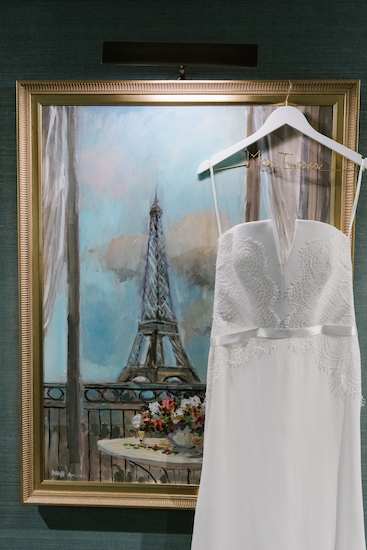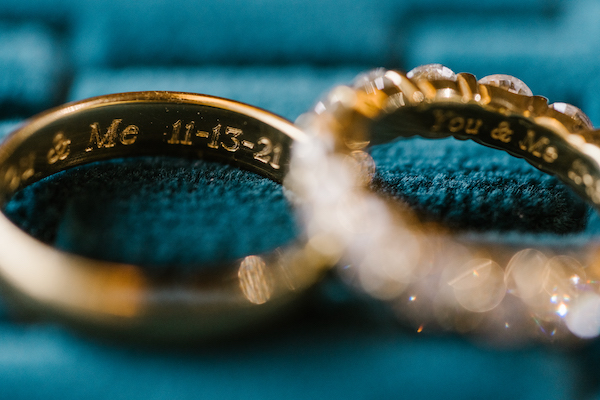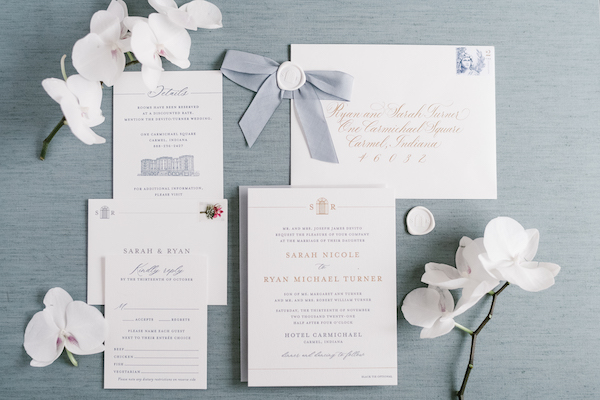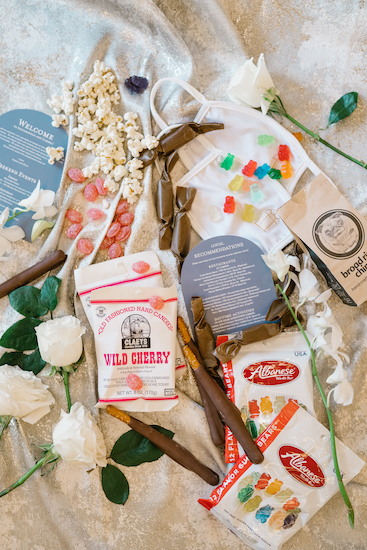 A Series of First Looks
After a quick first look with her gal pals, Sarah had her first look with her Father before heading off for her first look with the groom-to-be.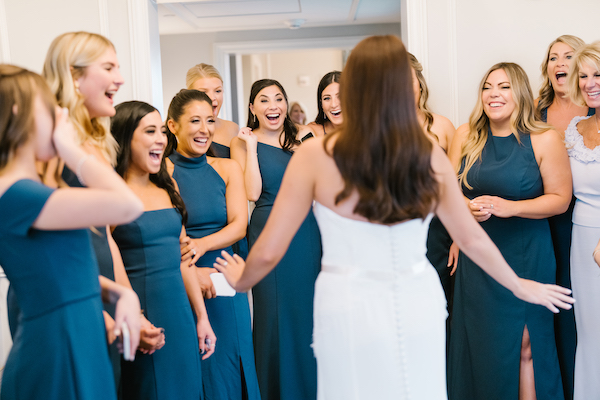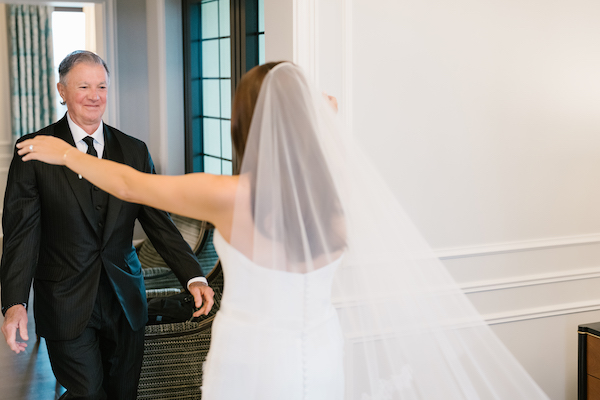 With everything in place for the couple's ceremony, the hotel's ballroom was the ideal location for Sarah and Ryan's first look. With perfect placement and a little fluff, it was time for the moment they had both been waiting for.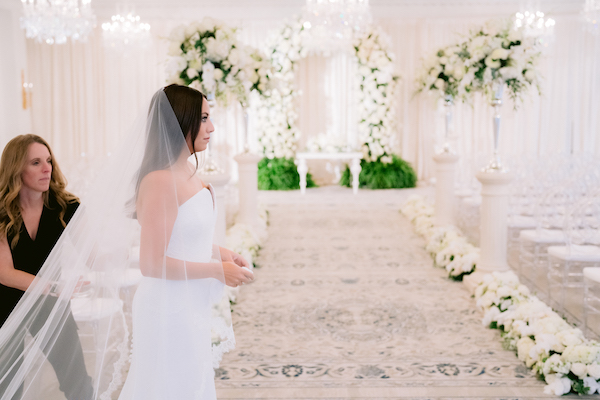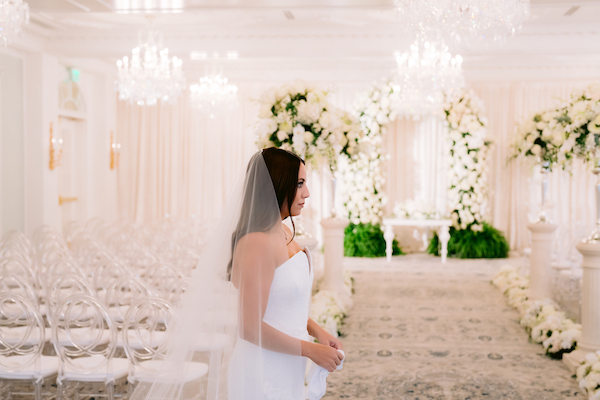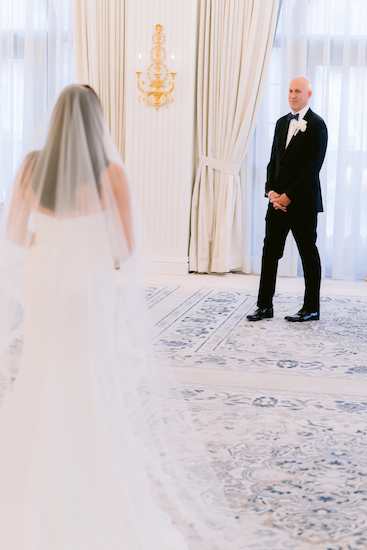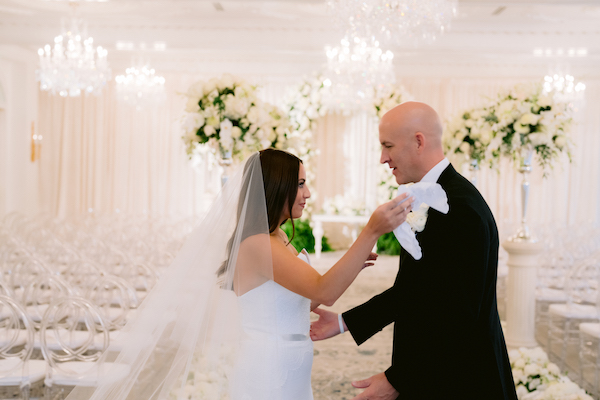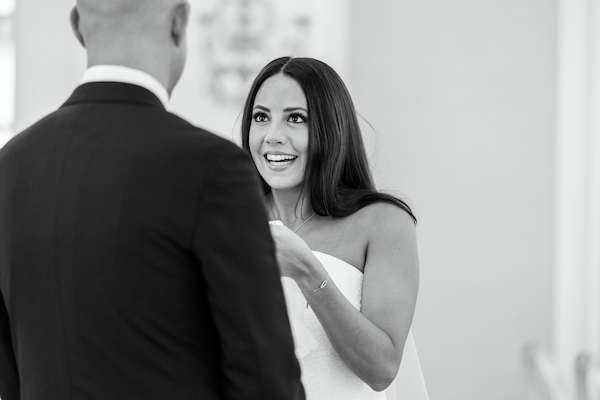 After some family and wedding party portraits, it was nearly time for this incredible couple to exchange their wedding vows.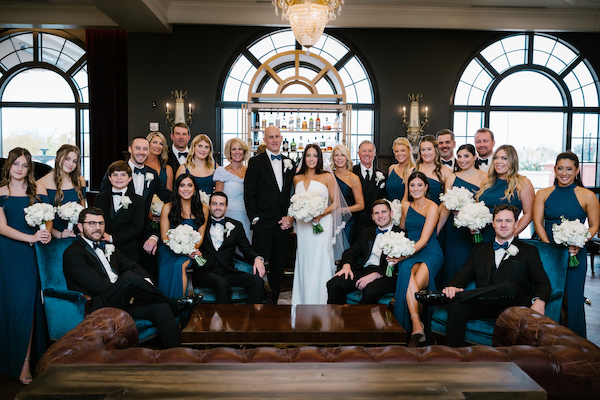 With This Ring
Wedding guests were greeted with Champagne as they arrived for the wedding ceremony. As they entered the ballroom, they were wowed by the luxurious ceremony décor.
The ballroom was wrapped in soft white flowing fabric, accenting the crystal chandeliers. Clear acrylic Phoenix chairs lined the aisle, paired with tall centerpieces resting on silver urns. A large lush floral arch and vintage white table with the couple's unity candle rested at the end of the aisle.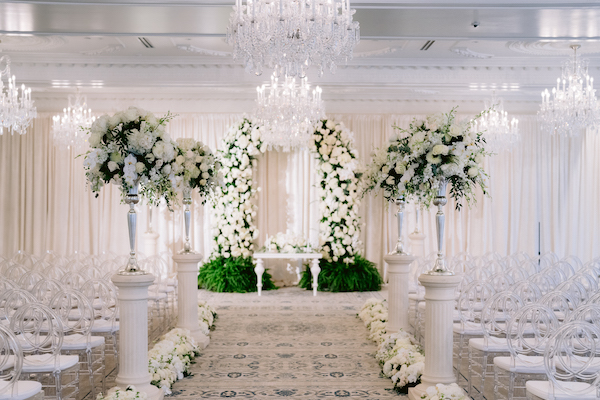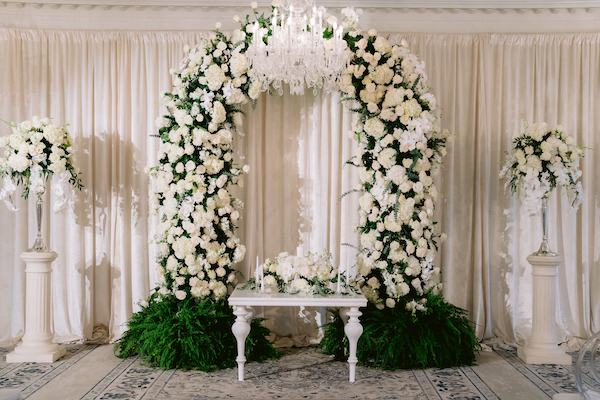 The couple's wedding party processed down the aisle to 'With A Little Help From My Friends,' before Sarah, escorted by her Father, made their entrance.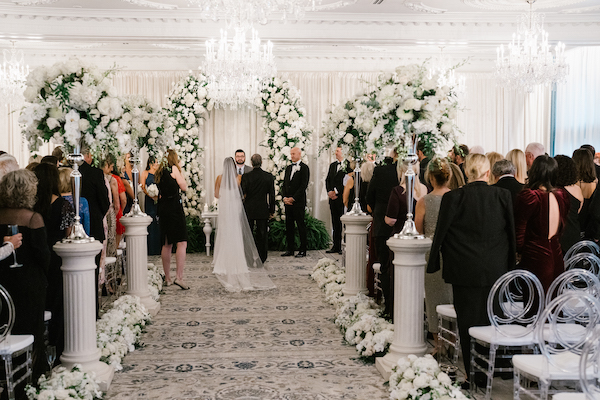 The intimate wedding ceremony was filled with specially selected readings, a Unity Ceremony, and the exchanging of rings before Sarah and Ryan sealed their vows with a kiss.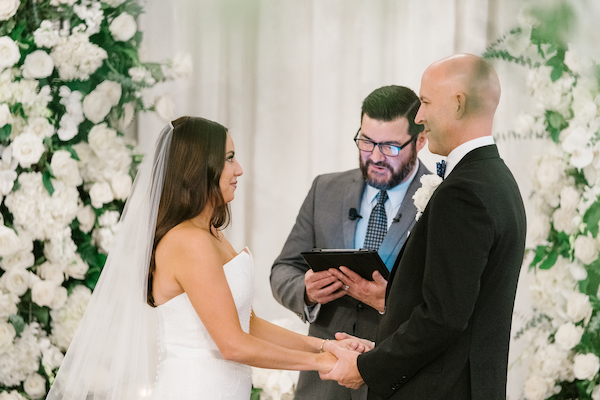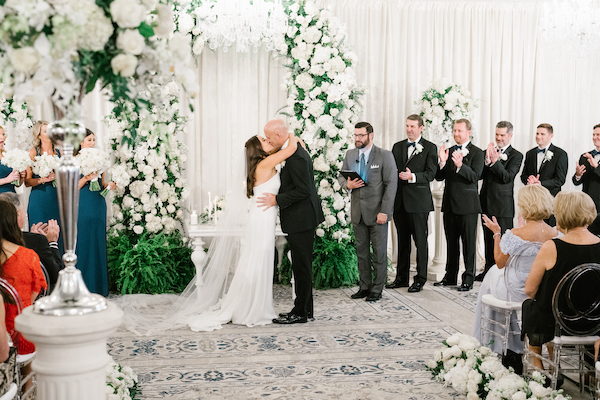 Cocktails and A Little Private Time
Following the wedding ceremony, guests made their way into the cocktail reception. The focal point of this transition space was the couple's incredible five-tiered wedding cake accented with fresh flowers, French macarons, and the couple's custom monogram.
The newlyweds enjoyed private time before rejoining their guests for cocktails and hors d'oeuvres.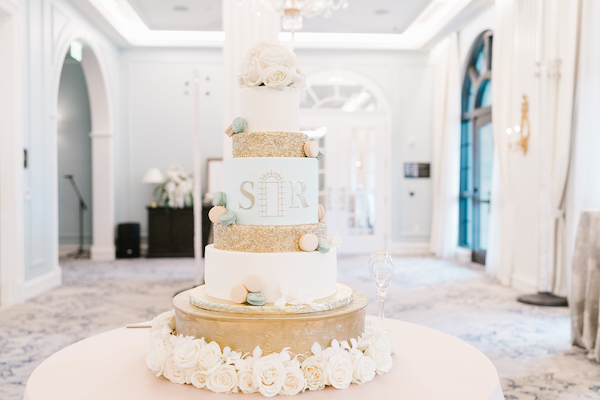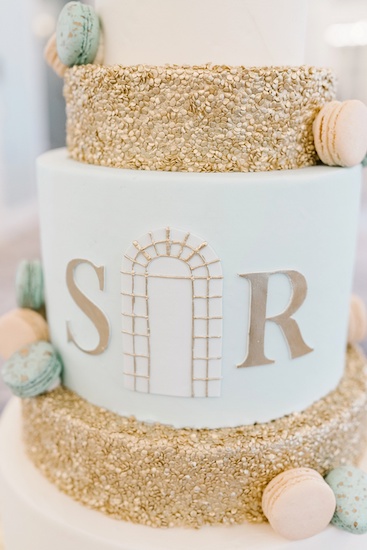 A Magical Transformation
While the couple and their guests enjoyed cocktails and conversation, the hotel's ballroom was magically transformed from ceremony to dinner celebration.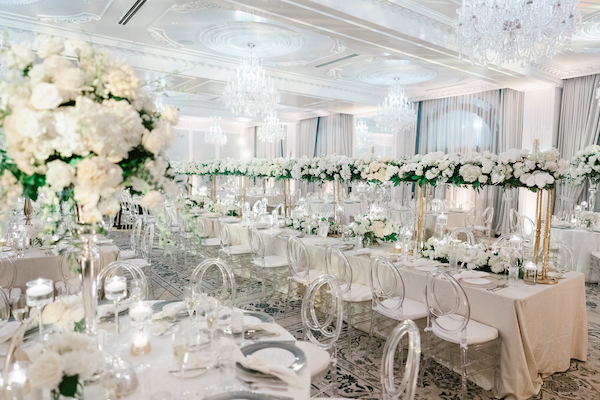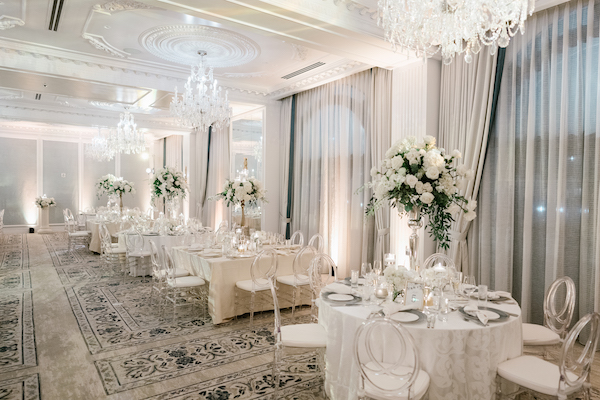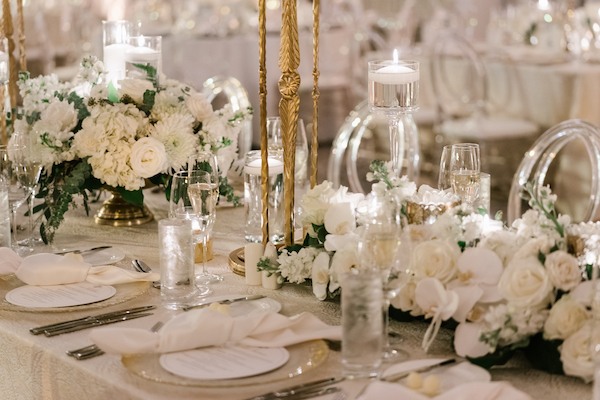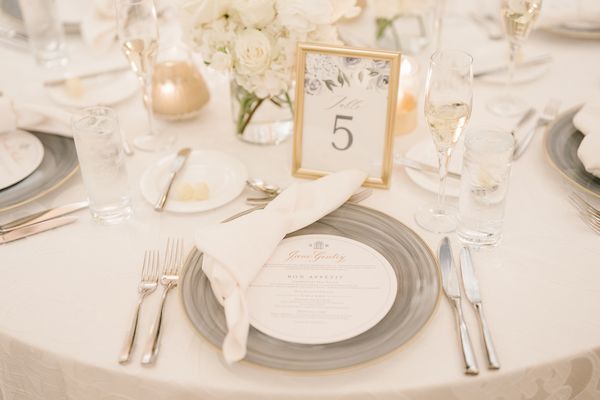 Reception tables were draped with luxurious textured linens. A mix of round and square dining tables flanked the long head table. Lush white floral arrangements floated overhead with floating candles and smaller arrangements at their base. Place settings with frost and alabaster charger plates held knotted napkins and customized menus for each guest.
Sarah and Ryan came in for a quick sneak peek at the reception décor before inviting guests into the room – and to say they were blown away might be an understatement.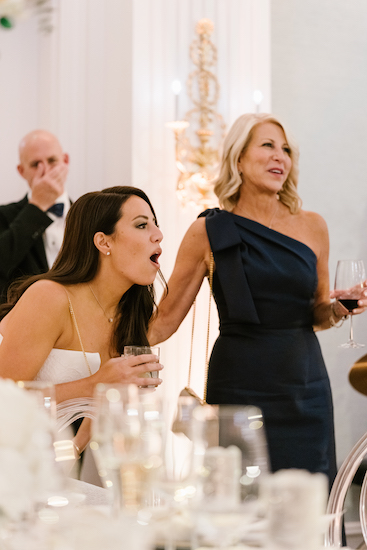 In a unique order of events, Sarah and Ryan cut their amazing wedding cake, the focal point of the cocktail reception, before guests were invited into the ballroom for dinner.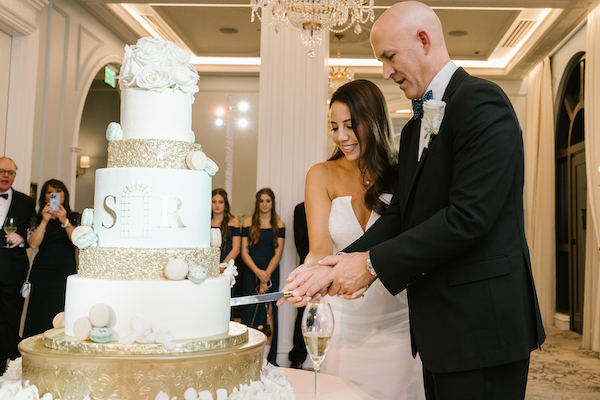 Dinner Before Dancing
Once wedding guests were seated for dinner, the festivities began with a Champagne toast by the Bride's Father. This was followed by a blessing, toasts, and a delicious multicourse dinner with wine service.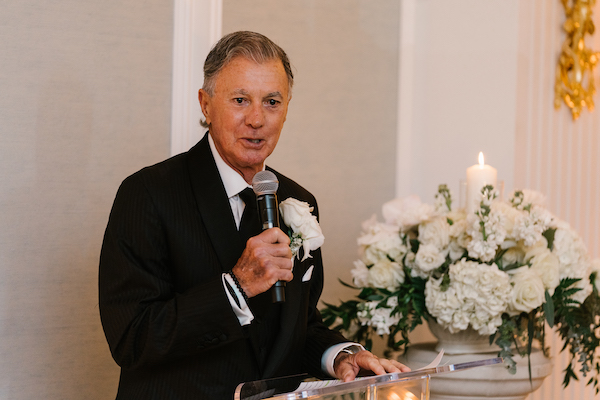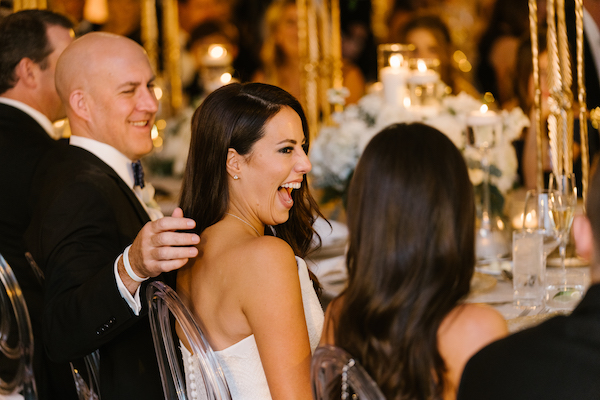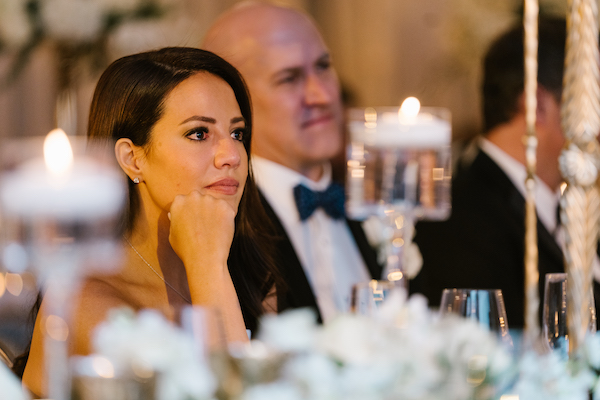 As wedding guests finished their wedding cake, they were treated to the next twist. Led by a trio of horns, the newlyweds and guests were led to Feinstein's, a creative and inspired entertainment space within the hotel.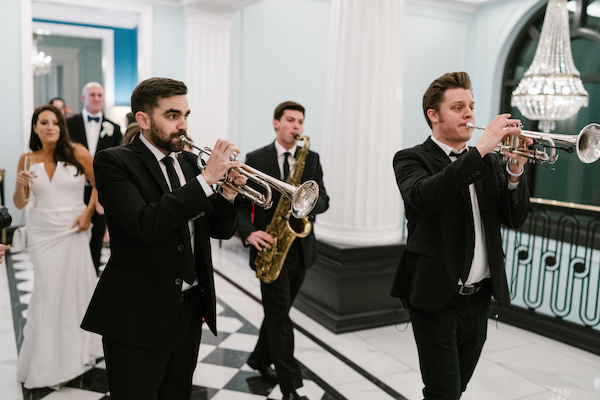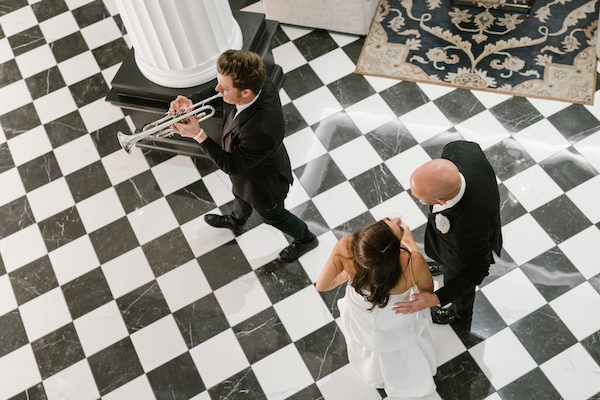 The event space was marked with lush floral arrangements and giant illuminated letters, specially crafted for the couple. The room is designed with cabaret-style banquettes and a performance stage.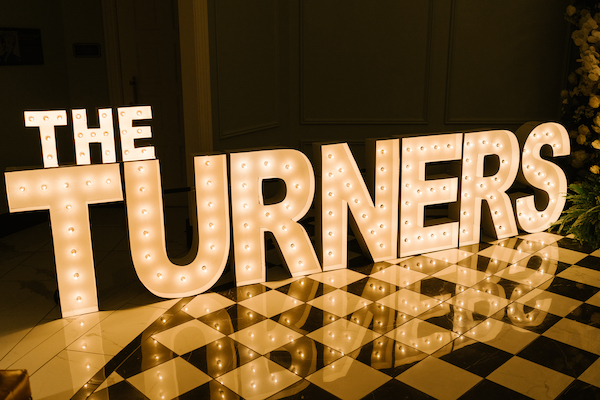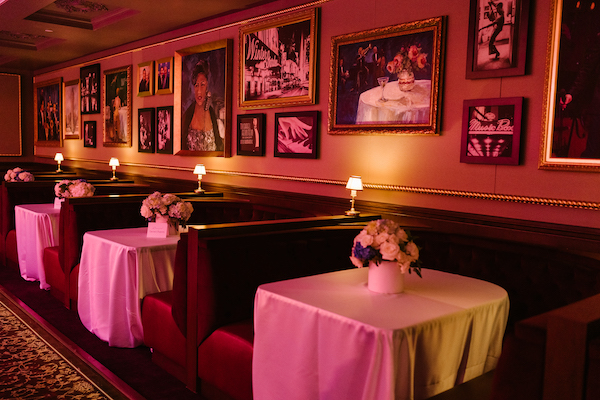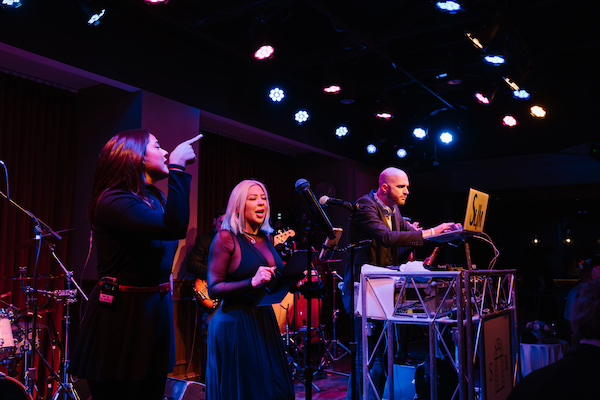 Guests were welcomed with passed wine, and signature drinks before the couple took to the dance floor for special dances with their parents and their first dance to 'You Are The Best Thing.'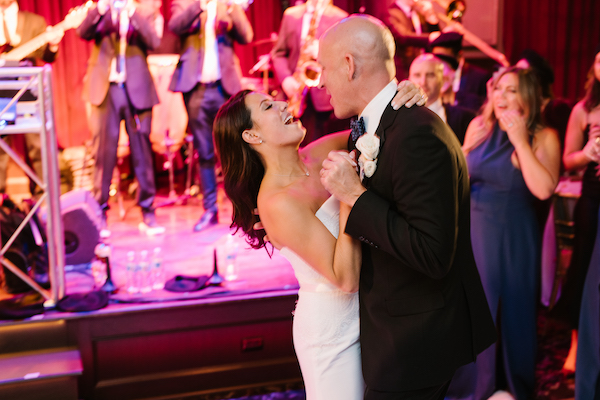 The festivities continued with fantastic music, lots of dancing, an outdoor cigar and bourbon lounge, and an afterparty with late-night snacks at the hotel's restaurant.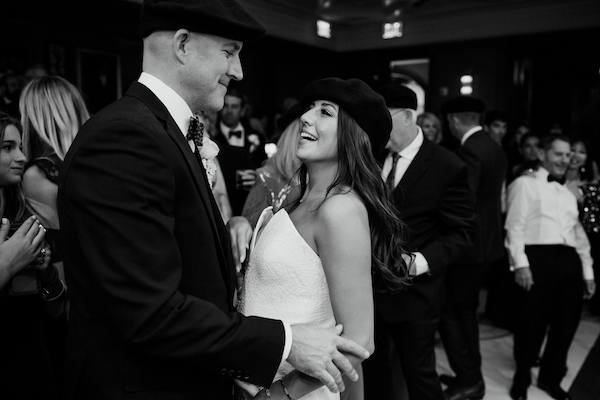 Yes, Sarah and Ryan's Hotel Carmichael was truly Très Magnifique!
Merci Beaucoup
Thank you to the incredible team of wedding professionals who made Sarah and Ryan's day so magical.
Planner / Designer: Mon Amie Events, Inc.
Officiant: Pastor Matt Skiles
Ceremony Entertainment: Artistrings– TLW Entertainment
Venue / Catering / Hotel Accommodations: Hotel Carmichael
Floral: McNamara Florist
Décor and AV: Evans Audio Visual
Photography: Stacy Able Photography
Film: Eyenamics
Entertainment: RockWithU and Cool City Swing, TLW Entertainment, Artistrings
Makeup & Hair: Crystal Haffner, and JW Salon
Paperie: Oliver's Twist
Cake: Sweet Escape Bakery
Calligraphy: Calligraphy Jewels
Marquee Letters: AlphaLit317
Rehearsal Dinner: Sun King Brewery
Rentals: BBJ Linens, LGI Linens
Wedding Gown: Marie Gabriel Couture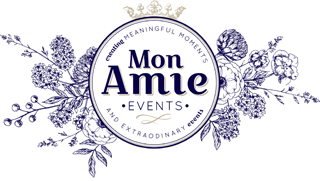 Copyright 2022 | Mon Amie Events Inc.