[vc_row][vc_column][vc_column_text]SHELBY + BRIAN'S WEDDING STORY:
Private Residence ~  Nashville

Shelby and Brian are stunning to say the least.  They are warm, caring, funny and smart – when they told me they wanted a family wedding for 100 guests and were inviting 110 guests, I thought "Given 15 years of planning experience, I think approximately 80 guests will come."  103 rsvped!  To know them is to love them! They're amazing and so is the location of their wedding!  It's as special as they are as a couple! Everyone wanted to come and celebrate with this amazing couple for their wonderful and intimate "barn" retreat wedding![/vc_column_text][placidslider id="21″][vc_column_text]Brian and Shelby wanted a warm, rustic wedding, full of the special touches that makes them unique as a couple.  They wanted a down home wedding, so their wedding was literally, "down home,"  Brian's parent's home – Serenity Lake Lodge in Nashville, Indiana.  This amazing retreat is a world away nestled in the countryside.  Guests marveled at the greenery and lush floral beds beckoning them deeper into the Brown County woods.  At the top of the hill welcoming them stood a stately lodge created from re-purposed barn wood.  This "barn" is like nothing the guests had ever seen! Strong, yet romantic and warm and rustic in its design, Brian's fun and energetic father, Gary helped design his pride and joy to host his guests. Following the ceremony guests enjoyed a family style meal on long farm tables with eclectic stoneware and cozy lap blankets to warm up the spring evening.  The long tablescapes were nestled with burlap table runners filled with moss which overflowed with floral.  Each guest had intimate take home bouquets of flowers including peony, ranunculus, thistle,  roses and hydrangea.  Shelby looked like a perfect china doll radiating with beauty.  She smiled all day!  In her hair she wore the most beautiful hair piece, an heirloom each sister had worn, and one surely her niece will continue for the next generation!  Shelby's mom baked each guest (delicious!!!) breads which were lovingly given as the favors so everyone had breakfast the next morning, making this a family affair for the newlyweds.
This wedding was featured on BorrowedandBlue.com
This wedding won the 2015  ISES Indiana Best Wedding Award for its budget category.
Merci Beaucoup:
Ace Party Rental | Bella's Blooms | IndyVisual | Jessica Strickland Photography  | Hoaglin Catering  | Marie Gabriel Couture | Splendor |  Wow Factors[/vc_column_text][/vc_column][/vc_row]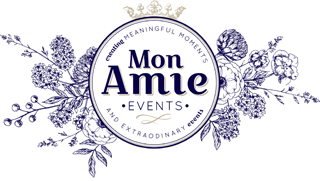 Copyright 2020 | Mon Amie Events Inc.