Tag:
Bloomington Indiana Wedding
By monamieevents
April 15, 2016
  Mon Amie Events, Inc has had the honor of creating weddings for many years with families from the start of the wedding planning process through the wedding weekend.  We've gone to site inspections, dress fittings, chosen invitations, designed spectacular celebrations and tasted many flavors of cake over the years.  It's been a delightful and delicious process, but we understand not every couple needs full wedding planning services.  It's what we do, it's where we excel.    We know though, […]
Continue Reading
By monamieevents
October 16, 2014
Few people can say they met their future spouse at Indiana University's Little 500 week long festivities.  I can say that.  Add Grace and Graham to the list.  The minute I met them and they told me that, I knew we were destined to work together on their upscale Hoosier Homecoming wedding celebration! Our similarities didn't stop there!  Grace's mom, Debbie, and I share a birthday – what's not to love about us Leos right 😉 , as a child […]
Continue Reading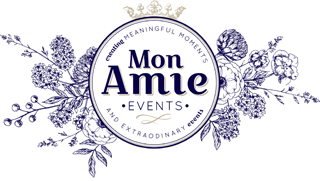 Copyright 2020 | Mon Amie Events Inc.