Tag:
destination Wedding Planner
By monamieevents
October 13, 2015
I admit, I've lacked in the blogging department this summer. It's not for not trying – it's just things here at Mon Amie Events, Inc have been a wee bit busy and very exciting in the Richard family. Our daughter Sabrina, who is 11, fulfilled her life-long ambition of competing on Food Network's Rachael Ray's Kids Cook-Off. Once she was named to the show, it was very secretive.   Sabrina and I left for NY, filmed the entire series and […]
Continue Reading
By monamieevents
December 31, 2014
2014 was an amazing year full of families who openly welcomed Mon Amie Events, Inc into their lives  to plan their weddings and events.  Some of these couples actually were siblings of others I've assisted in the past and it was wonderful to help another family member down the same aisle. Others were new families who were warm and hospitable from the moment we first met.  Regardless of how long I have known them, each of these families are forever […]
Continue Reading
By monamieevents
December 12, 2014
The 12 Days of Christmas – Mon Amie Events, Inc Style: 2014 has been an amazing year, so as I reflect back on this year during this time of great Thanksgiving and joy, I thought I would share with you a 12 Days of Christmas style list of a few fun facts from 2014: 12 – Different Cake Flavors were used by couples. (If you're asking me to reveal a favorite  — ohh SUCH a hard choice […]
Continue Reading
By monamieevents
September 29, 2014
Anyone who knows me outside the event world knows I call the West Baden Springs Hotel in the French Lick Resort "Mecca" – many who know me inside the wedding world know it too.  I love the rolling countryside of the Southern Indiana hills as you approach.  I love the iconic yellow brick beacon that appears like a mirage out of the countryside.  I love the stunning architecture that sweeps stories into the sky.  I love the attention to detail […]
Continue Reading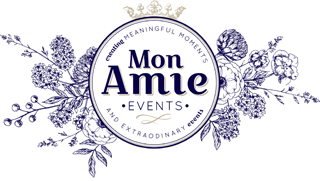 Copyright 2020 | Mon Amie Events Inc.