EMILY + TOMMY'S WEDDING STORY:
Landmark Center and Central Library  ~  Indianapolis, Indiana
Never before Emily and Tommy's wedding have I worked with a family more generous and full of such giving hearts.  These two, and their extended family, are such gracious and giving people, and their love could be felt by everyone they met.  It was evident throughout their planning. 
Emily and Tommy's wedding party was family, teammates, and friends, and their photographer loved the enormity of the group and span of ages. (I loved the fact that everyone was encouraged to wear any shade of jewel tone blue or green which all worked so effortlessly.)  We all adored the laughter and joy on every face that easily spanned four decades as everyone cohesively gathered all morning to make sure Emily and Tommy had a calm atmosphere before they became husband and wife. 
The rich colors of the wedding served as a lush and decadent backdrop for the fall wedding.  Just in time for the Thanksgiving holiday, Emily and Tommy wanted their guests to convene for a time of joy, thanks and giving to celebrate family and love.  They had their ceremony surrounded with lush florals which only hinted at the decadence to follow at the reception.
The Library hosted their reception which only gave a hint of their generosity (most of these things happened behind the scenes, which was perfect fine with Emily and Tommy.) The entrance to the reception included a lush "farmer's market" which had all of the guests' names on all of the produce to aid guests in finding their way to their tables.  Following the cocktail hour all of this produce was donated to help the city's underprivileged.  Notably, when the shelter came to pick up the over 4,000 pounds of produce, they were overwhelmed with emotion at the family's generosity.  The reception tables were also laden with fresh produced tucked into the tablespaces and floral pieces.  These florals and this produce were also donated to local hospitals and nursing homes.  Emily was also careful with her carbon footprint.  She wanted to make sure her welcome bags were muslin and could be sure at local farmer's markets (as her guests shopped for local produce of course) and the backdrop that hung behind the dj was repurposed to make tote bags by a local non-profit. 
It was a grand night filled with laughter and a full dance floor because of the love for these two remarkable families.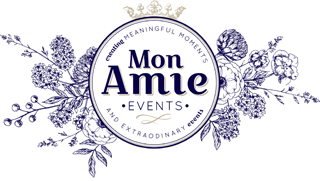 Copyright 2023 | Mon Amie Events Inc.