Wedding Highlight – Caitlin and Ethan
The MOMENT I met Caitlin (and her mom) I thought "if I am not lucky enough to work with this family, I am going to go away the first weekend in June, because I will have such social media envy over this wedding.  😉  They are fantastic, and I need to work with them!"  Fortunately, by the end of lunch we were a team.  Now, we're family.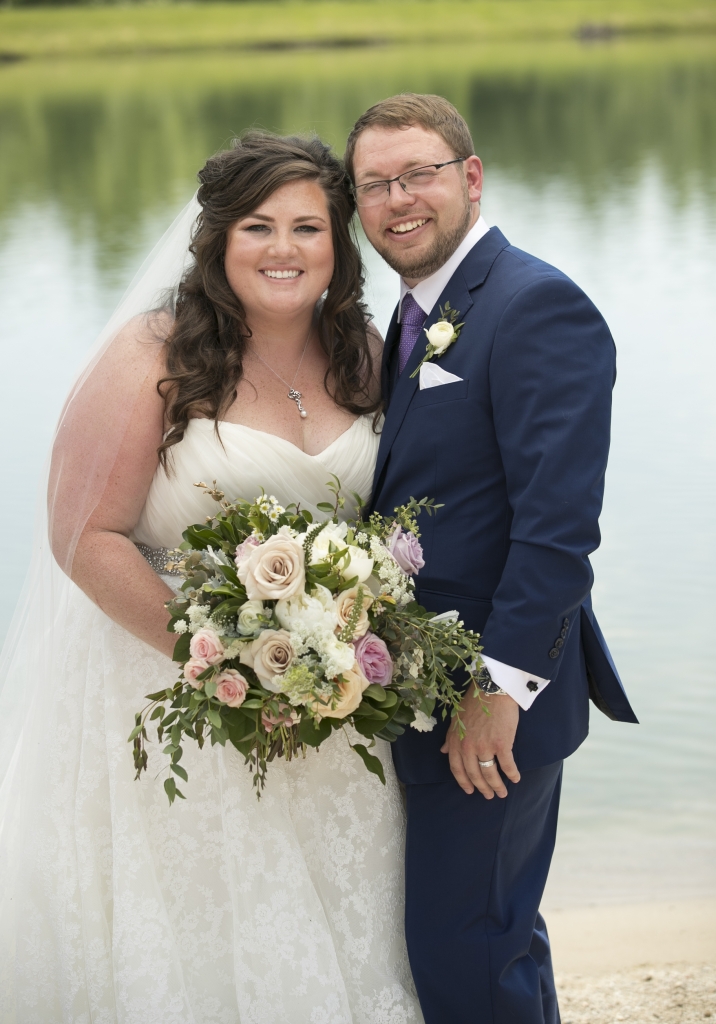 Caitlin and Ethan are entirely adorable (and always touching: whether it's a sweet hand hold, a loving brush on the arm, or kissing). They are a very emotional couple.  I love that in people.  Caitlin clearly gets it from her family.  Her dad is a big teddy bear of a man, and every professional on their wedding team wanted to create the day as much for Caitlin and Ethan as they did for her amazing parents.  The ceremony and reception were hosted at their estate in Southern Indiana, and their family worked tirelessly to prepare the impeccable property.  This Disney loving bride's home could best be described as stepping into the Walt Disney World resort's Wilderness Lodge.  It's a warm, rustic retreat filled with collectibles from their travels.  Caitlin's parents are the first to greet you with warm smiles and huge and their dogs are right along side for a quick pet.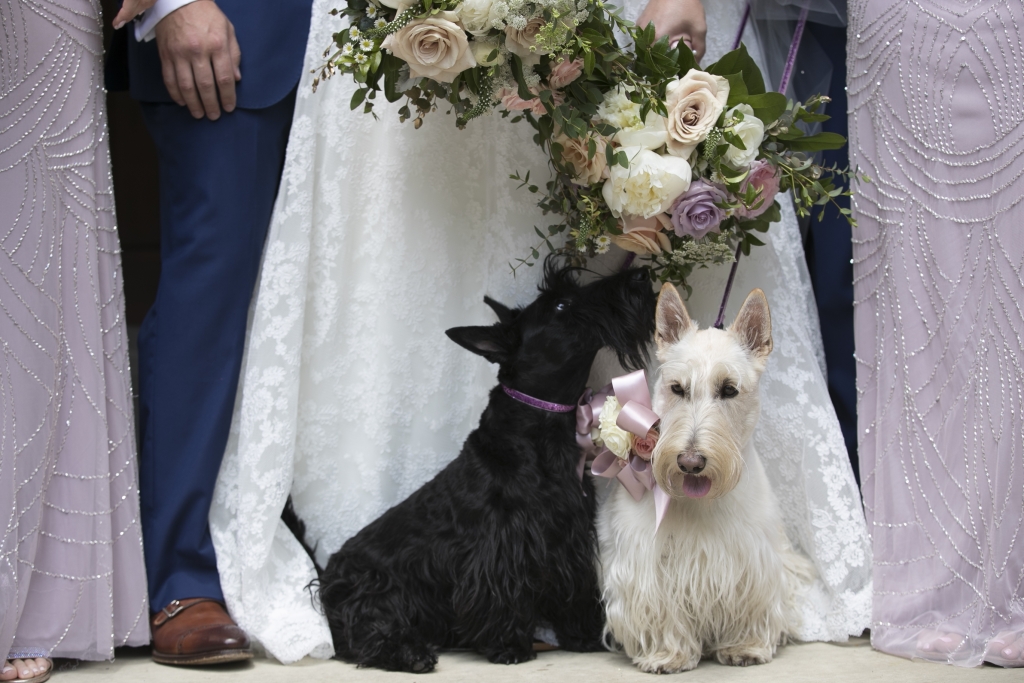 Caitlin's vision for the wedding was to create an evening of fantastic food (from around the world) and decor that felt natural and authentic in the estate's landscape.  Together with the team, we worked to ensure this was met, even scouring through one of their barns to find old chandeliers to hang above the dinner tables and their family canoe (a family favorite) to use in the decor. Guests arrived to the property and immediately the magic and romance began.  Large fancifal tents greated their family and friends.  Butlers with cooling summer treats (lemonade and one of Disney's iconic treats, Dole Whip) welcomed guests into the ceremony tent.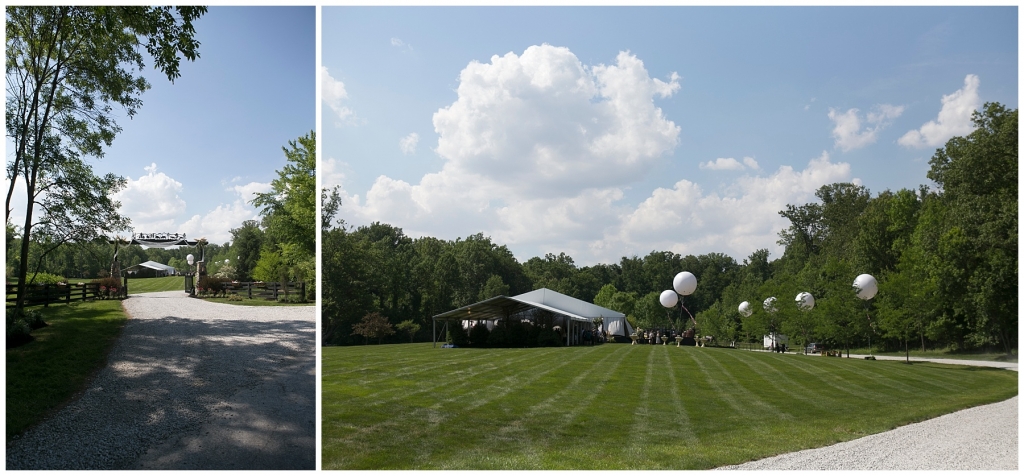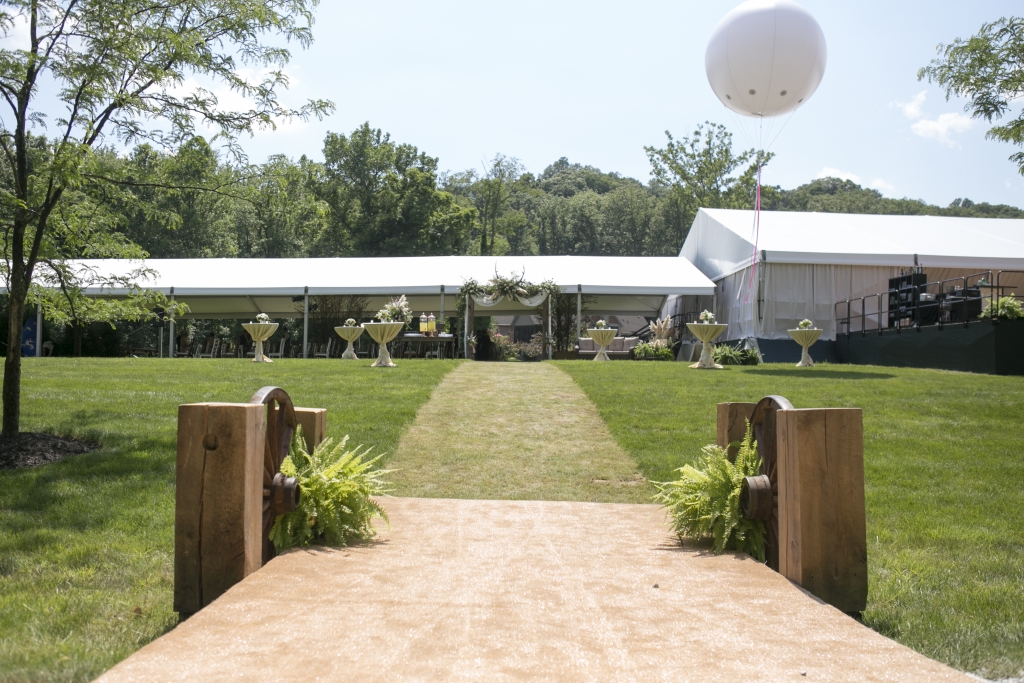 The ceremony space was a haven from the heat of the June sun.  Tucked into trees and mismatched antique chairs, the ceremony began with Ethan's entrance to bagpipers, the bridal party's prelude (which of course included a touch of Disney music) and Caitlin escorted by her father.  They also were able to read their programs which included photos of the engagement session (taken around the property), history of the couple and an in-depth description of the menu for the evening's events.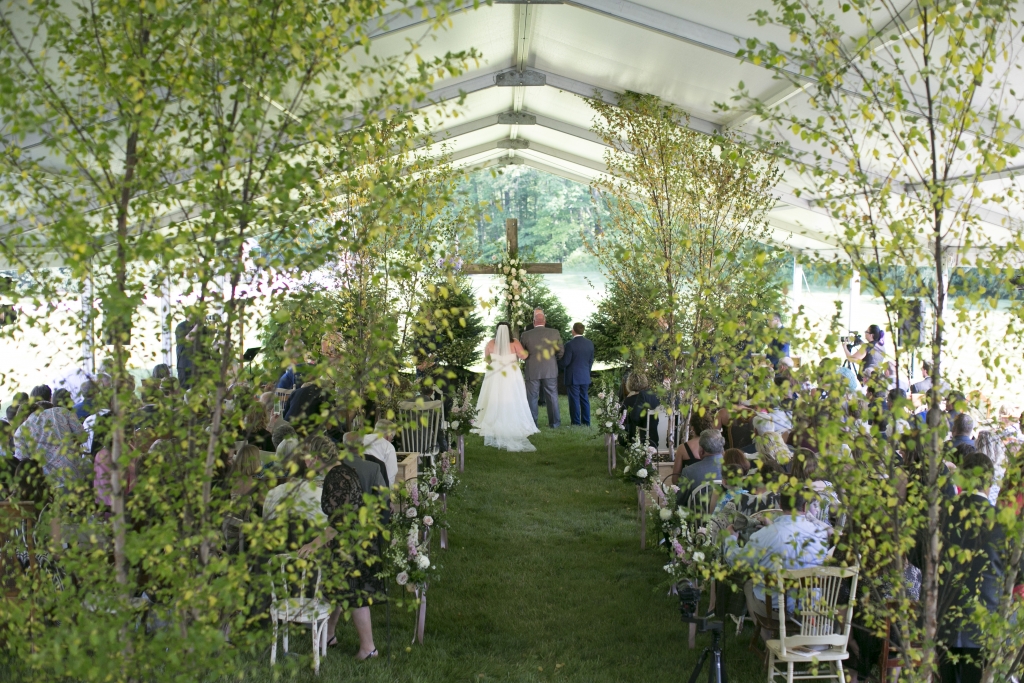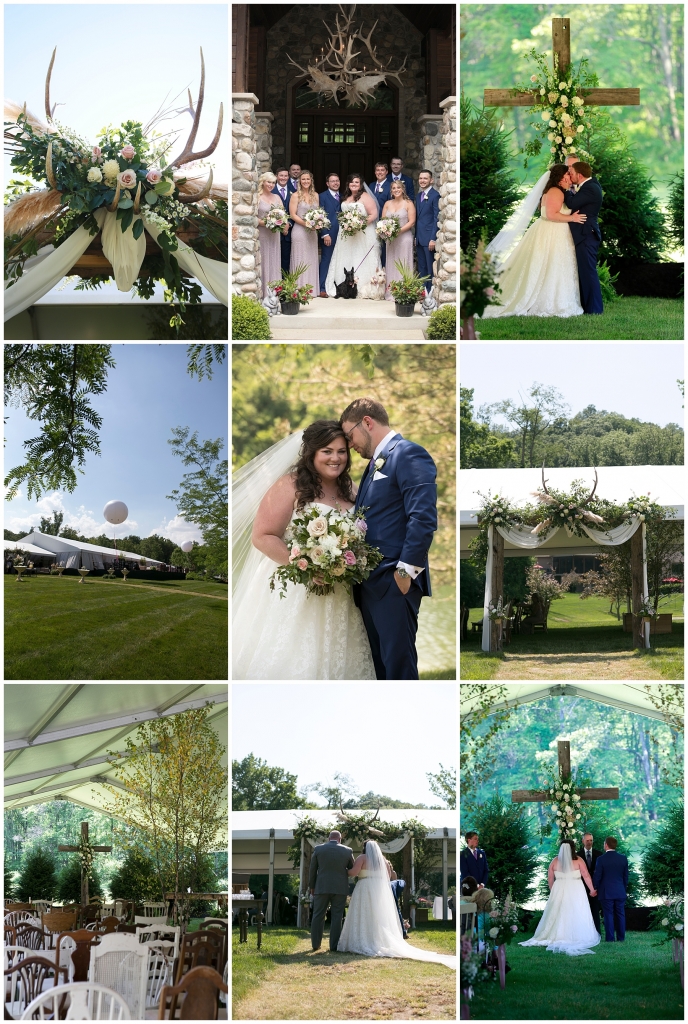 Following the service, guests enjoyed cocktails on a patio outside before dinner inside the magnificent tent. Here the soft color palette Caitlin selected worked with the landscape perfectly.  It was truly one of my favorite events to create.  David from the Empty Vase and I had so much fun working with Caitlin and her mom to make this magic.  It was fun to use the familiy's personal items in tandem with fresh florals and luxurious details to create the dining space.  It was soft and feminine, but if you look very closely, you'll see evidence of antlers collected on various hunts around the US and Canada by the men in the family.  (I kept hearing my inner Gaston sing "I use antlers in all of my decorating….." — I'm sure this is nothing like he ever imagined) 😉
The family's iconic Elk statue was moved in front of the tent (and dressed for the occasion), and their canoe was used to create a focal point above the parents' tables.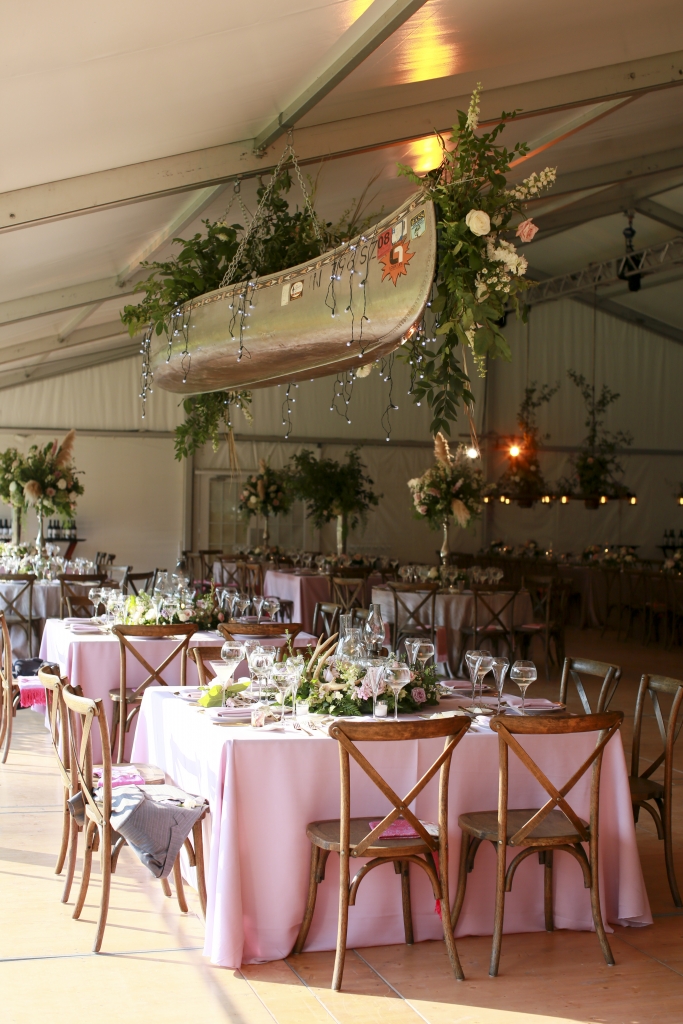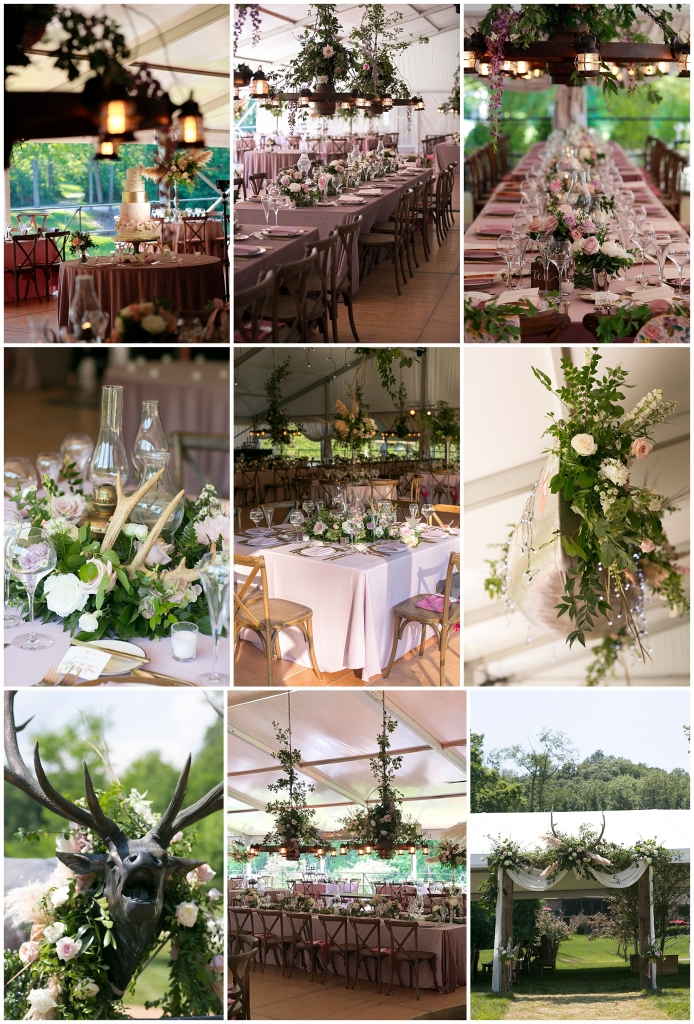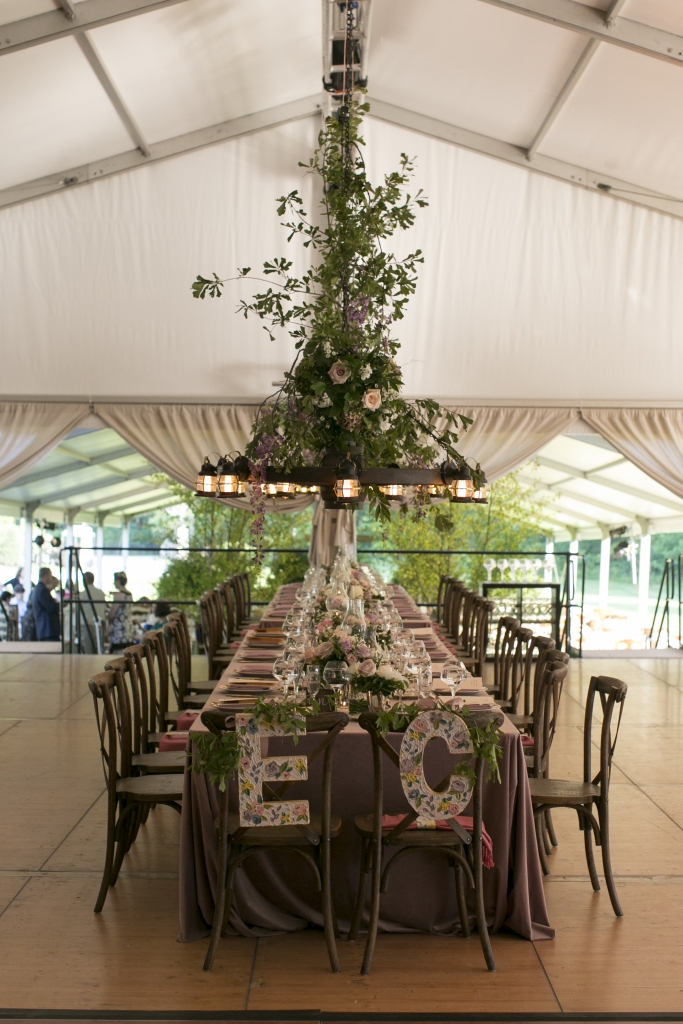 The bridal table was a long romantic tablescape adorned with soft velvet linen under 4 low hanging chadeliers.  The lighting was actually found in a family storage barn and restored for the celebration.  Eight chandeliers flanked the space and created a conopy of soft rustic elegance as guests came into the space.  A local artist surprised Caitlin and Ethan and used inspiration from their paperie to create the signs on the couple's chairs setting their seats apart.  One other whimsical element in the floral was the imaginative use of grasses to compliment the greenery.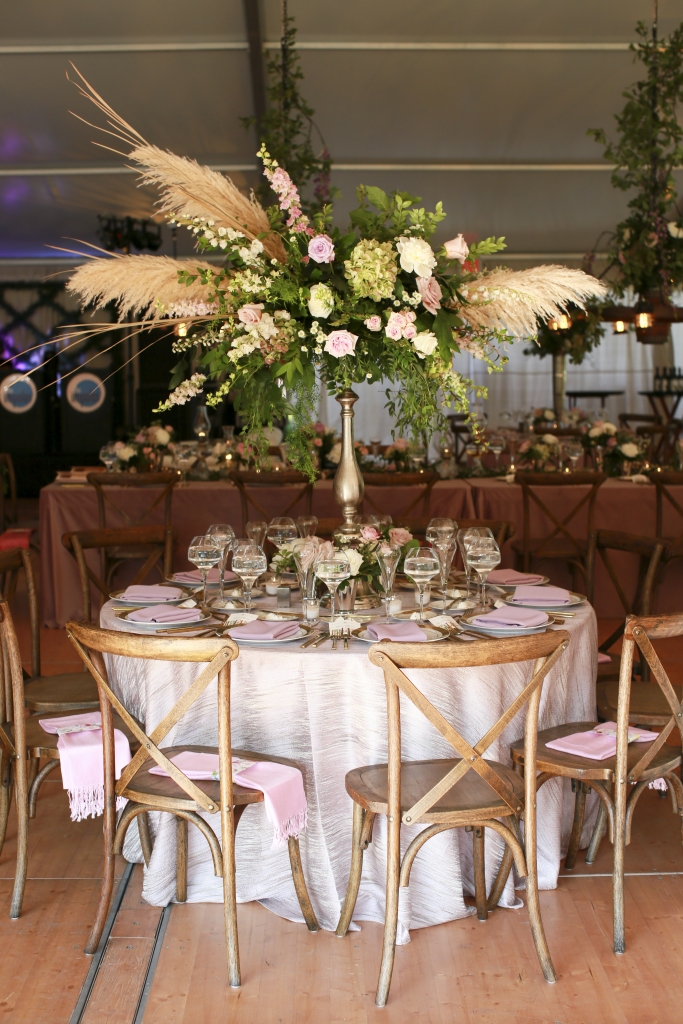 The dinner service (and ohhh the Food!!) was second to none. They love to travel, and one of their favorite events each year is Epcot's Food and Wine festival.  So much so, their menu, in part, was themed from this annual event.  One of the beers for the evening was even brought in from Walt Disney World specifically, and can only otherwise be found in Disney's Animal Kingdom.  Caitlin isn't alone in her love of Disney.  Ethan loves Star Wars, so she wanted to surprise him with a few things too including this groom's cake which included a letter from Lucas Films.

As night fell over the estate, guests enjoyed late night snacks, cigars and dancing (soooo much dancing!) took place under a magical canopy of lighting created to look like the moon shining through the trees.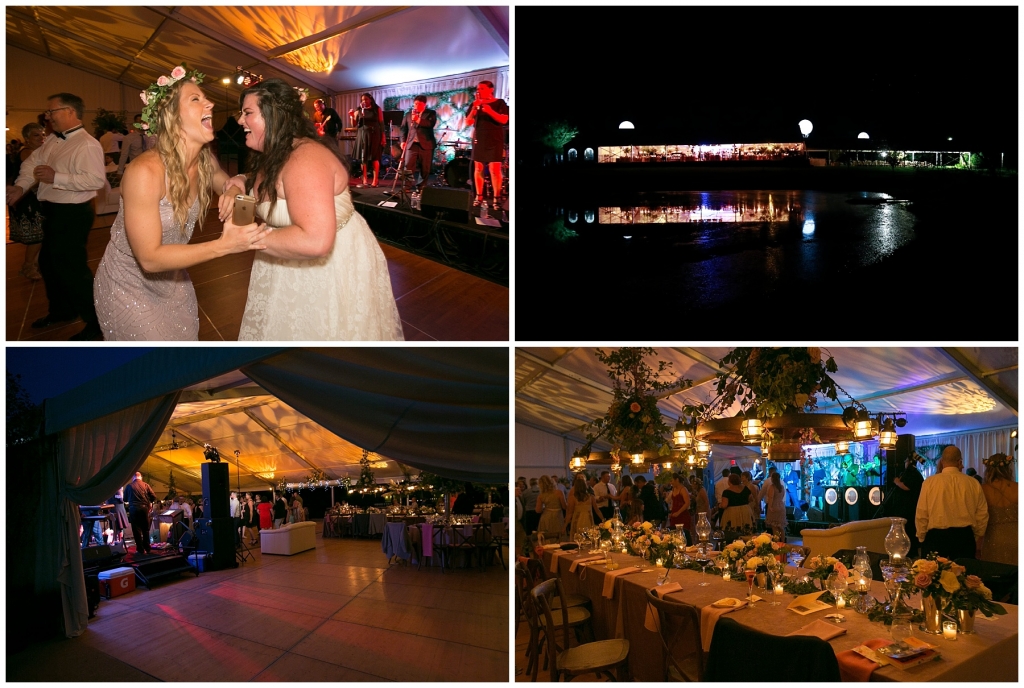 The evening went far too quickly (don't they all?!) but in Caitlin's case particularly so.  I first met her around Thanksgiving, and had about 6 months to plan this extraordinary celebration.  After spending nearly every day for 2 weeks building the tent on their property, their entire extended family now feels like my own.  (Admittedly, with this group, you feel like family after just 5 minutes.)  They have my heart, and I know we'll all be making a trip down to the parks together again soon. xoxo 
❤
❤
❤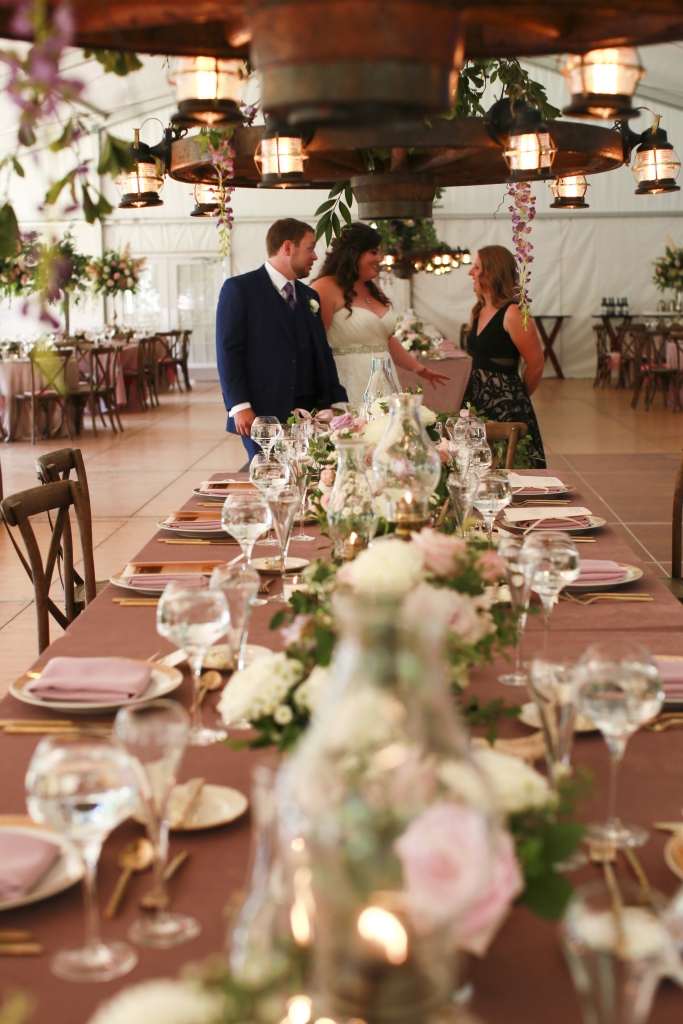 Merci to Jennifer Driscoll Photography for capturing these photos and moments in time. If you would like to see the video by Eyenamics from this event, (which — oh I encourage you to do!)  Caitlin and Ethan's wedding story film  Also to: A Classic,  Antique Limo, Artist Stephanie Carignan, Jan Aldridge Clark,  BBJ Linen, Classic Cakes, The Empty Vase, Empyrean Events & Catering, Evans Audio Visual,  The Impalas / TLW Entertainment, Pink Poppy Ink, Something Wonderful, Violet Vintage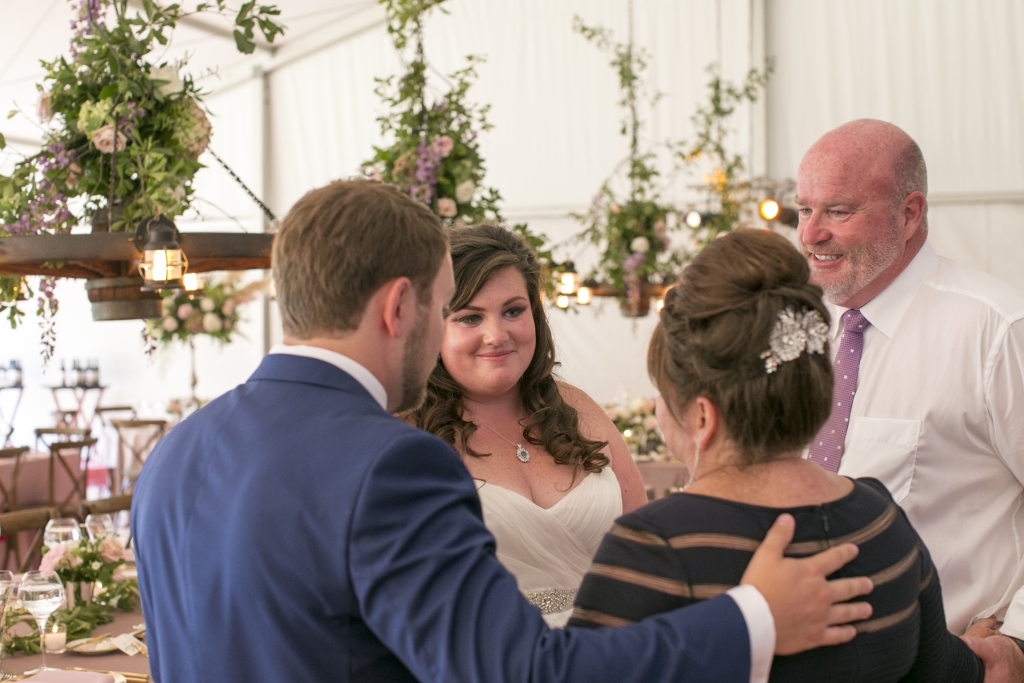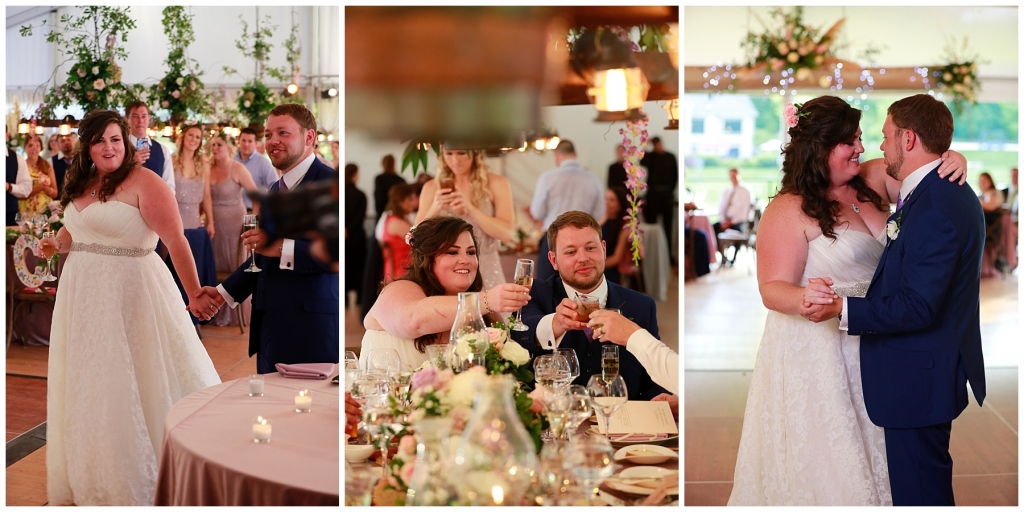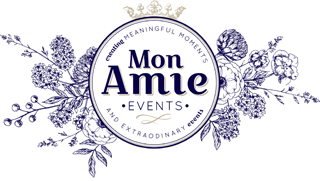 Copyright 2021 | Mon Amie Events Inc.