Wedding Highlight – Chelsea and Jeff
Ease and sophistication just ooooooze from everything Chelsea and Jeff do and touch.  These two, cool under pressure (and why wouldn't they be, they are ER doctors) are the most relaxed and calm couple.  From their first meeting, over breakfast, following an overnight shift at the hospital, they just looked at one another, turned to me said, "yes, we would love to work with you as our planner.  Please send us a contract."  Every meeting or call after, was just as decisive.  Whether it was a menu choice, their 🙂 charger decision, or who to select for entertainment, everything was done the goal of creating a weekend for their guests filled with mystique of West Baden Springs Hotel.
West Baden Springs Hotel, part of the French Lick Resort, appears, almost like a mirage in the southern Indiana hills, and Chelsea and Jeff wanted their guests to enjoy the weekend in the hotel's luxurious surroundings.  Though fall, the weather certainly gave one last taste of summer, which allowed guests, and the bridal party, an opportunity to enjoy the grounds and lush gardens.

The historic architecture of the space inspired the invitation suite and paperie for Chelsea and Jeff's weekend.  The stunning art-deco invitation with gold foil provided a welcome hint of the destination retreat guests were about to experience.  Chelsea wanted a touch of royal blue in her wedding, so it too was infused, in small elements throughout the stationery suite.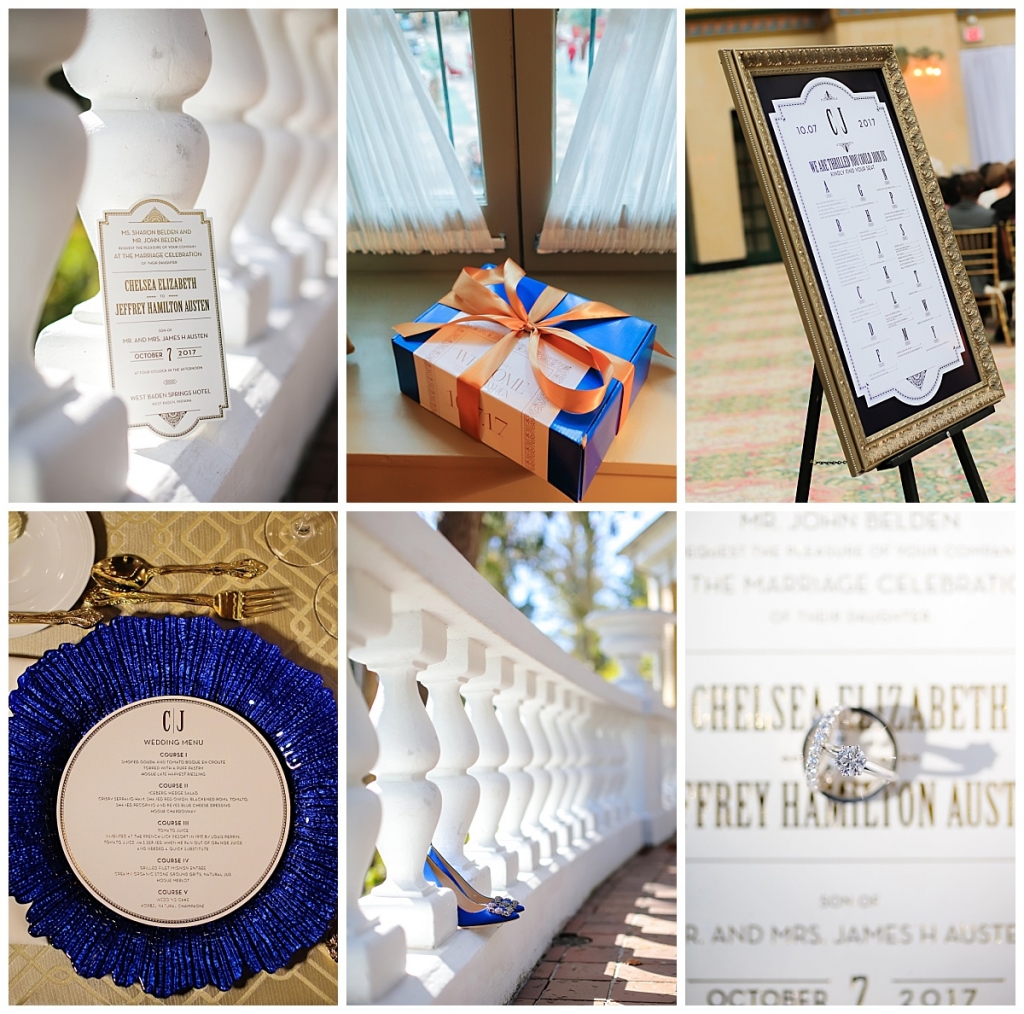 Chelsea and Jeff's ceremony took place in the iconic dome atrium of West Baden.  This romantic space, though large in scale, felt like an entirely private and intimate chapel.  After a sweet moment together on the guestroom balconies before the ceremony, guests could be seen using their own balconies to quietly peer onto the ceremony, then cheer for the newlyweds as they were pronounced husband and wife.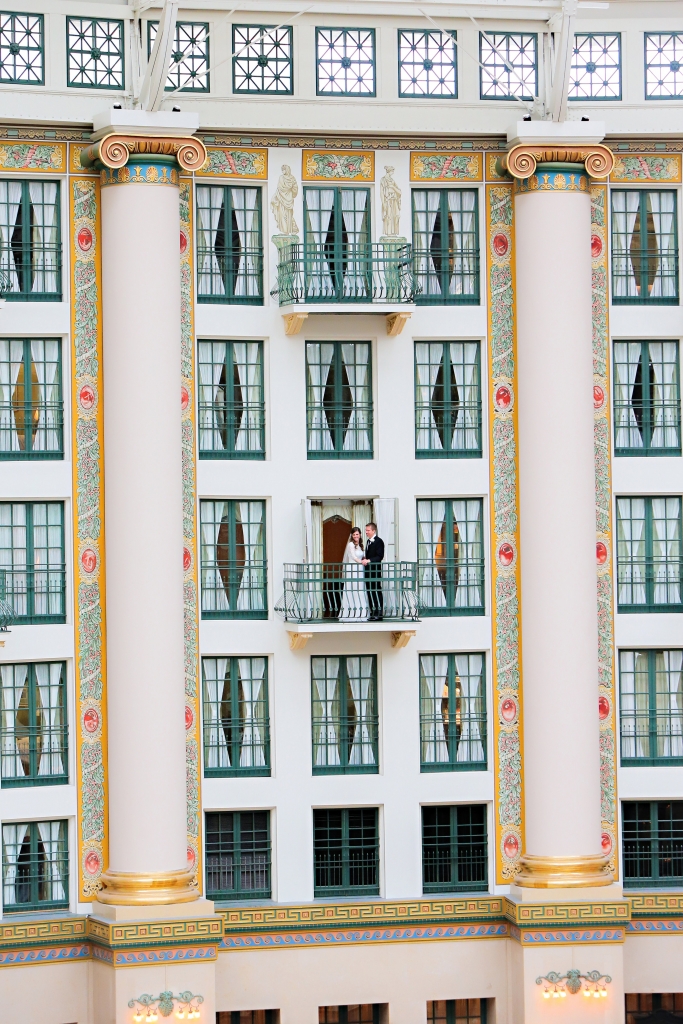 Jeff's sister performed the service which included readings from Winnie the Pooh and whimsical song selections from Mary Poppins.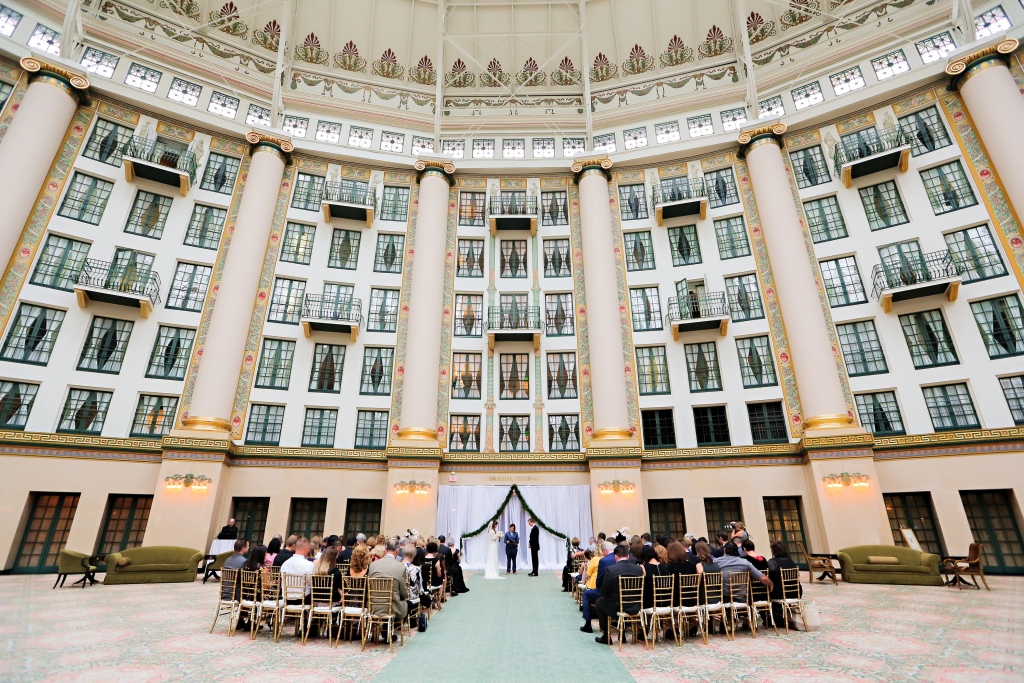 Chelsea and Jeff wanted to enjoy the entire spirit of the French Lick resort, so took a trolley ride over between the two hotels (West Baden and French Lick) for a quick photo session and captured some moments in their iconic gardens.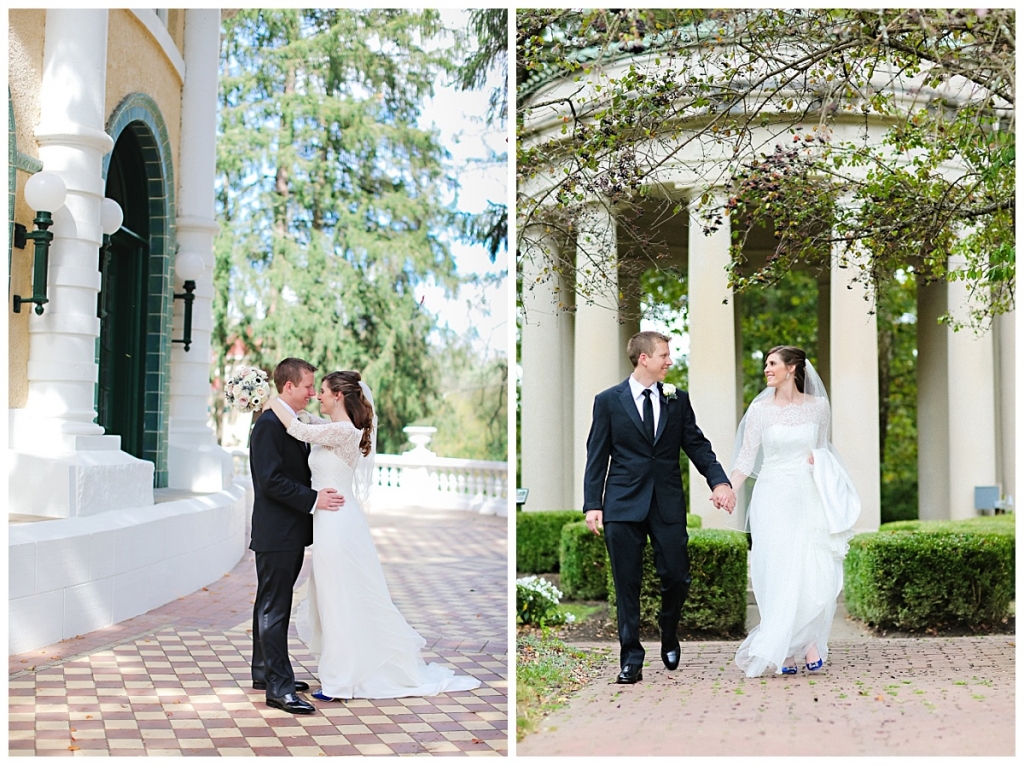 Following cocktails on the veranda, guests entered the original lobby of the hotel which was transformed into a private ballroom for the evening.  This area glittered with regal elegance.  Chelsea's vision of classic romanticism had come true, her whimsical additional of royal blue was included on the tables with the addition of stunning glass charger, and the fragrant bowls of soft creme floral were a focalpoint on the metallic gold linens.

After Chelsea and Jeff enjoyed a moment of seeing the room first (and practicing their first dance) they welcomed their guests for dinner including the (now 100 year old) tradition of tomato juice served to their guests.  The juice was actually invented at French Lick Resort in 1917.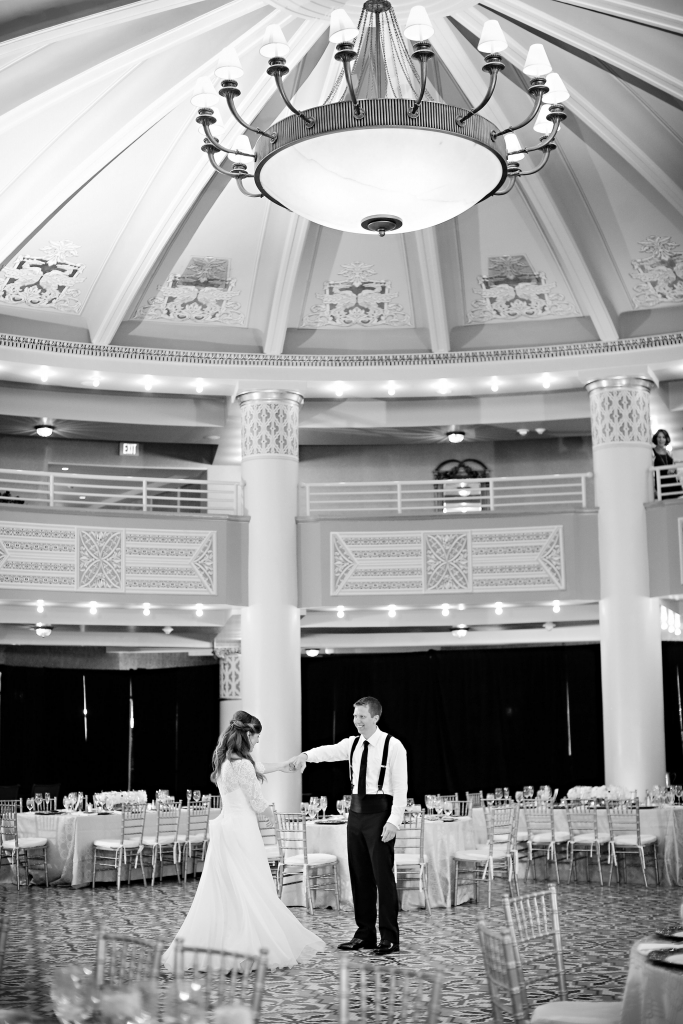 Chelsea and Jeff are gracious and loving to one another, and it is so beautiful to witness.  I loved the photo (above) of them from the moment I saw it, and I was thrilled to receive it this week as their Christmas card photo.  May they have a lifetime of first look butterflies and romantic first dances! xoxo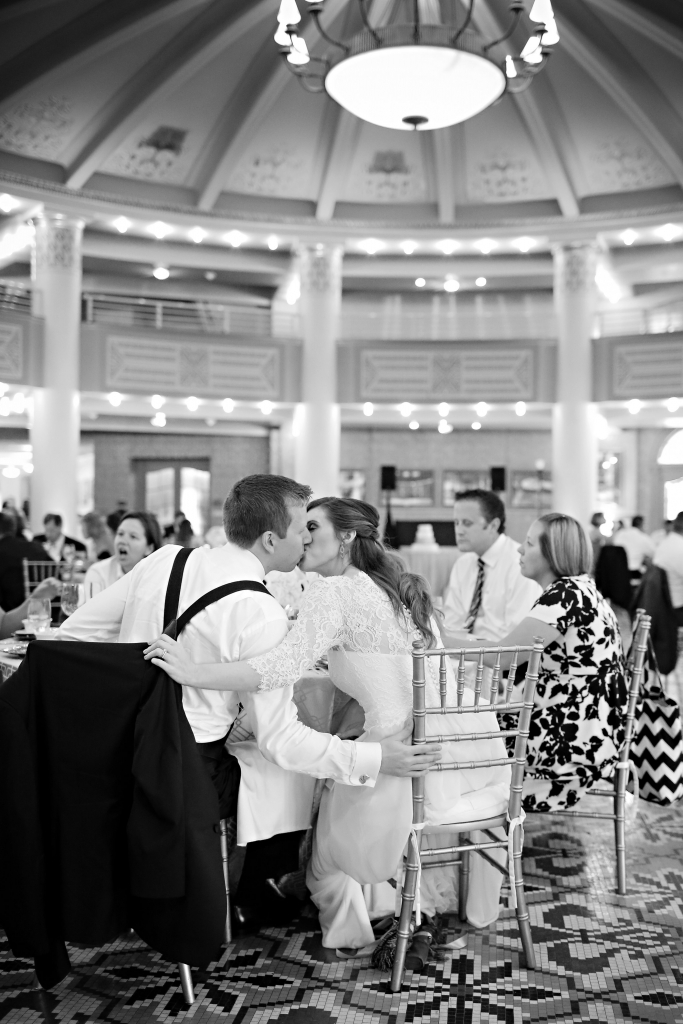 Merci Beaucoup:  to Jessica Strickland Photography for the above images.  Also to: BBJ Linen, Events By Design, French Lick Resort / West Baden Springs Hotel, JW Salon, Mike Donaldson / TLW Entertainment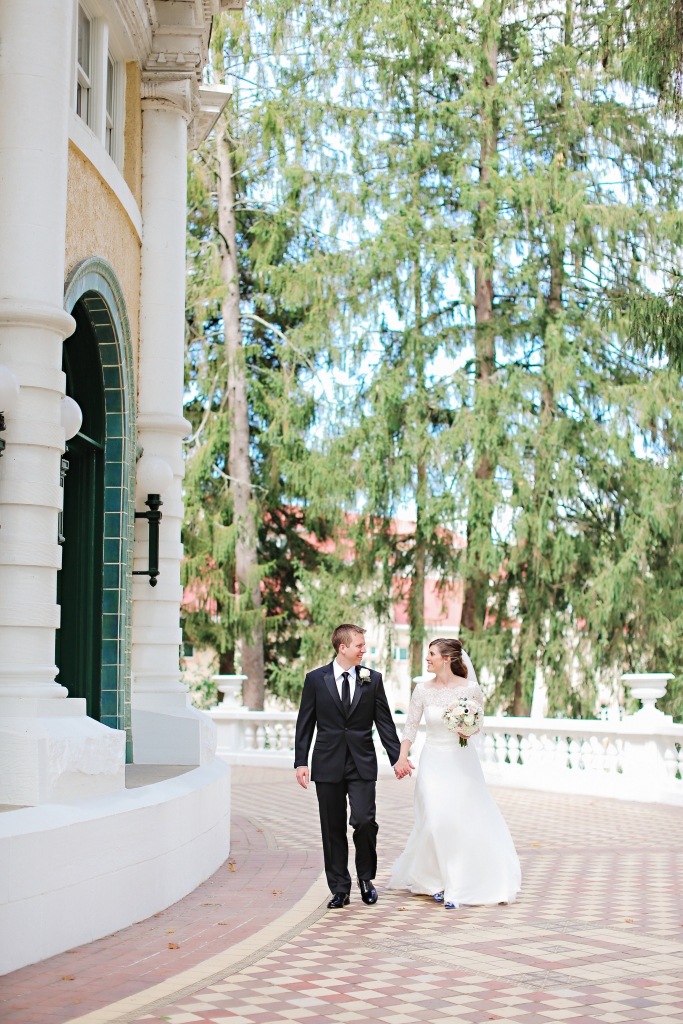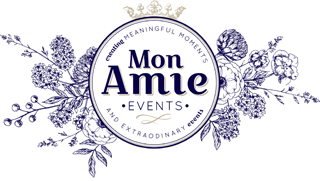 Copyright 2023 | Mon Amie Events Inc.