Wedding Highlight – Christine & Ryan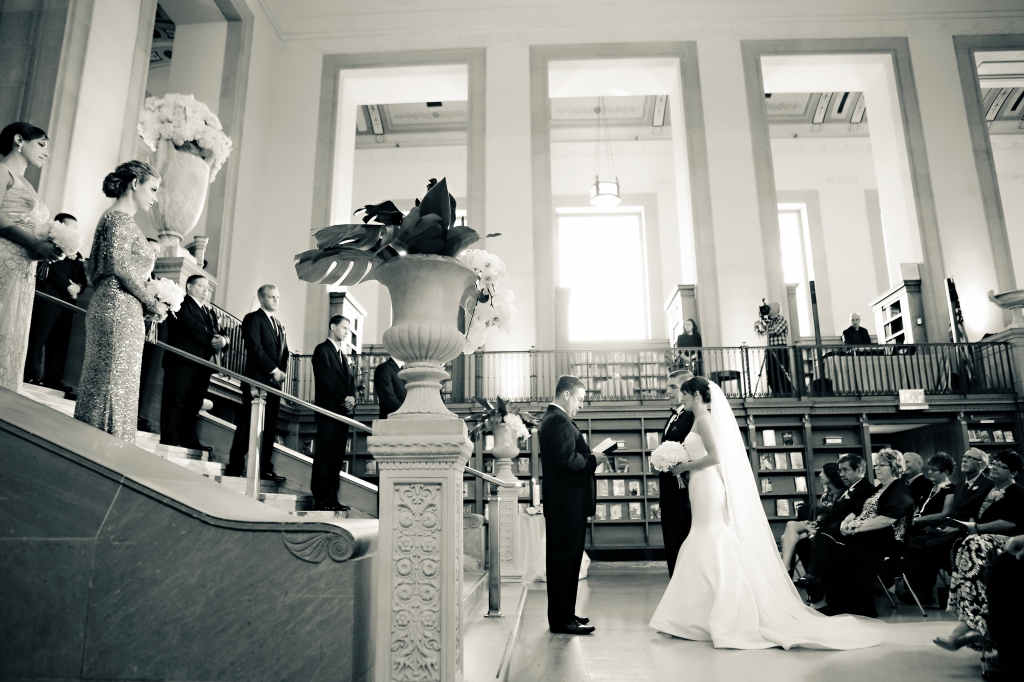 Every once in a while as a planner you hit the client jackpot. So let me just say, JACKPOT!!! I cannot even begin to describe the amount of love I have for Christine,  Ryan and both of their families. There is something them, that when you instantly feel welcomed as a member of the family the moment you meet. From the moment I met Terri, Christine's mom, (in a thunder storm of Biblical proportions) I thought "This woman is so full of radiant sunshine, if I am not selected as their wedding planner, I'm going to have total facebook envy stalking their planner the night of their wedding." Thank God they selected me as their planner, because Christine and Ryan are the definition of the perfect client. They are as beautiful on the inside as the outside and they entirely trusted every.single.member of their professional team implicitly.  Jackpot!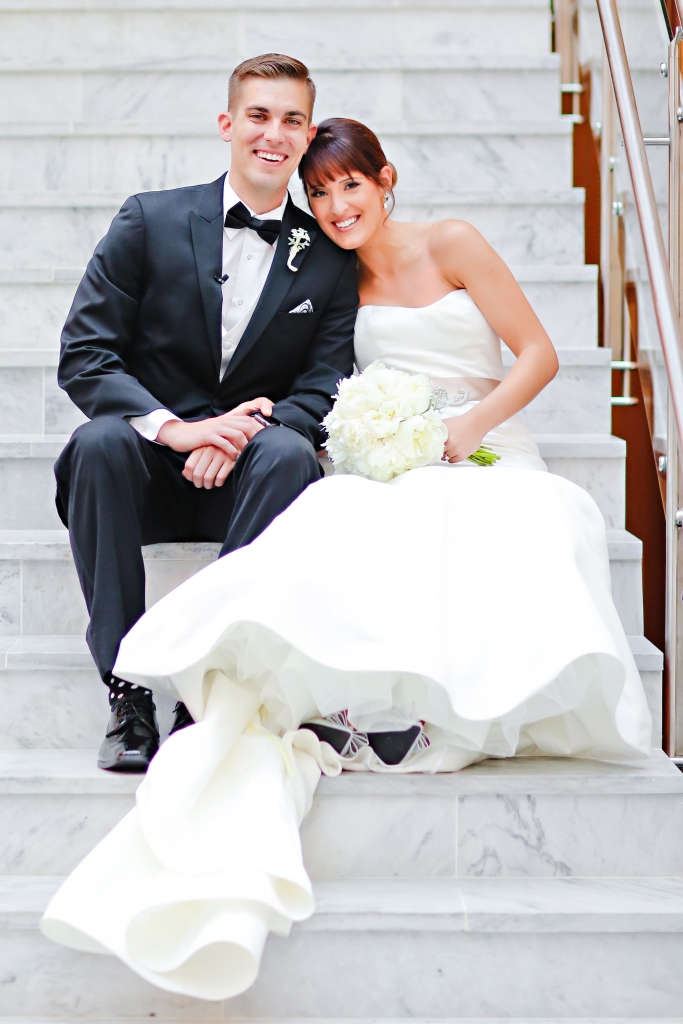 Lets talk about the dress – AHHMAZING! It was stunning in every way and the way it fit her body was like a glove. The simplicity of the dress was jaw dropping – literally. Ryan's, mine – the guests'…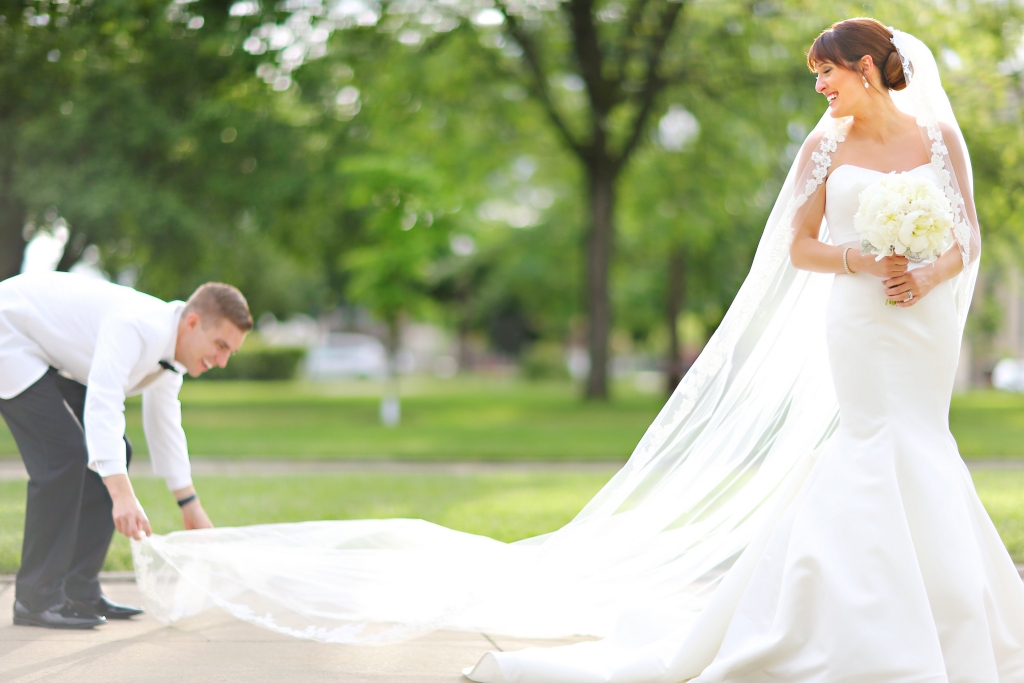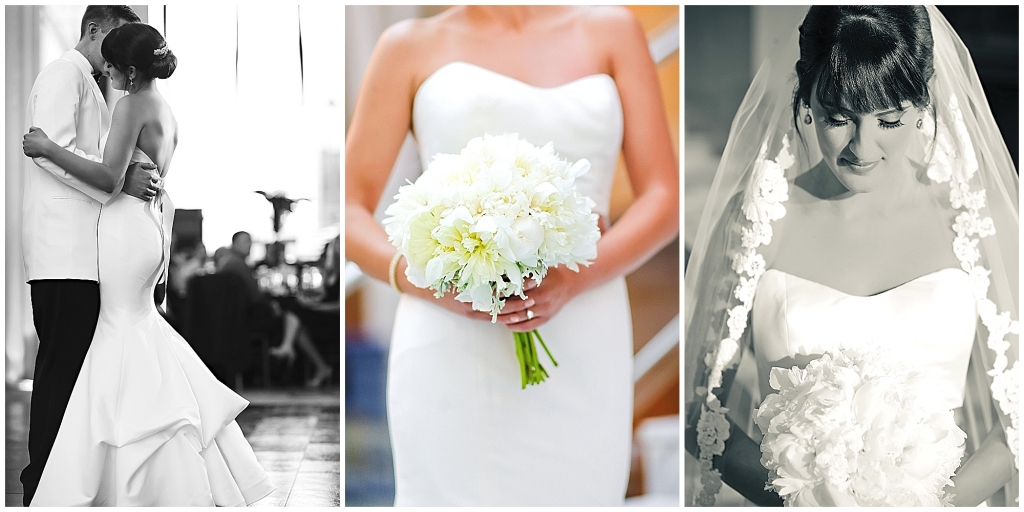 Christine and Ryan were so trusting when it came to the decision making process. This allowed for the professional team to really all work together to create such an amazingly gorgeous event! When Christine came to me she already knew that she wanted to use cream and white as her main décor colors.   When she tossed in an inspiration  incorporating palms (which — shhhhh 😉 — Ryan was not initially crazy about), my heart skipped a beat! Using the inspiration of Old Hollywood and the classic hues of whites, golds, and blacks with the vibrant pop of the palm leaves created the perfect touch of whimsy! Placing a palm leaf on each place setting was a fun way for each guest to be able to take home a piece of the event and it also added a fun aspect of depth to the tablescape.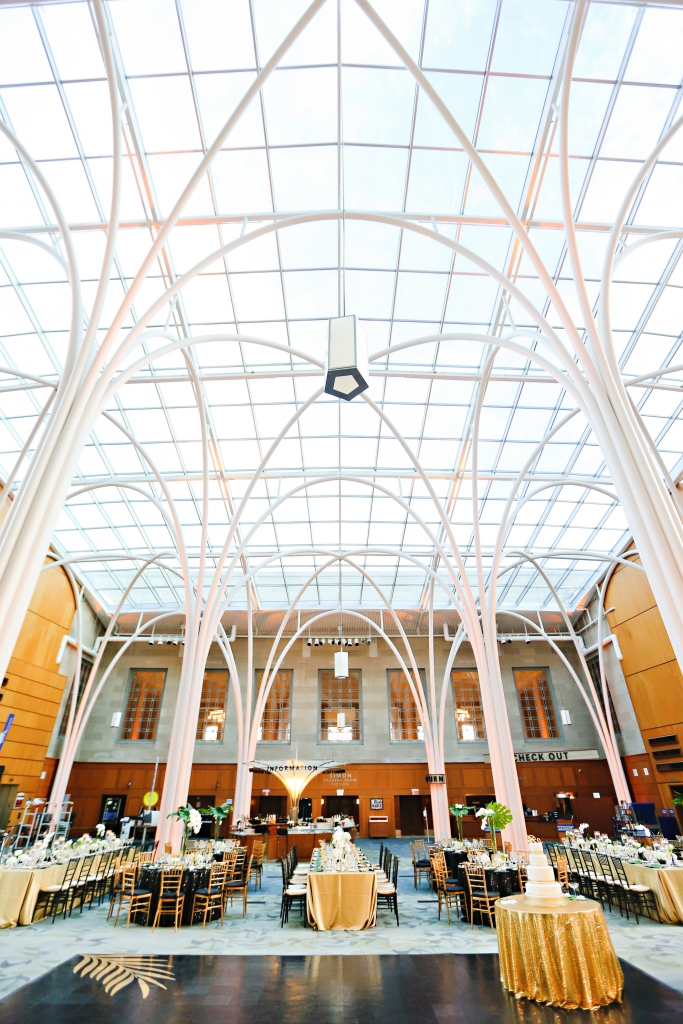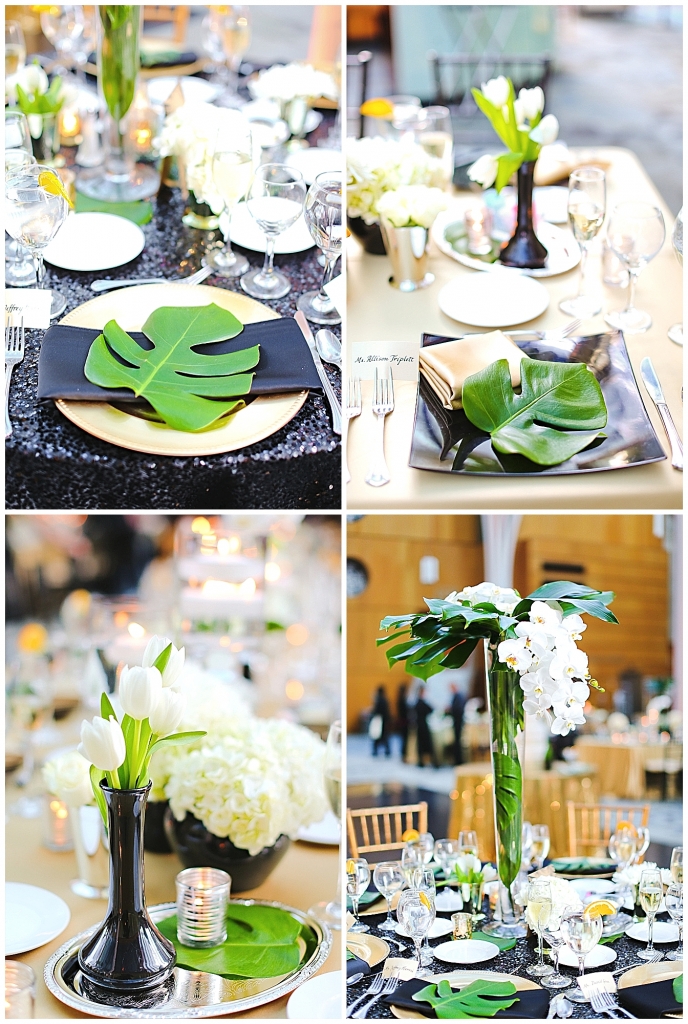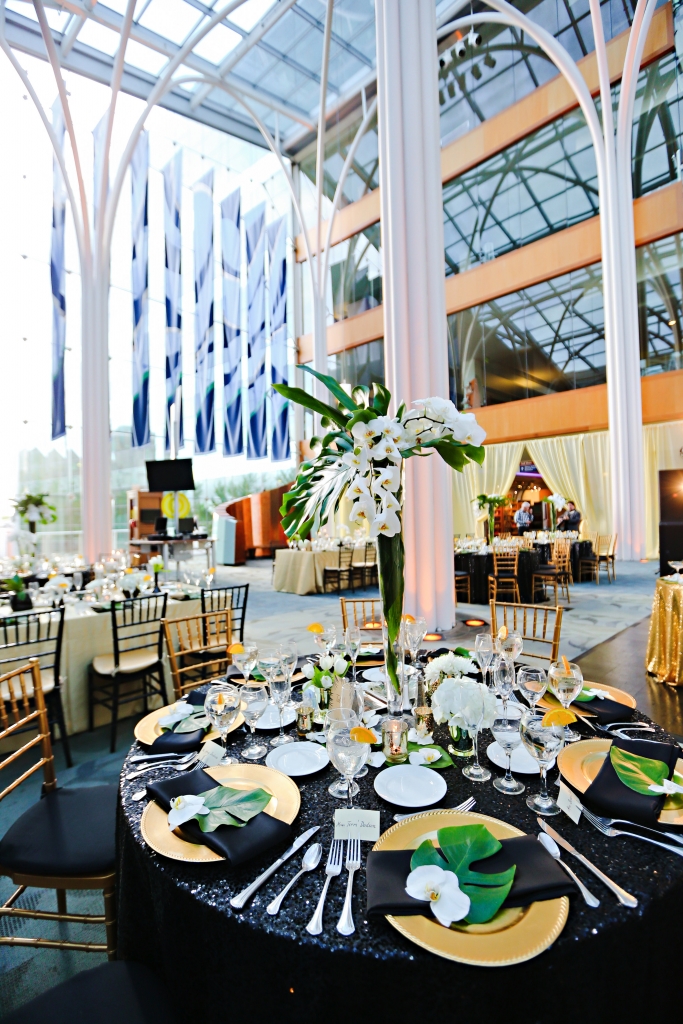 The flowers were hundreds of bouquets of white clustered flowers.  Peony, tulips, roses, hydrangea and orchids filled the tables with fragrance and romance.  Antique trays were layered with the monstera leaves to create little vignettes on the table tops for the cream and sugar reminiscent of a bygone era.  Christine and Ryan's kindness showed not only the their reception guests, but also to the staff at Riley Hospital for Children.  These stunning florals were donated following the celebration to hospital.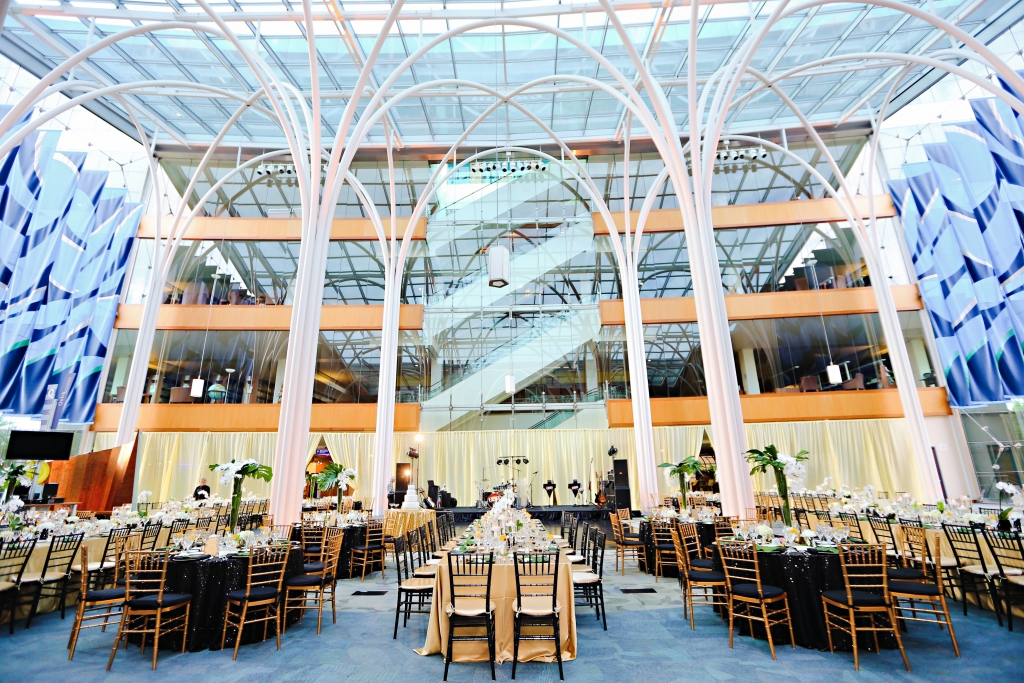 The bridesmaids were all tasked with finding their own dress for the wedding. No glittery gold dress was off limits, which made for such a fun and beautiful outcome! These golden goddesses looked timeless, elegant and spectacular in the ceremony space which was built in 1912.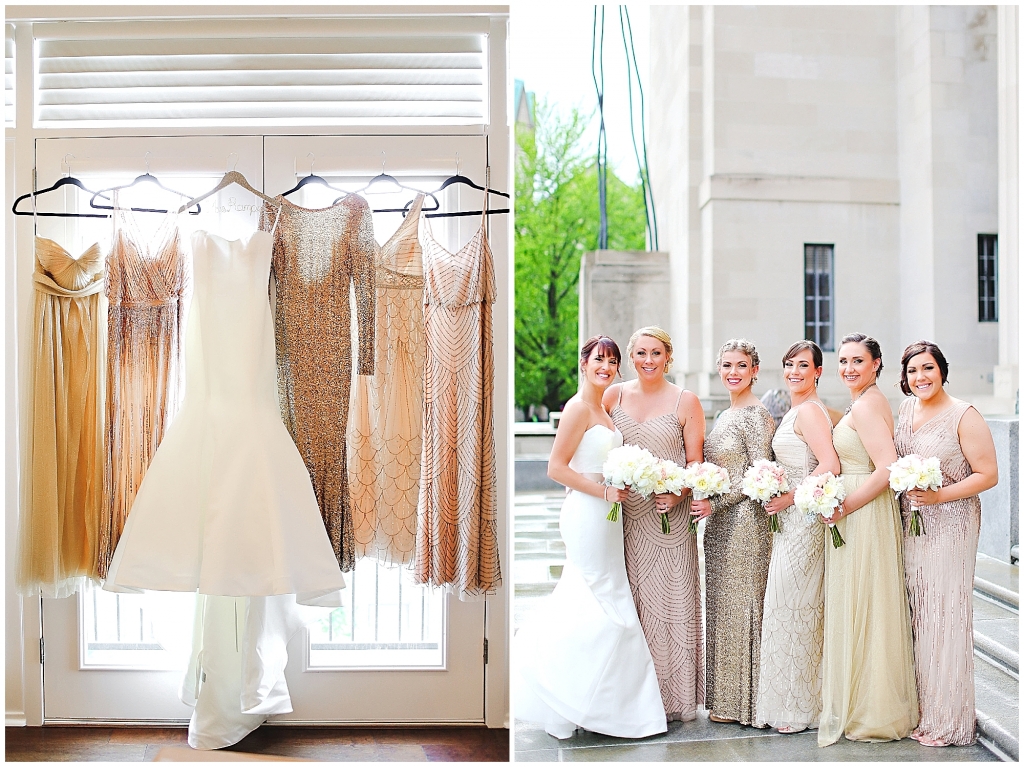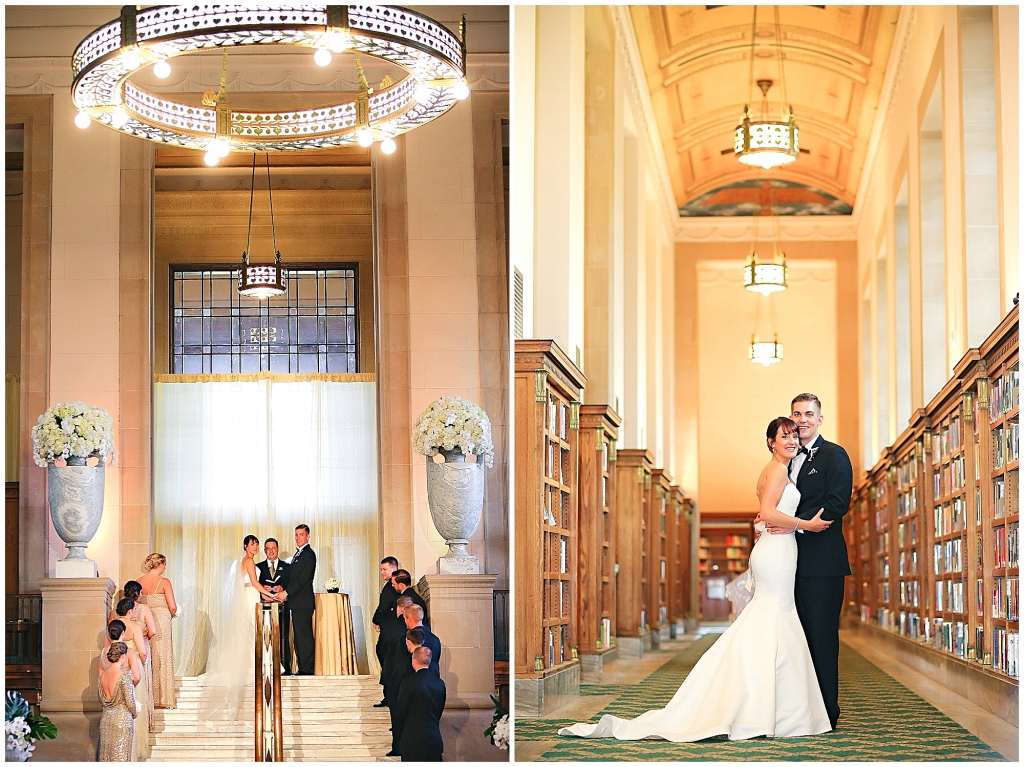 Since Christine and Ryan live in Arizona currently they wanted to incorporate it in to their special day but they were not sure how. After some brainstorming we decided that the best way to be able to bring in an Arizonian feel would be through the cuisine, more specifically the entrée. Working closely with the wonderful Ritz Charles they created a juicy chicken breast topped with a colorful fruit salsa and paired with a creamy spicy mashed potato side. Another fun way to incorporate their personalities into the menu was a surprise "buckeye" flavored wedding cake.  Decadent chocolate cake filled with peanut butter mousse.
Christine and Ryan are a great couple but they do disagree on one thing – Who's mother makes the better cookie? So what better way to end this fight then to have a so-called, cookie bake off! Each mother made their secret recipe cookie and decorated them with Christine and Ryan's alma maters. We then handed guests one of each cookie to try as their favors. Christine's mother, Terri, made sugar cookies iced with the Ohio State logo (ps… Christine is the 17th family member to attend The Ohio State, WOW!!!). Ryan's mother, Norma, made her "Monster Cookies" packaged with a Bowling Green logo. I have a bit of experience in food competitions 😉 and I don't dare say who won this battle – because everyone won, especially the guests who took home both yummy treats.  BOTH were delicious!  Each family can easily claim the win.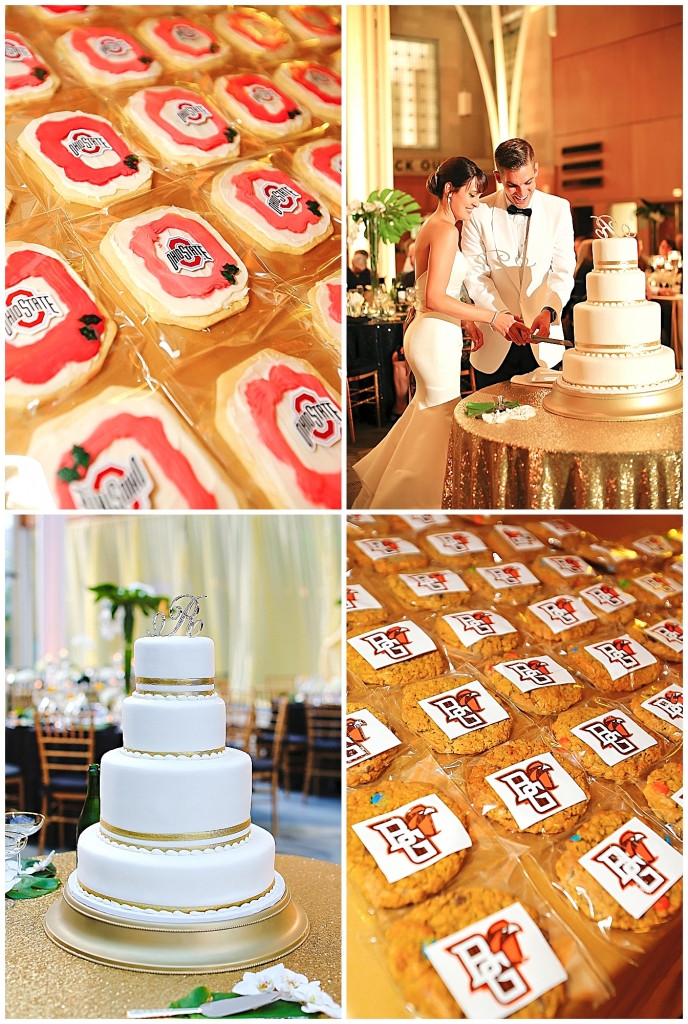 I am beyond thankful that Christine and Ryan and both of their families allowed me to be a part of their love filled day. You are both so amazing and I know that you will both achieve greatness in every way. It was an honor to be part of your wedding, and more importantly, now part of your families.  Thank you for allowing me to be included in your day.  Terri, thank you for being the ray of sunshine the first time I met you and every single day since!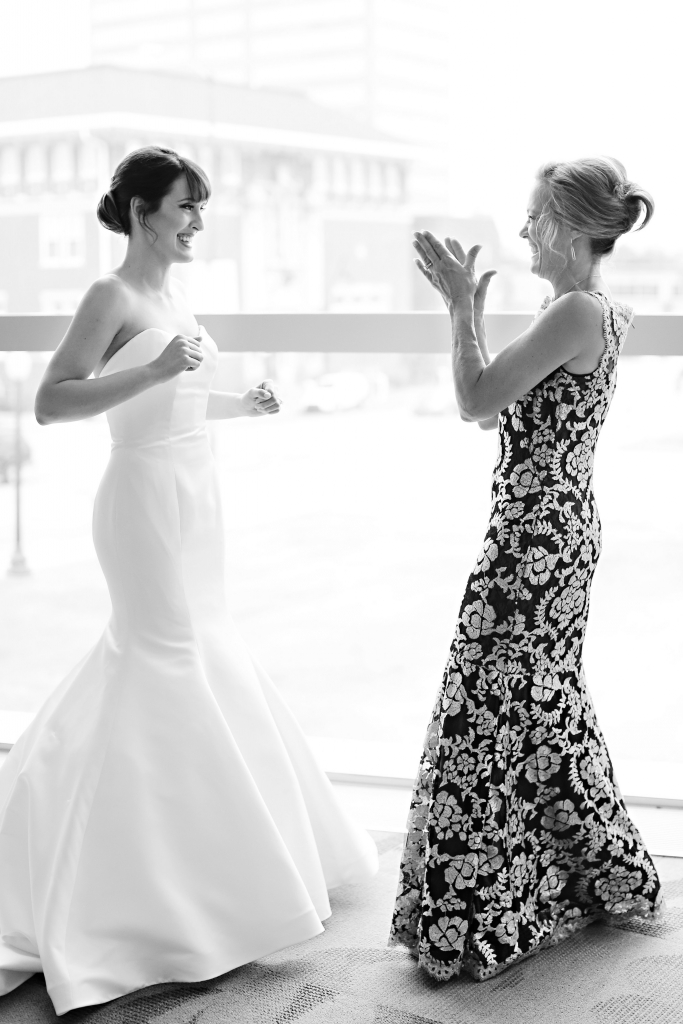 To see their video trailer by Nortnernlight Filmworks click – Video Trailer of Christine and Ryan
Merci to this team who made a dream night possible! A Classic Party Rental,  Central Library, ESB, Events By Design, Evans AV, Faces by KLM, Jessica Strickland Photography (all of the images you see here are hers), Marie Gabriel Couture,  Northernlight Filmworks , Ritz Charles Catering, Royal Creations, TLW Entertainment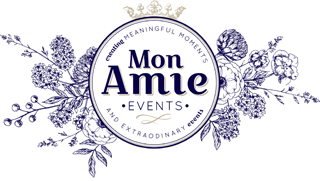 Copyright 2020 | Mon Amie Events Inc.