Wedding Highlight – Erin and Grant
Erin and Grant's wedding day was incredibly special for me to plan. I've known Erin since she was a little girl. Her mom, Carol, was my first boss here in Indianapolis in the event industry. She helped me get into wedding planning and watched my career grow and flourish. Interestingly, as a corporate event planner, Carol doesn't know (or enjoy) wedding planning, so she said from the onset, "this task is yours, we trust you entirely because we don't know weddings, you do." It was a dream from the first moment!
Having a family's entire trust is critical! Their entire team of professionals had it, and it was a blast! The first time Erin and Grant saw potential venues, I took them to Scottish Rite Cathedral and shared with them an idea. (One I had noodled for a while) and the too could see the vision I sketched out before them and picked their reception venue on the spot. Interestingly, they also chose Central Library across the street for their ceremony.
What a treat! Two of Indy's most iconic wedding venues for their wedding! Can you say eye candy?! This gorgeous couple. A perfect weather day and two venues begging for photography. There was nothing to stop the day from becoming one of my favorites to create.
(I feel the same way as you Erin! It took my breath away too!)
Erin and Grant's wedding was beautifully created to capture them. Classic, refined and will stand the test of time just as their venues have for over a century. Both the Library and Scottish Rite are beacons in Indy, and their wedding decor are graceful and elegant. Solid white blooms against crisp linens made for a wedding that, even since then, I've had other couples say "yes, this. This is what I'm looking for."
Their reception was fun to create and I loved seeing our initial vision come to life. From the moment I showed Erin, Grant and their families Scott Rite, I shared with them the idea of creating banners that would hand from the balcony. These banners would have their monogram or emblem on them. (I also told them how these banners could be upcycled into tote bags therefore creating 0 waste.) So often we see spaces draped, but I wanted to share with them something different that Scottish Rite hadn't seen yet.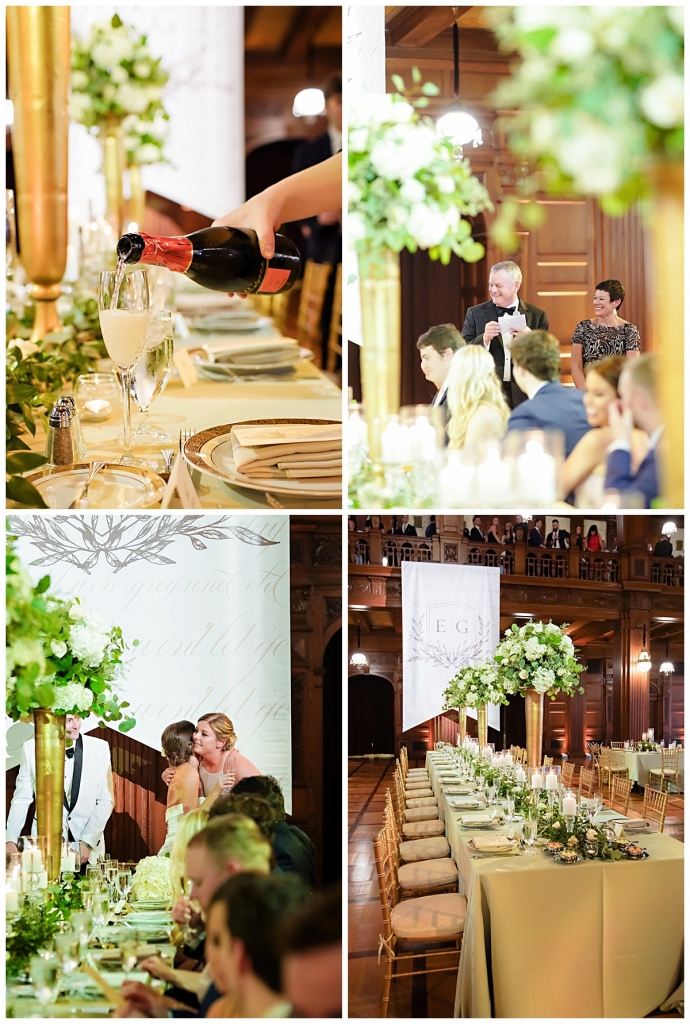 It was truly an honor creating something so fun, so beautiful and so special for a family I have known for this long. As the ceremony began, I had many personal memories over the last twenty years of Carol teaching, guiding me and encouraging me along my journey in the event industry. It was really very special to see her share this time with her daughters and husband.
Thank you so much for allowing me to be part of this with all of you. xoxo Merci Beaucoup: To the entire team who helped create this extraordinary day, thank you all for commitment to bringing out the very best, as you always do! Thank you to Jessica Strickland Photography for the above images and Northernlight Filmworks. Also to: Julie from Royal Creations – my gosh woman, these flowers! Finally to them tea. A Classic, BBJ Linen, Evans AV, Indianapolis Central Library, Jim Cerone, Kahn's Catering, Oliver's Twist, Scottish Rite, Wow Factors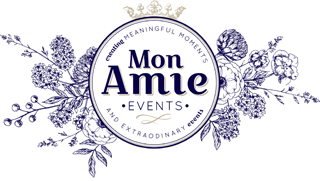 Copyright 2023 | Mon Amie Events Inc.