Wedding Highlight – Katelyn & Paul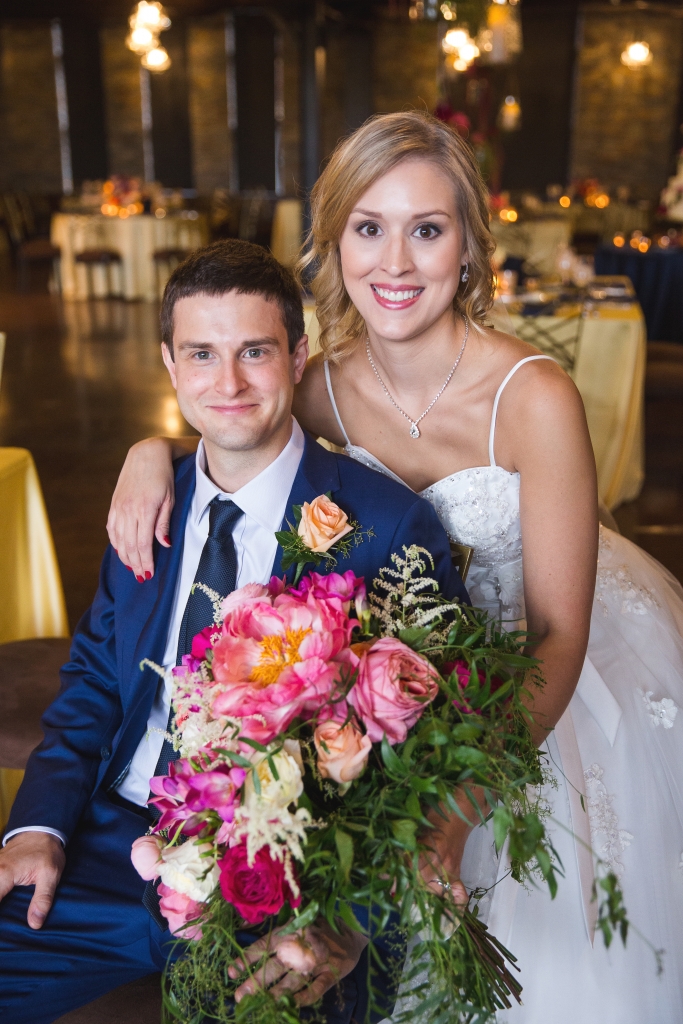 Color me happy when a bride says, "I want pinks, corals and summer flowers and oh, I totally trust you."
Katelyn, Paul and her mom, Marcia, were a total delight to work with throughout their engagement process.  I loved their urban chic wedding vision, and I couldn't have been more thrilled than to help their families plan this weekend for them and to create their vision of a downtown garden.  Katelyn and Paul were finishing boards and schooling in Chicago while trying to navigate the planning process in Indy.  Through 1, yes, only 1 trip home, we worked through photos, phone calls and (a very pretty) design meeting to create a splendid celebration filled with color, fragrant flowers and so many smiles! (Regardless of what Mother Nature tried to throw at us.)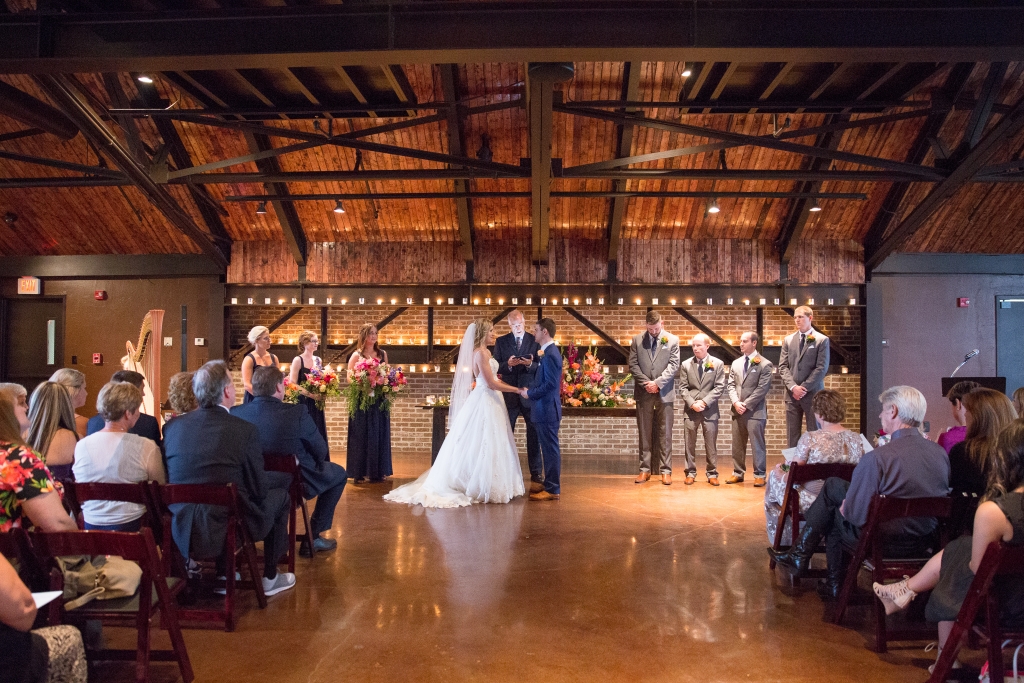 The ceremony was intimate and filled with candlelight and lush gardens of floral.  The bouquets were dripping with greenery and fragrant flowers in every color of the rainbow.  Each bouquet was truly a showstopper.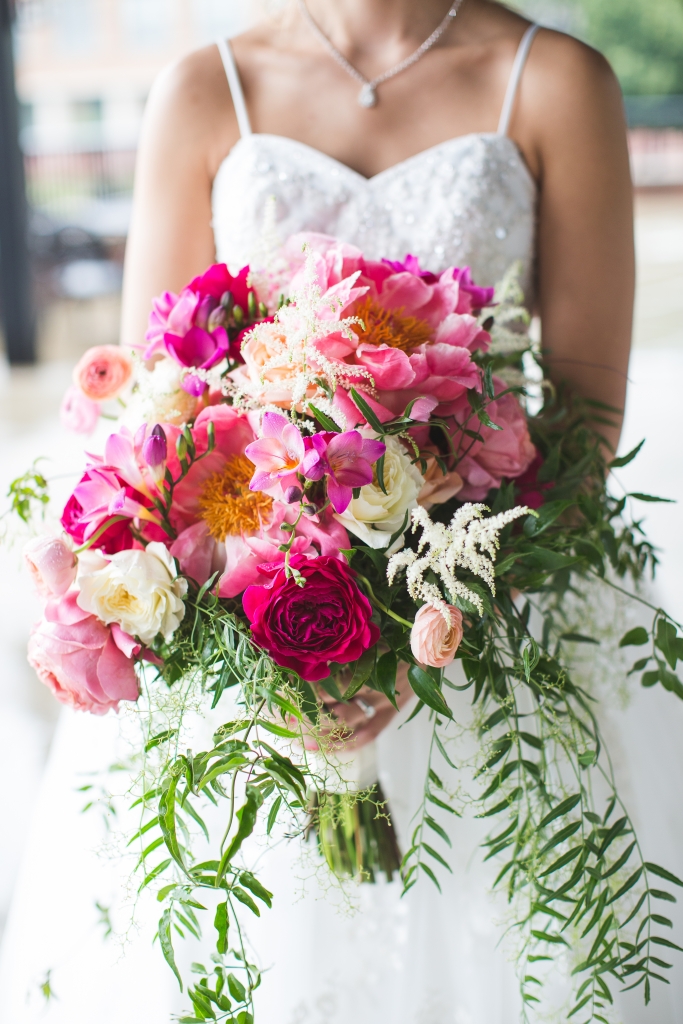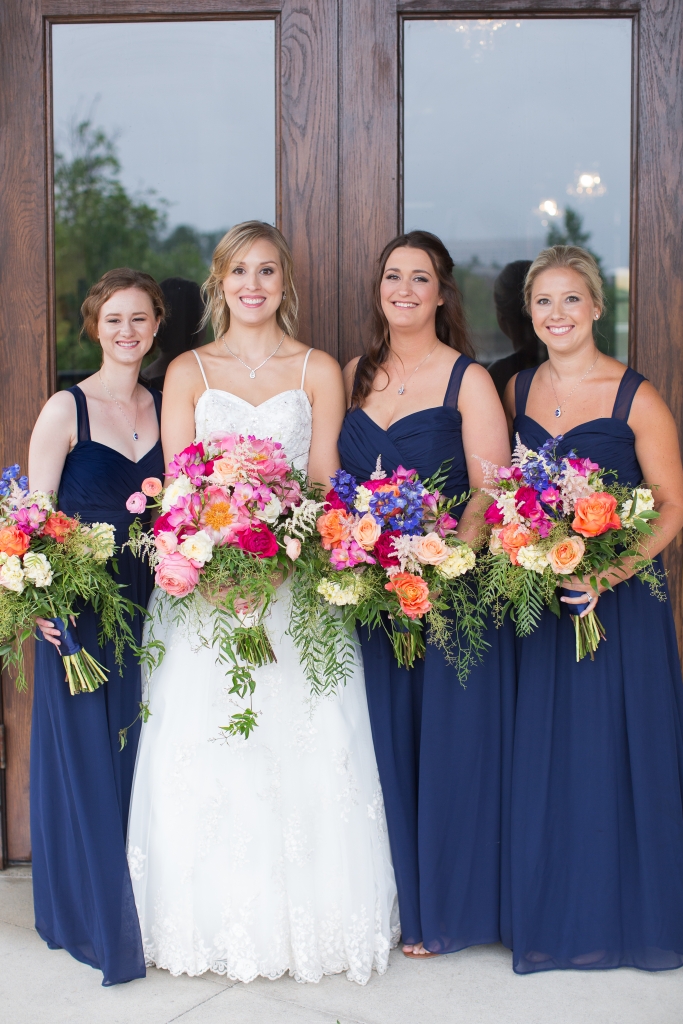 The reception space continued to evoke the urban chic atmosphere Katelyn envisioned.  Sleek chairs and metal chargers paired with the soft and refined gardens which created an eclectic celebration.  Color, color everywhere color!  Shades of pink, fuchsia, tangerine and lavender on soft lemon linens captivated guests as they entered the room. Chandeliers of floral and candles dropped from the ceiling allowing guests to be entirely immersed into the garden.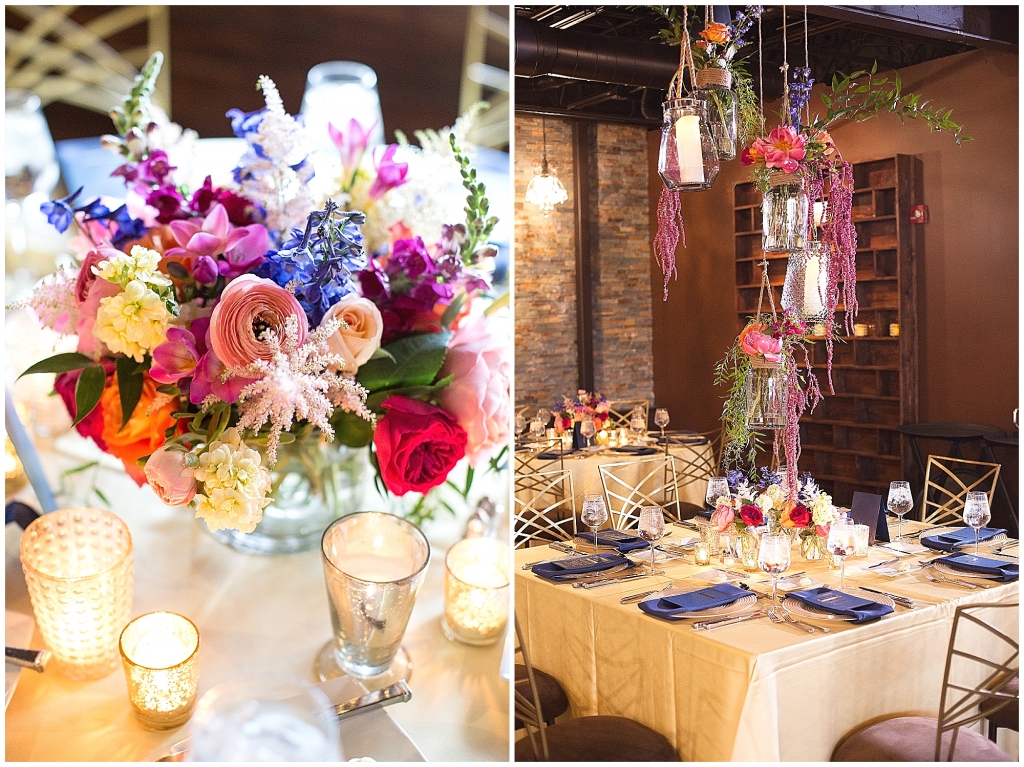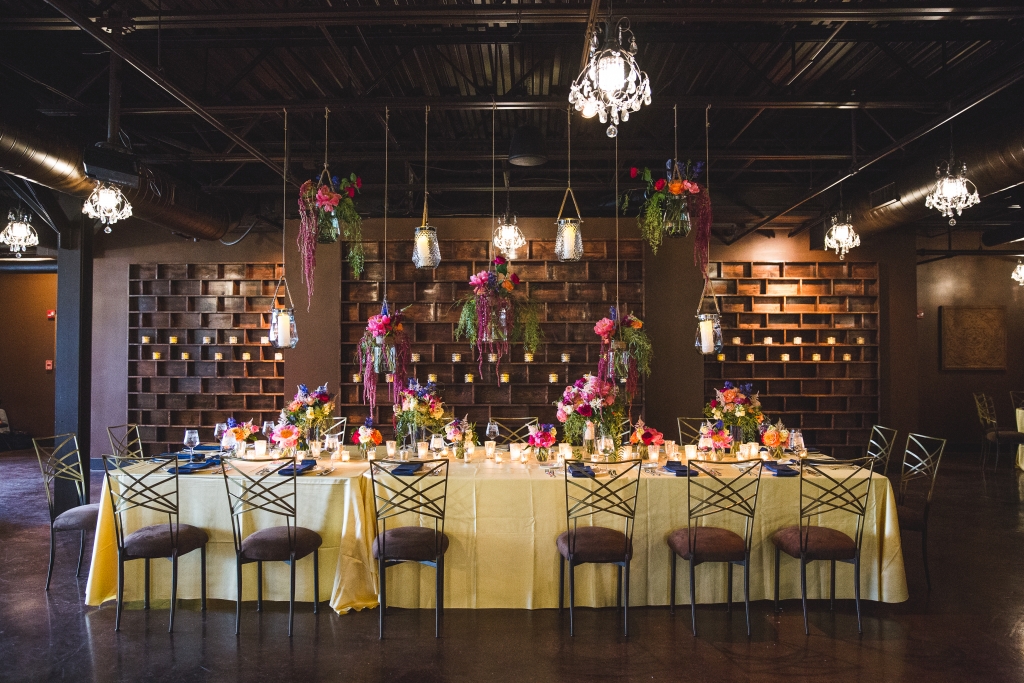 Mother Nature may have had her own plans for a summer day, but with the lush gardens inside the ceremony and reception space, Katelyn and Paul truly never showed anything but radiant sunshine.  (and absolutely captured adorable photos regardless of the rain — one of my favorite bridal couple images ever!) 🙂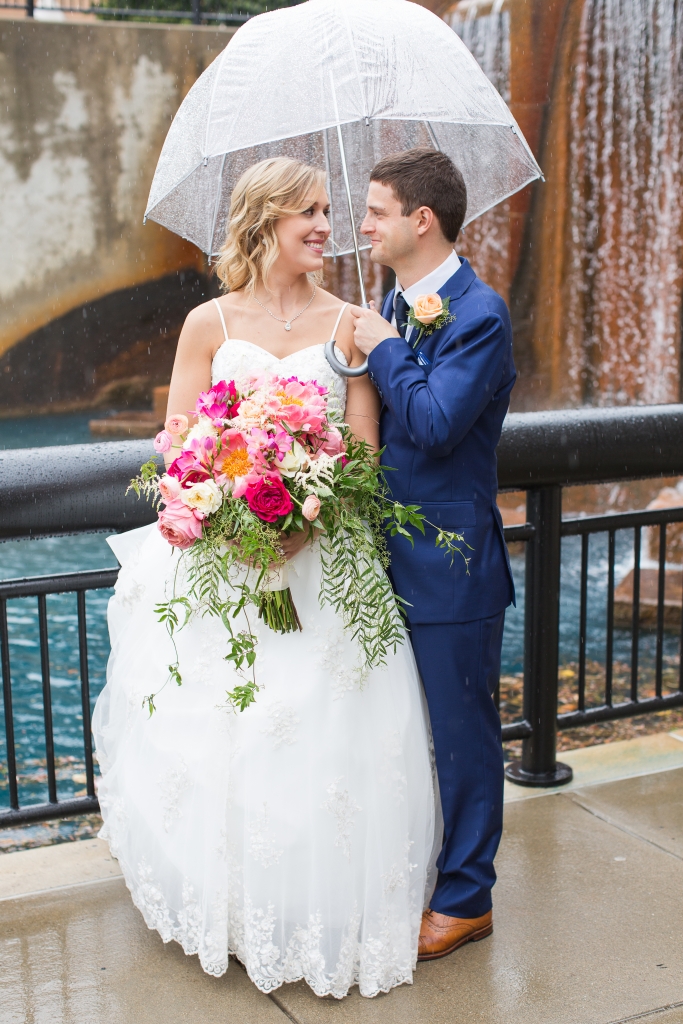 Eventually the skies did part — just in time for a gorgeous pink sunset and photos on the canal (and some quiet time for the Katelyn and Paul to reflect) — I mean LOOK at these smiles 🙂  wowza!!!! They are very very good to each other.  I like that.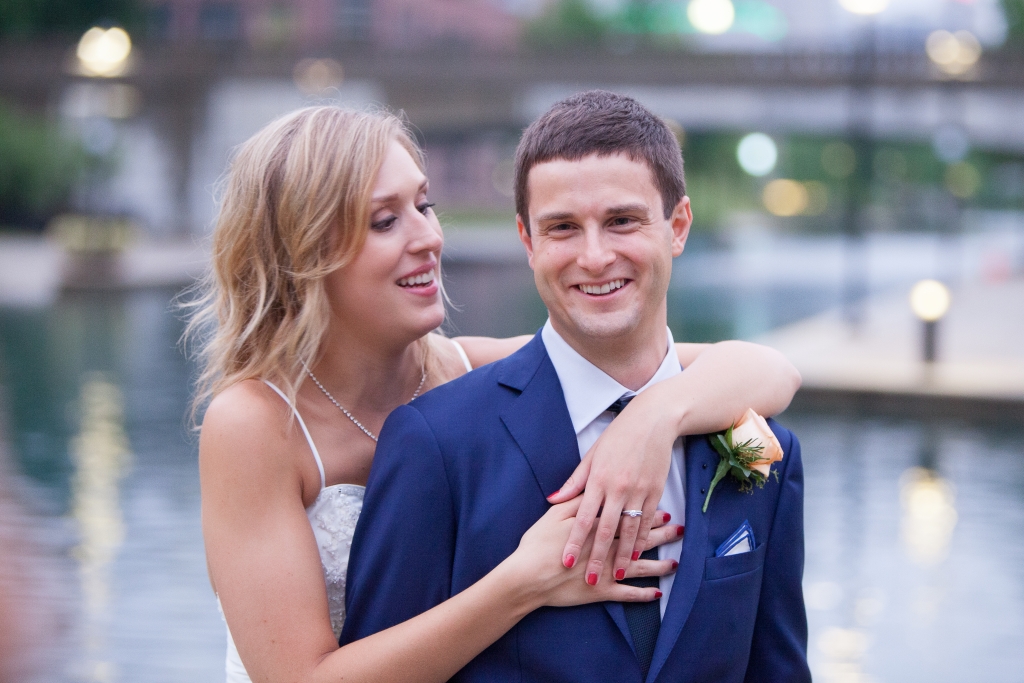 Thank you so much for allowing me to be part of your day, it was truly an honor.  Your families are so welcoming, warm and I adore you Marcia — anyone who invites me to a 4th of July BBQ, well be still my heart.  😉  Katelyn good luck on your move.  You'll love your new city!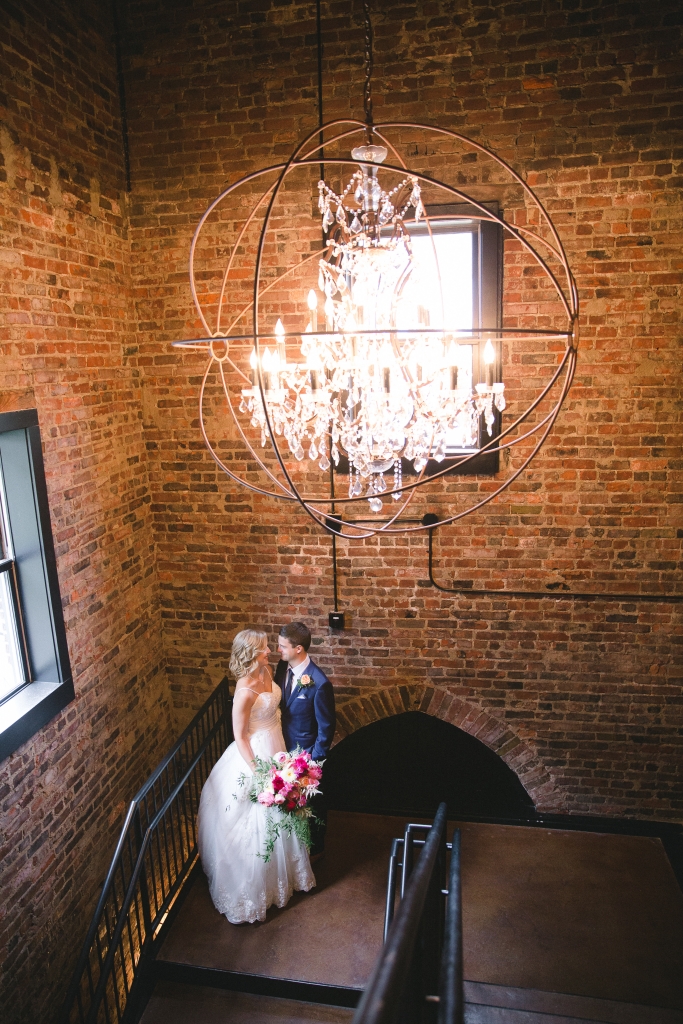 Continue to be good to each other — this photo says it all  — I find it so sweet Paul.  xoxo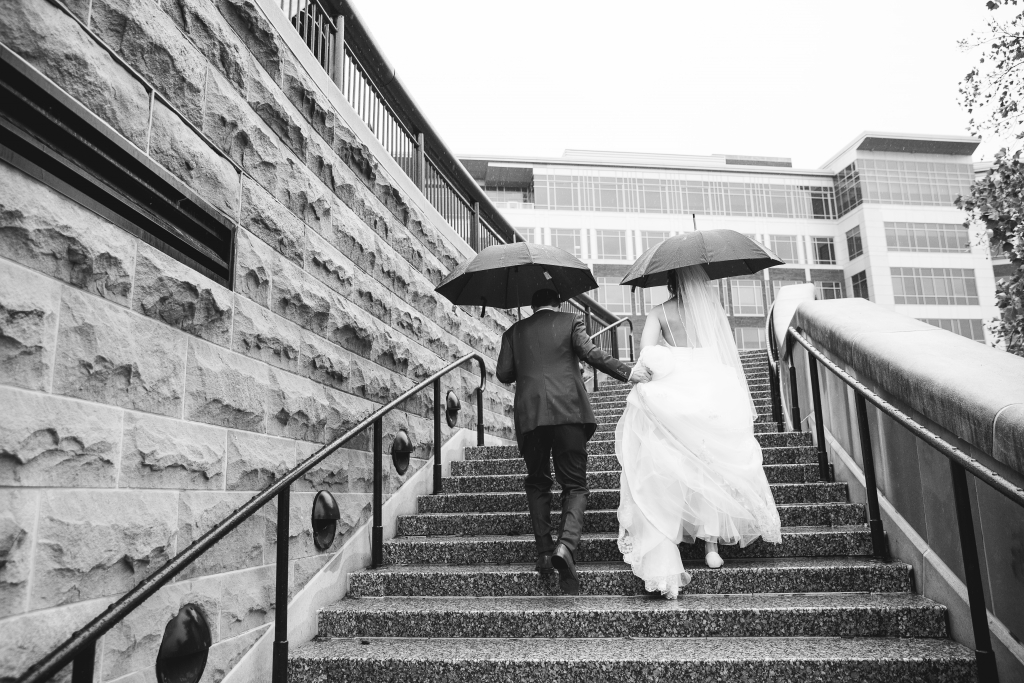 Merci to Carpenter Photography and Design for capturing these moments for us to enjoy! Also to:  Canal 337 / Thomas Caterers of Distinction, BBJ, Classic Cakes, Jan Aldridge Clark, Events By Design, LaDolce Salon, Jim Cerone, McNamara Flowers Carmel, Tod Iseminger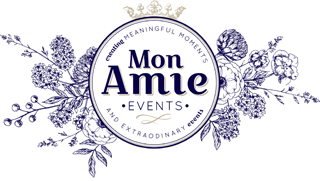 Copyright 2020 | Mon Amie Events Inc.