Wedding Highlight – Kelsey and David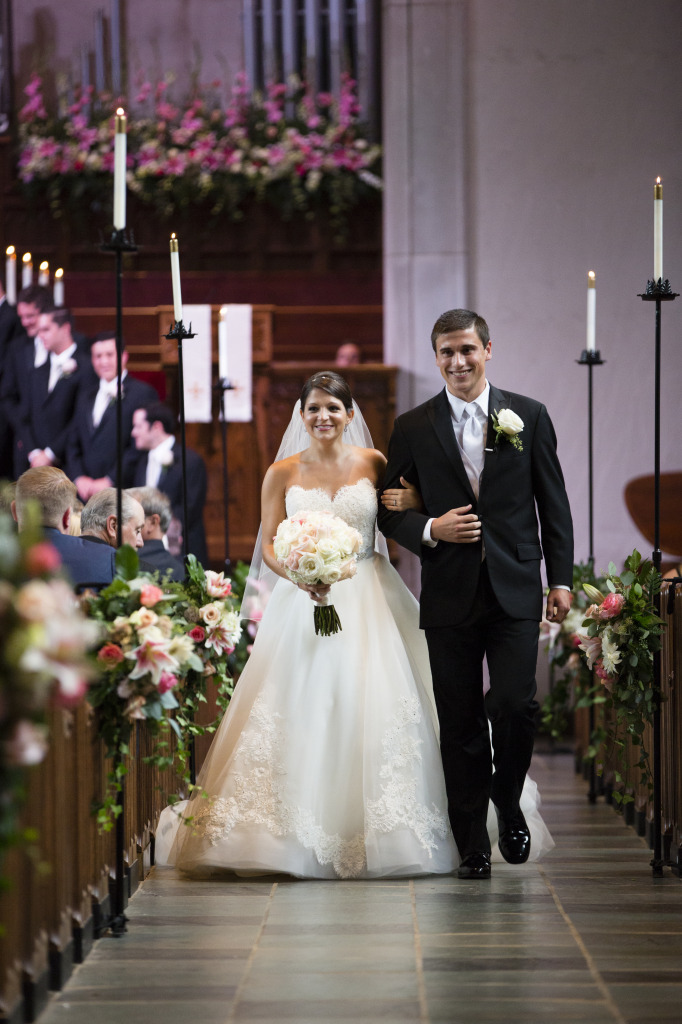 Kelsey and David had their priorities straight from the onset of their engagement –  the ceremony was the focal point of their grand affair. It was lovely to witness this as their wedding planner!  Kelsey was the third daughter to get married at Second Presbyterian Church, the iconic marble church located on Meridian Street.  To highlight this spectacular church and the beautiful architecture Kelsey, and her mom, Cindy, requested gorgeous pale pink and white flowers drip from the massive altar where Kelsey and David would say their vows. They were spectacular!  When Cindy first arrived to the church she gasped!  It was one of my favorite moments of the day!  To compliment the decor, Kelsey and David had a variety of music throughout the ceremony including a quartet, a children choir and her brother singing The Lord's Prayer.  It was a joyous and family filled celebration.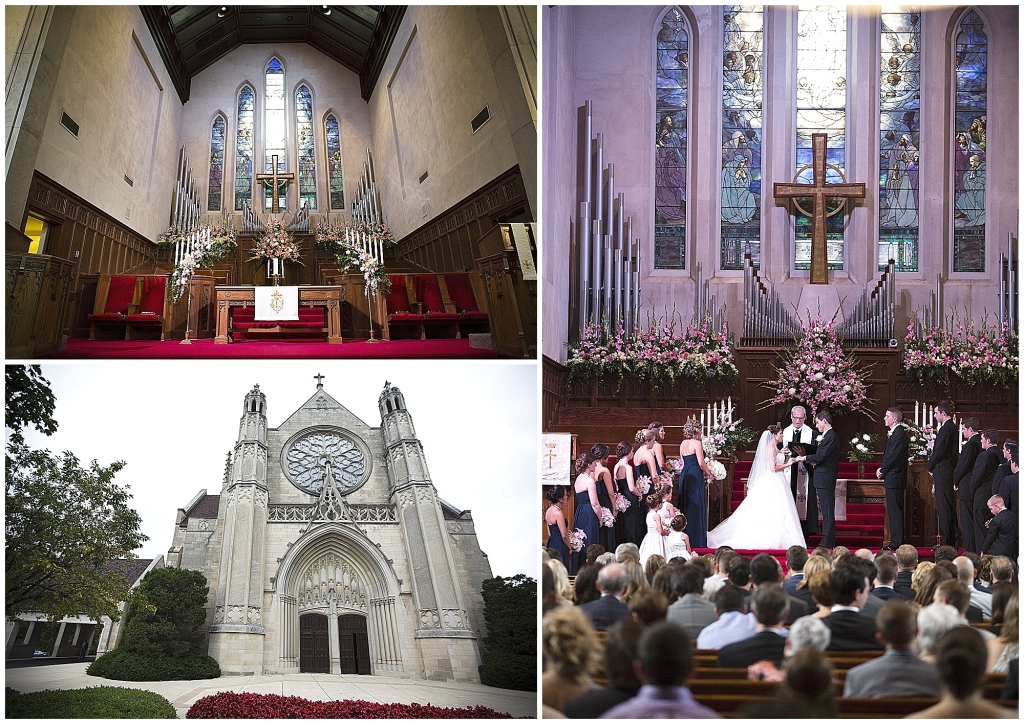 Seeing David's face at both their first look and when Kelsey came down the aisle really says it all.  He had waited years for this moment and he could hardly contain himself – he smiled from ear to ear all day!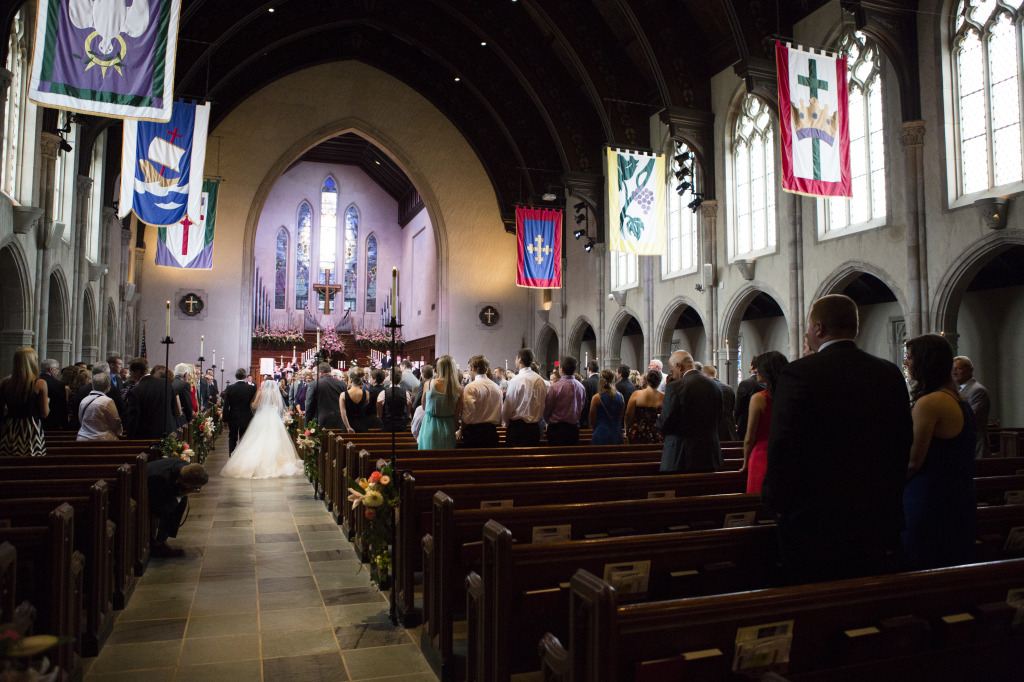 Their love was evident the entire day as they took photos in downtown and couldn't have had more fun doing so. They laughed, smiled and relished in the entire day's events!
Following the ceremony guests enjoyed dinner and dancing in one of Indy's most renowned ballrooms – the Indiana Roof.   Located in the heart of bustling downtown Indy, on the same night as a major convention, and a home Colts game, Kelsey and David enjoyed the flurry of activity around their reception!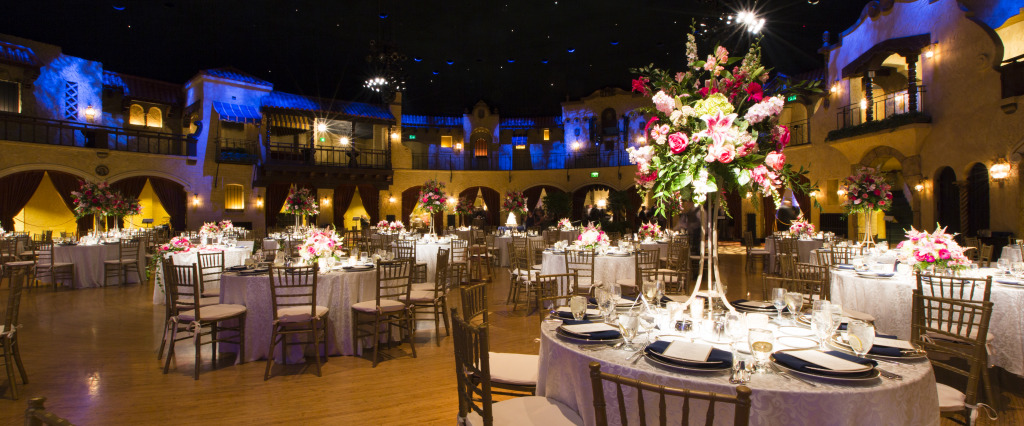 The reception was filled with classic beauty.  Crisp white linens, robust florals in shades soft blush to cerise and every tone in between filled the candlelit ballroom.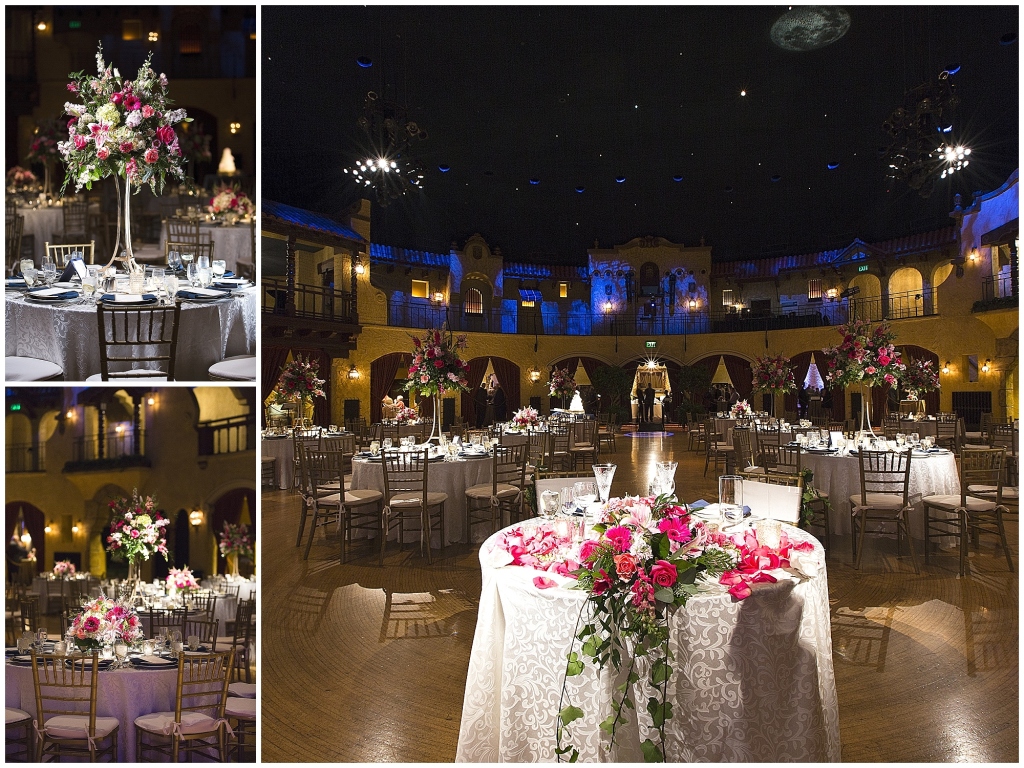 Centered in the space was the table for the new couple, a sweet and intimate dinner for two.  Kelsey's main request was that she have some time alone with David during the day.  This romantic space allowed for the perfect retreat for the newlyweds to enjoy dinner, dancing and private conversation all evening.  It was adorable to witness their love as they held hands literally the entire night. Tiffany Stoner from Nathaniel Edmunds Photography stated that in her tenure she had never seen a groom more in love with this bride.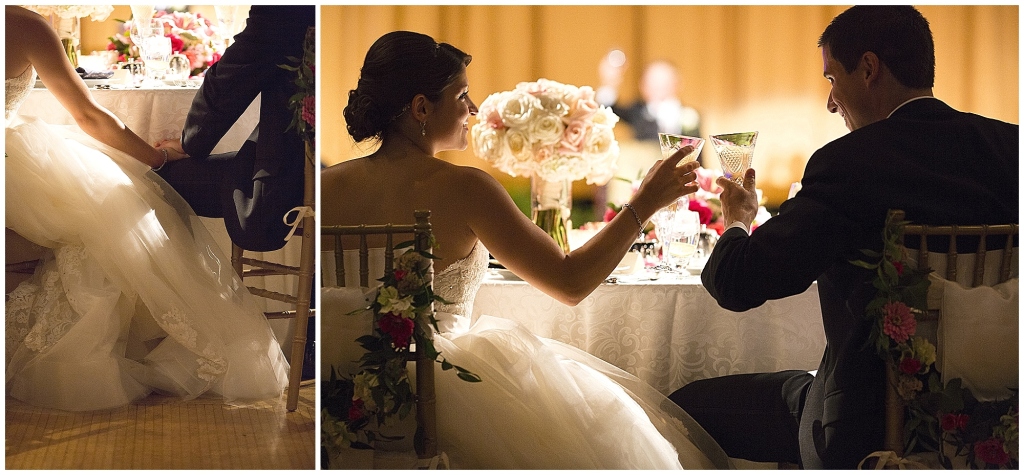 Throughout the planning process, the entire team of professionals could see the couple's love for one another.  To select their wedding cake, the couple planned a date just for two at Classic Cakes. During the date, they selected a variety of indulgent flavors to surprise their family and friends. The cake was five layers and had delicate lace applique on the tiers that replicated the lace of her wedding gown. (Truth be told–in my entire career, it was the only cake meeting that I did not attend.  – What no cake tasting!  🙂 How could this be!?) A week before the wedding I actually had to call to see if the cake needed fresh flowers because I did not know anything about the details and had to relay that information to the florist. Instead the cake had beautiful gum paste sugar rose flowers which perfectly complimented her bridal bouquet.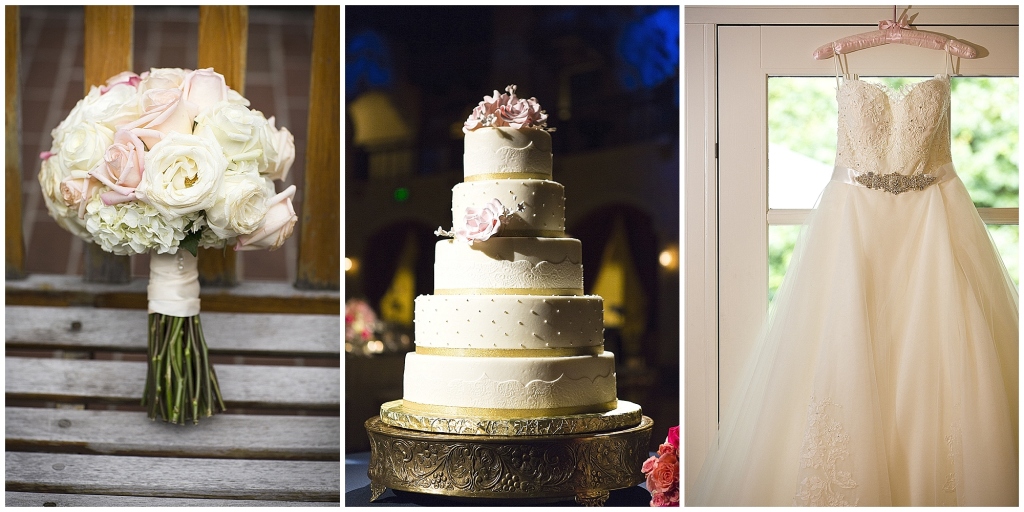 Just like the cake, her dress epitomized classic elegance with a twist of surprise. Kelsey floated across the dance floor in her ethereal ball gown to first dance song, "God Gave Me You" by Blake Shelton. The twist of surprise here occurred later in the evening when David's fraternity brothers and her father paraded the dance floor with the Sweetheart of Sigma Chi serenade. Once the gentlemen were on the dance floor singing, they stayed all night long!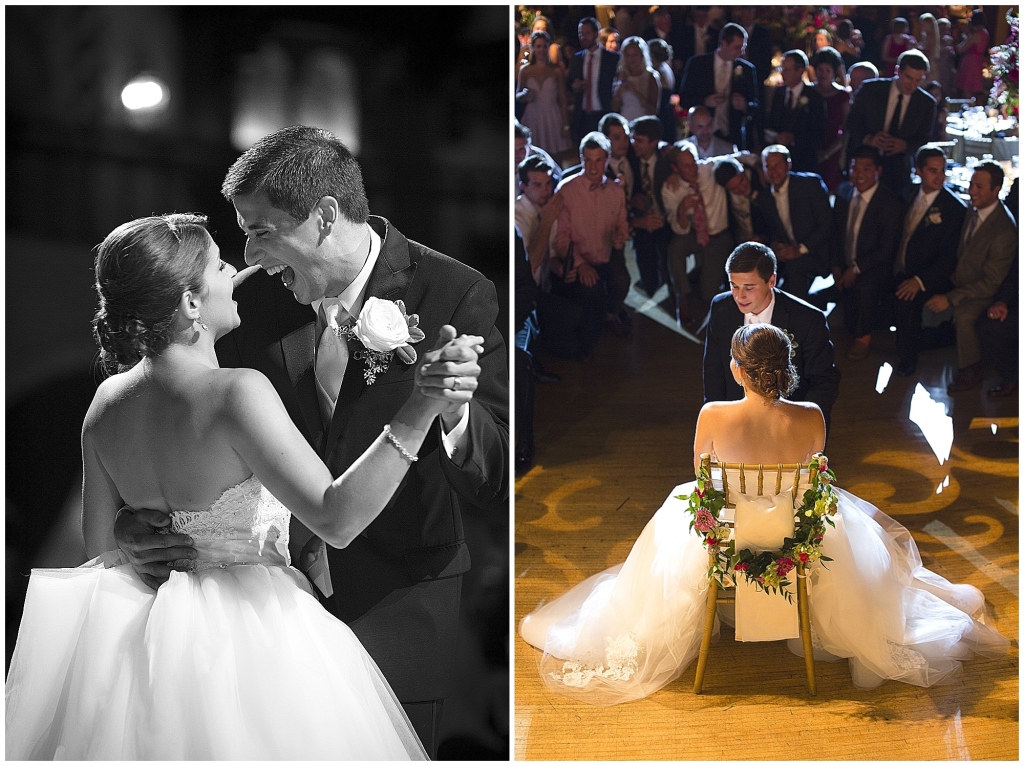 Concluding the evening Kelsey and David exited the ballroom in grand style – to a sparkler exit and awaiting classic Rolls Royce for their getaway!
I've known this family for over 10 years and had the pleasure of working with them for their 2nd daughter's wedding.  Thank you for for allowing me to help you again, this time with Kelsey's celebration.  It is such an honor!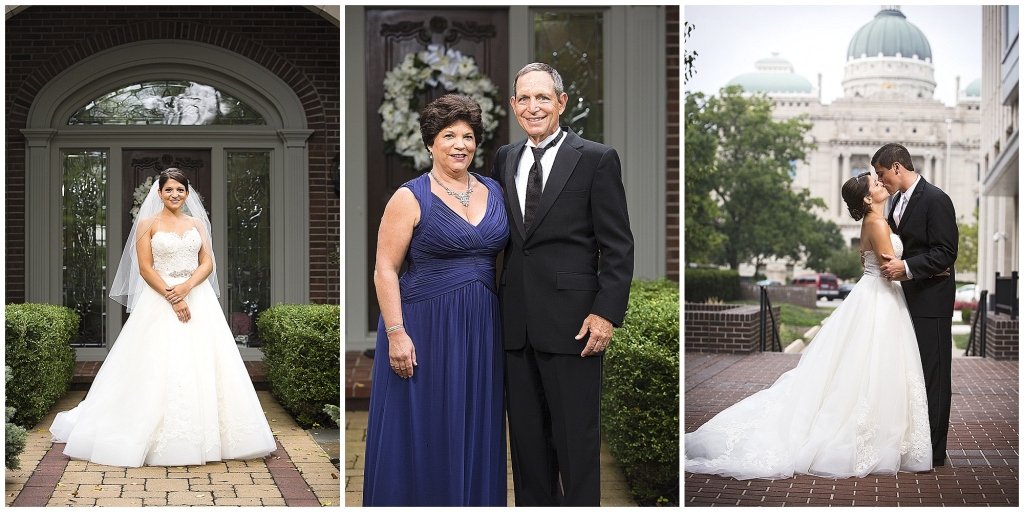 Merci Beaucoup to Nathaniel Edmunds Photography for the above images and to:  A Classic Party Rentals, Antique Limo, AMS, Classic Cakes, Elite Management,  Enflora, Indiana Room Ballroom,  IndyVisual,  La Dolce Salon, Markey's Audio Visual, Marie Gabriel Couture,  Second Presbyterian Church, Westwood Paper Company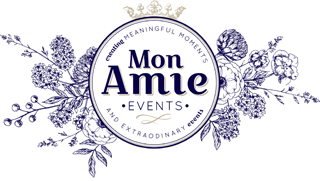 Copyright 2023 | Mon Amie Events Inc.