Wedding Highlight – Maggie & Andrew
Oh I love a winter wedding!  While the outside may be clear, crisp and cold, there is nothing like warming up to the warmth and intimacy of a wonderful candlelit wedding celebration!  Maggie and Andrew had exactly that idea in mind for their wedding when they came me for their January wedding and I was so excited to help them plan their big day!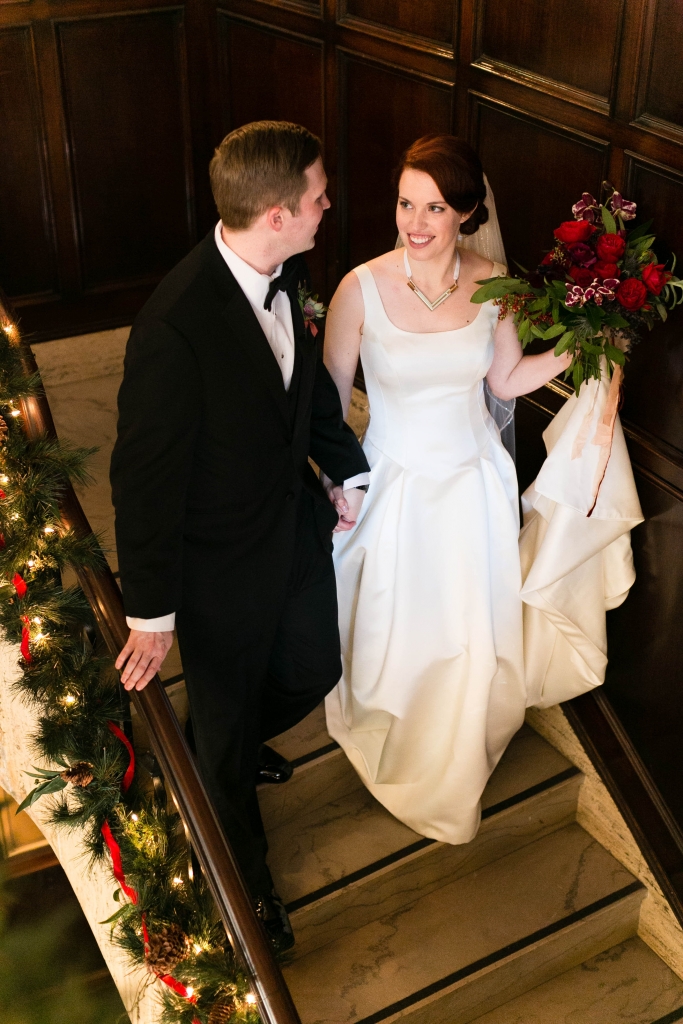 Maggie and Andrew actually met (literally) on their way to  Italy on a trip, so their first date was overseas.  Because of this, they wanted their  reception to have a wonderfully warm, family atmosphere – much like the relaxing dinner on a vacation would be. They also said they wanted their guests to say "the night completely suited their personalities." Maggie and Andrew certainly started that tone by creating their own personal family crest for the wedding invitation suite.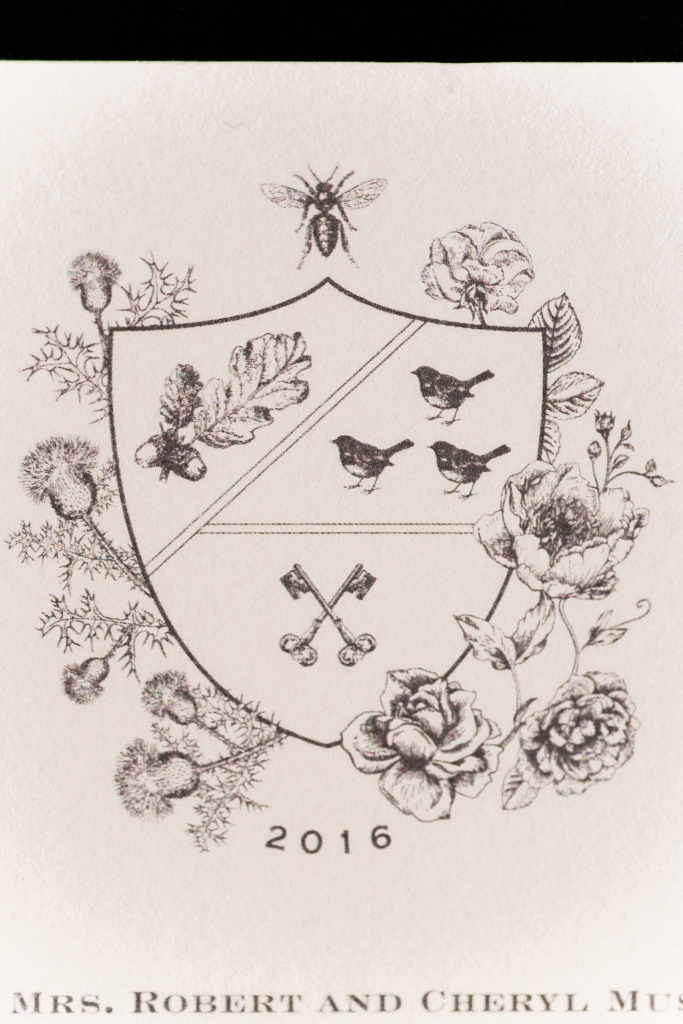 This crest was then infused throughout the night on various paperie including the wedding program, menu card and signage at the reception.  The menu card even included a key explaining the history of their crest and how each component of the crest was chosen to create the unique piece for the new family.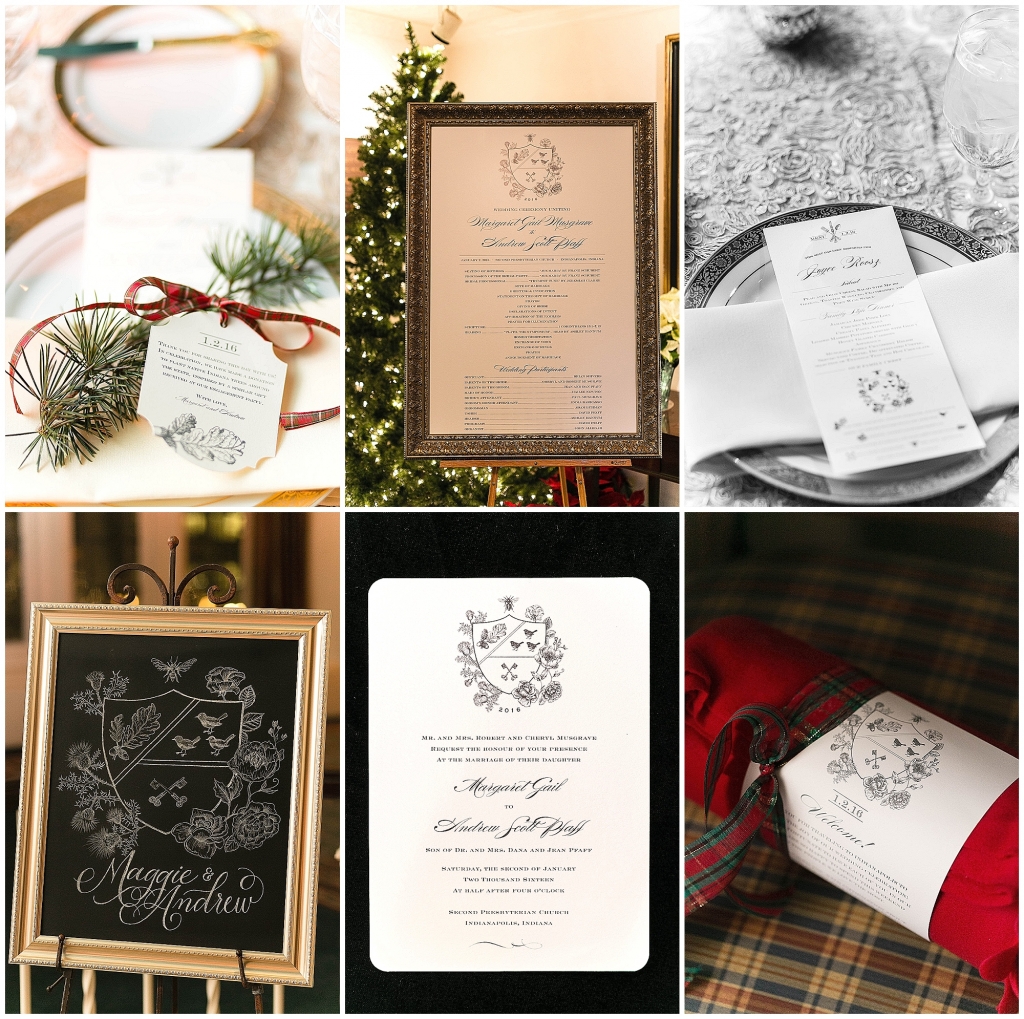 The service was held in a chapel adorned with winter foliage perfect for the holiday season! The church had an English countryside feeling to it because of the greenery arch created and the organic nature of its draping.  This created a since of warmth and coziness on the crisp winter evening.
Following the ceremony the guests went to the Columbia Club for the reception.  Here they indulged in the old world opulence of one of Indianapolis' most historic buildings.  The city still had the Circle Of Lights still up so guests could enjoy the spirit of the season for one final weekend.  Maggie and Andrew took advantage of this, and enjoyed a few minutes on the Circle before retreating to the reception with their guests.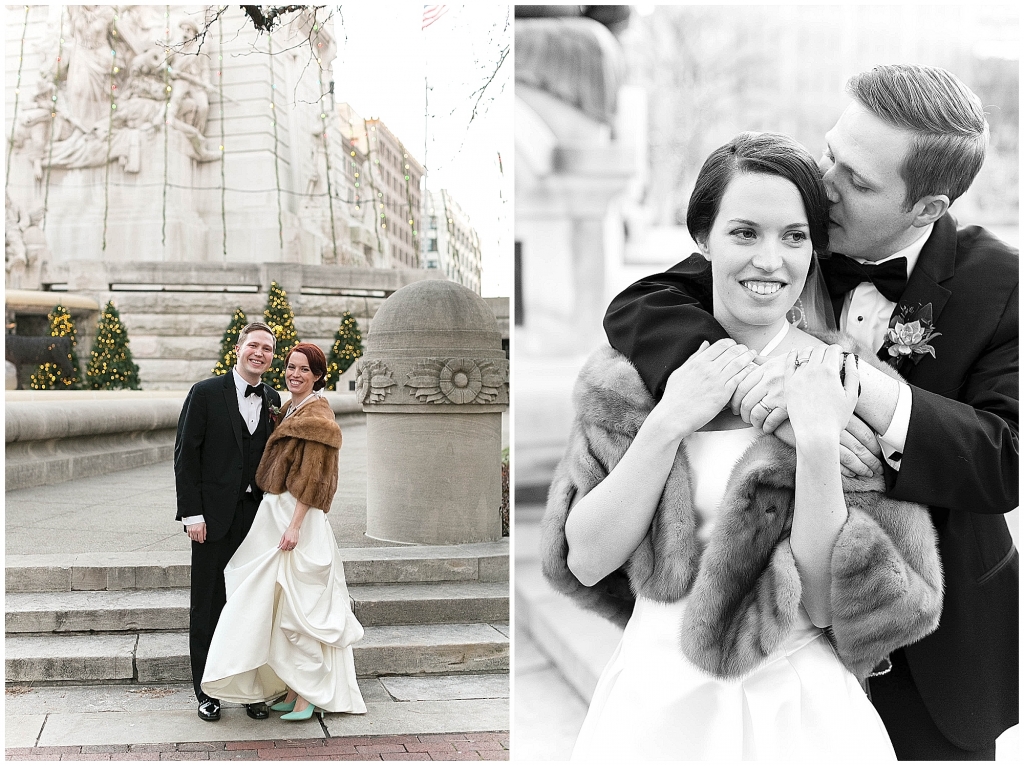 The reception tables glistened like the Christmas tree outside on the Circle as hundreds of candles sparkled of the lace and sequined table linens.  Vibrant floral in hues of crimson, scarlet and blush were scattered along the tables added another layer of rich holiday color.  Along with the wonderful red flowers, succulents, grown by Maggie's father (himself a Master Gardner) were in small vases in abundance throughout the reception.  Thistle was also dotted in many of the bouquets to add a touch of Scotland to the day — a way to honor Andrew's family heritage.  His family's tartan ribbon was also used to tie the favors throughout the weekend.
The long tables allowed for family and friends to have an "intimate family dinner" – exactly what Maggie and Andrew had always envisioned.  After Andrew, their parents and honor attendants gave toasts, dinner was served family style and Maggie's wish of hearing someone say "could you please pass the mashed potatoes?" could be heard over laughs and squeals of delight.  I giggled to myself when I actually heard someone say it.  🙂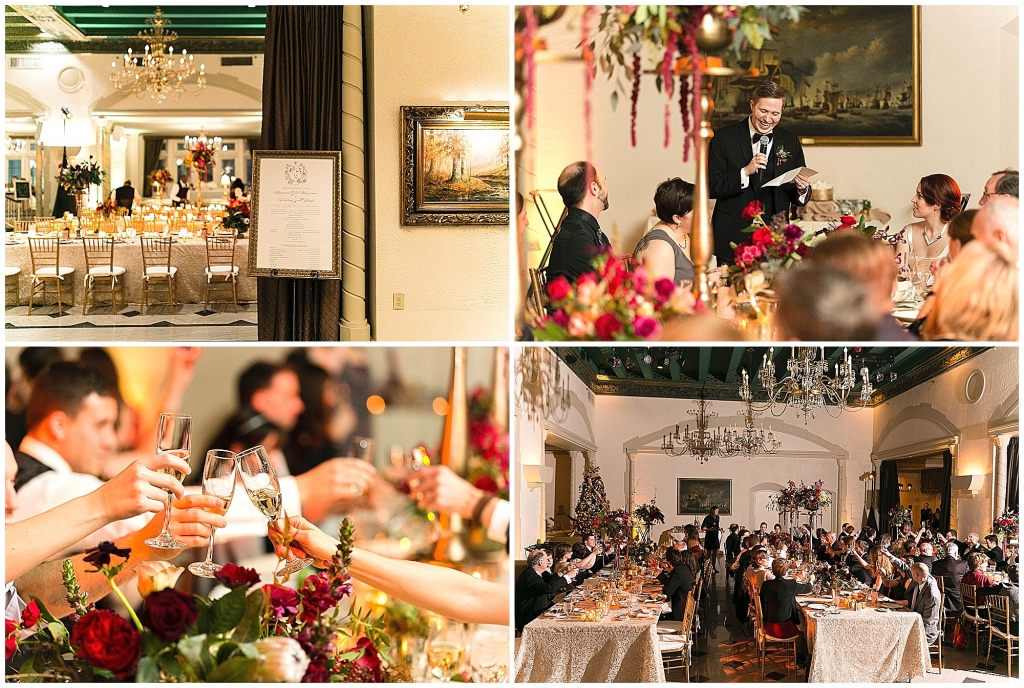 After dinner guests were delighted with Maggie's selection for dessert.  (but my no means surprised — they couldn't ignore the amazing aroma fillllling the ballroom!!!)  Maggie's favorite childhood indulgence (and apparently everyone in Evansville's) 😉 is a place called "The Donut Bank"  –  in lieu of wedding cake, Maggie and Andrew served an array of donuts from The Donut Bank.  The room smelled SO good all day as the freshly baked donuts' were stacked in fanciful layers on a display, and it was hard to ignore the aroma of several hundred donuts.  Once the guests could indulge in the several varieties Maggie and Andrew had selected, they all acted, well, like kids in candy store!  🙂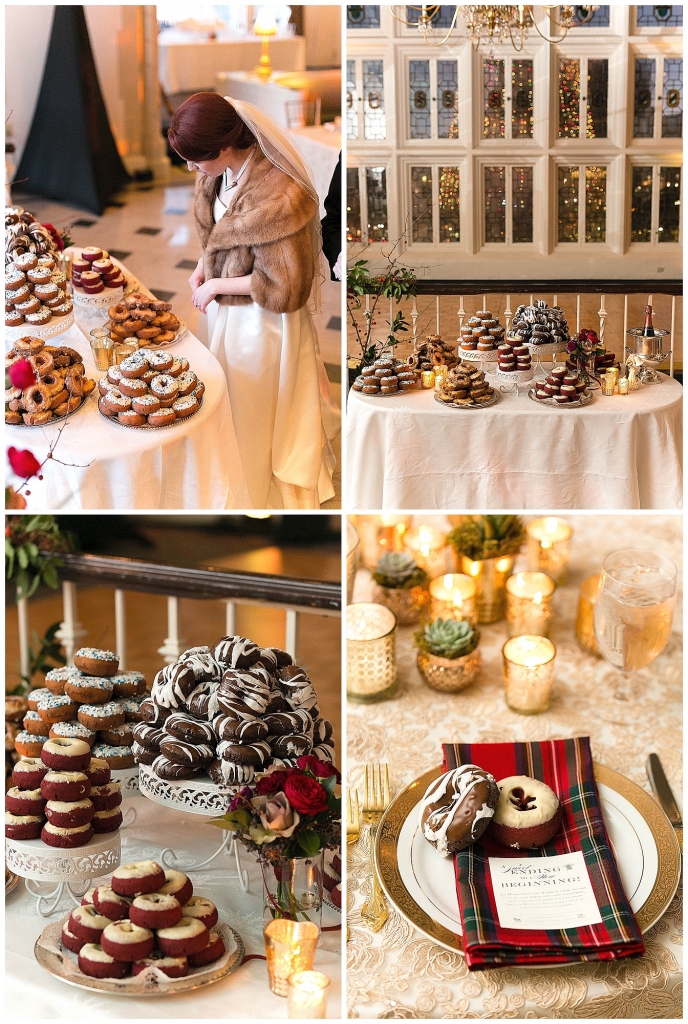 It was a night filled with family, old traditions, new traditions and new beginnings for a new year.  It was a cozy and intimate — even on a very crisp winter evening. And that's what makes winter weddings magical, they're so full of warmth and love.  It was such an honor helping Maggie and Andrew create their day.  These two have their heads on straight.  I really adore them, and I love that they started their new life in the new year as husband and wife.  Best wishes always!

Merci Beaucoup:  to Emilia Jane Photography for the above images.  Also to: A Classic Party Rental, Columbia Club, Donut Bank,  LGi Linens, Marie Gabriel Couture, Meg Catherine Flowers, Sarah Drake Design / Pink Poppy Ink, Second Presbyterian Church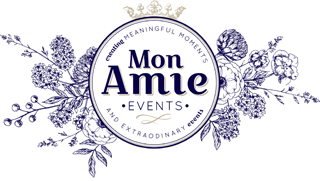 Copyright 2021 | Mon Amie Events Inc.