Wedding Highlight – Margo & Bob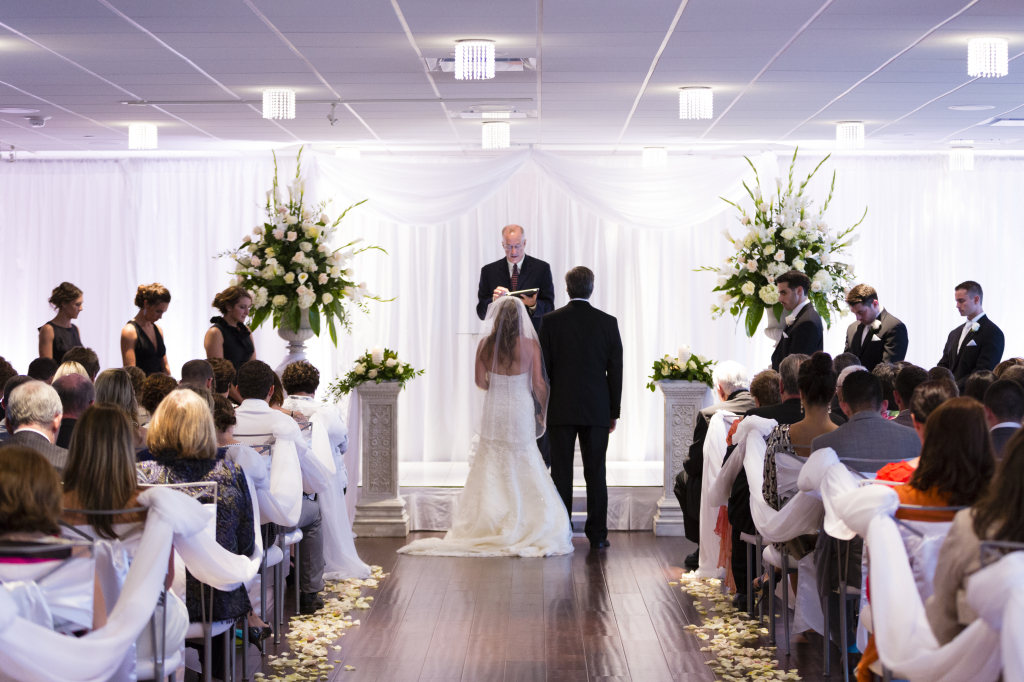 From the moment I met Margo and Bob, I was welcomed into their home and their lives with open arms and I knew it was going to an amazing weekend full of celebration, laughter and of course, fantastic Italian food!
Their engagement party was only a few days after we first met, and I was asked to attend so I could meet each of their children.  What a stunning family.  The kids (and by this I mean – wonderful, smart, capable young adults) were just coming home for the summer from college and looked right out of the pages of any Anthropologie or J. Crew catalog for the party.  Margo and Bob's kids were to be their eventual bridal attendants, just as they were  present in Paris when Bob proposed earlier last spring.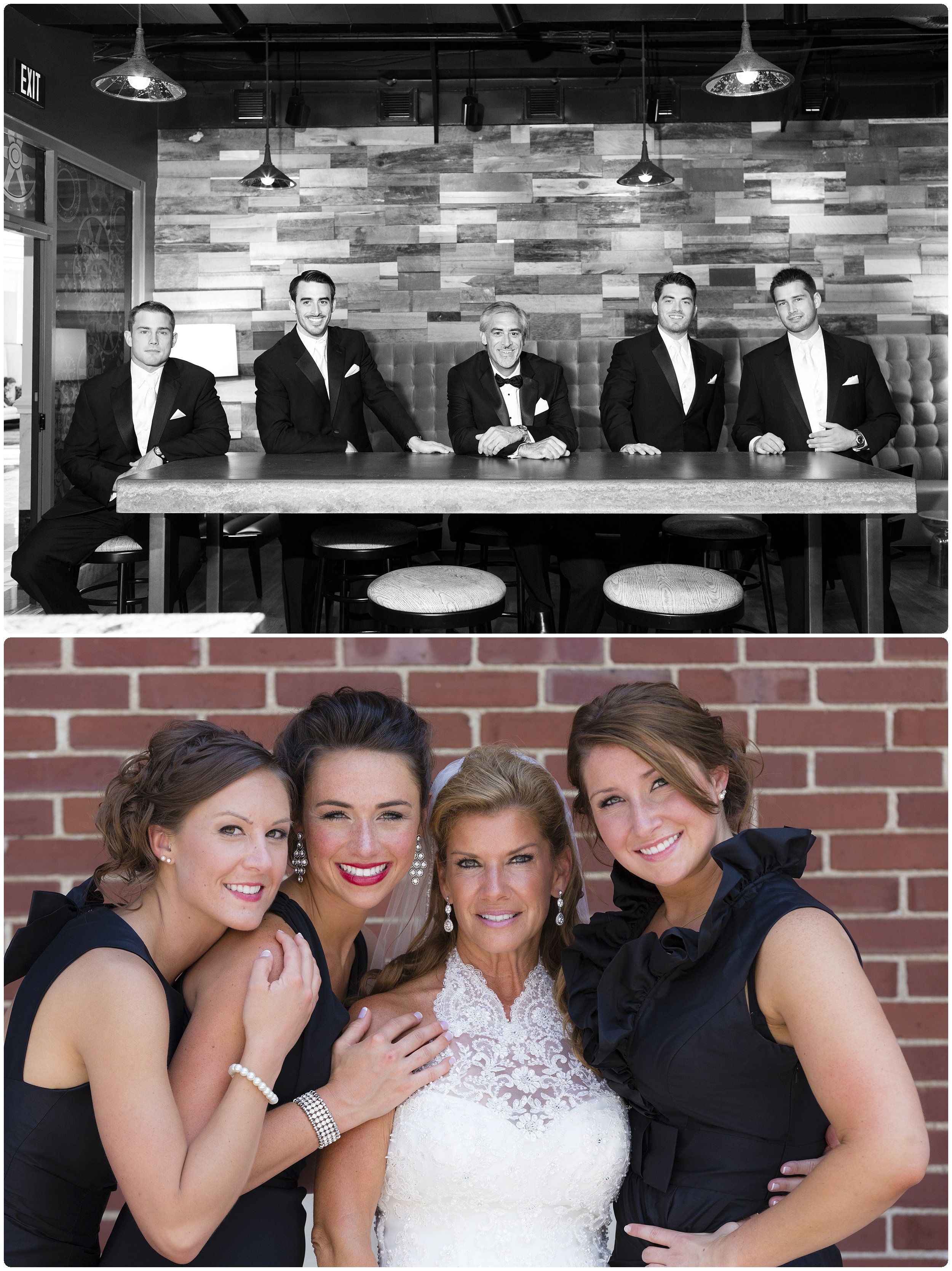 The wedding itself was a beautiful and classic setting with fun and unexpected touches, frankly not unlike the couple themselves.  Bob and Margo are elegant, graceful and regal – yet very funny and entirely engaging.  The first true sign of this was their amazing save the date – which paid homage to their Parisian proposal – a box of truffles each flavor chosen for its French influence including champagne and chambord.
The ceremony was clean, crisp and airy.  Guests were greeted by the boys, then asked to be seated for the service with the entire city of Indianapolis as the background while the prelude played.  The altar was billowing drape with dramatic floral in all shades of white, ivory and cream to allow the magnitude of the ceremony to set in.  Just as Margo and her sons came down the aisle, the lighting dimmed, the screens closed and it was a dramatic moment.  Margo and Bob had waited 8 years for this moment to arrive ~ I loved how beautifully it played out in real time.  They lovingly incorporated their children into the service by having the kids also partake in the sand ceremony.  Their true humor shined through, when "Signed, Sealed and Delivered" played as they were pronounced husband and wife!

As guests entered the reception space, they were immediately greeted with ice blue cocktails and mutli-tonal shades of aqua all creating a stunning monochromatic palette matching the Indianapolis skyline.  Whether it be Margo's  fantastic (oh, I wish they were my size!) shoes, creative touches to the hors d'oeuvres or dainty candles in the cocktail reception, several shades of blue began to welcome guests in those  first minutes of the celebration.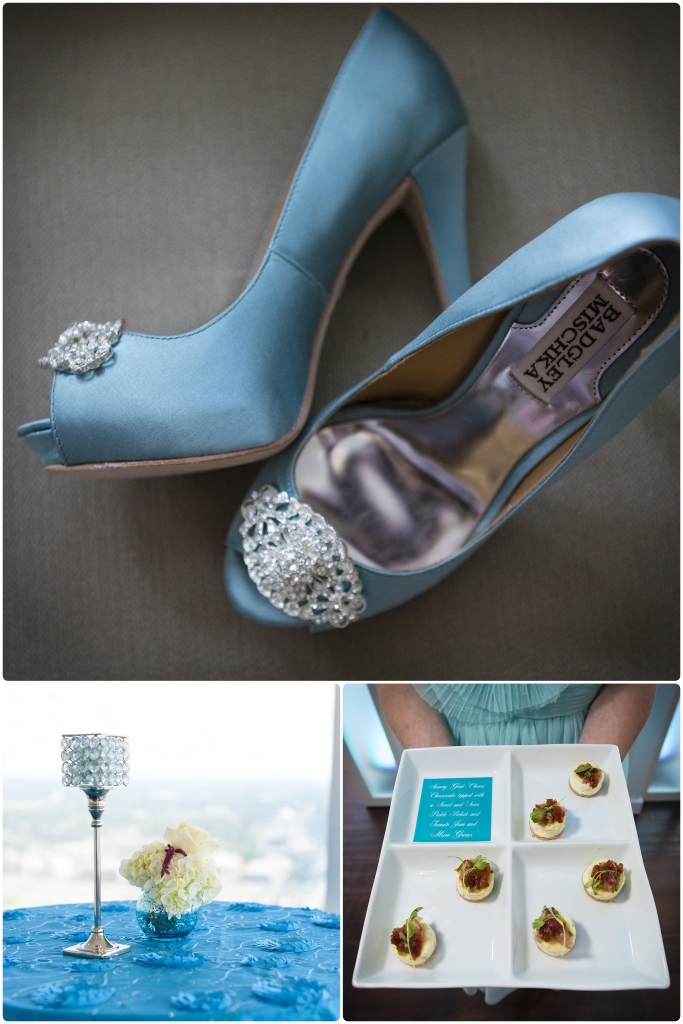 Following the cocktail hour, guests were taken with the stunning beauty and spectacular views again as they entered the dinner area.  No detail was overlooked.  Flowing ribbon embroidered linens with organza overlays topped the tables.  Sparkling aqua charger plates complimented the pale blue mercury glass candles and antique vases overflowing with petite floral centerpieces topped the stunning tables.  Large opulent centerpieces cascaded on aqua stands all creating a beautiful sea glass and aqua palette as guests entered the reception.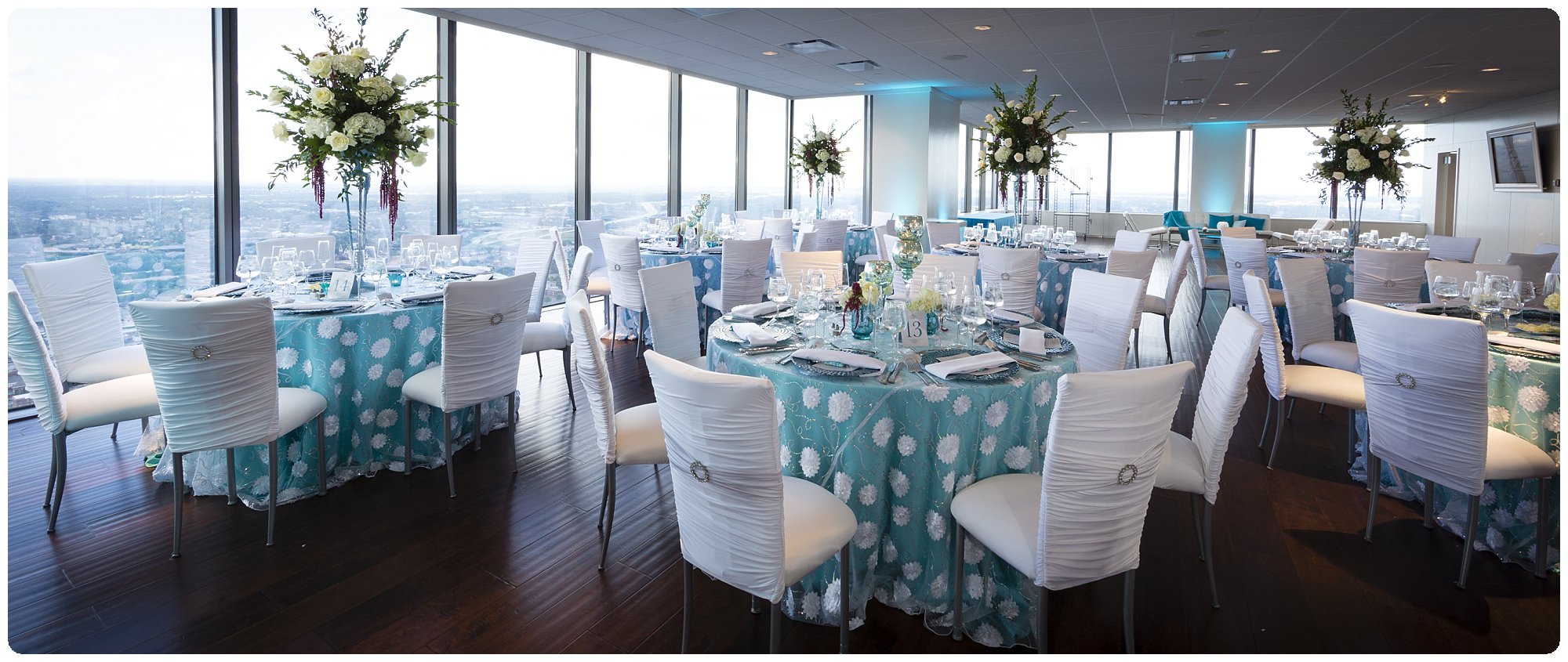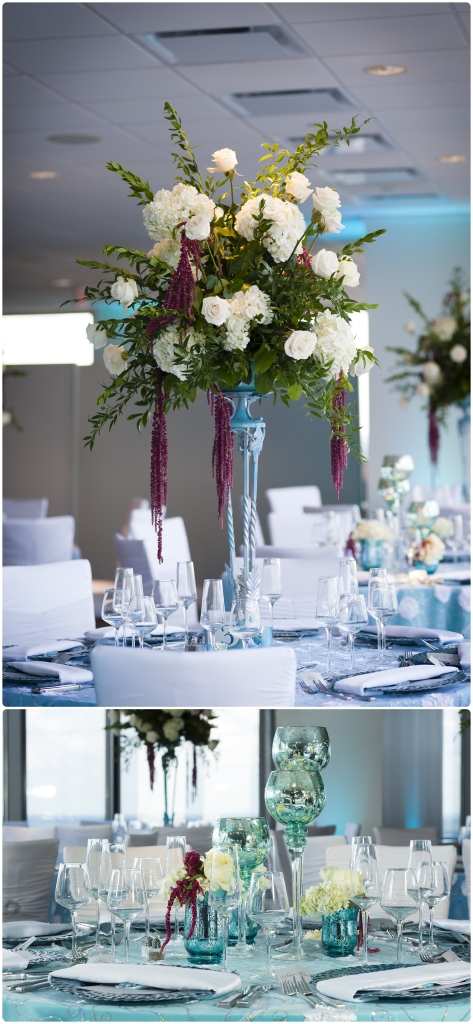 Bob and Margo's Italian warmth, and Italian honeymoon immediately became evident to the guests when the dinner reception began.  As they were seated, guests were served a bountiful antipasto platter and Italian wines.  The first course included a perfect summer salad of watermelon, feta, mint and fennel.  The bright pink incorporated Margo's favorite color and came presented in whimsical jars sealed with custom labels.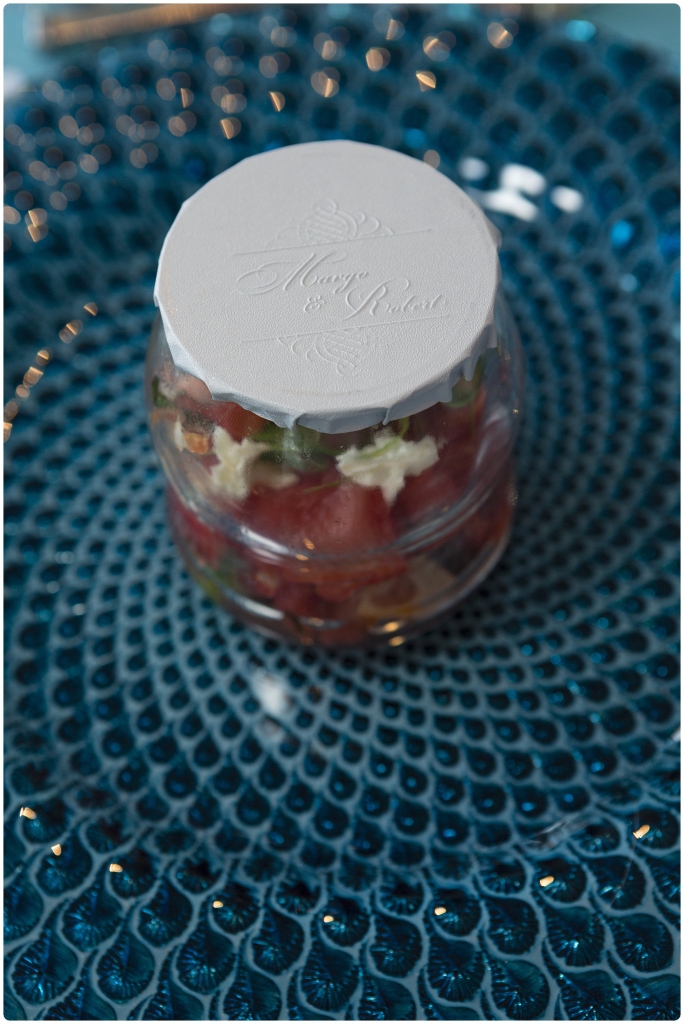 Italian wines were perfectly paired with each course as guests dined on artfully displayed Italian cuisine.  Each course thoughtfully presented and created to honor Bob's heritage and the impending honeymoon.  As guests departed at the end of the night, Italian bottles of wine were given as a final toast to the guests – Salud!
The dancing held several surprises and great fun for the guests. Once nightfall set over the city, Bob and Margo showed  their love by expressing it 6 stories tall on the IPL building for the guests (and entire city) to see.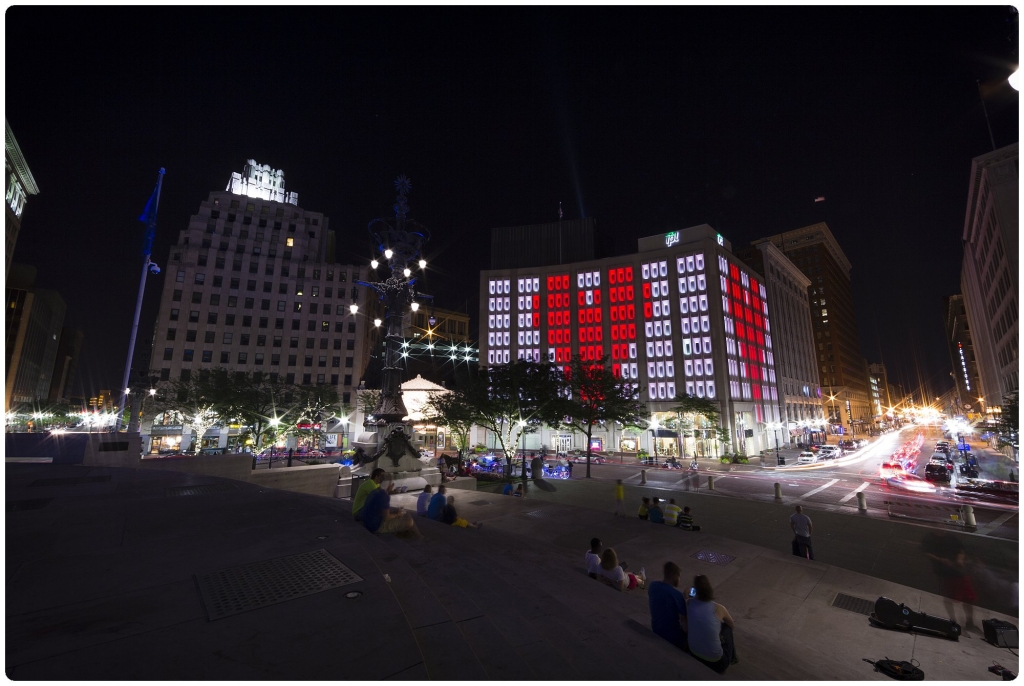 When guests came back onto the dancefloor, they were surprised with a over-the-top display of sweets in the same color palette as the wedding and dozens of Italian pastries.  Later in the night savory sliders  offered a quick bite for guests to enjoy while the danced in the club-like atmosphere Margo had created for her guests.  She had envisioned a party for her college aged children, and she got it!  Dozens of glow and light up items were handed out making what started out as a regal, serene bridal ceremony, become the fun, electric celebration they wanted the end of the night to be.  It was the perfect joining of two families and two events!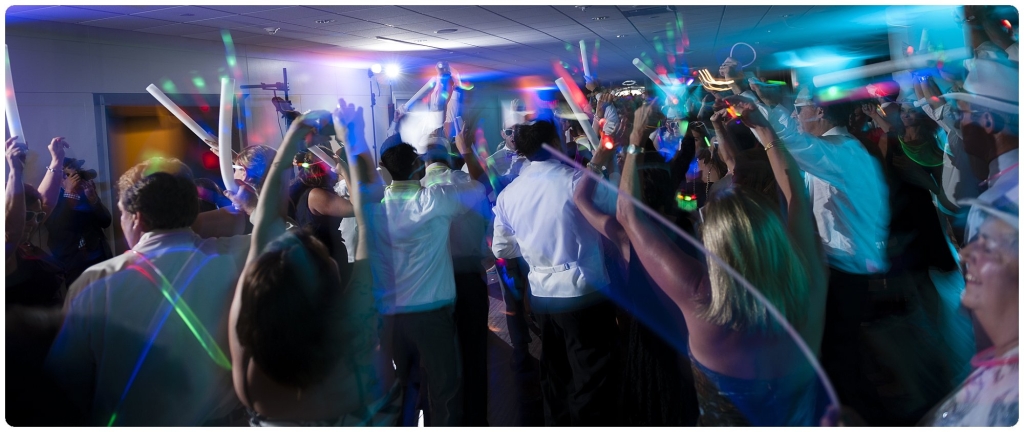 Congratulations Margo and Bob, may every year be as celebratory and fun as you had on this night.  Salud!
Merci Beaucoup to Nathaniel Edmunds Photography for the above images and to:  Antique Limo, BBJ Linen, Classic Cakes, D'Amore Events, Goldstar Management,  Indy Photo Booth, Jim Cerone, LGI Linen, Pink Poppy Ink, Thomas Caterers of Distincton, Tod Isminger, Royal Creations

Mon Amie Events, Inc is a full service event planning and luxury wedding planning firm located in Indianapolis, Indiana.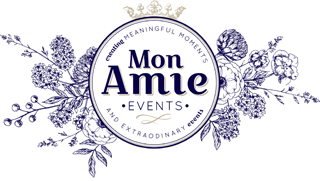 Copyright 2020 | Mon Amie Events Inc.