Wedding Highlight – Sara and Curtis
Sara and Curtis have known one another forever!  It's impossible to see a photo of one without the other.   They actually went to the  same elementary school!  A mere 2 weeks before their wedding, they were finally in the same city as each other having survived a 4 year  long-distance relationship because of attending different colleges.   As often as possible one would travel to the other school for football games or mini-vacations.  One semester they even both traveled  to England to study together.  This wedding celebration was a culmination of graduations and the wedding.  It was such a joyous time for the couple!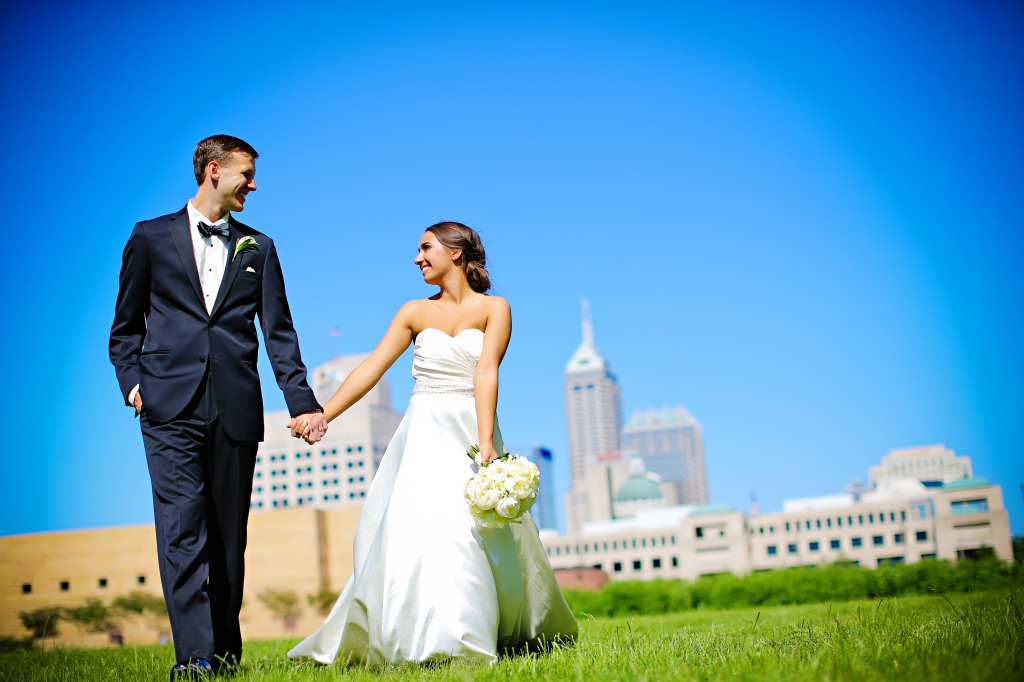 Sara is a gem!  Her smile is contagious and she radiates happiness!
Curtis is kind, sweet and adores Sara.  I mean just look at this image taken as they were heading out to take photos on the morning of the wedding.  It speaks to his kindness.  (And, frankly, his upbringing — I am huge fans of his parents Sheila and John.)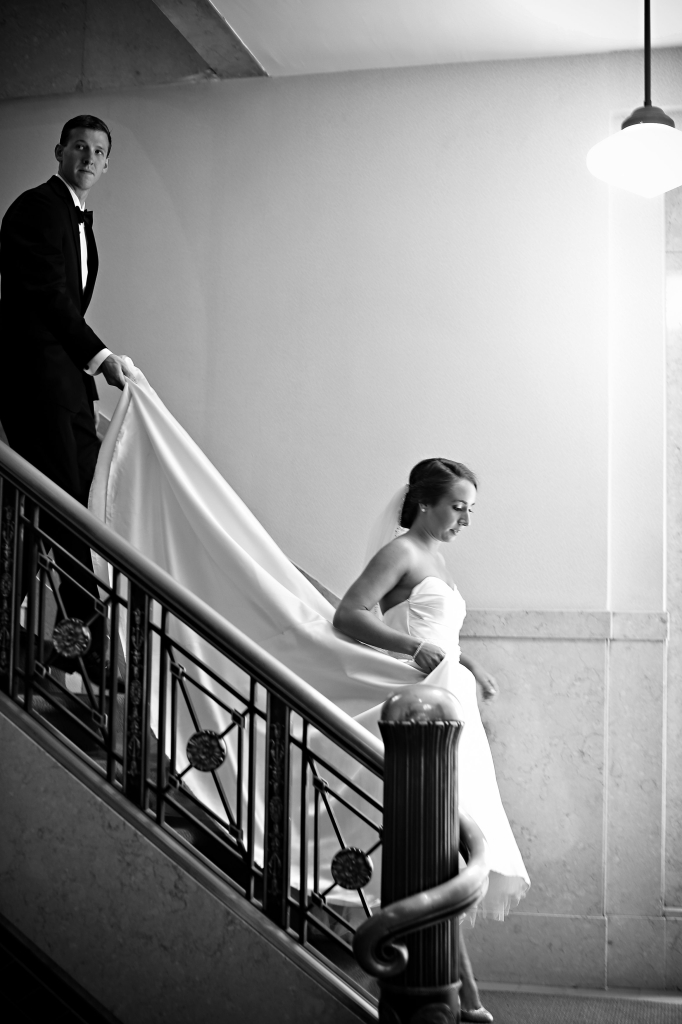 Sara and Curtis were married in their childhood church of St. Barnabas Catholic Church.  Both Sara and Curtis had received all of their Sacraments (Baptism, First Communion, Reconciliation and Confirmation) at St. Barnabas. They were the first couple in the church's history to receive every Sacrament at the church. Having the final Sacrament there as well carried special meaning.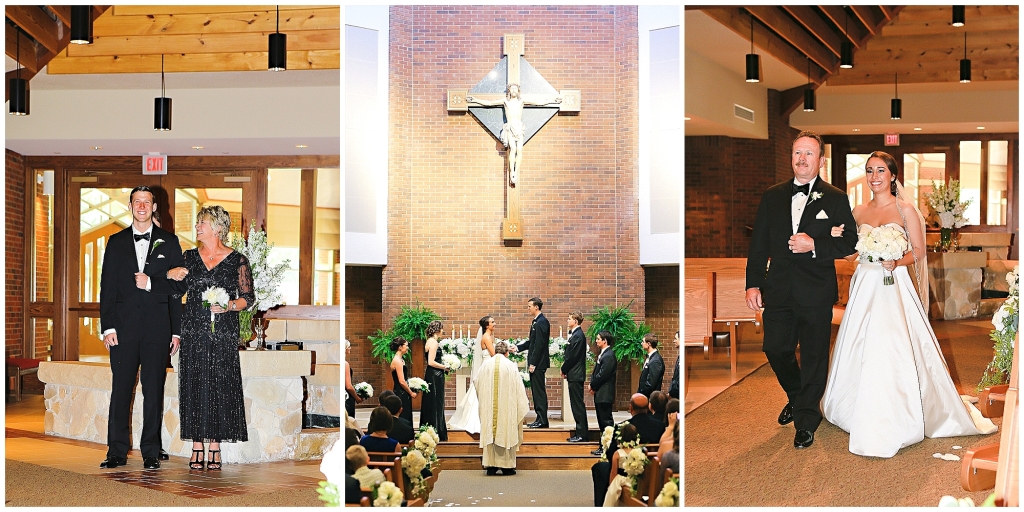 Sara and Curtis got married just a few months after Curtis's sister, Kristen, was married.  Many of the same professionals helped with his sister's wedding, and Sara and Curtis wanted their wedding to have an entirely different feel, because, obviously, they're entirely different people.  Sara and Curtis wanted a clean, sleek and modern feeling for their spring nuptials.
To capture this mood, Sara chose black and white as her color story for the wedding and had a few touches of silver sparkle to capture her fresh modern approach.
It was fun to help her design an entirely different type of wedding than Kristen and Tim had selected.  While the two couples had some similar tastes (like a great taste in wedding planners, photographers and videographers 😉 ) they wanted their events to feel very different from one another.  Sara knew the reception location would have to be key in this step.  She picked D'Amore high atop the Indianapolis Skyline to set the scene for night's festivities.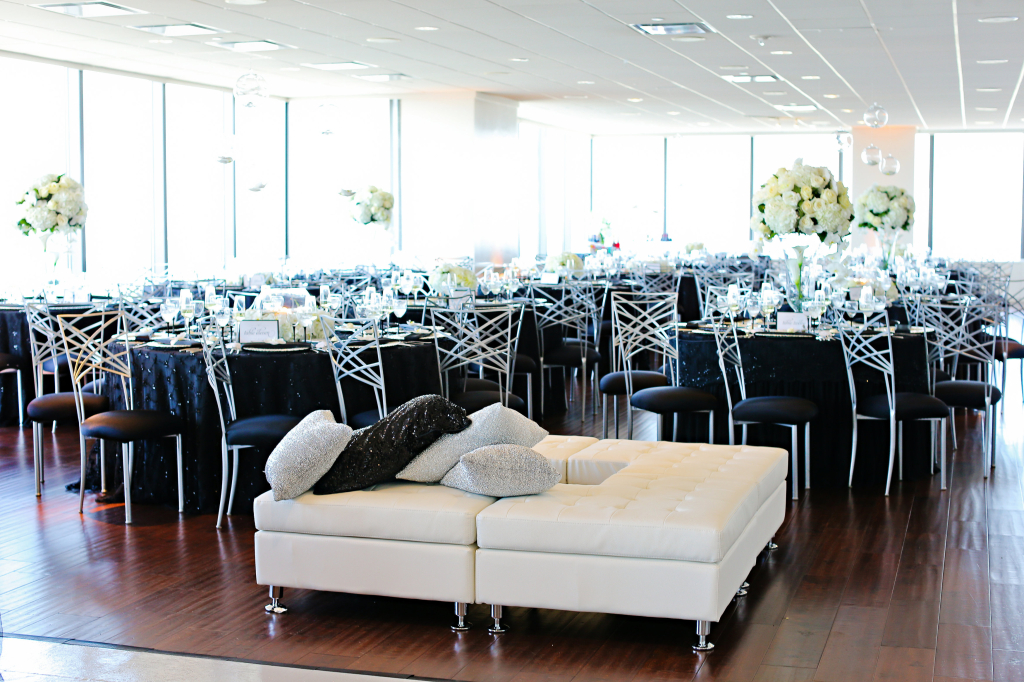 Sara allowed us to play!  I love that in design! When a bride trusts her professionals, there is truly nothing better.   She wanted only pure white flowers.  David from the Empty Vase created magic and together we worked to pair his florals with sensational linens which made the room a delight for all of the senses.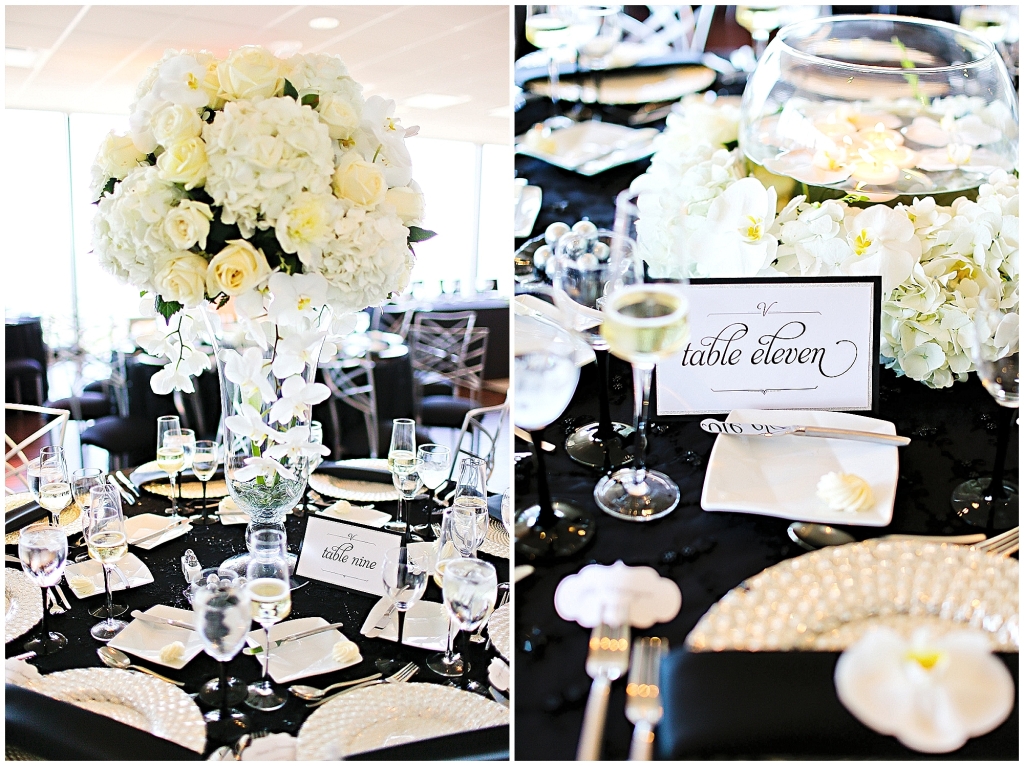 The flowers were spectacular.  Crisp snowy phalaenopsis orchids, dreamy peonies, fragrant roses and hydrangea created stunning tablescapes.  Chandeliers were created with votive candles and orchids to add more sparkle to the space which glistened because of the silver charger plates and beaded linens.  The linens begged to be touched because of the intricate beading and tulle skirts.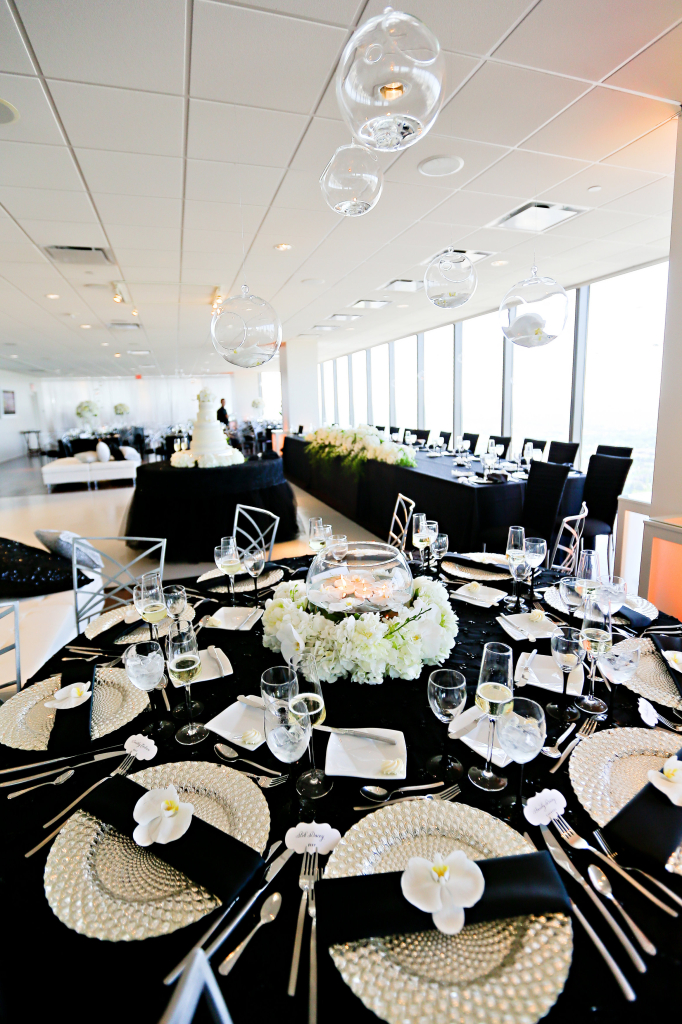 Special accents included the beautiful cake which had the intricate detail from Sara's wedding gown on its 5 layers and glittered chocolate truffles (which were a surprise for Sara) to match her show-stopping glittered dance floor!
One of my favorite parts of the evening was actually seeing guests reaction to the cocktail and vip lounge space.  This area reminded me of a cool Miami club.  It was filled with fun chandeliers, white furniture, sparkling sequined pillows and linens. The focal point of the room were over-sized monograms on bookshelves of the couple's adventures.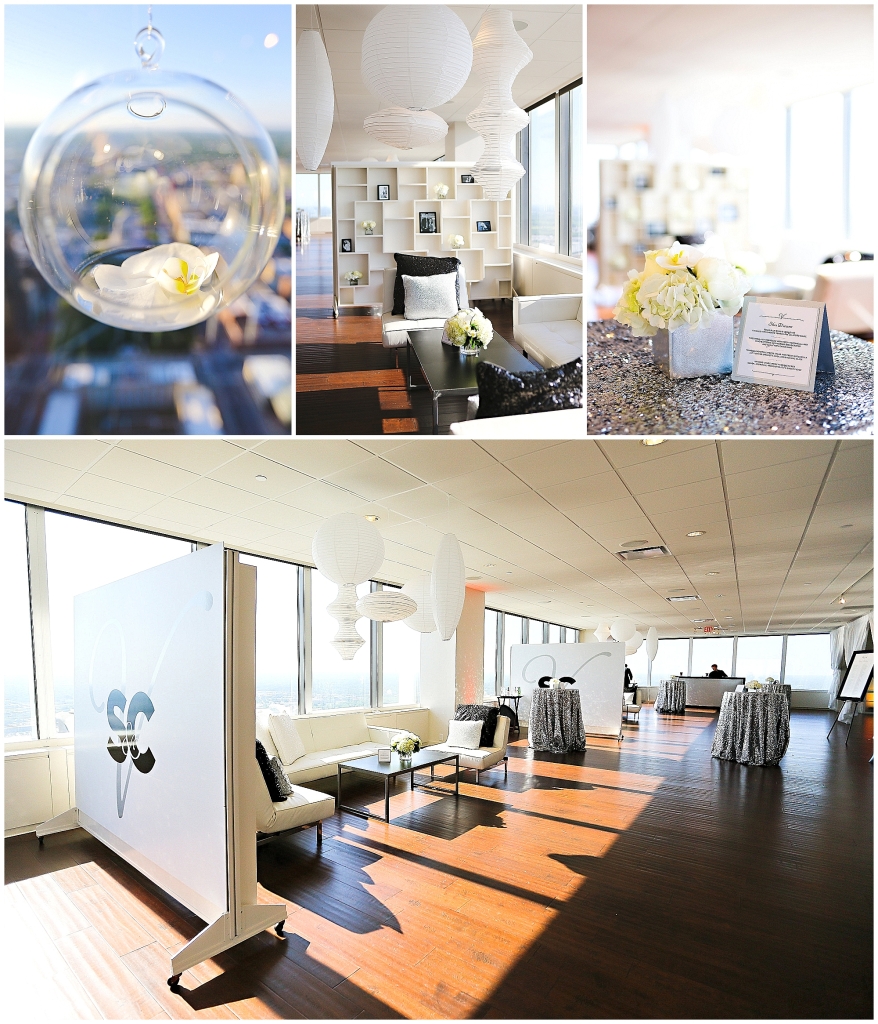 Their toasts looked majestic with the sky behind them and a cascade of chandeliers created with votive candles along the windows.
As night fell over the celebration, guests loved watching the sunset over the Circle City.  As the lights began to flicker on over the skyline, Curtis pulled Sara to the south side of the space to reveal this spectacular surprise — the IPL building illuminating an over-sized heart in her honor!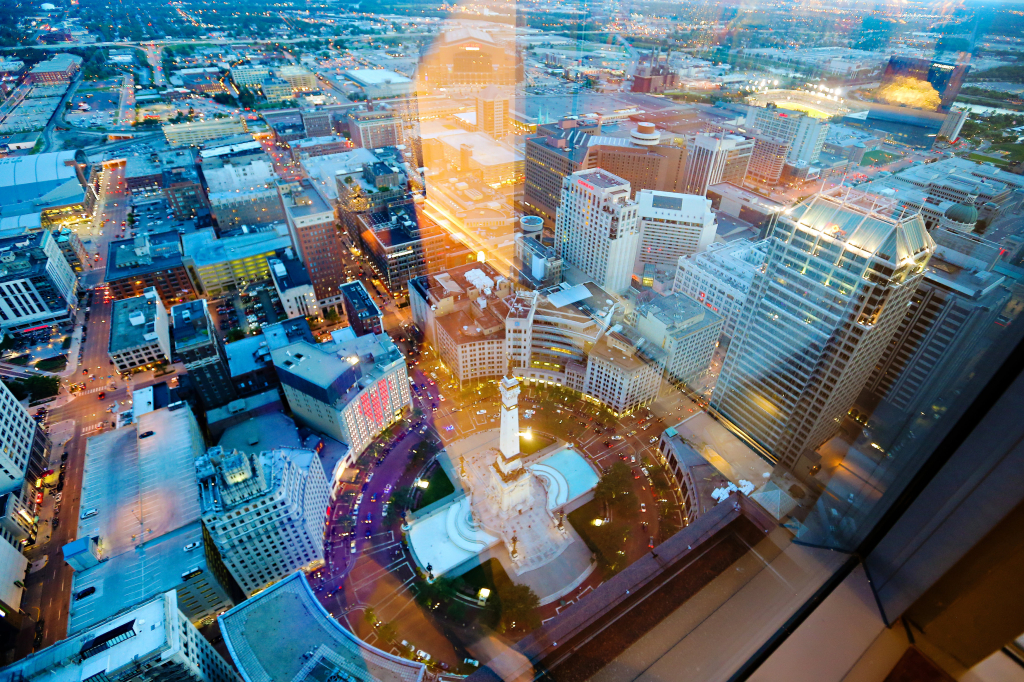 Curtis's childhood dreams came true though when his "lifelong" wish was fulfilled.  His childhood soccer team had long joked they wanted a "cheese fountain" at his wedding.  Well… they got it!  The inner 10 year old boy in each one of them came out when it was revealed during dancing complete with corn dogs, burgers, fries and other late night munchies!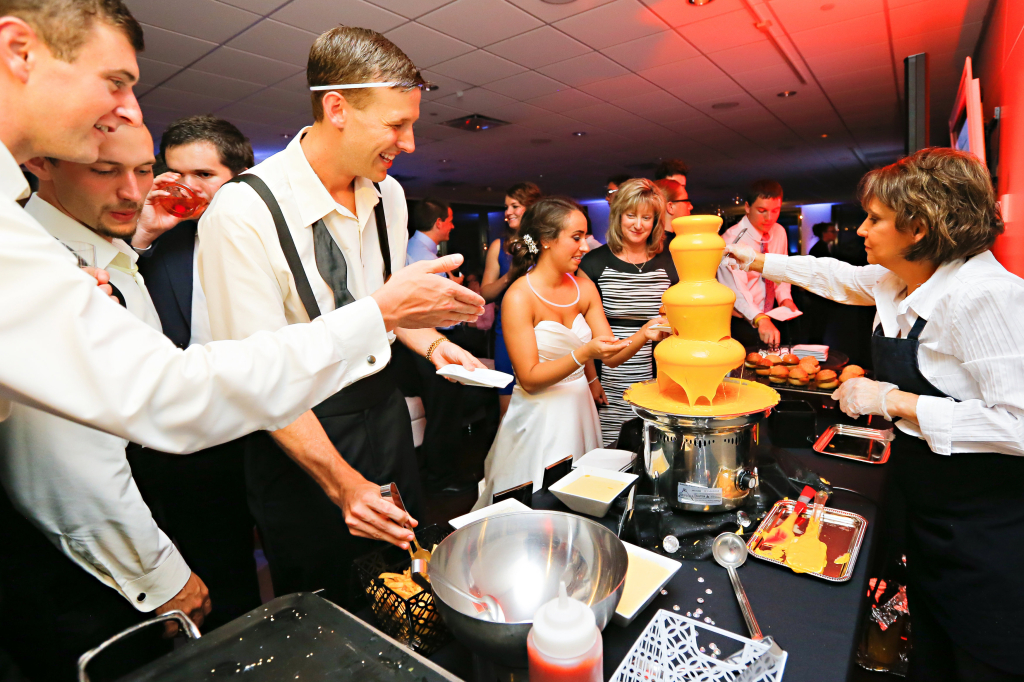 This couple is amazing!  They are sweet, kind, generous and never – I mean NEVER stopped smiling the entire wedding.  (The entire wedding planning process would actually be more accurate.)  I have really relished in my time with both of their families and loved helping them create this special celebration.  I'm so thrilled they're finally in the same city (and now in MY city!) so I can keep in touch with these wonderful people and their parents.  Thank you for allowing me to be part of your lives during such a special time.  It was truly an honor.  Congratulations Sara and Curtis!  May you always have blessings you deserve and all the nacho cheese a guy could ever want!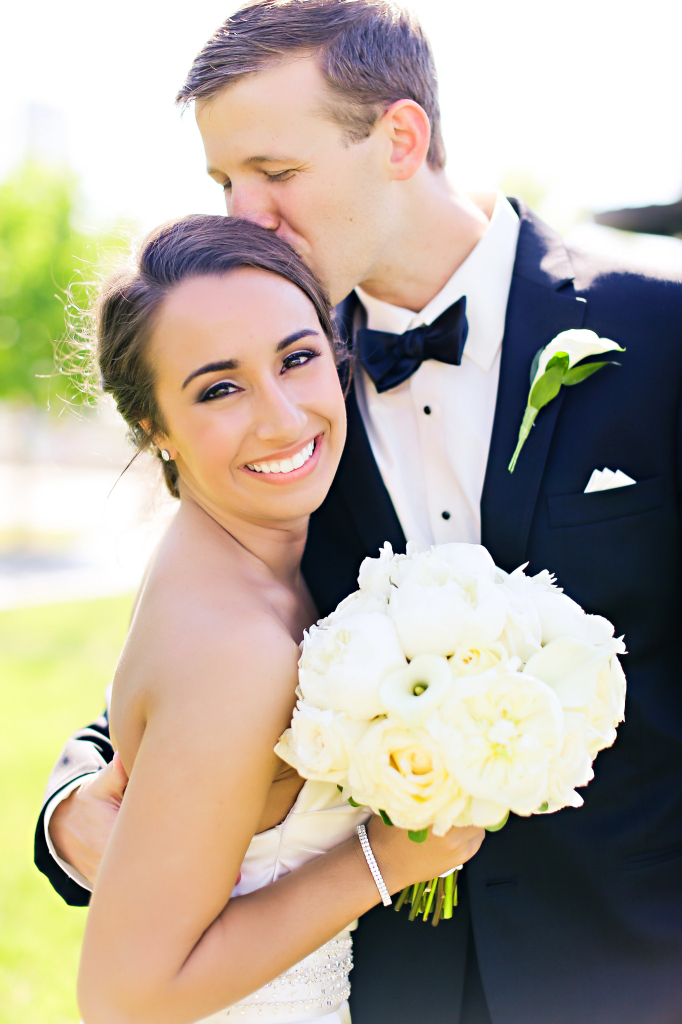 Sara (and Curtis) in the Sky with Diamonds 🙂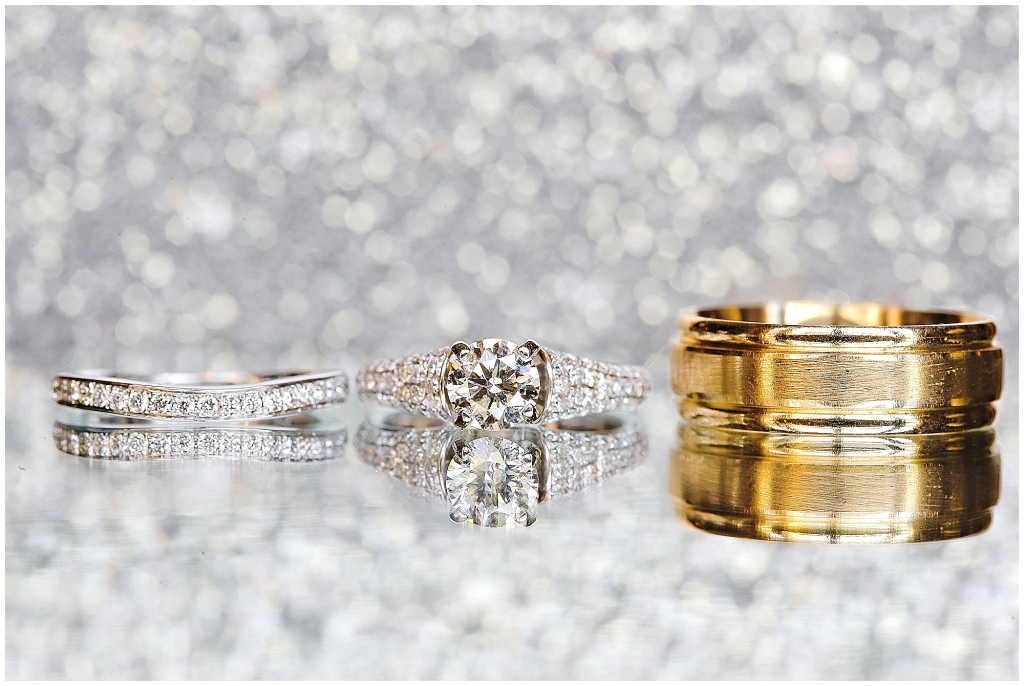 Merci Beaucoup to Jessica Strickland Photography for the above images and to:  Antique Limo, BBJ Linen, Classic Cakes, D'Amore, Empty Vase,  Evans Audio Visual / Wow Factors,  Indy Photo Booth, IndyVisual, Jim Cerone,  JW Salon, LaTavola Linens, Makeup by Sparkle,  M.H Pomander's, pomp&polish llc, St. Barnabas Catholic Church,  Thomas Caterers of Distinction 

Mon Amie Events, Inc is a full service event planner based in Indianapolis, IN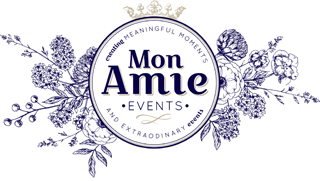 Copyright 2023 | Mon Amie Events Inc.