Wedding Highlight – Taylor & AJ
It seems only fitting to end 2016's blogging with a wedding that, while not the final wedding of the season, was the wedding  that ended with a (surprise) confetti canon launch.  Taylor and AJ celebrated their wedding joyfully and and with enormous smiles the entire weekend — because well, to do so any other way just wouldn't be them!  They are among the happiest couples (and family) I have ever had the pleasure of working with and I am thrilled to share their wedding with all of you!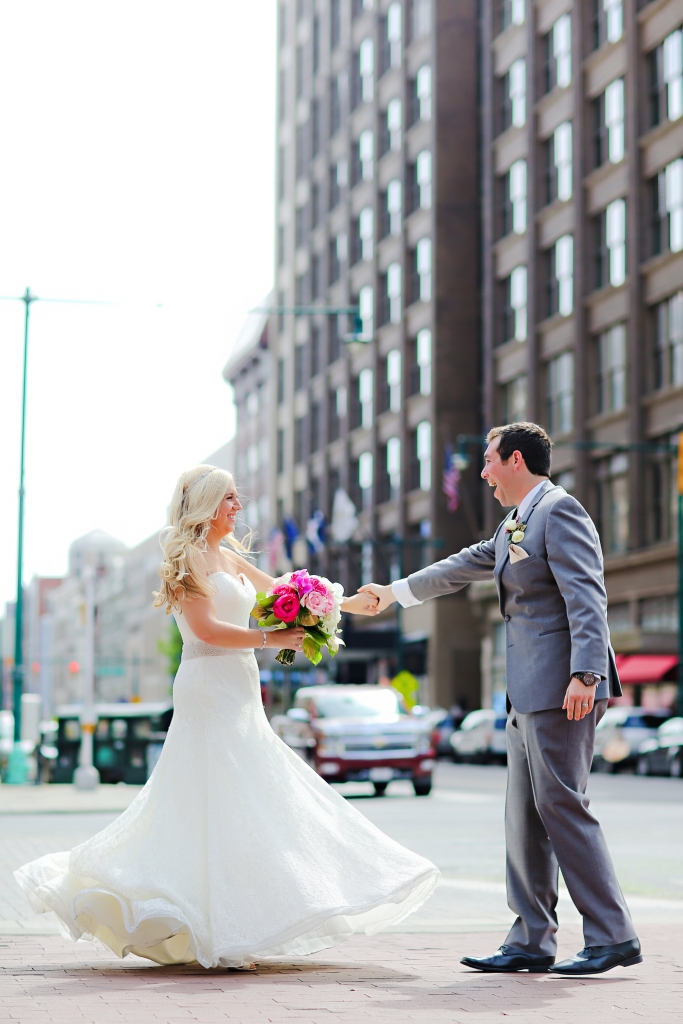 Taylor and AJ exude joy all the time.  Their family and friends do too.  One of their toasts said "an evening with Tayjay is an evening well spent." — imagine spending a year planning their wedding!  🙂
Every call, email, meeting was fun, full of trust and just made the wedding so exciting.  I loved helping them create a weekend full of memories for their family and friends!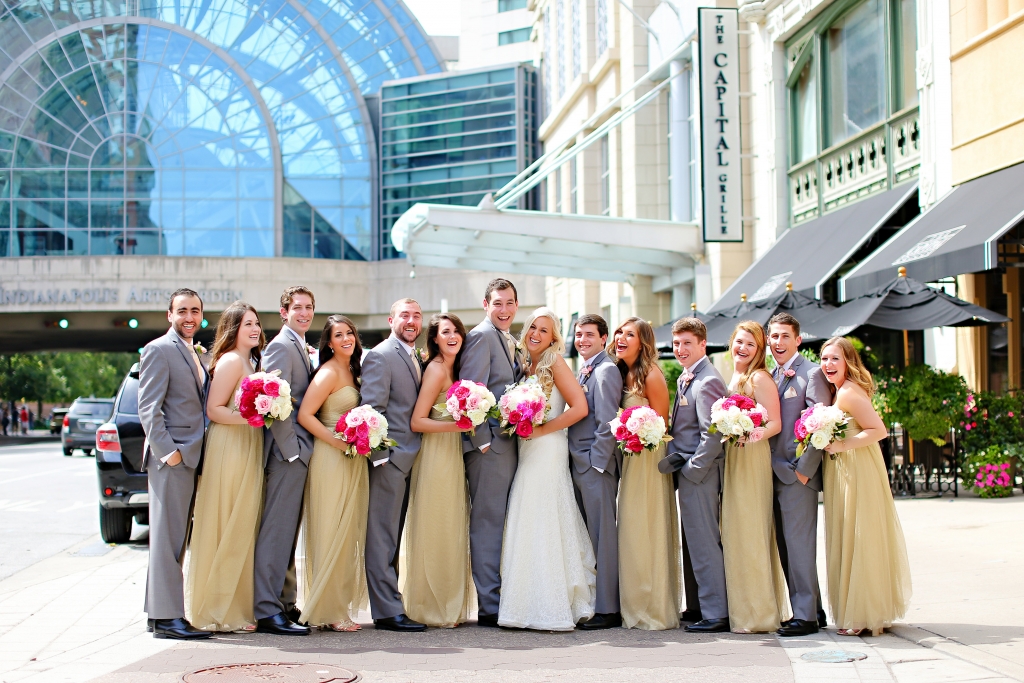 Their ceremony included a processional filled with very personal song selections for each member of the party.  The (adorable) flower girls danced down the aisle sprinkling gold butterflies down the lavender aisle and the families shared in the beautiful service under a chuppah created with greenery and soft pink florals.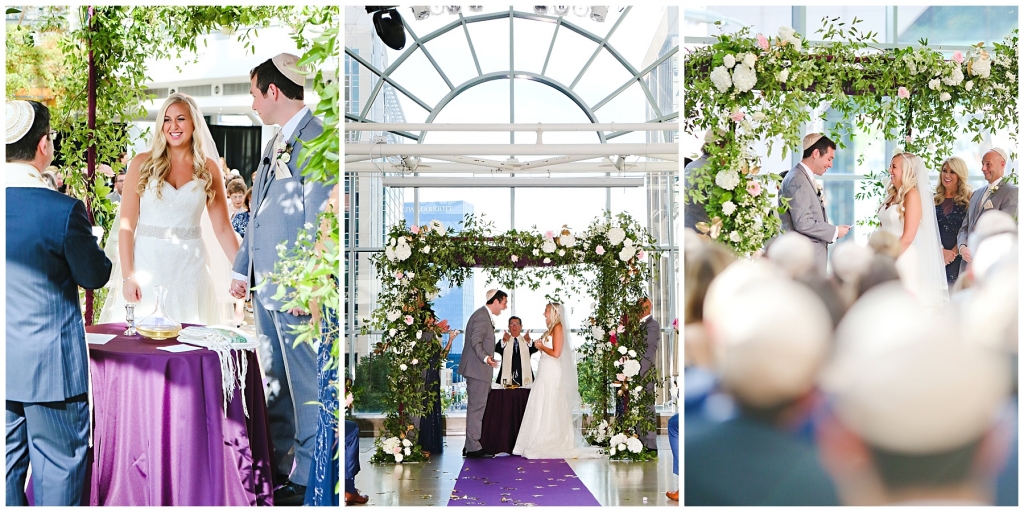 As the newlyweds came back down the aisle, they were surprised with glittering streamers tossed by the guests, which can be seen on the video below.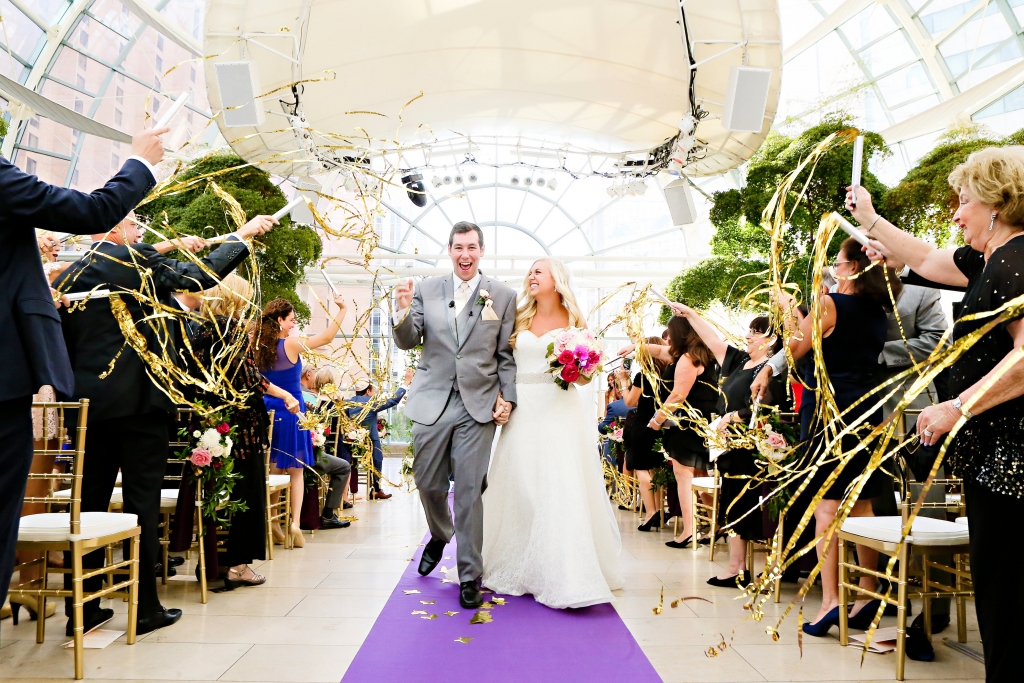 The reception space was inspired by "A Midsummer Night's Dream."  Taylor, AJ and their guests were surrounded with lush gardens of flowers as rainlights danced overhead.  The centerpiece of the room was a canopy of pink ribbons which included sparkling lighting over a glittering gold dancefloor.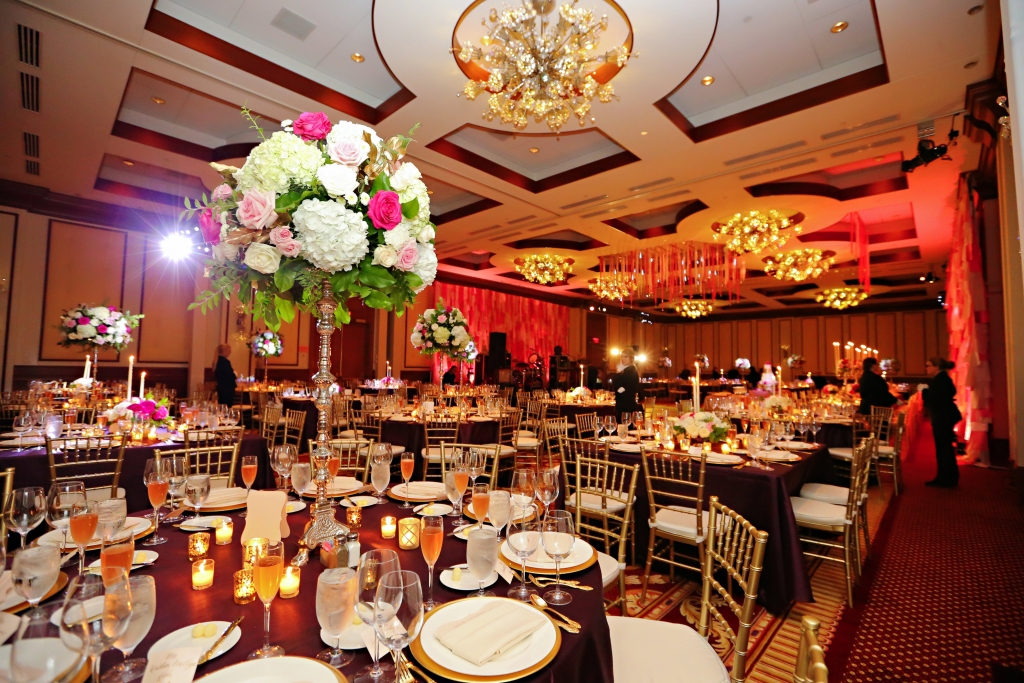 The details of the space included candles, lush linens, opulent flowers, and yes, that pink ribbon focalpoint.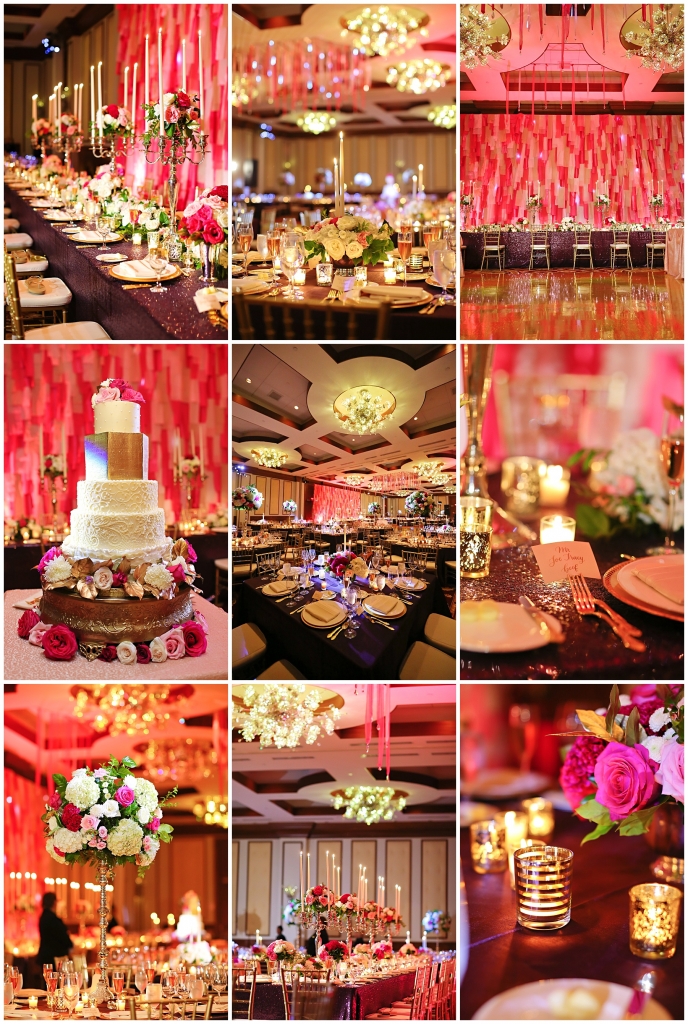 Taylor and AJ's joy could not be more evident than in this photo during their first dance.  I think it was obvious to everyone throughout the entire process, and during the ceremony as they giggled during their personalized vows, well written speeches and this choreographed first dance.  Their smiles were radiant all evening.  The energy in the room was contagious.  I love seeing the joy on the faces of the bridal party in the background (even though they're not the ones in focus … it's perfection!)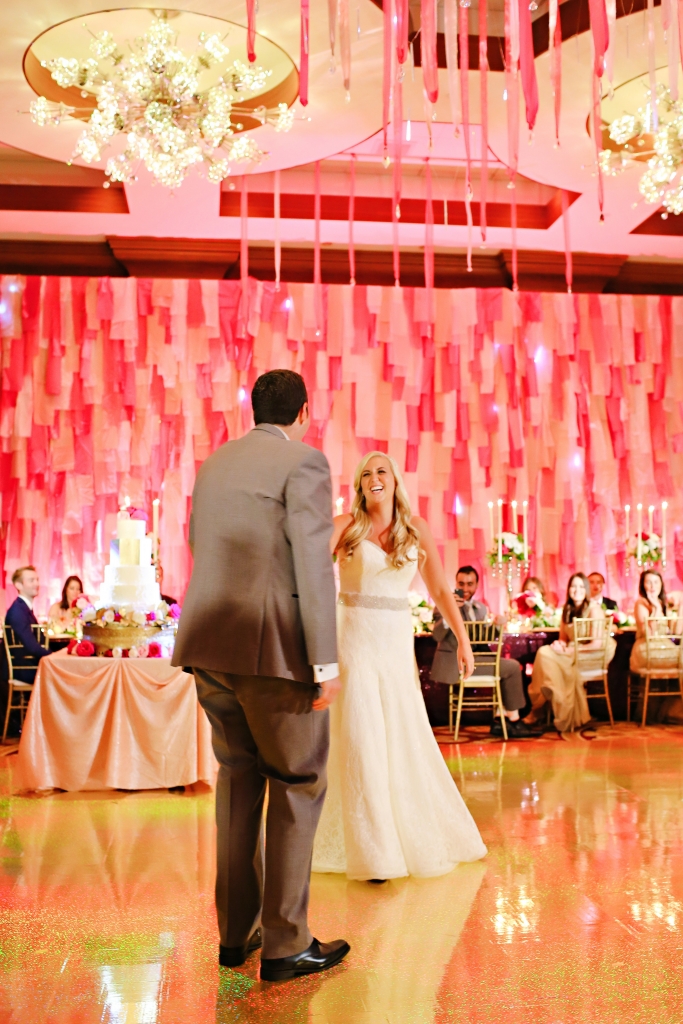 After the ceremonial toasts and speeches, (and this spectacular dance) the Conrad orchestrated their dinner service.  (If you've not seen a Conrad dining experience, I encourage you to do so; it's a treat!)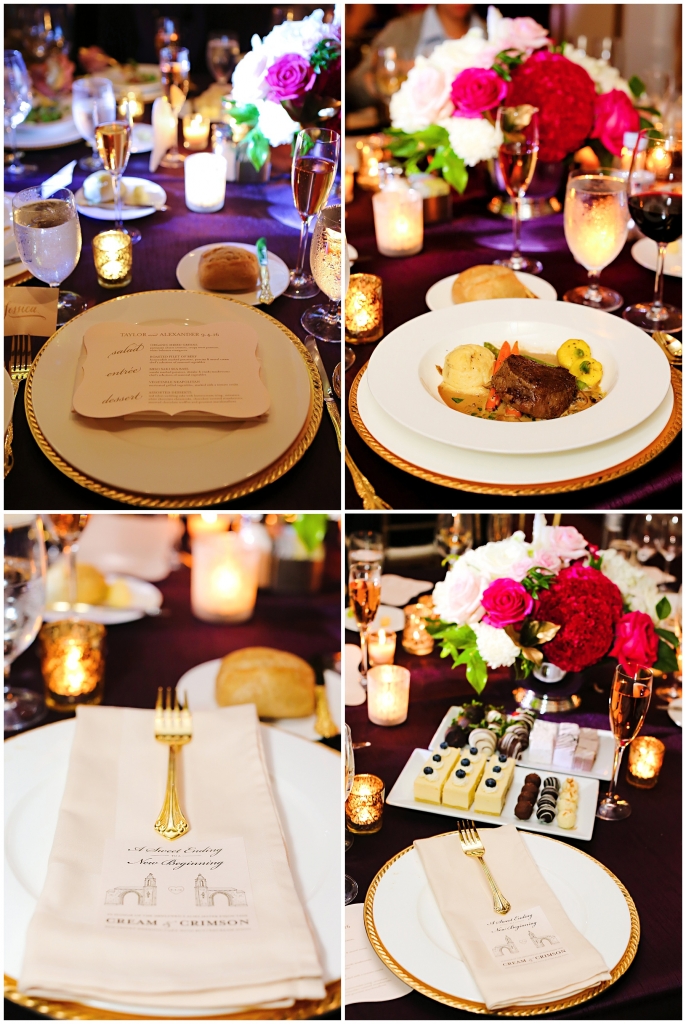 As dancing began, so too did the party.  (…as if the celebration hadn't already?!?!) 😉  Taylor and AJ had selected a favorite from IU to honor their alma mater — and they were spectacular!  They, along with the photography and Conrad team, were the only ones in on my little surprise for Taylor and AJ….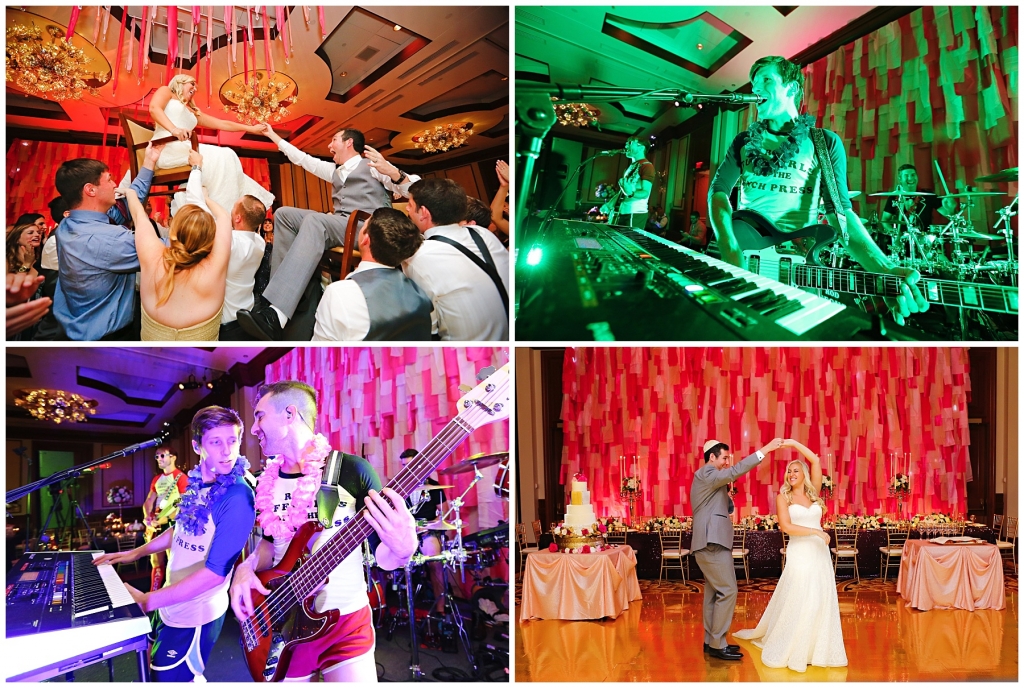 Taylor and AJ are full of joy, and life and always are so giving of others — it was my turn to give to them — so I did!  I decided to surprise them with a bit of magic on their wedding day in the form of a confetti cannon during their last dance.  AJ's shock says it all in the left image — I love it (you MUST watch the video for his reaction!),  and the photo on the right shows the effects of the raining confetti (for minutes) as it poured down.
Wedding video film Wedding Film of Taylor and AJ

These two deserved more than glittering gold streamers during their ceremony and a confetti drop – but it was the simple things I could give them to show how much I appreciated them (and their families) as clients.  They are fantastic.  They're funny, they're creative (yet they let their creative team just do our thing),  they're trusting (when when you're from out of town is what you need to be with your entire professional team) and above all, they're so in love.
AJ and Taylor, Thank you so allowing us to be part of your lives this year — and for many years to come.  As we ring in 2017 — may the confetti cannon at midnight remind you once again of your wedding night and all the magical moments this year brought.  Cheers to the new year! xoxo
❤
❤
❤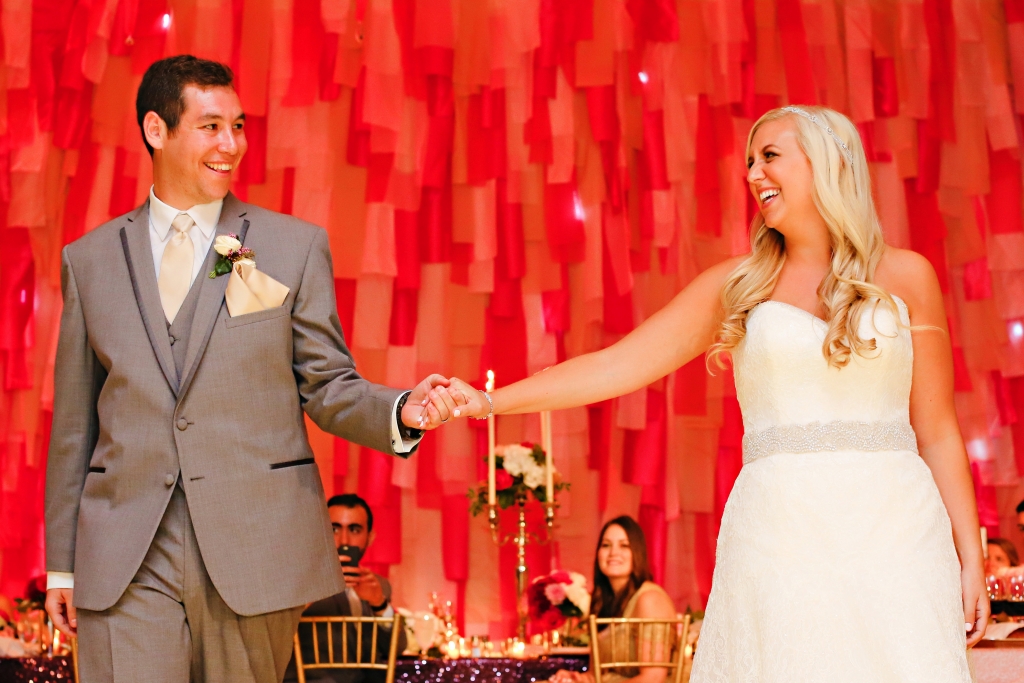 2016 was an amazing year for Mon Amie Events, Inc.  Taylor and AJ were not alone in being fantastic and trusting client.  Jessica, their photographer, and I joked they we had hit the jackpot this year.  Truly though, it was no joke.  Our clients together this year that were just extraordinarily out of this world.  All were like Taylor and AJ:  Forward thinking, fun, had contagious smiles, amazing families and totally trusted their professional teams.  Overall, that's how this entire wedding season went.  I truly could not be more grateful to the couples, their families and to the professionals I worked alongside.  Thank you all for this fantastic year full of memories, I look forward to seeing what the next year will bring.
Merci to Jessica Strickland Photography for capturing these images and these moments for Talyor and AJ! Also to: A Classic Party Rental, Classic Cakes of Carmel, Conrad Indianapolis, Empty Vase, Evans Audio Visual, Events By Design, Flutterfetti,  JW Salon,  Manayunk Calligraphy, Northernlight Filmworks, Pink Poppy Ink, Rod Tuffcurls & the Benchpress,  TLW Entertainment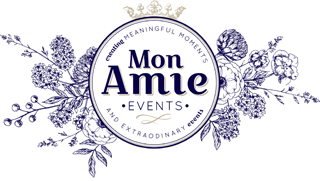 Copyright 2020 | Mon Amie Events Inc.